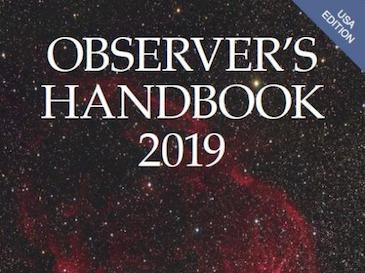 By Tom T
Tom Trusock and Denise Moser takes a look at the upcoming 2019 edition of the RASC Observer's Handbook.
BASIC EXTRAGALACTIC ASTRONOMY - Part 3: Luminosity Corrections, Cosmological Extinction, and Mas...

Jan 16 2020 08:54 AM by rekokich

The only primary evidence available to an astronomer about a very remote object consists of photometric measurements, a spectrogram, and an image which is in many cases no more than a pinpoint of light. In this article we present basic cosmological concepts and simplified mathematical methods which allow an amateur to derive from this meager data a surprising number of physical properties of distant extragalactic objects with a precision of several percent within professional results.

My experience using two 80-millimeter long-focus refractors

Dec 13 2019 02:26 PM by caussade

The Orion and TMB refracting telescopes are both a joy to use, and will undoubtedly stay with me for life. I sometimes get offers to sell but have politely declined; as the reader will suspect, the thought of a sale has never entered my mind.

GSO 8-inch TRUE CASSEGRAIN

Dec 13 2019 01:43 PM by Larry Carlino

GSO Cass can be regarded as somewhat of a specialist instrument. Its excellent overall optical quality, fine lunar and planetary performance, reasonable size and weight, and bargain price make it a fine choice where sterling deep-sky and rich-field capability are not a priority. It is a good alternative to much pricier 5 to 6-inch apochromatic refractors for both visual and ccd work. In the price- to- performance ratio, I don't see anything in its price range that comes close (except, perhaps for a high-quality long-focus Newtonian [but try to find one!]) as a dedicated lunar and planetary instrument.
Imaging/Sketching Contest
23 Oct 2019
It's hard to write with eyes full of tears. It is with the heaviest of hearts that I must tell you all that my father, Fred Bieler, passed away on October 19th, 2019. I could go on and tell you that Fred was a vis...
Full topic ›
13 Sep 2019
The Nagler family has been an institution for the astronomy community since 1977 providing world class optics through their Tele Vue brand. Their eyepieces and telescopes deliver outstanding views and are reference standards in the field....
Full topic ›
Cloudy Nights Home