CNers have asked about a donation box for Cloudy Nights over the years, so here you go. Donation is not required by any means, so please enjoy your stay.

Latest News
Highlights: Comet Journal, Martian Landers, Meteor Showers, December Solstice, Planet Plotting, December Moon Focus Constellations: Ursa Minor, Ursa Major, Draco, Cygnus, Cepheus, Cassiopeia, Perseus, Camelopardalis, Gemini, Auriga, Taurus, Perseus, Andromeda, Pegasus, Pisces, Aries
Read story →






From what I was able to see, I conclude that the optics belongs to a Super APO class, which is highly suitable for both visual observing and astrophotography. Unfortunately, I have to state that the TEC 140 lost in the direct side-by-side chromatic aberration comparison test, otherwise the TEC is practically perfect from the optical point of view. The Phantom FCL 140-6.5 is, therefore, a great all-round refractor, and the manufacturer has promised to remedy the minor mechanical issue with the amount of "grip" of the rotary lock. Therefore, iStar Optical can be congratulated on a very well made optical instrument.
Read story →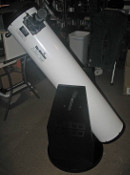 Dec 02 2021 10:39 AM | Oldskaterman in
Articles
Considering the choices available for replacing my damaged Sky Watcher Dobsonian mount, I found the same size Apertura mount the easiest and most cost effective solution. In addition to the ease of modifying the Apertura mount, the superior construction and improved azimuth bearings noticeably improved overall satisfaction with this approach.
Read story →





Nestled in the southeast corner of the dim late-fall/early-winter constellation Fornax, adjacent to the distinctive triangle formed by 6th-magnitude Chi-1 (χ-1), Chi-2 (χ-2), and Chi-3 (χ-3) Fornacis, is an attractive cluster of galaxies known as Abell Galaxy Cluster - Southern Supplement (AGCS) 373.
Read story →





Highlights: Comet Journal, Martian Landers, Meteor Showers, Planet Plotting, November Moon Focus Constellations: Ursa Major, Ursa Minor, Draco, Cepheus, Cassiopeia, Camelopardalis, Auriga, Taurus, Perseus, Andromeda, Triangulum, Aries, Pisces, Aquarius, Pegasus, Cygnus, Lyra
Read story →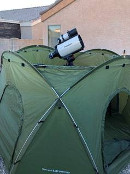 My last article was an overview of Fairhavens, my first dedicated observatory, along with its untimely demise. It is now five years later and I am ready to try again. Being a rental home I could not build a permanent structure (I couldn't afford one anyway). So, I started looking for a temporary structure that would protect my gear from the elements and still leave room to move about.
Read story →





Have you ever heard of NGC 300, the Southern Pinwheel Galaxy? Were it positioned high in our autumn sky in a prominent constellation, you certainly would have. In fact, NGC 300, an Sc spiral tilted nearly face-on to our view, would be one of the season's showpieces, especially through large backyard telescopes. Because it lies in the far southern sky, nestled among the faint stars of Sculptor, it remains the purview of diehard deep-sky fanatics only.
Read story →






The Sharpstar 94EDPH turns out to be a competent instrument and a good value for its $1495 asking price. It's a very good deep-sky telescope, is airline portable, and is, in all probability, a good choice for imagers, the 0.8 focal reducer yielding a fast optical system. As to the consistency of the optics and quality control, a sample of one has little statistical validity. My particular scope might be better than average (or worse), and the QC checklist from Sharpstar failed to catch the balky focuser and sagging dew cap.
Read story →






The Istar Phantom 140mm f/6.5 is a new entry in the large (5"+) triplet APO world. For the price to performance it is an excellent option. The vendor is already implementing upgrades (eg 80mm removable section from OTA tube) and recognizes need to make further improvements in its mechanics (eg 2" twist tight clamp). The optics are superb and are even better than the advertised 0.9 Strehl minimum guarantee. If you are interested in a super high performing 5+" triplet APO, that is much less than comparative peers, don't be scared, I highly recommend you take a look at a Phantom!
Read story →





Highlights: Comet Journal, Martian Landers, Meteor Showers, Planet Plotting, October Moon Focus Constellations: Ursa Minor, Draco, Cepheus, Cassiopeia, Perseus, Camelopardalis, Ursa Major, Hercules, Lyra, Cygnus, Aquila, Pegasus, Andromeda, Pisces, Aries
Read story →





Articles