CNers have asked about a donation box for Cloudy Nights over the years, so here you go. Donation is not required by any means, so please enjoy your stay.

Latest News
Highlights: Comet Journal, Martian Landers, Meteor Showers, Planet Plotting, October Moon Focus Constellations: Ursa Minor, Draco, Cepheus, Cassiopeia, Perseus, Camelopardalis, Ursa Major, Hercules, Lyra, Cygnus, Aquila, Pegasus, Andromeda, Pisces, Aries
Read story →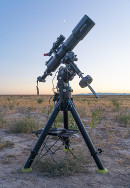 In general I really like my G11T. It is well built, should last for decades from what other owners of Losmandy mounts say. It seems to work really well with auto guiding. It is very stable even with my C14. It is very different from my Celestron mounts and to be fair It took a while for me to learn how to use those mounts also.
Read story →






This is the story of how "Fairhavens" (the name of my observatory) came to be. My life style was never one that required planning: It was a reactionary type of life. As an enlisted soldier I only followed somebody else's plans and ideas. But now I was in the situation that I had to actually plan.
Read story →






Oct 01 2021 05:00 AM | redfordg in
Articles
I couldn't find an off the shelf EFocuser for my C14 (pre-2006), so I built my own which allows for Hand Held Focusing control and/or USB remote focusing. No mechanical modifications are required to the telescope. I wanted to make this available free to my fellow Astronomy geeks. My only hope is that it will help someone. Shame to go through all of this and not share it.
Read story →





Take a look at just about any star atlas and you will find a huge, irregular cloud of ionized hydrogen suspended to the south of Mu (μ) Cephei, Herschel's Garnet Star. That's IC 1396, one of the largest nebulae in the night sky. Even from a distance of about 2,450 light years, this complex cocktail of bright glowing gas mixed with dark dust clouds spans 3° of our sky. At that distance, 3° translates to a linear diameter of nearly 160 light years, more than three times greater than the Orion Nebula, M42.
Read story →





Highlights: Comet Journals, Martian Landers, Meteor Showers, Autumnal Equinox, Planet Plotting, September Moon Focus Constellations: Ursa Minor, Draco, Cepheus, Cassiopeia, Perseus, Camelopardalis, Ursa Major, Corona Borealis, Ophiuchus, Hercules, Lyra, Cygnus, Aquila, Pegasus, Andromeda
Read story →






Sep 01 2021 05:00 AM | rekokich in
Articles
The only primary evidence available to an astronomer about a very remote object consists of photometric measurements, a spectrogram, and an image which is in many cases no more than a pinpoint of light. In this article we present basic cosmological concepts and simplified mathematical methods which allow an amateur to derive from this meager data a surprising number of physical properties of distant extragalactic objects with a precision of several percent within professional results.
Read story →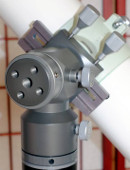 After several weeks of field use of the NoH CT-20 mount for general astronomical observing with both my TSA-102 and APM-152 refractors, I found the operation and use of this mount to be highly intuitive in the field. The axis friction knobs are conveniently located and are tactile-distinctive from the saddle plate knobs that hold the telescope on the mount, so there was never any question in the dark as to which knob-type I was operating. Operation of the mount was also smooth and precise throughout the testing and general field observing sessions. At no time did I ever find that the CT-20 mount was anything but superlatively capable to handle even my large 6-inch f/8 refractor.
Read story →





How close can two stars appear and still be resolvable as two? The single most important factor that influences the result is a telescope's aperture. All other things being equal, the larger the aperture, the finer the level of detail resolved. Of the many observational experiments that have been conducted to determine the resolution limits of telescopes, the two most often cited are the Rayleigh Criterion and the Dawes Limit.
Read story →





Highlights: Comet Journal, Martian Landers, Meteor Showers, Planet Plotting, August Moon Focus Constellations: Ursa Minor, Draco, Cepheus, Cassiopeia, Camelopardalis, Ursa Major, Bootes, Corona Borealis, Ophiuchus, Hercules, Lyra, Cygnus, Aquila, Pegasus, Andromeda
Read story →





Articles