CNers have asked about a donation box for Cloudy Nights over the years, so here you go. Donation is not required by any means, so please enjoy your stay.


27
Articles

May 01 2022 05:00 AM | Michael Covington in
Articles
In what follows I want to tell you about three things I've done to improve my early-model iOptron GEM45 mount. With a bit of adapting, you can apply the same ideas to many other mounts, both iOptron and other brands.
Read story →





Feb 01 2022 02:14 PM | rekokich in
Articles
It is irresistible to imagine the environment within a tightly organized globular cluster. The night sky would be sublime with a million visible stars, and a bird's-eye view of the entire Milky Way galaxy. How much earlier would astronomy and associated technology develop among an intelligent species living on a world graced with such inspiration? Unfortunately, complex life in globular clusters is extremely unlikely due to virtual absence of heavier elements. It is not even known if rocky planets can form in that environment. Therefore, such spectacles are probably unseen by intelligent eyes, and must remain confined to our imagination.
Read story →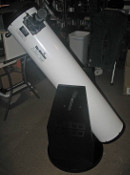 Dec 02 2021 10:39 AM | Oldskaterman in
Articles
Considering the choices available for replacing my damaged Sky Watcher Dobsonian mount, I found the same size Apertura mount the easiest and most cost effective solution. In addition to the ease of modifying the Apertura mount, the superior construction and improved azimuth bearings noticeably improved overall satisfaction with this approach.
Read story →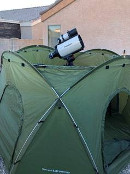 My last article was an overview of Fairhavens, my first dedicated observatory, along with its untimely demise. It is now five years later and I am ready to try again. Being a rental home I could not build a permanent structure (I couldn't afford one anyway). So, I started looking for a temporary structure that would protect my gear from the elements and still leave room to move about.
Read story →






This is the story of how "Fairhavens" (the name of my observatory) came to be. My life style was never one that required planning: It was a reactionary type of life. As an enlisted soldier I only followed somebody else's plans and ideas. But now I was in the situation that I had to actually plan.
Read story →






Oct 01 2021 05:00 AM | redfordg in
Articles
I couldn't find an off the shelf EFocuser for my C14 (pre-2006), so I built my own which allows for Hand Held Focusing control and/or USB remote focusing. No mechanical modifications are required to the telescope. I wanted to make this available free to my fellow Astronomy geeks. My only hope is that it will help someone. Shame to go through all of this and not share it.
Read story →






Sep 01 2021 05:00 AM | rekokich in
Articles
The only primary evidence available to an astronomer about a very remote object consists of photometric measurements, a spectrogram, and an image which is in many cases no more than a pinpoint of light. In this article we present basic cosmological concepts and simplified mathematical methods which allow an amateur to derive from this meager data a surprising number of physical properties of distant extragalactic objects with a precision of several percent within professional results.
Read story →





Jul 01 2021 05:04 AM | Ochad in
Articles
I have owned a large Star-Liner Equatorial Mount with 2 inch axes for over 50 years and in that time it has held a homemade 8 inch f/7 Newtonian, a homemade12.5 inch f/8 Newtonian, a 14 inch SC, a 6 inch refractor, an ATM 10 inch true Cassegrain.
Read story →





Jun 01 2021 05:00 AM | StevenBellavia in
Articles
Like other new CMOS cameras being introduced into the astrophotography market, the ZWO ASI 294MM Pro seems to be a strange beast (but not in a bad way). The first thing to notice is that it has a "jump" in performance at Gain 120.
Read story →





Jun 01 2021 05:00 AM | garyhawkins in
Articles
This short white paper aims to demonstrate that it is possible for the average amateur astronomer who is engaging in digital astronomy to step into the world of photometry. Why might you consider this? Well, it opens up opportunities for advancing one's knowledge in the hobby, as well as the potential to participate in valuable citizen science projects, such as the upcoming Exoplanet Watch program. Participating in a course on exoplanet transit measurements hosted by the Boyce-Astro Foundation started my interest in photometric analysis. I wondered if my modest telescope setup could carry out such measurements.
Read story →