CNers have asked about a donation box for Cloudy Nights over the years, so here you go. Donation is not required by any means, so please enjoy your stay.


12
Articles
Mar 17 2018 11:48 AM | GeezerGazer in
Articles
Last August, I contacted Matt McBee in Tennessee about doing an H-a filter comparison with our Mod 3C Night Vision Devices (NVDs). Matt had purchased an Astrodon 5nm H-a filter and wondered how it would compare to a 7nm filter in his scope and under his suburban light pollution. I had purchased an Optolong 7nm H-a filter and wondered how it would compare to a 5nm from both my suburban light polluted home and from a semi-dark site that requires a 45 minute drive. So in September, we agreed to exchange filters. In the meantime, I purchased an Astrodon 5nm. I sent Matt my 7nm filter because I would be traveling for a month.
Read story →





Dec 07 2017 12:41 PM | F Wegener in
Articles
Astrovideography has been around for a number of years now. The video cameras used cover a wide range of manufacturers and price points. Some are designed specifically for the astronomy community, while others are high resolution security cameras that have been adapted for use. There are already a number of articles online detailing the use of these cameras, so I won't go into that. Most of the cameras have buttons on their back panels that are pressed to make adjustments using their OSD (On Screen Display), options. This, of course, requires the user to physically touch the device multiple times once it has been aligned to a desired target, so is not ideal! If you know what you're doing, you can very carefully add a multi-wire cable to the camera, soldering connections to the internal switching. After running said cable to a homemade switch box, you can then adjust the settings without touching the camera; however, you now have a 12 volt cable to the mount, another one to the camera, a video cable from the camera to the monitor and another cable running to the homemade control box. I wanted to simplify this issue!
Read story →





Nov 24 2017 10:06 AM | charles genovese in
Articles
Having been born with a "Tinker Gene" it occurred to me some time ago that rather than just cover the adjunct scope equipment with a pop up canopy to prevent the inevitable dew we have here in the South that an inexpensive canopy could be easily modified to make a portable observatory. I built this one last year and I have been very pleased with the result at night and additionally I found it was hugely helpful providing shade for Solar observing and I thought I would share it.
Read story →





Nov 21 2017 02:36 PM | skaiser in
Articles
I came up with the idea of using an old Lego NXT Mindstorm control module and NXT motor I had laying around to drive my focus knob. The Mindstorm can be controlled via Bluetooth which is ideal for my control interface. This type setup could be adapted to most scopes if a convenient mounting location is available.
Read story →





Oct 21 2017 12:47 PM | Benach in
Articles
These days, interferometers become cheaper and therefore more common every day. This is an asset for amateur astronomy because this allows far better optics than in the days of only Foucault testing. In this short article, based on actual measurements of a secondary mirror, I will very briefly explain how to interpret this data.
Read story →





Sep 02 2017 12:01 PM | bunyon in
Articles
Traveling to the southern hemisphere is a topic that pops up frequently on Cloudynights and other amateur astronomy discussion groups where northern observers and imagers congregate. I've written this piece to try to share some of what I learned about doing amateur astronomy in Chile and Argentina. Obviously, even in six months it is impossible to do everything or go everywhere so this isn't a comprehensive guide. Still, I hope it's helpful and that it inspires a few people who have been wavering in their decision to head south.
Read story →





Aug 29 2017 12:45 PM | The Ardent in
Articles
Successful binoviewing entails one major requirement: both eyes must receive light from the objective. Now this sounds kinda obvious, right? Well it's not that easy. Most astronomical binoculars and binoviewers are hinged. This allows the two eyepieces to be spaced so that light enters both eyes. Some of us have a narrow IPD and facial structure that prevents optimal eye placement. In my case, the nose. It won't fit between some binocular eyepieces. It won't fit when binoviewing with complex, wide body eyepieces.
Read story →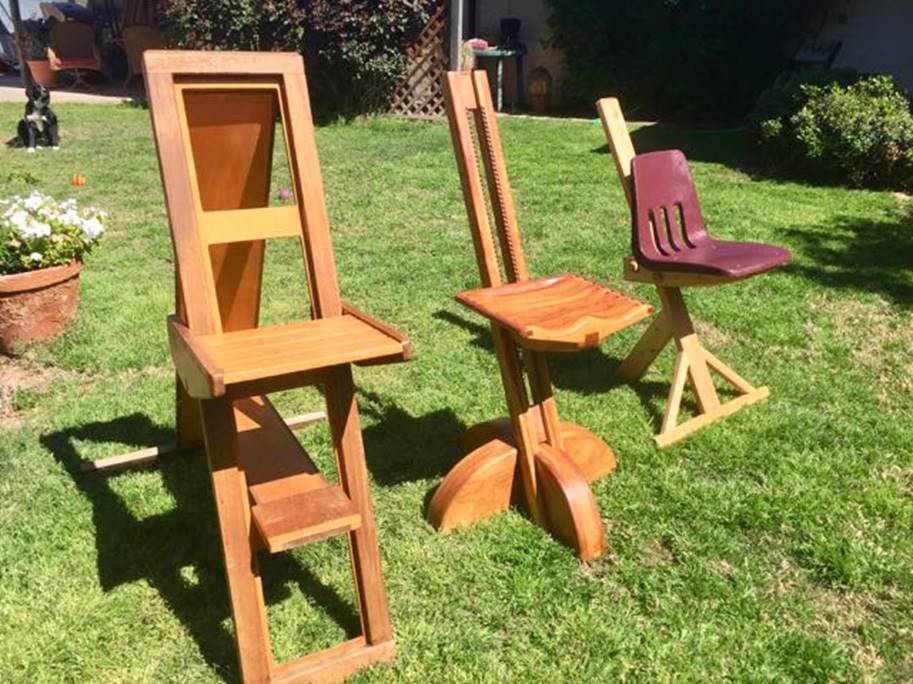 At some point we all wish we had a chair to plant our bum on while at the scope. I've written this little ditty to share what I've learned so that perhaps you can make mistakes totally different from the ones I made (and I seem to continue making them). Like any woodworker I have my biases, preferred ways to do things (e.g. mortice and tenon joints) but for the observing chairsI present here there are lots of options open to you; consider your budget, skills and available tools to make your choices.
Read story →





Feb 25 2017 05:04 PM | jhayes_tucson in
Articles
I've wanted to interferometrically test the two C14s that I have in my shop to get some good data on their optical quality for some time but gathering all of the equipment needed for such a test isn't easy and I was hesitant to take my scope out of action when the skies were clear. Since it would probably be cloudy for months on end in winter, December seemed like a good time to try to get it done.
Read story →





Feb 23 2017 02:06 PM | The Ardent in
Articles
What is a System of Binoviewing? An assembly of common observing equipment that's powerful, portable, easy to use, effective, and fun to use. In my experience Binoviewers enhance the observation of Targets of Excess Light (moon, safe solar, and planets) I believe that given a half-decent telescope, most amateurs will see a much greater benefit from Binoviewing than upgrading any single optical component.
Read story →