CNers have asked about a donation box for Cloudy Nights over the years, so here you go. Donation is not required by any means, so please enjoy your stay.


3
A 160 mm (6.3") f/6.5 binocular telescope
Jun 25 2016 10:09 AM | ThomasM in
Articles
Discuss this article in our forums
A 160 mm (6.3") f/6.5 binocular telescope
Thomas Möller
A 160 mm (6.3") binocular telescope
1. Introduction
Binoculars, while often regarded as 'entry level' observational tools, offer aesthetically very pleasing views. Now with larger-sized binocular telescopes ('binoscopes') becoming available they are more often used as serious observing instruments. Basically, the instruments can be divided into three classes:
binoculars with straight view and typically fixed eyepieces and magnification
astronomical binoculars and double refractors with comfortable 45 or 90 degree view and often interchangeable eyepieces [1,2]
large instruments based on reflectors - usually Newton telescopes [3]
Fig.1 Cover page of the Carl Zeiss
Catalogue "ASTRO 24"(~1915)
Astronomical binoculars and double refractors combine very aesthetical views and ease of use. Just a reminder, this is a rather old technology (figure 1). With increasing aperture, however, the whole setup, in most cases based on commercially available telescopes is getting heavy and the instrument departs from the idea of a 'grab and go' telescope in the spirit of the best telescope is the telescope you use often. Large instruments based on reflectors can certainly give breathtaking views, but usually transport and mounting is cumbersome.
Here I describe a 160 mm apochromatic binocular telescope complemented by a mount and tripod aiming at a well-balanced compromise between optical performance, size and weight. I started the project already several years ago, the first version is described here at Cloudy Nights. Meanwhile a new, lighter and stiffer mount and tripod are finished and I think it is the right moment for describing the whole instrument.
Fig. 2 160 mm f/6.5 apochromatic lens made
by Pal Gyulai, in a slim mount for binocular use
(3,5 kg mass.)
Some background, my addiction to binocular observation started almost 10 years ago with the purchase of a commercial 115 mm double refractor from Bionoptic [2] with apochromatic 115 mm f/7 TMB lenses. While I was very pleased by the views, I sometimes missed aperture, especially for galaxies aperture helps seeing details such as spiral structure which is otherwise hardly visible. This was the starting point for building a larger binoscope with the important boundary condition that the weight should not exceed the 12 kg (~26 lbs.) of the TMB binocular. This allows easy transportation either to a balcony, garden or a dark site.
I. Construction
Fig. 3 CAD drawing of telescope tubes and
mount. The tubes are connected in the front
part by CNC milled pieces and a bridge at
the end.
While most binocular telescopes are built from two commercially available refractors, the present design is based on two lenses while the remaining part is constructed with the aim of a stiff, compact and lightweight binoscope solely for visual observation. The two 160 mm apochromatic lenses are made by Pal Gyulai who is now making the lenses for the CFF telescopes [4] in Hungary and patented Erecting Mirror Systems (EMS) from Japan. The present telescope is not a typical ATM project, key parts of the telescope, optics, mount and the construction are made by Great Star [5], a small company in Germany. The lenses are apochromatic oil spaced triplets, with one aspherized surface (Ohara FPL 53 and Schott N-ZK7 glass) in a custom made slim mount promising nearly perfect correction (Strehl better than 0.95 for green light). The fast f-number (f/6.5) results in 1050 mm focal length and allows constructing a rather compact telescope with large field of view (2.5 degree). Guiding the light to the eyes is accomplished with the EMS mirror systems (custom EMS-UXL-Premium [1], figure 4) consisting of two mirrors reflecting under 60 degree angle giving an upright, true side image. With protected silver coatings a transmission of 97 % is achieved. The interpupil separation can be adjusted with helical focusers, collimation can be fine-tuned by x-y knobs and focusing is achieved with 2"crayfords. The telescope tubes are made from carbon blackened on the inside with a special paint and reinforced by carbon rings which also serve as stray light baffles. They are connected by compact and stiff aluminum bridges in the middle and at the back of telescope. The dew shields are lightweight sandwich constructions with velour on the inside and carbon on the outside. Thanks to all these efforts the total weight of the telescope could be kept below 12 kg (23 lbs.).
Fig. 4 Top View of the binocular telescope with EMS Mirror systems, total weight 11.8 kg (without eyepieces). The
handle and two screws above the center of gravity allow easy transportation and fixing the binoscope on the mount.
II. Mount
Fig. 5 CAD drawing of the single arm fork mount. The
binoscope can be fixed on the rotating upper part
with two screws.
The symmetric construction allows binocular telescopes to be mounted with single arm forks thus saving additional weight without losing stability. Figure 5 shows the construction of the fork mount. The different components are made on a CNC milling machine from aluminum. The size of the first mirror (115 mm long axis) in the EMS systems sets a limit for the separation of the two optical tubes. In the present case of a 160 mm f/6.5 instrument the upper part of the fork mount needs to be rather thin, it is only 25 mm wide, otherwise vignetting would result. Lightweight bearing elements of type LEL from Franke (Germany) with 4 race rings (figure 6) allow a stable movement of the telescope. These bearing elements can be directly incorporated into a construction and accept radial as well as axial forces. In order to save further weight a hollow construction is used for the mount. The total weight of the mount is 2.3 kg.
III. Tripod
Fig. 6 Bearing element LEL from Franke [5], allowing a
lightweight (0.07 kg for 70 mm diameter) and stiff construction.
The fork mount is fixed on top of a tripod with a central column. The tripod head is made of carbon and aluminum profiles, details of the construction are presented in figure 8. An 85 mm outer diameter carbon tube serves as the central column. The legs are made of 85 mm wide, 1.2 mm thick carbon profiles. Although the tripod weights only 2.2 kg its stiffness exceeds that of many popular commercially available, wooden constructions with almost 4 times higher weight. This comes at the price of a fixed tripod height, but in combination with a binocular telescope this is not a real disadvantage.
Fig. 7 Single arm fork mount, in the workshop, side view.
IV. Accessories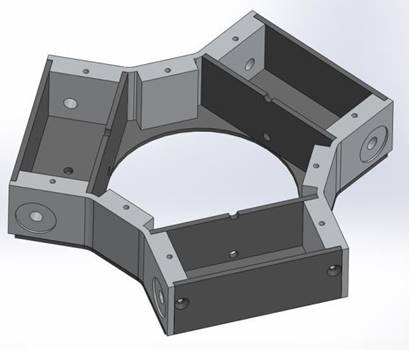 Fig. 8 Construction of tripod head, three 32x32 mm,
2 mm thick carbon profiles provide the basis.
Some accessories such as a finder or an observation chair make the observation more comfortable. Since the whole construction is designed with "grab and go" in mind the observation chair is also constructed from carbon profiles and rather light. The height of the seat can be continuously varied between 20 and 90 cm (8- 36 inch). Since the EMS mirrors allow comfortable 90 degree view a finder with the same view angle is desirable. This is accomplished by placing two mirrors similarly to a pentaprism in front of a red dot finder. The binocular telescope accepts 1.25" and 2" eyepieces. With 46 mm diameter field of view, a comfortable 25 mm of which are not subject to vignetting, a maximum field of view of 2.5 degrees can be obtained. Presently, my favorite eyepieces are a 30 mm widefield from APM (46 mm field stop, 85 degree AFOV), 17mm and 10 mm TV Ethos, and 6,5mm Baader Morpheus, giving 36x- 160x magnification. Higher magnification can be achieved with the aid of a TMP Barlow lens in a special housing with a 2" thread.
V. Under the sky
Fig. 9 Tripod constructed from carbon profiles.
Thanks to the lightweight construction (in total 16.2 kg/ 35 lbs. for telescope, mount and tripod) the set up can be easily transported to a dark sky, either by car but the latter case I take the lenses and the EMS into the hand luggage. A few minutes after arrival, typically less than 5 minutes, observation can start, oil spaced triplets cool down rather rapidly. The instrument is a general purpose telescope, it gives very nice views of the moon, especially the crescent at low magnification, but also of planets. For instance Jupiter with the great red spot or the Cassini division in the Saturn rings. The Milky Way, in particular open and globular star clusters, galactic and dark nebulae are favorite objects of large binoculars. Especially in combination with ultra-wide angle eyepieces just sweeping the Milky Way is a lot of fun. The light gathering power of two 160 mm lenses is also sufficient for deep sky observation of galaxies and galaxy clusters. Binoculars show certainly more than a telescope of the same size, but the key aspect is the pleasing view. M31 with its two companions just fits into the 2.5 degree low power field of view and two dust lanes are visible in M31. Under a perfect dark sky, M51 shows spiral structure with direct vision and irregular (e.g. M82) or interacting galaxies, such as NGC 4435 and NGC 4438 in the Virgo Cluster show structure. But, don't expect too much from a 160 mm instrument, weak galaxy groups such as Stephens Quintet can be seen but, a large Newton telescope shows much more details. On the other hand, globular clusters like M13 give some very nice unique '3D view' although the image in a large reflector telescope is certainly brighter.
Fig. 10 115 Binoptic 115 mm and 160 mm binoscope on top of the
transportation bag for the 160 mm instrument.

Fig. 11 Observation chair, seat height can be continuously varied between 20cm and 95cm, total weight 0,95 kg (for details see [6]).
VI. Final thoughts
Fig 12 Complete set up: Binocular telescope, mount, tripod and eyepiece bag.
Binocular observation allows very pleasing, aesthetic views, but is quite costly. This is especially true for a 160 mm apo bino which is certainly a luxury telescope. For the same price one can get a very large reflector telescope. I believe, serious binocular observations become only possible with a comfortable 90 degree view. Considering the costs of high quality mirror systems or equivalent prims plus a set of eyepieces, I estimate that a minimum aperture of at least 70 to 80 mm is needed to justify their price. There is no distinct upper limit, but size, weight, price and availability of lenses make double refractors with apertures above 200 mm extremely uncommon. The smaller instruments with 70- 100 mm are excellent instruments with wide fields for all kinds of planetary and galactic objects. Even larger binoscopes with 150 mm aperture open the door to serious observation of galaxies. Since the combination of a smaller binocular telescope with a large reflector is very universal and efficient, larger, e.g. 150 mm binoscopes will certainly be a niche product. Such telescopes can offer some of the most beautiful views of the sky, but at a high price and not for all objects. It will be interesting to see if other, further improved binoscopes will follow or whether even high quality commercial products will enter this niche. In any case, such instruments need to be a thoughtful combination of telescope, mount and tripod, otherwise weight and ease of portability will suffer. Finally, I'd like to thank Pal Gyulai, Tatsuro Matsumoto and Steffen Noack (Great Star) for all their help, discussions, enthusiasm and support which provided the basis for building this telescope.
References:
(1) Erecting Mirror Systems (EMS), http://ems-bino.com
(2) Binoptic, noble double refractors, http://www.binoptic.de/web_us/index.html
(3) e.g. large amateur binoculars, http://www.brucesayre.net
(4) CFF telescopes, http://www.cfftelescopes.eu
(5) Great Star, http://www.greatstar.de/index.html
(6) Astrotreff, http://www.astrotreff.de/topic.asp?TOPIC_ID=183128, this page presents various designs of lightweight observation chairs (in German)
Chopin, mattyfatz, Gordon Rayner and 15 others like this
Article: A 160 mm (6.3") f/6.5 binocular telescope