CNers have asked about a donation box for Cloudy Nights over the years, so here you go. Donation is not required by any means, so please enjoy your stay.


2
A Backyard Observatory For Under $500?
Discuss this article in our forums
A Backyard Observatory For Under $500?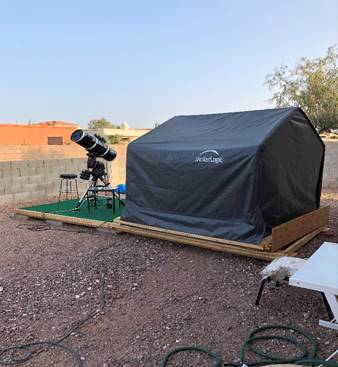 Only five years ago I had what many of us dream of. A 10'x12' Roll-Off roof dedicated observatory with two permanent piers strong enough to carry the weight of a car, on five acres of Arizona desert more than 40 miles from the first city light.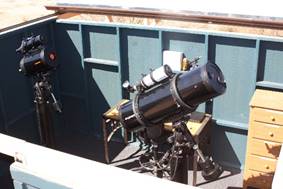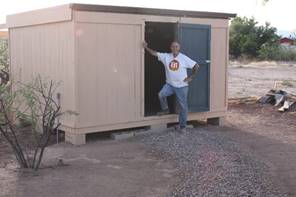 Then it happens. A family emergency that requires a move back into town to be closer to doctors and a hospital. Everything works out fine on the medical front, but moving back out of town is simply not possible. A hideaway dedicated to my obsession with astrophotography simply was no longer possible.
We leased a new home as close to the eastern edge of town (Tucson) as possible. From my backyard I would have unrestricted views of the skies from north to south of the eastern skies. But a problem still existed. I had reached a point in life (age) that restricted me to a system that I could carry outside each time I wanted to have a night of astrophotography. At best, I was limited to a small scope that would not overload an AVX sized mount that I could hump out to the backyard as needed.
While being spoiled by the ability to image whenever desired was was painful to lose, carrying everything I needed to the backyard was painful too.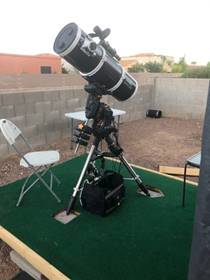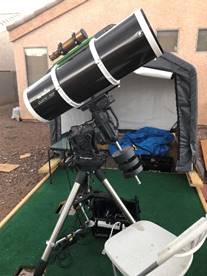 The CGX being easily portable were not applicable to a 70's aged former motorcycle racer whose bones barely meshed correctly. Building a permanent structure was not feasible because I was in a leased home. My only solution was a temporary structure that would allow me to leave my rig outside, at least the major heavy part.
Back in my days as a Quality/Reliability Engineer, we had a motto by which we lived; "Good, cheap, easy… pick any two". For this project I chose cheap and easy. I would keep my computer, cameras, and accessories in my den when not in use, and the mount and telescope could stay, semi-permanently situated outside. The search began. Who in the world makes a portable or temporary structure large enough to provide security for a 10" f/4 newtonian riding on a Celestron CGX mount? I considered a plastic yard shed; expensive, major engineering for a removable roof, and an HOA that didn't allow anything so "permanent". There were manufacturers of wooden sheds that would modify a roof for me; very expensive, and even more permanent looking.
I tried for a couple of months hauling my stuff to the backyard but I was afraid that the Tylenol would fry my liver. Besides, it took forever to get everything set up to image to the extent that I didn't feel like imaging. It began to seem a lot like work. I considered downsizing but decided that if I couldn't keep my current setup it might be time to find another hobby. I definitely didn't like that idea.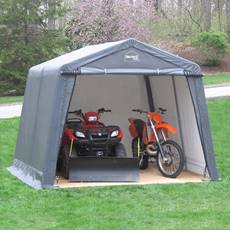 One afternoon I was engaged in one of my favorite pastimes, surfing Amazon.com. I was looking at plastic garden sheds; I hadn't totally given up on that idea. When I came across a wide selection of steel framed plastic sheet sheds that were temporary, cheap, and easy to assemble. The only problem I could see was that they were designed to be anchored to the ground. The solution would be to have the whole structure move off the telescope. That didn't seem too difficult, I simply needed to fabricate a solid structure to attach the shed to that could simply slide off the telescope when it was in use.
My current backyard is good old Arizona dirt with some large gravel tossed in, and little critters that scurry around in the dark like scorpions abound. A subfloor seemed a good solution to the uneven rough ground, but I knew the tripod would bounce like a tractor as I moved around the floor. The solution was simple. I marked where the legs would be and cut holes in the floor. I placed concrete pavers in the holes so the tripod would be solid to the ground and insulated from movement on the floor.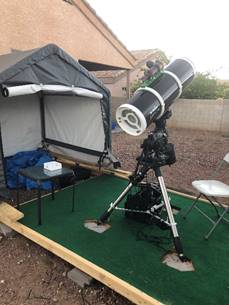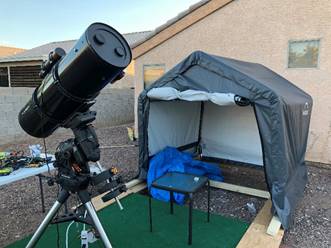 I am what is known as an Engineer on the Run. That means that I start building things and modify as needed during construction. I started by ordering a 6'x8' shed ($146 delivered) which was plenty big enough to shelter my rig and assembled it in the backyard. Of course, the instructions that said "Easy Assembly" were relative to the number of friends you can suck into an "easy" job. Since the shed is designed to anchor to the ground it was not moveable. I had to find a way to anchor the shed to a base that was strong enough to hold its shape while moving on and off the telescope site.
2"x 6" seemed adequate, so I constructed a "U" shaped frame and anchored the shed to the frame. One end had to be left open to allow the shed to move without hitting the telescope. I picked up some really cheap rollers at ACE Hardware and bolted them to the underside of the frame. Obviously they would not roll on the dirt so I extended the subfloor by attaching a couple of 2"x6" runners out the back. I now had a permanent structure for my mount with a moveable roof that would roll on and off.
Shortly after completing the structure I was in the house strutting my engineering expertise when one of my neighbors knocked on my door. He expressed concern that, although the wind was only about 10mph, my shed seemed to be flying around the yard. Fortunately no real damage was done. I placed the shed back in place and attached turn-buckles at each corner to anchor the shed. Since that time it has weathered the Arizona monsoon season without a hitch.
You may notice a change in the telescope. I started with an Orion 10" F/3.9 and later acquired the StarWatcher Quattro 250P. The total cost for the project that included the shed, subfloor, and various hardware came to about $300.00. A great investment!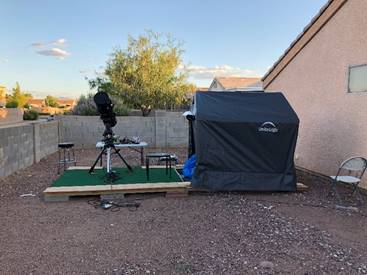 Patrick Stevenson (Gork)
Tucson, Arizona
Have been DSO for years and recently started Planetary
Retired from Steward Observatory. Wrote two or three articles about making the "big" mirrors entitled "My Other Telescope is an 8.4 Meter"
Current setup:
SkyWatcher Quattro 250P (10")
Celestron CGX mount
Canon T3i Imaging Camera
ZWOASI120MM Guide Camera
StarSense
BackyardEOS
PixInsight
CC2020 PhotoShop
Bratman2, JMP, jstrandberg and 42 others like this
Article: A Backyard Observatory For Under $500?