CNers have asked about a donation box for Cloudy Nights over the years, so here you go. Donation is not required by any means, so please enjoy your stay.


3
A Bigger, Better Scope Anyone Can Build & Use
Feb 03 2019 12:24 PM | Augustus in
Articles
Discuss this article in our forums
A Bigger, Better Scope Anyone Can Build & Use
By Zane Landers
Sometimes life's greatest treasures are the unexpected. That's how I feel writing this article. It was relatively recently that I embarked on building my 20", and it's been only six months since I penned the article on my 16". Since that article, I've grown not only as an ATM, but also as a person and as a writer. I thought I'd share that growth here. 'Tis the season of giving, after all!
Why Build a Bigger Dobsonian?
Like I mentioned in the original, for deep-sky objects Dobs simply reign supreme. Rather than focus on the same overall justifications for a big scope, let's discuss why exactly I built the 20" rather than sticking with a 16".
First, we must ask ourselves: Why 20"? Why not bigger? Why does a 20" work so well that I retired my 16"?
For starters, a 20" is the largest "one-man" telescope – that is, one person can easily roll it out, take it apart, assemble it, and fit it in their vehicle. Sure, there are some groundbreaking instruments like Mel Bartels' 25" that can still be transported, set up, and operated by one person (indeed, I think Mel's scope could probably be scaled up to 32" or so and still fit these criteria), but for most of us with average means a 20" is the upper limit.
Second, a 20" has huge gains over a 16". All other things being equal, a 20" has around 1.56 times the light gathering of a 16". I've done a little better than that – my mirror is actually 20.5" in diameter, the secondary of my 20" is smaller proportionally than the 16", and the 20" has a silver coating (we'll talk about this in a bit, don't worry!), so for me the figure is about 1.75 times.
Then, of course, there's cost. Coating a mirror above 24" is obscenely expensive if aluminized because fewer vacuum chambers are big enough (granted, this was not a problem in my case). More importantly, really big scopes at sane focal ratios require secondary mirrors above 4", which have to be custom made and are thus extremely costly.
Lastly, my 16" was extremely poorly made. It really needed a rebuild, and by the time I did that I could've built the 20", which is only slightly less portable and slightly taller, so I simply built the 20" and scrapped the 16".
The cost to build the entire 20", except for the mirror, was $2,000. Used 20" primaries can go for a couple thousand dollars, so I can say with confidence that one can build a 20" for under $5,000 – much cheaper than a commercial scope – the cheapest I can find is the Sky-Watcher Stargate 20", which costs $7,000.
This scope was my 5th proper build – succeeding my 6" f/4.3, 16", 10", and rebuild #1 of the 6" f/4.3. Since I've built it, my 6" has undergone another revision and I've built three 6" f/8 scopes.
The Mirror
Originally, I was planning on grinding a 20" plate glass mirror from a blank provided by renowned ATM Kevin Frederick. However, Kevin was gracious enough to give me a 20.5" BVC mirror, about 2" thick, with a focal length of roughly 2200 mm. Kevin hadn't worked on the mirror in years so he wasn't sure if the mirror was parabolized or not. I didn't get around to building a proper test stand for the primary, so I had no clue what it was like until first light uncoated.
I was going to get the mirror coated at Majestic like the mirrors for my previous scopes. Majestic provides very reasonable prices and fast turnaround, and at the time was located in New Jersey around 90 minutes from me. Unfortunately for me, Majestic moved back in October and has only just re-opened, so I was forced to look around for a solution.
Majestic turned out to be the last non-laboratory coating place in the Northeast, and I'm reluctant to ship my primary because of its size, weight, value, and because I have no way to replace it if it's damaged or broken. So instead I opted for spray silvering.
Silvering turns out to be a pretty easy process. You get the 2-part kit from Angel Gilding along with their sensitizer, some distilled water, some spray bottles, and two garden pump sprayers. The Angel Gilding kit has enough silver for me to do at least 8 coatings.
To silver, I cleaned the primary as best I could, sprayed on the sensitizer, then sprayed the silver on itself. Here's a video of the magic in action: https://www.youtube.com/watch?v=Eqi8IdqvjMI
There are a couple spots where the coating didn't adhere, but overall, I'm losing maybe a half inch of aperture – negligible.
I have had the coating for about a month and a half now and it shows no signs of degradation. When I'm not using the scope, I put anti-tarnish cloth over the mirror, which should at least in theory boost the coating's lifetime.
I had tested the mirror briefly uncoated, and it appeared to be close to parabolized, good enough so that I was willing to gamble with potentially stripping the silver coating (which costs almost nothing) and re-figuring.
If you're building a scope like this yourself, you can get the primary for a few thousand bucks. A quick survey of old ads on the CN Classifieds found me two primary/secondary sets for under $4,000 along with several blanks for a little over a grand – though if you're grinding the mirror you should of course have at least several smaller ones under your belt first. Of course, you can always scale the design down should you want a smaller instrument for cost/practicality reasons. Finished 17.5" and 18" mirrors can sometimes be under $1,000.
The Mirror Cell
I bought my cell from Dobstuff. It's a nice 9-point, all aluminum, and Dennis Steele made a Baltic birch tailgate for it. I calculated with PLOP that a 9-point would more than suffice for a 2" thick primary. You could make this cell yourself out of wood, but I was lazy and opted not to.
Unfortunately for the tailgate, it turns out that I had given Dennis an incorrect measurement for the mirror box's inside width, so it didn't fit. At the time I lacked a table saw, and thus couldn't accurately cut it, so I resorted to making a new tailgate. By this point I had run out of Golden Oak stain, so I stained it walnut because why not?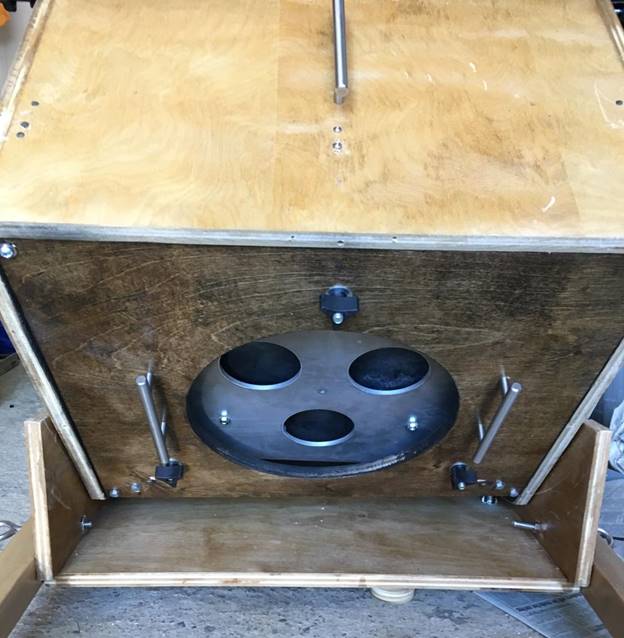 The tailgate is, in fact, removable, though it's not easy to do so, especially with the mirror installed.
There are some edge supports made of wooden doweling, sufficient for a thick mirror like mine, and some clips to prevent the mirror from falling forward or bouncing in the cell.
Since first light, I have not needed to collimate the scope once.
The Mirror Box
I design my scopes more or less in my head, so I don't remember the exact calculations, but I did actually do some math to determine a minimum height for the mirror box. Despite numerous revisions to the length of the truss poles, the final scope balances perfectly without a counterweight or need to move the bearings.
I cut the bottom of the box of too allow for a shorter rocker, which reduces the height of the scope to something saner – without this optimization, my scope would be nearly nine feet tall.
I also opted for a circular baffle and dust cover this time around, which you can see in the above photo. The whole mirror box is ¾" plywood stained with Minwax Golden Oak stain and varnished with a clear overcoat.
The Rocker & Bearings
The bearings are 30" in diameter – the largest circle I've ever cut on a router. By using huge bearings like these, the fulcrum of the telescope is weighing down on a larger area, which means that the balance point shifting doesn't affect the scope as much. The scope has perfect motions with no eyepiece at all, and the same fluid motion with a Paracorr and 20mm Lunt XWA inserted. I can probably place up to 10 lbs of accessories on the upper cage without requiring a counterweight.
I opted to make the bearings, along with the rocker sides, only ¾" thick. There used to be a little flex at high power, but I solved that by adding some braces in the rear. Thanks to this design optimization, the whole scope weighs only 105 lbs. – and 50 of those are the mirror!
The ground board is ¾" plywood with ¾" plywood disks as feet.
I used more beige Formica from Lowes and some Teflon I bought off eBay. This combination works very well and I can track easily at over 500x.
The Truss Poles
If there is ever a Landers telescope company or something like that, you can bet I'll be using square truss poles. They're my signature trademark. The reason is that they work, and they're cheap and easy to attach.
This time around I got my poles from Home Depot, and spray painted them with two coats of flat black. I drilled the holes with my drill press, which made lining things up much more precise – unlike with my 16", you can use any pole in any location, except for the two slightly shorter ones which attach to the inside of the altitude bearings.
The Upper Cage
Kevin gave me the UTA frame, though I had to add some truss pole brackets and whatnot to it. It's a little big for the scope but it works great. The rings are ¾" plywood, and the struts are 1" aluminum tubing with threaded inserts.
I bought a Novak spider and dual-speed Moonlite focuser, and a 4" secondary off eBay, along with the usual Telrad. The Telrad is bolted and taped to one of the aluminum struts.
Getting the UTA onto the truss poles can be difficult if you're alone due to its size, but it can be done. The secondary mirror is easily removable and I take it out for safety when I'm assembling the scope on my own.
The Wheelbarrow Handles
With my 16", I kept the whole scope on a dolly assembled in my garage. This dolly was obviously unusable as a platform when observing, so I would have to either have somebody – usually one of my parents or my girlfriend – help me lift that 80-pound behemoth off its dolly and gently place it on the ground. On a few occasions I did it myself, but it was extremely difficult.
The 20", at over a hundred pounds and eight feet all, obviously cannot be lifted easily even by two people, so I went back to Kriege & Berry's old tome and found out about wheelbarrow handles.
As it turns out, putting wheelbarrow handles on your Dob is really simple. All it takes is some nuts and bolts, wheelbarrow handles, and wheels.
I got some 10" pneumatic-tired-wheels and some ash handles at Home Depot, put some really long bolts through the wheels, and drilled some holes in the wheelbarrow handles and rocker, and added two bolts to each handle which go into the rocker and are secured with wingnuts. My creation cost me $50 and I can easily move the whole scope anywhere I want while lifting the equivalent of about 30 lbs. The handles can be detached in a few minutes (they impede the scope's motion and must be taken off for observing) so I can even dodge trees in my yard if I feel so inclined.
A video of testing can be found here: https://www.youtube.com/watch?v=q4V6ANSjVN8
I don't know why so many Dob owners forego wheelbarrow handles. You can add these things to almost any Dobsonian, no matter the size or manufacturer. My local club's 25" Obsession sports these handles and can be easily set up by one person – and it dwarfs my scope.
The Light Shroud
For now, I'm using a bed sheet for my shroud, but I am working on a proper one made of Lycra (and for real this time – I actually have the Lycra).
Ease of Use/Transport
As I've just mentioned, with the wheelbarrow handles the scope is incredibly easy to set up when taken out of my garage. However, that is not the best part. The best part is that it's fast! Despite weighing a hundred pounds, barely clearing my ceiling, and being 20" in aperture, I can get this whole scope outside and ready to observe in ten minutes – it's basically a grab n' go! This is also aided by the low-expansion BVC mirror and the fact that my garage isn't heated, so the scope is more or less already acclimated to ambient temperature.
I have yet to transport the scope, but it does fit inside my dad's Ford Edge. I will likely use a ramp to load it into the back.
At around f/4.5, there's enough coma that I bought a Paracorr to use with my eyepieces, which makes images sharp even at the edge. I use a 20mm APM/Lunt XWA for low power, which provides a comfortable ¾ degree field of view at about 130x.
The scope usually requires a small stepladder to reach the eyepiece, but it's not a huge deal and I am not very bothered by it.
Observing
First light with the coated mirror was on November 10th, 2018 – just over a year from the night I first tested my 6" f/4.3, my first homemade telescope.
I haven't gotten to do any lunar observing with the scope, and seeing conditions haven't been great, but as for the planets:
· Mars shows numerous albedo features despite its shrinking size.
· Uranus is a disk even at low power. Last time I looked I was able to see Titania and Oberon; the other moons were not far enough from the planet to be visible.
· Neptune is a nice blue disk and Triton is ridiculously easy to spot.
My 16" was able to show Ganymede's Galileo Regio and Titan's disk, so I suspect the 20" will be capable of the same.
For deep-sky, all of my observing with the scope so far has been done in my red-zone backyard, NELM of around 5. Despite this, I can see stars down to about 17th magnitude with relative ease.
Here are some notes:
Galaxies:
· M31 shows multiple dust lanes. NGC 206, the open cluster within M31's disk, is resolved into stars.
· M74 is easily visible.
· M77 shows some of its irregular structure and is very bright.
· M81 shows a disk structure and its extremely faint companion Holmberg IX pretty easily.
· M82 shows a ridiculous amount of dust lanes crisscrossing it, even more than with the 16".
· NGC 1023 is very bright, not much detail.
· NGC 2683, despite being 12th magnitude or so, appears quite bright and shows significant disk structure. I can see a hint of its dust lanes. A nearby 15th-magnitude PGC galaxy is visible, PGC 2030408.
· NGC 7332 and 7339 are a nice pair with some hints of disk structure…. But neither is much brighter than magnitude 13!
· ACO 779 in Lynx shows 9 members, none brighter than 14th magnitude or so.
· The Deer Lick galaxy is quite bright with an obvious dust lane, and at least 3 of the nearby "Fleas" are visible.
· I think I can see all 5 members of Stephan's Quintet.
· 15th-magnitude PGC 24400 is visible behind the Beehive cluster.
Globulars:
· M13 is very bright and looks more like an open cluster than a globular at high power.
· M15 is even brighter than M13 and starts to show colors in its stars.
· NGC 2419 is resolvable into stars, although very low in surface brightness.
Planetary Nebulae:
· Pease 1 in M15 can be teased out with a UHC filter.
· M57 is extremely bright, and its central star can be teased out easily with good seeing. Just a hint of color, perhaps?
· The Eskimo is very bright, and the blue, 9th-magnitude central star can almost produce a diffraction spike.
· NGC 2022 is quite bright and obvious.
Other Nebulae:
· M1 shows some filamentary structure.
· M42 is ridiculous; there are eight stars in the Trapezium on nights of good seeing. The whole nebula glows an obvious green, maybe with hints of other colors. The nearby Running Man is visible when I put in a UHC filter.
· M78 and the two reflection nebulae near it are quite bright and obvious.
· The Rosette and Flame Nebulae are faintly visible with the UHC filter.
· NGC 1931 is just visible as a fuzzy halo surrounding a tiny star cluster.
· Hubble's Variable Nebula is quite bright and obvious, unlike Hind's Variable Nebula.
· The Veil is huge, bright, and detailed.
I've observed a lot of open clusters with the scope, too, but I'm not as descriptive when it comes to those. The Double Cluster's stars are incredibly rich in colors, with most being yellow and crimson, with some white and blue sprinkled throughout.
It's a shame I cannot draw, because there is simply too much to convey in words of these magnificent objects. I will hopefully have some drawings done by a skilled, third party observer soon.
Conclusion
To paraphrase my original article, constructing and setting up a big Dob doesn't have to be expensive, complicated, or difficult.
My 20" weighs about 105, maybe 110 lbs. It uses a rather thick mirror for its size and isn't the shortest you could easily do. I would be willing to bet that you could make a 20" f/4 with a 1.75" thick Pyrex primary that weighs only 85 lbs total (roughly the weight of my mirror box with the mirror in it), using the same design philosophy as my scope. But weight hardly matters when you've got wheelbarrow handles.
If you haven't read my previous article, or it simply hasn't convinced you, I hope this one has gotten you to at least consider building a big Dob if you have the money and space. There have been few experiences as rewarding for me in amateur astronomy.
Scott Beith, Jim Davenport, CeleNoptic and 19 others like this
Article: A Bigger, Better Scope Anyone Can Build & Use