CNers have asked about a donation box for Cloudy Nights over the years, so here you go. Donation is not required by any means, so please enjoy your stay.


0
A NO-NAME TELESCOPE
Jun 22 2020 09:40 AM | LB Myers in
Articles
Discuss this article in our forums
A NO-NAME TELESCOPE
Roughly two years ago I submitted this article to S&T. Due to space limitations, it was heavily edited, rewritten, and condensed. Here is the full story.
Back in 2002, a friend gave me an old 8" Criterion Newtonian, circa 1963, as a wedding gift. It was in a questionable, but useable state. I set it up a few times but for the most part, it sat in storage. I did discover back then that it had an old Cave mirror and not the original Criterion mirror. When collimated, the images were outstanding.
Fast forward 15 years and plus one son. He is a normal kid but goes the speed of light in all directions. He liked "big" telescopes. As a 5-year-old he could visually identify most of the planets through my scope. I could see (or hoped) that he had a propensity for math and science. I wasn't to be disappointed.
A few years later I decided that I would fix up the old Criterion for his 10th birthday. In retrospect, I am glad I started many months prior to his birthday. So, in April of 2016 I dusted it off and went to work.
Taking a closer look at it, I clearly saw that the declination axis was in need of some repair. The bushings where trashed and the actual shaft was badly rusted. I thought that I might be able to clean things up and get it working. Wrong! Not only were the bushing trashed, the actual castings were pretty well wasted. So, my "new" grand plan was to make a completely new declination assembly.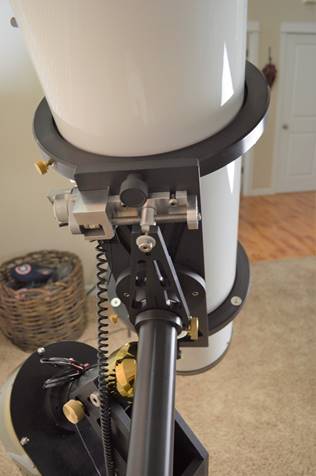 That didn't concern me too much in that I am fortunate to have a CNC shop as my means to make a living. I found some thick walled aluminum tubing in my scrap bin and began to draw out my plans for a declination assembly. Something whispered to me to carefully check out the rest of the mount. I listened.
I discovered that the remainder of the mount, the RA and drive assembly, were equally in as bad as or worse than the declination assembly. So, I began drawing plans for a right ascension axis as well. Back to the scrap bin for more thick walled tubing. I decided that I wanted to use whatever materials that I had on hand and do my designing based on material dimensions. I even had a left over 7.5" drive gear left over from my mount making days. I also had a surplus drive corrector circuit board that I was able to incorporate into the drive end of the unit.
While building the mount, I decided on a push-to and not a go-to. I did incorporate optical encoders on both axis in order to utilize some old digital setting circles that I had. I wanted my son to learn the sky as opposed to him just pushing buttons, but I knew that to keep his interest, I needed some buttons for him to push! I figured that would probably serve him better in the long run. Aside from that, I have other scopes with go-to systems for when he needs a button "fix".
Before long, I realized that I wanted to make a new sub assembly. That's the lower assembly that the RA sits in and incorporates the azimuth and altitude adjustments. I located some surplus 5/8" aluminum plate collecting dust in the back corner of my shop. After some planning, sketching, CAD work, and milling, I had some useable parts. Beneath the assembly, I cut a section for an old drive gear and made an azimuth adjuster.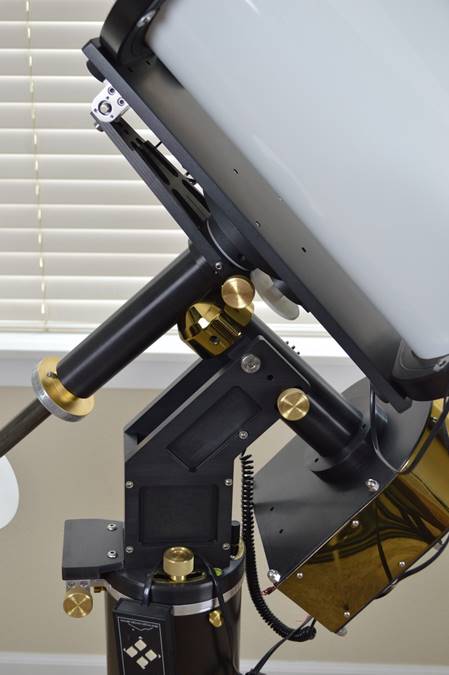 I finally realized that I was building a whole new mount for my son.
The original pier and legs were pretty flimsy. It was time to design a whole new setup to put this new mount onto. But I really didn't want the traditional aluminum leg castings. I designed some hardwood (cherry) legs that I laminated cross grain for rigidity.
I am glad I did. The wood really dampens the system quickly. I also incorporated a 6" piece of well casing to attach the legs and mount to. I had the well casing powder coated a dark bronze. I added some brass accents for both protection and looks.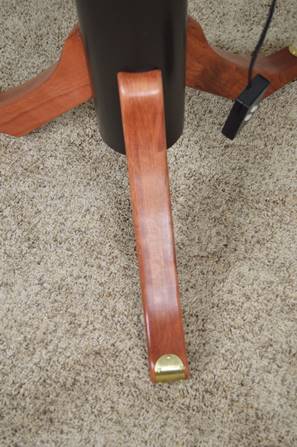 As long as I was going all out, I might as well design and machine some very nice tube rotating rings. I am glad I did! They work great and really make things easier for a ten-year-old (and his old father). The rotating rings were a real challenge. I needed to purchase some aluminum plate for the rings and some additional plate to for fixturing purposes. I then CNC cut the outer and inner rings out. The inner rings are attached to the fiberglass tube assembly. The outer rings are (inner) lined with UHMW for smooth rotation.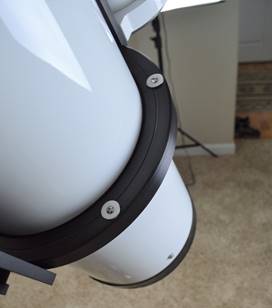 Once things were well under way, I saw that a beat-up old OTA just wouldn't do for such a nice, new mount. After removing all of the optics and components, I began on the tube. The tube was original and fairly well made and well beaten. I re-fiber glassed, filled, scraped, sanded, messed up and re-did, the whole thing. Upon completion, I took it to one of my vendors to have it painted. It is a very durable finish used in automotive finishes. It turned out looking like it was brand new again.
To top it off, I added my old Comet Catcher that I had restored years ago. About the time I thought the project was complete I realized that all of my aluminum knobs just didn't look right. I ended up making and knurling a number of knobs out of solid brass. They looked better that what I had originally made. But they really take time to make.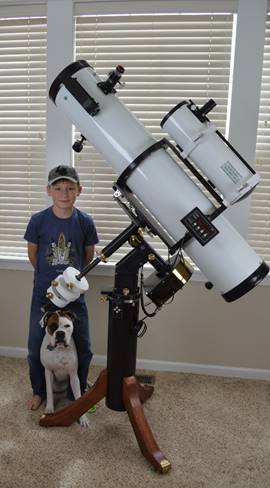 Update 2019- I replaced the Comet Catcher with a Stellarvue 80mm short refractor. It's a better match for the scope and easier for him to use. And it provides great visual images.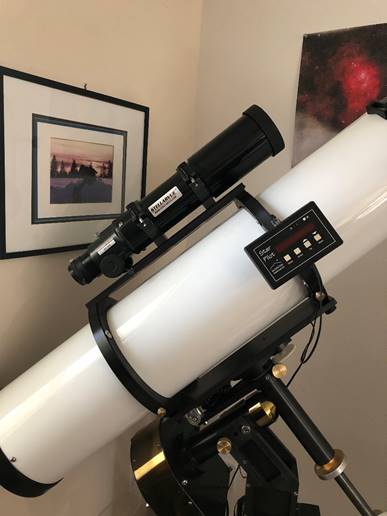 I did add adjustable weights fore and aft on the OTA. They really help with balance issues. About the only thing I still need to do is to add a 2" focuser for my larger eyepieces. The Criterion came with an old 1.25" Meade, rack and pinion. I found a very nice 2" on Cloudy Nights' classified. I'll install it soon.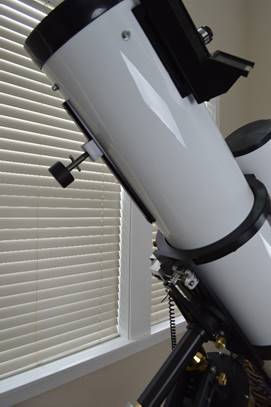 I really can't call this a Criterion any more. About the only thing left from its former glory days are the tube and the secondary. And the RA and dec setting circles. I am not sure what to call it!
I was able to complete about 99% of the scope prior to my son's November birthday. Needless to say, my son was pretty excited about his "new" scope. I hope he still has it when I am long gone to remind him that his dad was just a geeky telescope maker.
rboe, zjc26138, wky46 and 34 others like this
Article: A NO-NAME TELESCOPE