CNers have asked about a donation box for Cloudy Nights over the years, so here you go. Donation is not required by any means, so please enjoy your stay.


1
A Visit to See a Giant in Utah - 1.8 Meter Mike Clements
Sep 12 2018 08:26 PM | SiriusLooker in
Articles
Discuss this article in our forums
A Visit to See a Giant in Utah
1.8 Meter Mike Clements
What can you say when you get a rare visit to see a Giant in the state of Utah?
I first met Mike Clements (known to others as 1.8 meter Mike) in the early 90's. I had been delayed due to work at home for a trip to the Texas Star Party. By the time I arrived at the Texas ranch entrance, it was well after dark.
As I was pulling in, I noticed a pickup truck on the right side of the road (outside of the ranch), and it had a large pole structure sticking up on the other side of it that my headlights caught briefly as I made my turn into the ranch. Unknown to me it was Mike, who had his 41 inch scope setup at the entrance of the ranch. In the early 90's it was very rare to see a 30 inch reflector, let alone over a 40 inch scope.
Mike is really a very quiet peaceful man, who is not as comfortable around large crowds, but truly has a hidden big heart. At the time, he most likely had one of (if not the largest) amateur scope known in the 90's. Believe or not he would set this giant 41 inch scope up in just 5 minutes!! Like John Dobson he would travel across the country and share his passion of showing the celestial wonders to anyone who wanted to see. Sometimes not at a popular large star party as you might expect, but instead even in a parking lot of a grocery store for just a single family. Mike as I said earlier, is a very timid man, but is very proud of the stunning large scopes he has designed over the years for all to see and view thru. Some what like a timid farmer who, though he has a large ranch homestead of 100 of acres of land would at times sit idle in his rocking chair on his front porch, very proud of his crops that feed 1000's of people across the country.
A lot of us in this popular field of gazing upward have this unquenchable thirst to see more light! This urge got a hold on Mike again. Even though he already had this remarkable giant scope of over 1meter, his heart and mind said he had to have more. His existing scope by the way (if you ever were fortunate enough to have seen it or better yet looked thru it) was incredible in its own right. It was absolutely unbelievable to see this mirror in its completely open structure looking back at you. The instrument also has the distinction of having the lowest profile telescope mirror on the planet by an amateur - or anyone else for that matter!
Mike designed this unique reflector so that the Rocker box and base has the mirror in a sling, but the structure has no center. Think of a donut. With that in mind - believe it or not - Mike had a mud flap (remember that he is a Truck Driver : )) attached to the bottom half of primary mirror so when it swung thru zenith, the mirror side would not be scratched by the gravel or ground it was on! This is Mike, always thinking outside the box. It is no wonder. His drive for perfection and having the largest mirror possible is like Willy Wonka and the prize creation in his factory - the Everlasting Gobstopper – Willy's pinnacle of candy making.
Likewise, Mike's next logical step was to build an even larger scope. Years had gone by, but fate fell upon him and he acquired a military surplus Mirror already polished and figured, it just needed coating. A 70inch mirror! It couldn't have happened to a nicer guy, whose only desire is to share his inspiration of the celestial wonders above us.
It was appropriate that when I saw the very sad news of the passing of John Dobson in Sky & Telescope that right next to it was a full article on Mike Clements's recently built giant 70inch scope. Like in the story of David and Goliath, where David overcame his serious opponent, most would cringe at trying to tackle such a serious project - building a giant reflecting scope that is 35feet long! But Mike faced it head on and won! I won't go into the details about how he built it or where it is being stored. You can do that for yourself by just "googling" "Largest Amateur telescope in Utah" and you will find some of the nice write ups and local TV broadcasts that he has been on.
The trip to Utah from Sedona Arizona was a firing one, literally! There were many fires going on in multiple states at the time, so the sky was very smoky for most of our trip. I gave Mike a heads up that we were planning on being there in first week of this August. We brought our little ones as well, Coco and Orion (of course), our puppies. I was a bit shocked when Mike said he would meet us, as he took time off from his trucking business to show his latest creation to us.
Well needless to say I was very intensely interested in seeing this giant scope everybody has been talking about in person. After a nice dinner with Mike, we went to the observatory where the scope was stored at, the Stansbury Park Observatory Complex (SPOC).
Arriving there, we found a number of kids skateboarding and having fun, unaware that they were within a stone's throw of the largest amateur scope on the planet. As we were approaching the observatory Mike warned me that he planned on opening the door and leaving me and Edith (my lady) for a few minutes to take in what I was about to see. I didn't quite know what he meant by it at first - I have seen a number of pictures of the telescope on the internet and also seen couple of TV videos that he was on from the local news - but he was absolutely right!
To see this structure for the first time, nothing prepares your eyes at the magnitude of this work of art! It's like seeing many pictures of the Grand Canyon and then seeing it for the first time in person. Wow Wow! You are truly left speechless, like taking a ride on a super high roller coaster run! Just the altitude bearings are a vision to behold - 13 feet in diameter!
Closeup image of the circular base (ultra low profile Azimuth bearings) and the heavy duty motor system by Sidereal Technology. Notice also the heavy duty wood pallet at bottom of scope for lifting purposes.. Most everything else on this scope (nicknamed- by Mike, as KH-12, after the series of spy satellites the mirror would have been part of), is welded steel construction that Mike did himself.
Then Mike shocked me again… "Do you want to take it out?"
"What!!??" I said.
Yep, I wheeled this giant structure out of it's bedding onto the observing platform. It was about 75 feet away on the cooled down cement platform that Mike had been watering down earlier with a water hose and then squeegeed off the excess water due to the high temperatures during the day.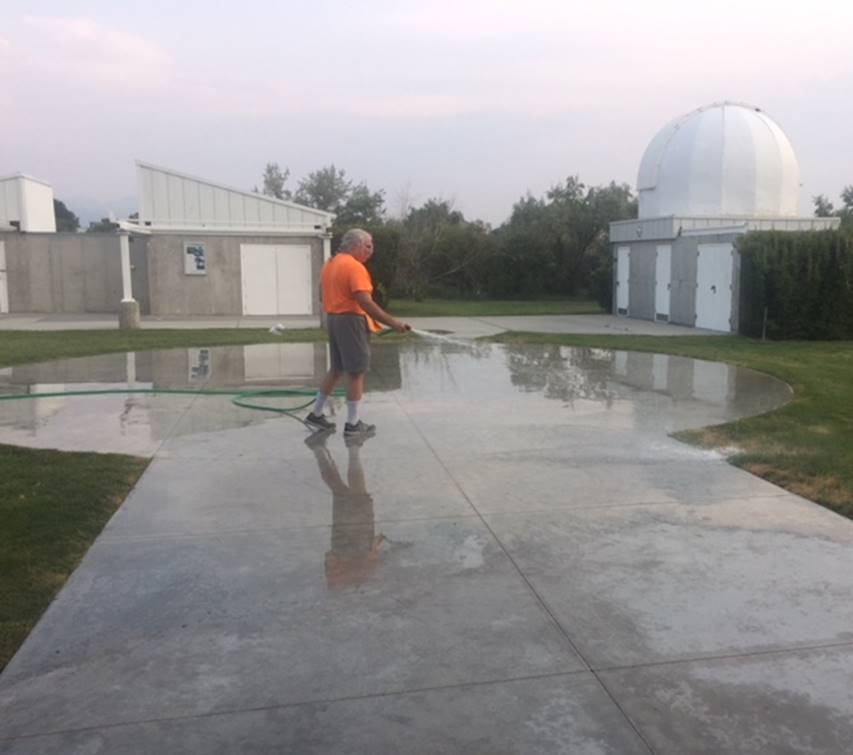 Mike Clements hosing down the platform for the scope's final resting area before the night viewing starts. The building on the Right holds the 8inch R.E. Brandt Refractor, while the building on the Left, holds the 32inch Reflector.
Keep in mind this giant structure as Mike stated was about 3500 pounds as it stands, and they keep it fully assembled that way in the storage building that was built for it. So how do you move a 3500 pound Telescope 35feet in length to the observing site (75feet away) you might ask? Well, remember this is Mike, thinking outside the box, and being a truck driver, we can only say that he used the simple approach. But of course - you use a pallet lifter! All you have to do is pump up the hydraulic lifter under the structure and move it by hand! I must say it was truly one of my personal highlights in the astronomical field.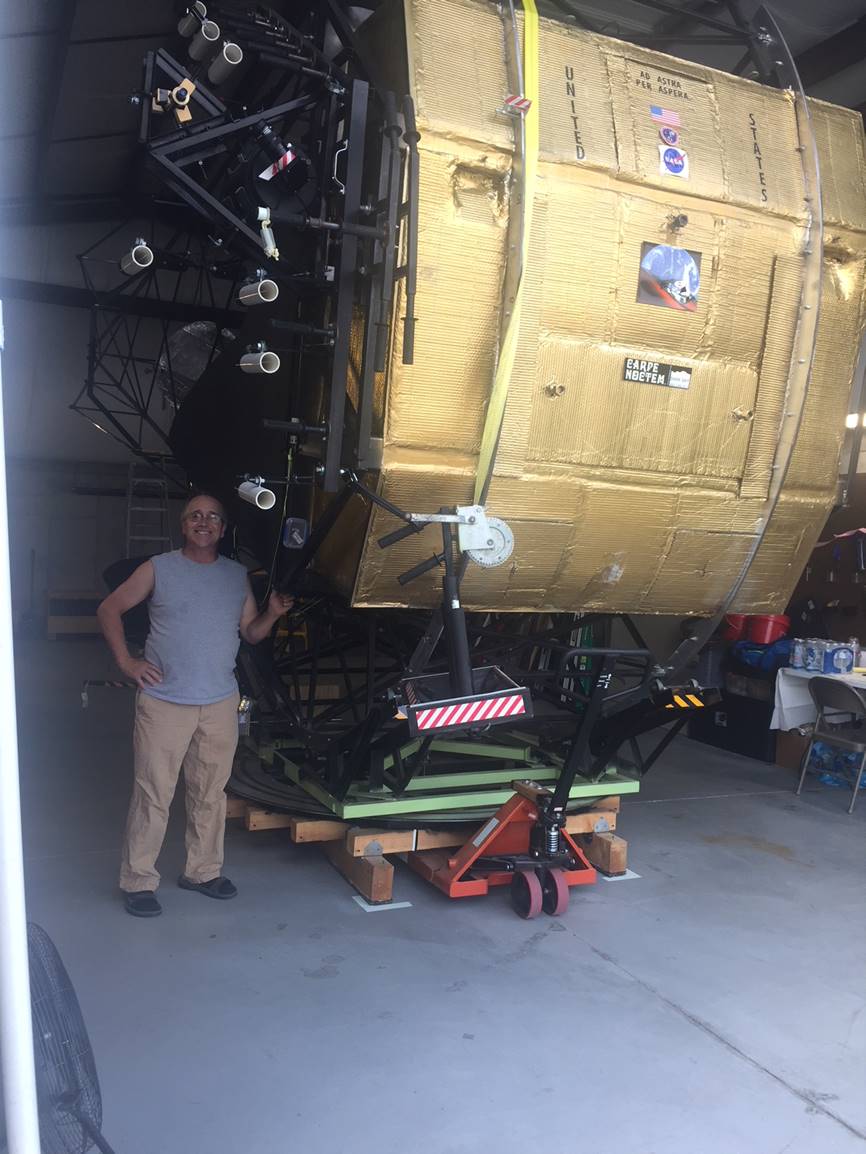 Dennis Young standing by the 1.8m backside of this major structure that really shows just how big it is.. (Note): the 13 foot diameter Alt. bearings! & the hydraulic floor jack (Pallet lifter) to right of author, for moving this (3500 pound)Scope out of its storage building by hand!
My lady Edith took video of me moving it to the observing site for proof. Keep in mind that I am no beginner, with 40 yrs in the field, a builder myself of large scopes, including a 28inch reflector and a 12inch F-17 folded portable refractor. As a matter of fact, after Mike saw my 12inch refractor scope I demonstrated at RTMC show a couple years back, he asked me (twice) if I wanted to sell it to him. Knowing him, I knew he wanted it as a finder scope for his 1.8meter scope. Keep in mind again (I cannot overstate of size of this scope) his secondary mirror is larger than my primary mirror (28inch)!!
I was shocked again when only 30minutes after the Sun went down we were observing! I was very impressed that the images of Jupiter were very crisp, and multiple cloud bands could be seen! Remember, it was a very hot day earlier - and this giant scope was observing only within an hour of sundown? The primary mirror is 900 pounds! I was expecting we would have to wait over 1 to 2 hours for the mirror to equalize temperature wise, and yet Jupiter and Saturn were very remarkable views.
Mike had thanked me earlier because I had mentioned to him about an old astro friend, Gary Russell in Meadview, Arizona. He is one of the rare opticians that makes extreme low power 2inch eyepieces and Mike was looking for such lenses for his scope. He needed a very low power because of the extreme high power his scope induces due to its sheer size. Even a 40mm lens is overkill for power. Gary makes 65mm, 72mm and even 85mm lens which are very uncommon in the astro field. I had a few of them already and was very impressed with the sharpness they produce even in my 28inch (F3.8).
Mike decided to use one Gary's 65mm lens and mask it. Not at the scope's primary mirror as you usually would do, but Mike did it at the lens itself! By putting a black mask on the large glass of eyepiece, the scope's secondary mirror is pushed out of the way. I saw it first hand, it works! I tip my hat again to Mike's ingenuity. He is truly very laid back - so much so that after I pulled the 70 inch scope out to the observing platform, he went back inside the warehouse and rolled out two 8 foot (extra soft) couches for us to sit on while we were waiting for a view! Only Mike would think of that for the guests who come to look through his creation. Mike made it clear that this was open to the public at this park and there are no fees.
Here we have all the comforts of home, with two full size couches for leisure relaxation before the anticipated views. Note also the large complex building (open door) in the background, where the scope sleeps during the day.
I hope it was clear to you at the beginning of this article that when I stated I was fortunate to see a "Giant" in Utah, I was not referring to the Goliath telescope, but in fact I was referring to its maker!
Sincerely,
Dennis Young of Sedona, Arizona, -- Acting President of the SiriusLookers Astro Club.
PS – Some more pictures…
I took this shot of a poster in its entirety, which was posted on the inside wall of Storage building that houses this giant scope. A unique history of a mirror that was destined to be in space like the Hubble, but an amateur astronomer had a different future for it!
Nice aerial shot of the Stansbury Park Observatory Complex or SPOC showing the storage building (white at top) that holds the 1.8 meter during the day. Just below it is the Giant 1.8meter on the circle platform. To the far Left, is the observatory dome, holding the 8inch R. E. Brandt refractor. To the right of it, is the 32inch reflector, and next to that (Right) the 16inch Schmidt Cassegrain. (PHOTO CREDIT: Patrick Wiggins)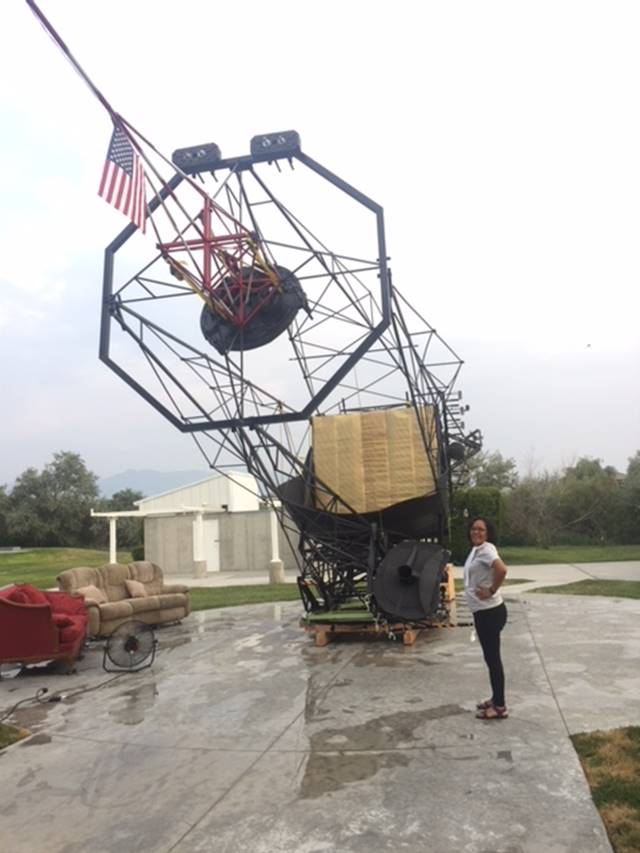 Front view of the monstrous scope with onlooker, Edith looking at the American Flag above the secondary mirror. Mike of course giving the American salute of approval, for this previous Military piece of hardware..
A grand side view of the scope. Noting this structure looks like a mini-Radio Tower, Mike decided to put the long pole above the secondary, with a Red Bulb that lights up at night, for any low flying planes that might be in the area!
Here is the Giant maker himself, none other than Mike Clements proudly standing by the exposed 1.8 meter, mirror. The cover that protects the mirror when not in use is hinged & lifted (above) the mirror, hence the reason you see an incomplete circle in this view.PHOTO CREDIT: Stan Eriksen
Still inside the storage building, my lady, Edith looking up, still in awe at the magnitude of the size, while I also capture the giant secondary Mirror(29inches) in the distance, that actually looks small by comparison to the Scope's structure.
Joe Bergeron, paul, Mr Onions and 25 others like this
Article: A Visit to See a Giant in Utah - 1.8 Meter Mike Clements