CNers have asked about a donation box for Cloudy Nights over the years, so here you go. Donation is not required by any means, so please enjoy your stay.


2
A Visit to the Museum of Astronomical Telescopes In Tawa, Japan
Feb 16 2016 10:10 AM | davidmcgo in
Articles
Discuss this article in our forums
A Visit to the Museum of Astronomical Telescopes In Tawa, Japan by David McGough, aka "davidmcgo" on CloudyNights.com
A while back in 2014, there was a thread posted on the Classic Telescopes forum on Cloudy Nights about a Telescope Museum opening in Kagawa Prefecture in Japan: http://www.cloudynights.com/topic/484097-telescope-museum-in-japan/. This was discussed back and forth a few times and was agreed to be a dream visit, it certainly became so for me. Since the time of those early posts in 2014 and 2015, the web site address for the museum has changed. It is now at www.telescope-museum.com.
The museum was founded by Mr. Shosaku Murayama and many dedicated volunteers to save many of the institutional and educational telescopes throughout Japan that were falling into disuse and in danger of being lost. Mr. Murayama is an accomplished and skilled leader with experience as CEO and director of a number of companies and worked as an economist for the Bank of Japan and has held an active interest in astronomy since having a view of Saturn through a telescope as a child, a common starting point for many of us sharing this hobby across the globe. He has held postings in New York and other locations and has excellent English proficiency.
As of July 2015, my wife and I had started planning a trip to Taiwan to visit her family and friends for the Lunar New Year, and we typically try to add in another trip someplace interesting. So I fumbled around on the web site, aided by the fact that my wife can read about 30% of the Kanji alphabet that is common with Chinese, and found a "contact us" page. So we sent an inquiry in English via their web site to see if we could arrange a visit in January 2016, although it was ahead of the published opening date. Mr. Murayama responded promptly and offered to arrange a visit with us the 31st of January to see the museum grounds and preparations that were going on, and we kept in touch to firm up plans and arrangements as the date for our trip approached.
The nearest major city to use as a starting point is Takamatsu on the beautiful island of Shikoku, which is where we made our way after a night at the lovely Iya Onsen for a traditional Japanese hot spring bath and relaxation. As of now, there is no direct public transport that goes to the Museum site in Tawa but there are tour buses that go to the relatively nearby Okuboji Temple and these might serve as a close by point for us westerners uncomfortable with driving in Japan if the museum has a volunteer able to shuttle you back and forth. Alternately, the local rail system goes to Nagao which is only 11km from the Museum and would be an easier round trip. Sanuki should have taxis available but I cannot attest to the price or arranging of return trip.
In our case, since we were the first visitors from overseas and offered to write an article for Cloudy Nights, Mr. Murayama graciously offered to pick us up at our hotel, the JR Clement in Takamatsu and took us initially to the warehouse where they still have a lot of equipment awaiting transport to the museum site. He indicated in correspondence after our visit to contact the Museum if planning a visit and they may be able to arrange similar transport from the Takamatu train station or other nearby locations.
Takamatsu is a charming little city on a beautiful harbor on the Inland Sea and is a 4-hour bus ride from Osaka. The JR Clement hotel is right at the Japan Rail station (JR owns many hotels and shopping malls and retail spaces around their train stations). The hotel was very nice and fully up to the highest standards of Japanese hospitality and courtesy with front desk staff able to speak English. The higher floor ocean view rooms have superb views. It is also right next to Tamomo Castle, dating from 1590 which is very well kept as a historic site to walk around and is unique in being one of the only feudal period castles built on the water. There is also a nearby shopping arcade with many restaurants and shops on up to high end retail chains. We sampled some of the famous local fried chicken and udon noodles the region is famous for.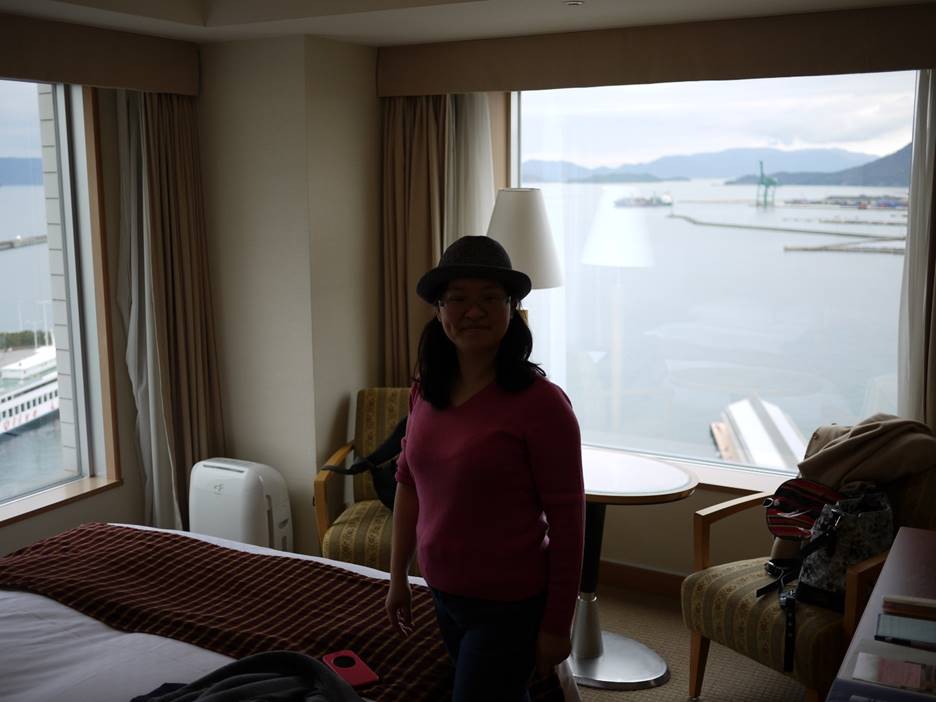 On the morning of our museum visit, Mr. Murayama met us in the lobby of our hotel and took us about 50 minutes to another town where the warehouse is located. We stopped along the way at an overlook with a spectacular view of the Shikoku coastline and Inland Sea.
The warehouse has 4 large rooms of telescopes, parts, most of the collection of over 3,000 books on telescopes and astronomy, and some machine tools for making parts (lathe, milling machine). We got to see many amazing telescopes there, including a 30cm Yoshikawa reflector (12"), a 46cm Calver mirror from the mid to late 1800's (the telescope and mount were already at the museum). As far as I can find from searches of the journal of the British Astronomical Association, this Calver telescope likely is the one that originally belonged to lunar observer Walter Goodacre and was purchased by Issei Yamamoto for use in Japan.
Here is the currently unsilvered Calver 46cm mirror:
There were a few Nishimura 15cm (6 inch) reflectors, and Yuji Hyakutake's 150mm Fujinon binoculars that he used to discover Comet Hyakutake in 1996. Nishimura made some of the first commercially produced telescopes in Japan, with the first unit delivered in 1926 for Kyoto University and Mr. Nakamura was an early mirror maker famed for his optics.
We had the honor of riding up to the museum with the Hyakutake Fujinon binoculars in Murayama-san's van with us, safely ensconced in futons and moving blankets, with a Telrad finder peeking above the blankets.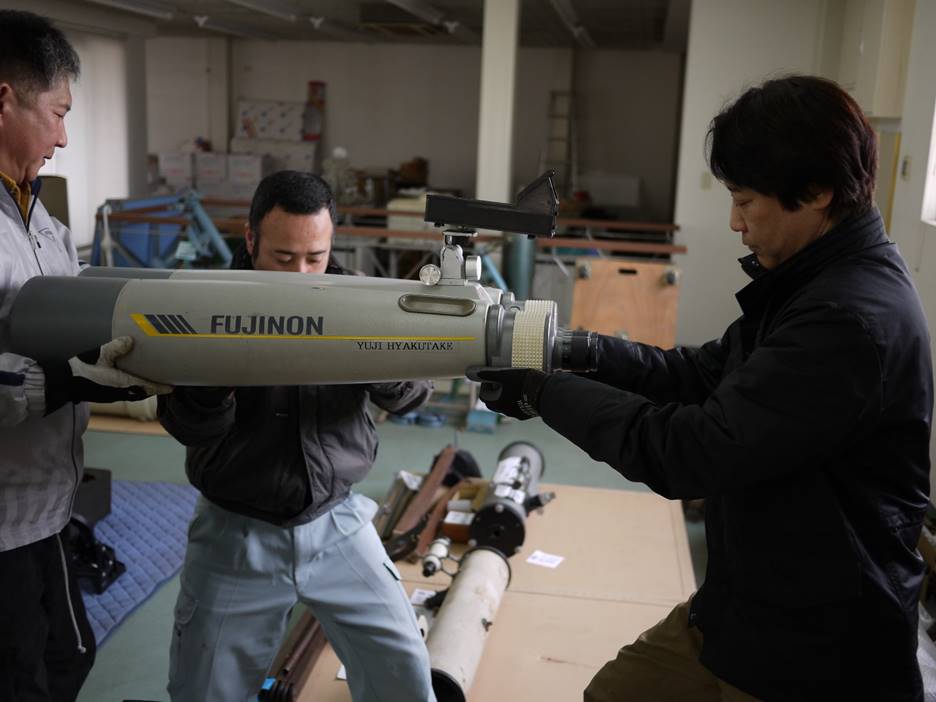 The Museum also received a donation of the entire remaining stock and parts from Pentax when they shut down their telescope production. There were many 150mm apochromats, mainly f7, but one f10 or thereabouts and a pile of MS4, MS5, and MS55 german equatorial mounts, 600mm f4 and 400mm f4 Super Takumar astrograph camera lenses for the Pentax 6x7 bodies, and a large number of mount parts and electronics.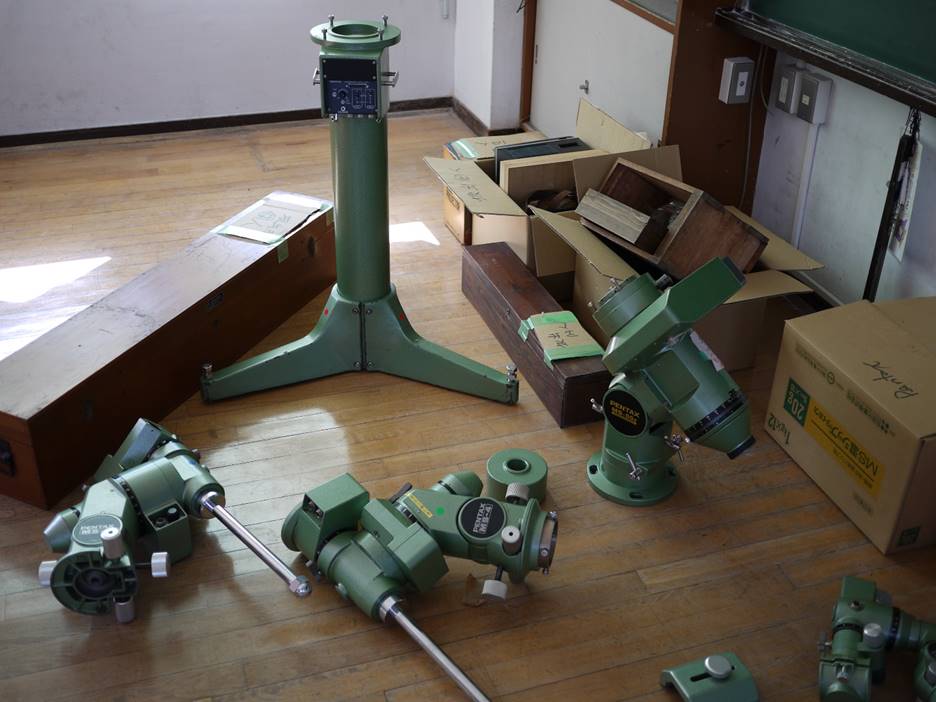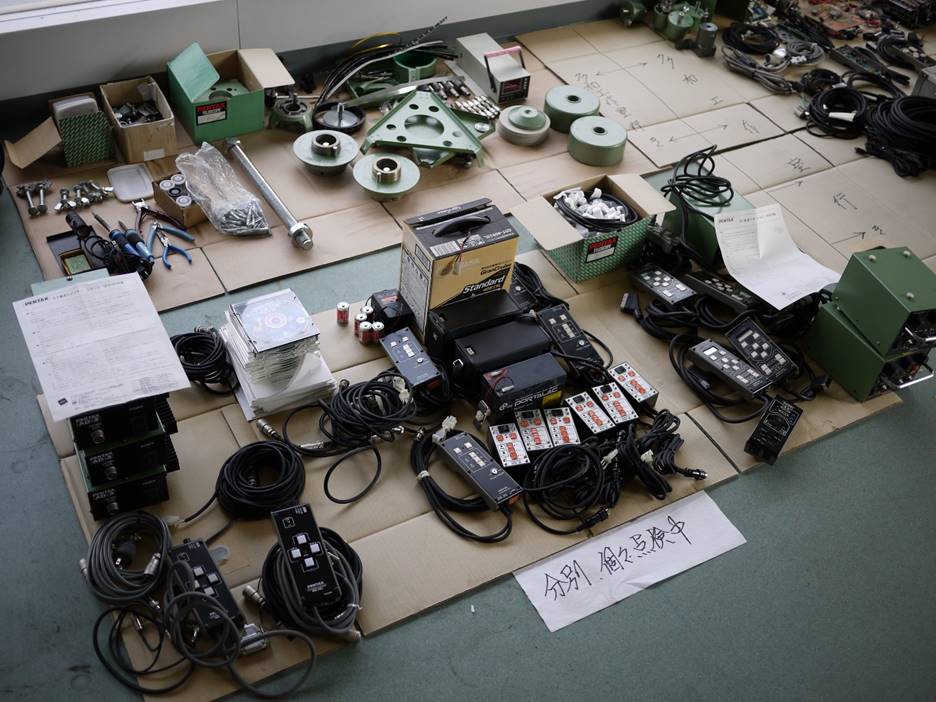 At the warehouse we met a couple of other volunteers who were loading up a small crane truck operated by Takashi Nagamachi who does construction and has done a lot to prepare the museum facilities.
After they had the truck loaded and Hyakutake-san's storied 150mm Fujinons were loaded in the van, Mr. Murayama drove us up to the museum. We ascended on a lovely road with lots of turns through forests of amazingly tall and straight pine trees intermingled with groves of equally tall bamboo and arrived in Tawa.
The Museum is in the former Tawa Elementary School in the Kagawa Prefecture. The search for this site took approximately 10 years, and it was finally found by a chance contact and referral. The school was planned to be closed due to declining population in the area and the town mayor as well as the Sanuki city government were receptive to leasing the school to build the museum and are regularly involved in planning for the museum. They also will keep budget for upkeep of the building itself. The area looks ideal, rural with some elevation and reportedly has dark skies for observing.
The school has multiple floors with many classrooms including one with food preparation equipment since there used to be a cooking class. There is also a large building that used to house a swimming pool which is now the main work floor and exhibit space for many of the largest telescopes in the collection.
The Museum has built a roll off roof structure on the front of the school building housing an absolutely stunning pair of telescopes: a 25cm Goto equatorial refractor and a 16 Inch (35cm) Mikage Newtonian with a "lowrider" style focuser that I also saw on a few other telescopes in the collection, where the diagonal is not at 45 degrees but oriented such that the light is deflected back at a 135 degree angle such that access is easier. Seems our latest innovation for Dobsonians to minimize ladder height isn't new.
There is also a Jims Mobile NGT 18 on wheels in a corner, and another Pentax MS-55 mount in the enclosure.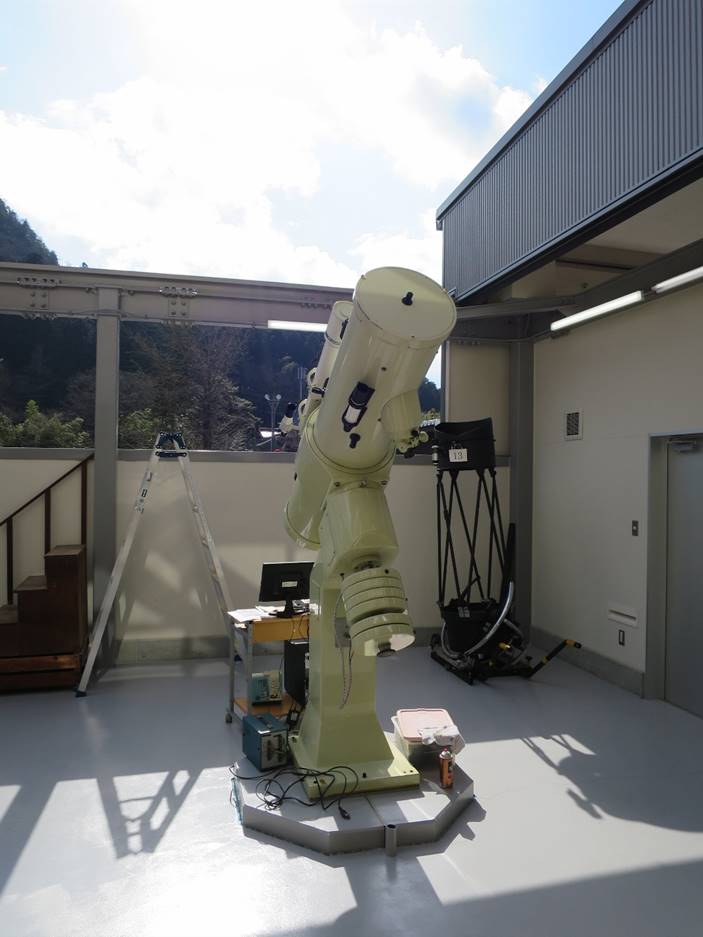 After helping unload the truck that was loaded at the warehouse and seeing the Fujinon 150mm binoculars from Mr. Yuji Hyakutake safely inside, we shared a lunch of incredibly good local soba and udon noodles at the local farm stand with Mr. Murayama, Nagata, Shirokawa (CN's "Galakuma" who presented us with one of his Unitron fans), Urushihara, Takashi Nagamachi, my wife, and myself.
Mr. Murayama showing a picture of the planetarium projector they were planning to pick up in Kyoto the following weekend:
The Museum roof will feature a dome with a Meade 16" LX200 and they have also added a number of concrete reinforced pads on the roof for permanent mounting of a number of telescopes for open air workshops. The mountings will remain outside while the optical tubes will be taken inside between observing sessions.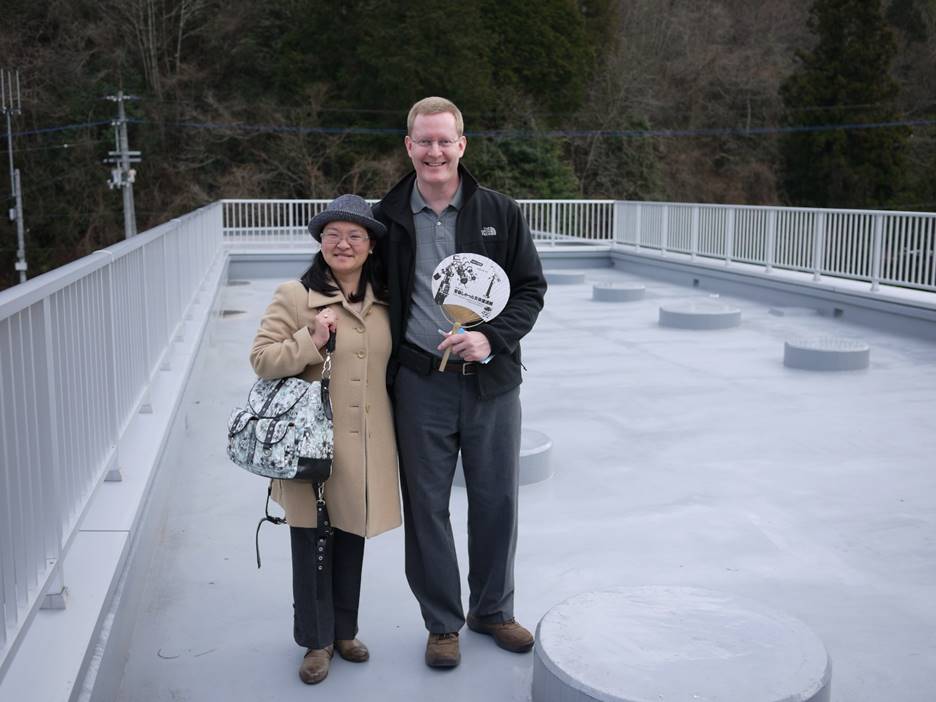 Here is CN's own Galakuma on the roof, he presented us with the Unitron fan I'm holding in the picture above:
Each of the many classrooms in the school is wall to wall with smaller telescopes, too numerous to count and too dense to walk amongst. Numerous 50mm, 60mm, 75mm, and 80mm refractors, including some early Nippon Kogaku (Nikon) and a more recent pristine 65mm Nikon were in one room. In another, a 3" Alvan Clark tube was on a set of Nikon round legs. Overall, these rooms were complete overload and had pretty much every vintage Japanese crafted small telescope made from the 1950s through the 1980s, many in multiples.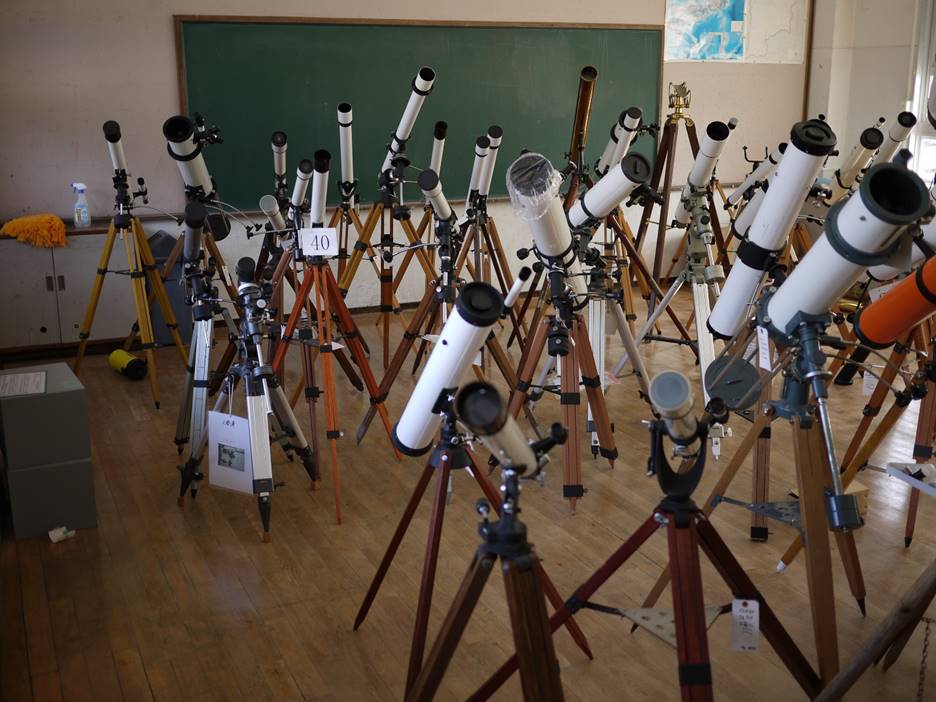 The pool building proved to be the most amazing part of the visit. This large outbuilding had held an Olympic sized swimming pool, now filled in with concrete to make a level floor for a collection of the more massive telescopes being restored for display. On the day we were there, the team was re-assembling the fork mount for a 24" (60cm) Cassegrain reflector using a wheel around overhead crane to maneuver the massive fork arms onto the drive base, while the tube assembly lay nearby.
On the refractor side of the building, there was a row of 3 Goto 15cm (6") refractors, a Nishimura 15cm refractor in the middle, and another row of Nikon equipment, including the first Nippon Kogaku 11cm equatorial, dating from 1932, during the period of their collaboration with Zeiss. Next to that is a 20cm Nikon equatorial towering over the room, and a full up 6" Unitron Photo Equatorial next to that with guidescopes and accessories being installed. On the floor was a second 6" Unitron tube assembly, fully restored.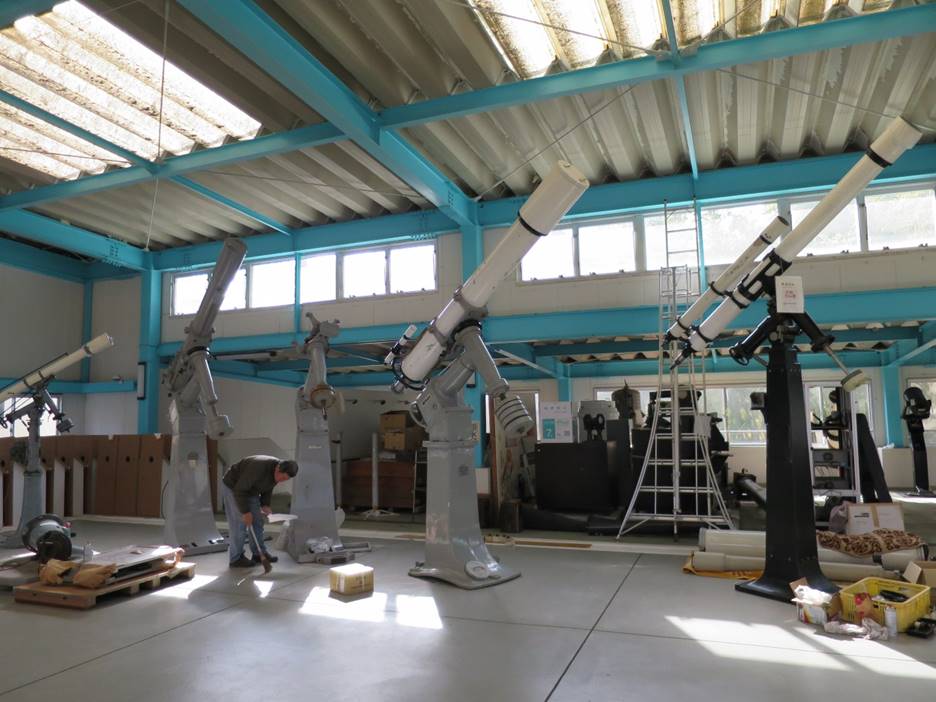 Here in this building was the rest of the 46cm Calver reflector, tube and mounting. The mounting was made for the latitude of England. There is also a Brashear 10" reflector and mount dating from 1921.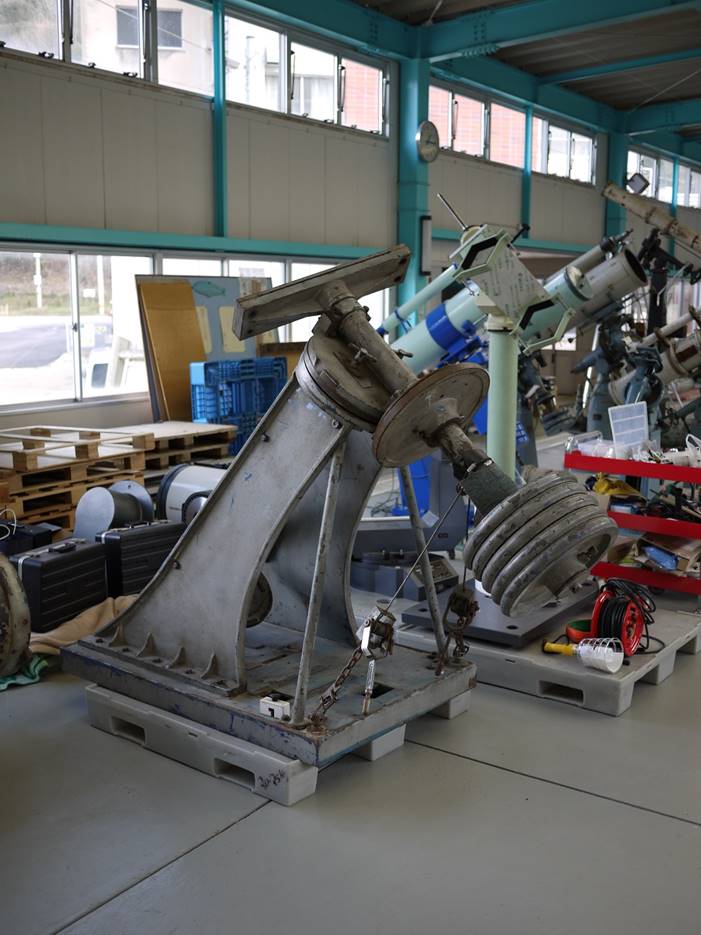 Brashear reflector and mount:
Many more telescopes and other equipment are arranged around the floor of this massive building, including a satellite tracking camera and mount, a heliostat, a mirror aluminizing chamber. Near these is an early Asko alt az reflector of 20cm aperture. Asko telescopes were briefly imported to the US by RVR Optical, if you peruse old Sky and Telescopes for advertisements.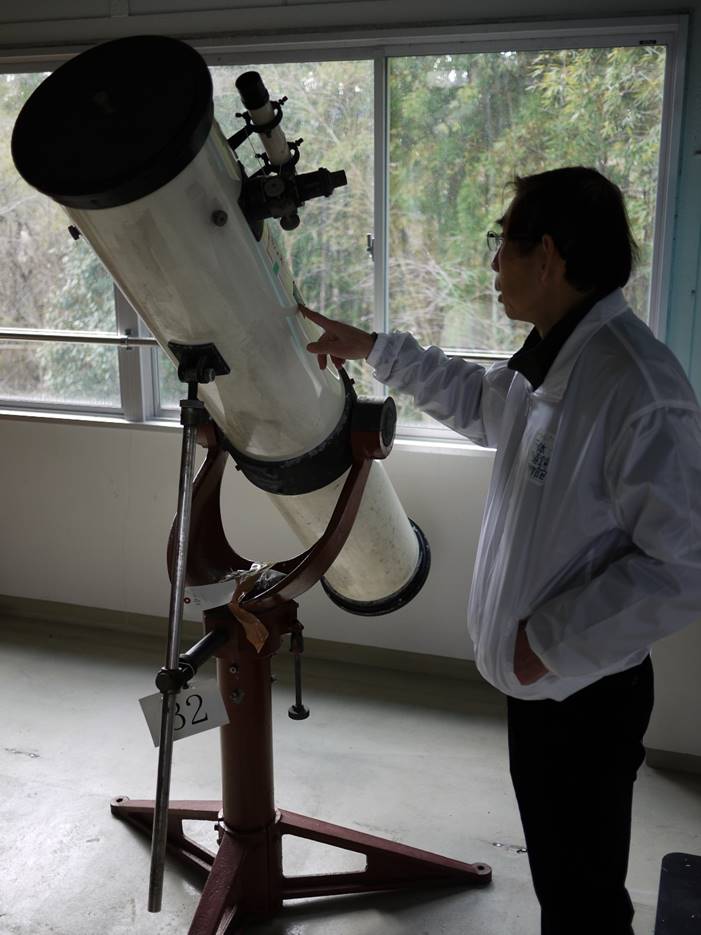 The Museum is adjacent to a local farm stand which gets a lot of traffic from people making the pilgrimage to the 88 temples on the island of Shikoku, due to the nearby Okubo-ji Temple. They serve excellent noodles and have coffee and tea available as well as locally crafted souvenirs and sake.
Overall, my experience at the Museum was incredible and it was nearly sensory overload to see so many vintage telescopes that I have only read about and all in one place. The zeal, skill, and dedication of these fellow amateur astronomers is creating something unique in the entire world, a hands on experience dedicated to preserving the entire legacy and heritage of telescopes and astronomy in Japan, without which many of us would never have received that first telescope under the Christmas tree in our youth.
I intend to visit again next time I'm in Japan and hope to see the completion of the museum and I dream of experiencing the views through these incredible telescopes alongside these dedicated, enthusiastic, and friendly people! I am ever grateful for their warm hospitality and having shared for just a little while in their endeavor to prepare the museum for it's opening! Hopefully this article will whet the appetite of our fellow CN'ers to consider a visit to this amazing facility as well.
Some links of interest:
Museum web page
http://www.telescope-museum.com/
Museum address and Google map link:
Sukemitsuhigashi-30-1 Tawa, Sanuki-shi, Kagawa-ken 769-2306, Japan
History of the 46cm Calver reflector in Japan
http://adsabs.harvard.edu/full/1985JBAA...96....8S
Peter Abraham's web page with history of astronomy in Japan
http://www.europa.com/~telscope/binotele.htm
Nishimura Optical corporate history:
http://www.nishimura-opt.co.jp/en/about/history/index.html
Takamatsu Castle
http://www.japan-guide.com/e/e5403.html
Rail and transit information for Shikoku
http://shikoku-railwaytrip.com/railpass.html
Joe Bergeron, Jon Isaacs, PhilCo126 and 43 others like this
Article: A Visit to the Museum of Astronomical Telescopes In Tawa, Japan