CNers have asked about a donation box for Cloudy Nights over the years, so here you go. Donation is not required by any means, so please enjoy your stay.


2
Adapting Eyepieces for Binoviewing
Aug 29 2017 12:45 PM | The Ardent in
Articles
Discuss this article in our forums
Adapting Eyepieces for Binoviewing.
by John C Raymond
Bio
John Raymond is a lifelong resident of Virginia. He received his first telescope Christmas Day 1980. Past president of the Richmond Astronomical Society. Ten year volunteer for the NEAF Solar star party.
I've enjoyed binoviewing for a few years now. What drives me is the question: What works best for binoviewing? Among the various discussions in the Binoculars and Binoviewing forums on Cloudy Nights is the mention of IPD or Interpupillary Distance
https://en.wikipedia.org/wiki/Interpupillary_distance
Successful binoviewing entails one major requirement: both eyes must receive light from the objective. Now this sounds kinda obvious, right? Well it's not that easy. Most astronomical binoculars and binoviewers are hinged. This allows the two eyepieces to be spaced so that light enters both eyes. Some of us have a narrow IPD and facial structure that prevents optimal eye placement. In my case, the nose. It won't fit between some binocular eyepieces. It won't fit when binoviewing with complex, wide body eyepieces.
Ok so why is this an issue? Why not stick with simple design Plossl and Orthoscopic eyepieces that allow plenty of schnozzle room? For the moon and planets I find the simple designs quite sufficent. But for me it's not just binoviewing, there's also Deep Sky Binoviewing. Here wide field is a consideration. We use large complex eyepieces for monoviewing deep sky. We want wide field, long eye relief, and freedom from aberrations in one package.
The Pentax XL
This widefield, long eye relief eyepiece has been a favorite of observers for almost twenty years now. A sensation when they first arrived, they quickly established a good reputation. At the star party there was always that one Pentax guy, a lone heretic who used these exclusively, and endured the kind-hearted ribbing of the TeleVue enthusiasts. (Myself included)
Only this year did I consider these eyepieces for binoviewing. They are light, have long eye relief, and a wide field. Available on the used market only. To adapt these for binoviewing: remove the rubber eyecup. Unscrew the aluminum skirt. Be careful of the threads, they can be sharp! There is grease that requires removal too.
The resulting eyepiece is much slimmer. It's unmarked too, so I added. "21" with gold Sharpie. The ink is reflective making for easy identification with dim red light. Then a 40mm rubber eye guard like this
http://agenaastro.com/agena-eye-guard-2-eyepieces-id-40mm.html
See the pictures! Dramatic increase of interocular space.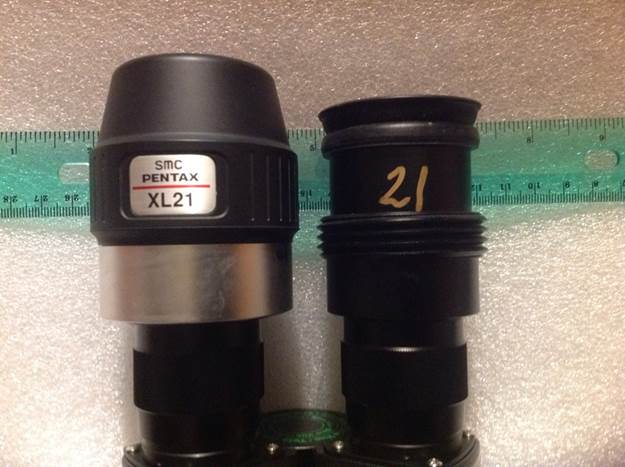 TeleVue Delos
I first tried these at a star party right after they were introduced. I was really impressed! These feature long eye relief, wide field, and perfect views. The adjustable eyecup is quite wide however. When binoviewing I have to hold my head at an angle as my nose can't fit in between. To adapt these for binoviewing: unscrew the two barrels of the eyecup. Be careful, the compression ring can fall out. Likw the Pentax, the inner barrel is unmarked. I write the focal length on it with gold sharpie. The eye lens is an odd diameter, the only eyecup that fits is the Baader EYECP-2 for 33-34mm.
http://www.alpineastro.com/Eyepieces_Accessories/Eyepieces_Accessories.htm#EyeCups
In my 18" dob, I prefer the 17.3 Delos over the 24 Panoptics.
The TeleVue Delite
The Delites offer 20mm eye relief and excellent optics. The small size appears perfect for binoviewing, but again my nose says otherwise. The adjustable eyecup unscrews just like the Delos. I found useable eyecups on EBay, under microscope accessories. Look for the 35-40mm size. There are many sellers offering a variety of eyecups. Be a wise shopper and read the descriptions carefully. Most of the sellers have pictures giving the dimensions of the eyecups.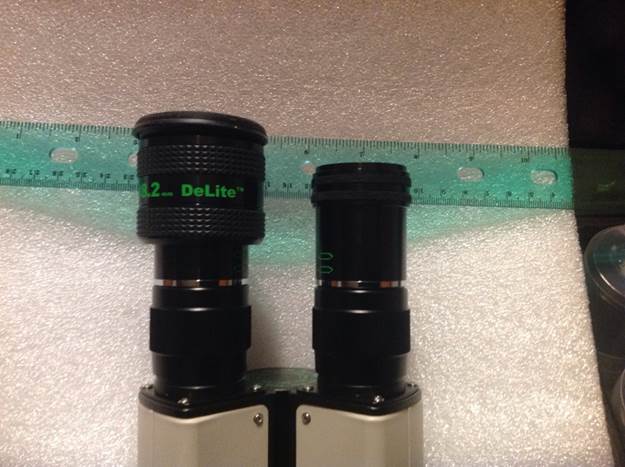 The Televue Radian
This was TeleVue's long eye relief line of eyepieces since replaced by the Delites. I find these to be excellent on Jupiter. Can be found used at bargain prices, compared to the current offerings. I also found eyecups on EBay, The 33mm size with sloping profile called "Oxhorn" by some sellers.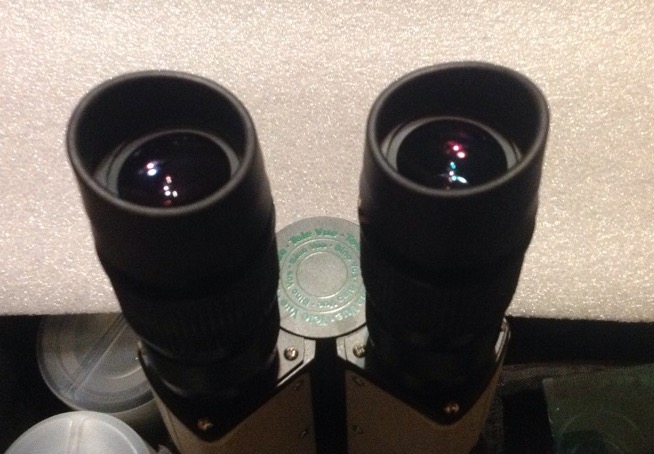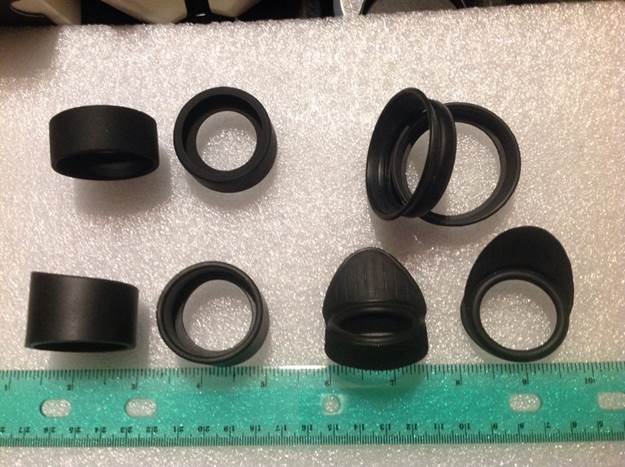 vkhastro1, Lewis Cason, RAKing and 1 other like this
Article: Adapting Eyepieces for Binoviewing