CNers have asked about a donation box for Cloudy Nights over the years, so here you go. Donation is not required by any means, so please enjoy your stay.


0
An OFLI Dark Sky Adventure in an Ancient Land
Aug 25 2012 03:44 AM | jrbarnett in
Articles
Discuss this article in our forums
An OFLI Dark Sky Adventure in an Ancient Land
By James Barnett
Petaluma, CA
July, 2012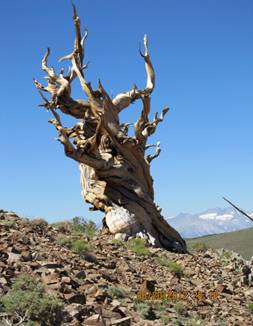 Prologue.
Our story actually begins with the planning for last year's OFLI trip to the Mojave National Preserve.  You can read about OFLI, my club, and the 2011 Mojave trip in this article on CN:
http://www.cloudynights.com/item.php?item_id=2673
When I plan and organize an observing trip for the club, finding a site with excellent dark skies is just the beginning.  There are 24 hours in a day, and not everyone is content lounging around camp day-after-day between observing sessions.  So in addition to tracking down world-class dark sky sites that can accommodate a dozen or so astronomers, their vehicles, equipment and camping gear, I research daytime activities in the general vicinity, and then prepare a "Things to See and Do" pamphlet that described the activities, provides directions to their locations and identifies gear and fitness level necessary to participate in them.
A number of the activities in the Mojave pamphlet involved off-pavement drives and/or hikes to Native American rock art and other archaeological and paleontological sites.  Examples of Indiana-Jonesing included in the Mojave activities pamphlet were Shaman Cave, a pictograph site in the Old Woman Mountains, Eagle Well a petroglyph site and ancient well adjacent to the Old Mojave Road, Cow Cove, an expansive petroglyph site off of Aiken Mine Road and the Blythe Intaglios, large-scale animal and anthropomorphic figures (think smaller versions of the Nazca Lines of Peru) carved into the desert floor near Blythe, California.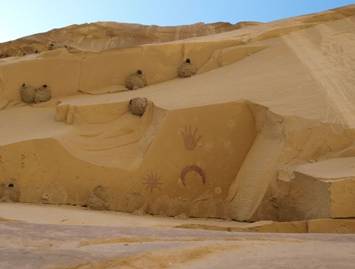 Above is my 2008 shot of the famous "Supernova" pictograph located on the ceiling of an alcove in the cliff face below the Penasco Blanco great house ruin, Chaco Culture National Historical Park, San Juan County, NM.  It has been speculated that this pictograph depicts the Milky Way galaxy supernova in Taurus in 1054.  M1, the Crab Nebulae, is the remnant of this event.
Preserving cultural resources such as rock art sites located on federal land is a major function of the Park Service, Forest Service and Bureau of Land Management.  Protection has to be carefully balanced against their other major function, though, which is encouraging visitation of public lands to ensure continued taxpayer interest in and support for those public lands.  It's tricky to find the right balance between protection and preservation of these sensitive cultural sites from vandals and looters, on one hand, and using these sites to encourage visitation and public interest in continued preservation of historic and prehistoric sites, on the other.  It's not always easy to identify the "right kind of people" with whom to share location data for one of these sites, and public servants are understandably often tight-lipped with such information.
On top of preservationist qualms over publicizing information regarding the locations of such sites, there's a respect component as well.  Many of these sites are (or at least were) sacred to native peoples of North America.  It is important to bear in mind that when you or I visit such a site, we see it through an outsider's eyes.  Sure, we can marvel at its complexity, puzzle over its purpose and meaning and wonder about the motivations of the people who created it, but we lack kinship with the creators.  When I visit such a site, I treat it as if it were the burial plot of a close family member.  By showing solemnity and exercising restraint I believe that you are unlikely to transgress or disrespect the rights and feelings of those who do share kinship with the location and its creators.      
It was in the course of researching the archaeological sites in the Mojave listed above that I stumbled first on mention of preserved dinosaur tracks in the Mescal range in San Bernardino County, California, and filed that away for future investigation, and then later onto a photograph by the late Galen Rowell of a rock art site known as "Sky Rock" someplace in Inyo County near the town of Bishop.   Like the dinosaur track tidbit, I also squirreled the Rowell image away for future follow-up, as both sites were too far afield for inclusion in the Mojave activities guide.
http://www.mountainlight.com/AA-images/aa_1161_480.jpg
Above I've linked late naturalist Galen Rowell's iconic image of Sky Rock with the eastern Sierras illuminated by the first rays of the rising Sun in the background.  Rowell's image has been frequently imitated but never equaled, and served as the inspiration for this OFLI trip.
So by the time Earth had completed about half of another circuit around Sol following the conclusion of the Mojave trip, I started planning for the 2012 OFLI trip.  I went back to my notes and bookmarks from the 2011 trip preparations and chanced upon the bookmark of the Rowell image of Sky Rock.  In that instant, finding Sky Rock became the "grail" for the trip described in this article.
A Word About Tom Biermann (CNer Americal).
In the course of discussing the planning of the 2011 OFLI dark sky trip in a General Observing forum thread here on CN, I floated the idea of the Mojave National Preserve as a destination and waited for opinions.  One CNer, Americal (Tom Biermann), chimed in with a wealth of data on the Preserve and, astoundingly, offered to reconnoiter one of the campgrounds I was interested in and to provide a site assessment.  Here a perfect stranger was offering to drive a substantial distance from home to the middle of nowhere, to evaluate whether a bunch of astronomers he didn't know from Adam would be happy campers, literally and figuratively?  It sounded too good to be true, so I figured I'd never hear from the guy again.  I figured wrong.  Like clockwork, Tom produced the goods.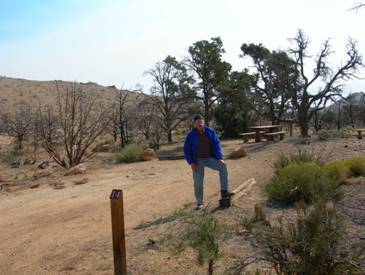 Soon-to-be-OFLI-ite, Tom Biermann, scouts Mid-Hills Campground in the Mojave National Preserve in advance of the 2011 "Out There" trip.
This convinced me of three things.  First, Tom was a real person.  Second, he was both generous with his time and reliable on his commitments.  And third, he knew his stuff as far as the California backcountry is concerned.  Tom met up with us in the Mojave for the 2011 trip, and has been a fast friend ever since.  As you will read, Tom's experience, knowledge and skills as an outdoorsman were to prove invaluable once again for the trip described in this article. 
Grandview and the Inyo National Forest.
With Sky Rock as the primary (daytime) objective for this trip, I started looking for a dark sky campsite in the general area that would suit our observing and camping needs.  Having been spoiled in 2011 in the Mojave with a well-developed group campground, complete with a water source, telescope slab, massive shade ramada, picnic tables, restrooms and privacy from other campers and their noise and light sources, my first pick was one of the Forest Service group campgrounds in the Inyo National Forest located just off of White Mountain Road, the road that leads up to the Bristlecone pine groves and ultimately to the summit of White Mountain Peak.  There are three group campgrounds in the area - Noren, Nelson and Ferguson – that are used frequently by university geology departments for field trips to the White Mountains.  They feature a large concrete slab surrounding a fire ring, pit toilets, a sizable shade ramada and picnic tables, and privacy from other campers.  Unfortunately, they also tend to be booked far in advance, and initially we were waitlisted for one of the sites but ultimately were told that it was spoken for.
I asked the ranger who gave me the bad news to recommend an alternative and he suggested Grandview Campground located a few miles up White Mountain Road from the Group Campgrounds.  I'd heard and read decent things about Grandview in the past, but was concerned that I would not be able to reserve a site in advance (Grandview is first come, first served).  The last thing I wanted was to have a dozen folks travel from around the country and, in fact, around the world for this trip, only to show up only and find no place to camp and observe.  The ranger indicated that Grandview was rarely full, and suggested that we take the very first campsite on the right (#14) when entering the campground if it was available, as it tended to have a bit more room for tents, vehicles, people and astronomy gear.  I shared the recommendation with the club, and crossed we crossed our fingers, with Randy Spiker and Lonnie Bowling heading up a day earlier than the rest of us to stake our claim to the best available spot.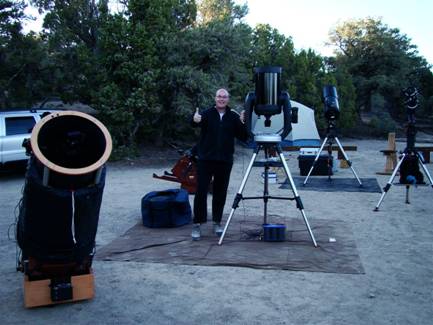 Neil English, astronomy author and all-around nice guy poses with my CPC-1100 as darkness falls.  If you haven't yet read one of Neil's books in Patrick Moore's Practical Astronomy series, you really should.  Ironically, the catadioptric is the one telescope family that Neil hasn't yet opined on in print.  Perhaps his high country saddle time at the eyepiece behind 90mm, 6", 8" and 11" catadioptrics will inspire him to take a run at Uncle Rod's bread and butter.  Stirring the pot?  Who, me? 
This trip, we invited a special guest, astronomy author Neil English.  I picked Neil up from San Francisco Airport (SFO) on Friday evening and Sunday morning we were off, as part of a two vehicle convoy with Jeff Cooke in the second vehicle, headed out of the Bay Area and into the Sierra foothills.  Grandview is approximately 7 hours driving time from the Bay Area.  The Owens Valley separates the Sierra Nevada from the White Mountains and Grandview.  To enter the Owens Valley from the Bay Area, we needed to cross over the Sierras.  There are a number of passes summiting the Sierras, but ultimately we chose Sonora Pass on SR-108 rather than Tioga Pass on SR-120 to avoid heavy Yosemite traffic.  Summer is high season in Yosemite and SR-120 passes through the park on its way to Tioga Pass.
Got that?  Mountains and passes…think "elevation".  Grandview is located at a towering 8,600 feet.  Sonora Pass summits at a breathless 9,600 feet.  When living at or near sea level and traveling to high altitude, it's best to be able to recognize the symptoms of altitude sickness and to know how to treat it.  Altitude sickness or "hypobaropathy" is caused by acute exposure to low partial pressure of oxygen at high altitude.  It typically manifests at elevations above 8,000 feet.  Symptoms can vary, but often include flu-like and/or "hangover" symptoms.  There are three ways to treat the malady.  Move to a lower elevation, acclimate for a period of time at the troublesome elevation (one or two days of misery, potentially) or intake additional oxygen.  Thankfully no one in our party suffered anything that a couple dozen pulls on a bottled oxygen canister couldn't remedy.
Note that even if you don't suffer from altitude sickness, you will find vigorous physical activity to be much more tiring at such elevations.  When we arrived at Grandview I set up three tents; the guest tent, a storage tent and my own tent, and was thoroughly winded by the time I was finished.  I've never been tuckered from setting up a tent before.  But let's get back to the story…
Grandview is a public campground maintained by the National Forest Service.  It is free, though donations are accepted (and recommended).  There are 26 designated campsites arranged around a half-mile graded dirt loop.  The campground occupies a relatively flat saddle between a low ridge separating the loop from White Mountain Road on the east side and a taller ridge blocking Owens Valley to the west.  The typical Grandview campsite features a flat area for tents and gear, fire ring, picnic table and copses of stunted Pinyon Pine and Juniper for a few shady areas.  There are several pit toilets serving the campground, but absolutely NO WATER on site.  You must pack in all water that you need for cooking, drinking and cleaning.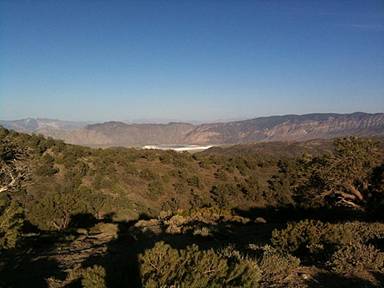 The view south to Owens Dry Lake from Grandview Campground.  On a clear day, you can see for miles and miles and miles and miles and miles.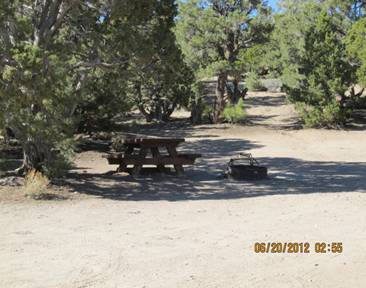 Above is a typical Grandview Campground campsite, though this is not the site that we occupied.
We were there from Sunday, June 17 through Friday June 22.  In the Owens Valley below, about 4,500 feet in elevation, daytime highs hovered around 100 degrees Fahrenheit.  Daytime temperatures at Grandview were much more pleasant, remaining in the low 80s during our stay.
All and all, putting aside the sites suitability for astronomy for a moment, and provided you can cope with the elevation, it is an ideal summer camping location in the eastern Sierra region.  The elevation keeps you above the blistering heat of the valley below, and there's no shortage of things to see and do along White Mountain Road.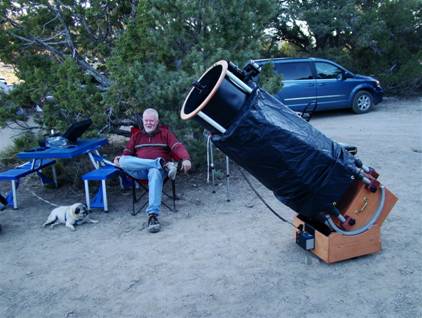 Bruce (CNer drollere) enjoying Grandview.  Jeff Cooke's 15" Obsession and Randy's pug share the limelight.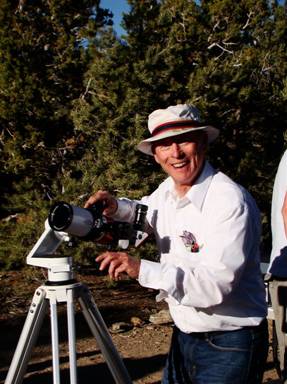 Dave Hampton with his Lunt.  Think he likes it?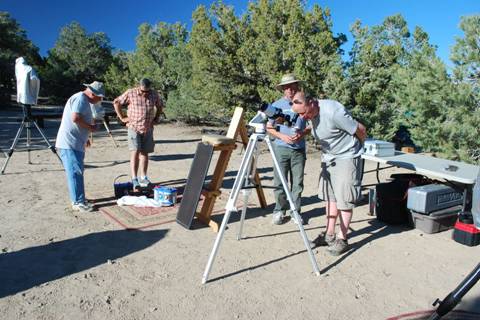 Neil English and Jeff Cooke use Dave's Lunt Ha scope while Cliff and I talk mount power sources and the finer points of solar battery charging in the background.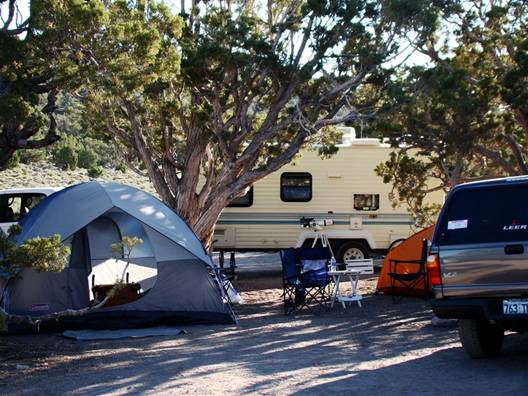 Home sweet home.  Jeff Cooke's tent and Randy's trailer tucked in the shade of the Pinyons and Junipers.
Observing Site "Report Card".
Sure, Grandview is a nice summertime high country campsite, but we weren't there merely to commune with 4000-year-old trees, survey the mighty Sierras from the Tahoe basin to Mount Whitney or hike to ancient Native American ritual sites or long forgotten gold mines.  We were there, foremost, for astronomy.  So how is Grandview as an observing site?
As I visit more and more western dark sky sites, both with and without the Merry Band, I have come away from each new site with a subjective perception of how it stacks up against the prior sites I've visited.  But without exploring the underlying facts, observations and preferences that lead to those perceptions, it's difficult for the reader to correlate my site assessments to other sites he or she is familiar with, but which I haven't visited or rated.
Enter the "Observing Site Report Card" concept.  You remember report cards.  Those 5" x 8" prophets of doom that showed up in your mailbox a few times a year and heralded parental scolding, praise or a mix of both?  They're back!  Using a 60-point scale covering 6 categories worth 10 points each, and designating conditions at the OFLI home site, the Farm, in Sonoma, California, as a mid-pack 30/60 (i.e., "5s" in each category) baseline, I'll grade Grandview using the same scale.
(i)  Report Card for the Farm: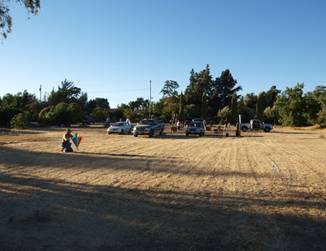 The Farm, OFLI's home site, looking north.  The kite runner in the foreground is kidding himself.  If there's one astro-malady the Farm does NOT suffer from, it's wind.
Overall Grade:  30/60
Darkness: 5
Basis for the rating:  The Farm features a NELM in the 5s; low 5s from nightfall to about 11pm and then mid to high 5s once local businesses in Vallejo and Sonoma close and douse their lights.  It has two sizeable light domes, one in the southeast from Vallejo and another in the north from Sonoma.  There are no street lights along the graded gravel lane next to the site, and for the most part neighbors have minimal outdoor lighting.
Transparency: 5
Basis for the rating:  Sonoma Valley, nestled between Sonoma Mountain (a misnomer; it's a "hill" in reality) to the west and the Mayacamas range separating the Napa and Sonoma Valleys to the east, is fairly low meaning that we look through a significant airmass.  Coupled with its near-sea-level elevation, it is a heavily agricultural area that can be somewhat dusty in warm months and smoky from wood heating fires in cooler months.  These factors result in an appreciable amount of extinction as well as a fair amount of scatter much of the time. 
Moisture/Dew Propensity: 5
Basis for the rating:  The Farm occupies approximately 13 acres and is bisected by a seasonal creek.  Even on the driest summer nights observers will experience at least some moisture on flat surfaces.  In other seasons, moisture is more prevalent and on the worst of nights thick tendrils of ground fog can turn Dobsonian primary mirrors into fish-bowls within minutes.  It is wise to pack dew suppression tools year-round at the Farm.
Seeing: 5
Basis for the rating:  Being positioned between two ridges, typically seeing at the farm isn't bad.  Most nights we'll experience no worse than Pickering 5 to 6 seeing with Pickering 7 being more common, though much better than Pickering 8 is rare.  I suspect the valley's tendency to trap thick blankets of stale air helps stability, but the thermals off of the slopes on either side of the valley slowly churn the air pocket from the edges, preventing complete stagnation. 
Wind: 5
Basis for the rating:  The farm doesn't get much wind at night.  In fact, I can recall only one session out of scores where the wind was a bother.  Not much to say here other than I never worry about wind when heading over the hill to the Farm for a session.
Horizons: 5
Basis for the rating:  The Farm has good horizons to the west, northwest, and east.  The northeastern horizon is slightly obstructed by an old walnut tree.  The southeastern, southwestern and southern horizons are slightly obstructed by a stand of eucalyptus trees.  The obstructed portions of the viewing are cut into the obstructed horizons no more than about 20 degrees, so effectively they block thick 2x airmass zones, limiting the site quality damage taller obstruction zones would inflict.
(ii)  Report Card for Grandview: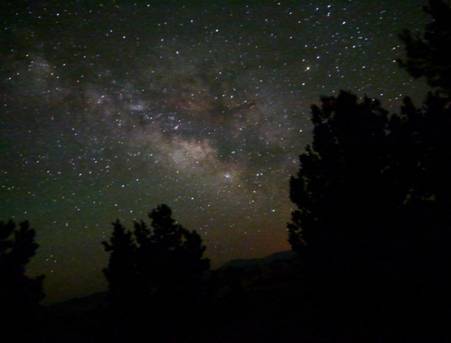 The summer Milky Way, Burnham's "sky road of the immortals", spans night's black chasm above Grandview Campground.
Overall Grade: 49/60 
Darkness: 8.5
Basis for the rating:  Grandview is dark.  How dark?  On popular light pollution maps available on the internet, Grandview is located in a gray zone, adjacent to a black zone in Death Valley national Monument's Saline Valley.  For reference, Black Canyon in the Mojave National Preserve and Chaco Culture National Historical Park in New Mexico are both located in gray zones as well.  Having spent quality observing time at all three sites, I can comfortably say that not all gray zones are created equal.  Grandview was considerably darker than the Mojave site and perhaps a little bit darker than Chaco.  Are there darker sites in the United States?  You bet.  But not many.  
Transparency: 10
Basis for the rating:  Grandview has three things going for it on the transparency front.  It's very high, has predictable brisk winds that clear particulates from the thin air, and is located in the White Mountains which are one of the driest places on Earth, minimizing moisture-induced skyglow.  The only times we experienced compromised transparency was during a very windy period before dusk that put a fair amount of talc-fine, brown grit in the air hugging the ground below the juniper tops.  This is nasty stuff, for sure, and I was cleaning it out of crooks and cervices on my vehicle and equipment cases, but the localized dust storm lasted only couple of hours and then was gone.   
Moisture/Dew Propensity: 10
Basis for the rating:  The White Mountains are tall and ancient (hundreds of millions of years older than the relatively youthful Sierras according to the fossil record).  White Mountain Peak, which is approximately 20 miles further up White Mountain Road from Grandview, is the third highest peak in California at 14,252 feet.  The two taller peaks, Mount Williamson and Mount Whitney, are just south and west across the Owens Valley from White Mountain Peak.  On average, however, the Sierras are just a little higher than the Whites.  This places the Whites in the Sierra's rain shadow.  Virtually no moisture from California's coast or central valley makes it over the Sierras and across the Owens Valley to the Whites.  As a result, Grandview is bone dry.  You'll want plenty of water and lip balm.  My lips were virtually mummified after two days.  It took me a week and a half of frequent Chapstick applications to get them back to normal.
Seeing: 8.5
Basis for the rating:  I'd been warned not to expect great things on the seeing front at Grandview.  The theory went something like this:  superheated air in the Owens Valley below would come jetting up over the 4,500 foot ridge, crashing into the cooler air in the Grandview saddle and creating turbulence.  It sounded plausible enough.  However, I also knew that Grandview was a haven and long-time haunt for astro-imagers.  Astro-imagers hate bad seeing almost as much as double star and planetary aficionados.  Grandview is not particularly conveniently located for either northern (7 hours away) or southern (5+ hours away) Californians, so I figured the seeing couldn't be that bad if so many imagers were willing to travel that many hours to get to the site.
Seeing was outstanding.  Almost without exception, the wind died down completely after sunset.  There was no evidence of feared localized turbulence, and though seeing wasn't constantly perfect by any stretch, other than rare moments of Pickering 6 seeing spikes, for the majority of the time seeing hovered between Pickering 7 and Pickering 9.  Anecdotally this meant that the TEC 140 was rock-solid without breakdown on Saturn using a 2.5mm Pentax XO (392x; >70x/inch) and a 2.8mm (350x; >60x/inch) Takahashi LE.  I overheard more than one attendee profess that the site produced the finest Saturn views they had ever seen.    
Wind: 3.5
Basis for the rating:  While it did settle down nicely an hour or two after sunset on all but one of the nights.  During the daytime hours, and particularly the afternoon hours, Grandview experiences sustained brisk winds with occasional strong puffs.  But if these zephyrs were daytime phenomena why the low Wind score?  Dust.  The site is dry and the dust is fine.  The gusts coated tripods, tents, equipment covers and storage containers (and more than one primary mirror) with layers of microfine grit.  In fact, the dust was so fine that it filtered through the mesh panels on rainfly-covered tents coating the interior with fluffy brown powder.  Dust and optics don't mix; hence the poor score on this metric. 
Horizons: 8.5
Basis for the rating:  Our particular east side campsite had excellent horizons.  The sites across the saddle up against the western ridge didn't have a good a southern exposure as the sites like ours on the east side of the ridge.  Bishop created a tiny, mostly averted vision, light dome through a gap to the northwest.  Medium exposure wide field DLSR images hinted at a miniscule Las Vegas light dome far to the southeast.  Other than that, horizons were largely unobstructed and dome-free.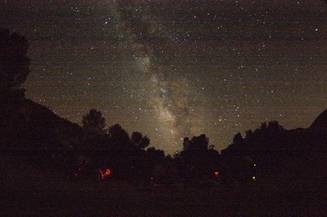 How dark?  For comparison, here's a wide field summer Milky Way shot taken at Pinnacles National Monument in August, 2011.  Grandview is considerably darker.
Tune-up for Sky Rock.
The Owens Valley has been continuously inhabited by humans for over 12,000 years based on the paleontological record.  Post-Ice-Age hunters lived adjacent to now dry lakes in various parts of the Owens Valley.  While there is archaeological evidence that the area's population size ebbed and flowed over the intervening millennia, and it is unknown whether the region's first settlers were the progenitors of later settlers or rather later settlers represented culturally and genetically unrelated migrants to the region, it is clear that the volcanic tablelands north of the town of Bishop were heavily occupied for an extended period of time dating back almost 10,000 years.
The tablelands consist of a 740,000 year old, 150 meter thick Rhyolitic ash flow covering over 100,000 acres.  Only 4,000 acres (~4% of the area) have been surveyed by archaeologists, and those surveys identified 281 sites, including rock shelters and caves, petroglyphs sites, villages sites and milling areas.  Extrapolating from the survey data, the tablelands likely house thousands of additional undocumented prehistoric occupation sites, making it one of the densest concentrations of archeological sites in North America.
As a tune-up for the Sky Rock attempt, we decided to acclimate on the scorched 100-degree+ tablelands by visiting a handful of rock art sites accessible by automobile.  These sites are arranged along Fish Slough Road, are on BLM land and are reasonably well marked with obvious graded turn-outs for parking.  Locating these sites and preparing directions to them in advance of our visit was a piece of cake.  Fifteen minutes of Googling will do the trick. 
Fish Slough Road is a graded, reasonably well-maintained dirt road that runs north-south along the eastern edge of the tablelands.  It is passable in an ordinary passenger vehicle.  The OFLI crew piled into a rented minivan for this daytrip.  Other than a couple of wash-boarded segments, it was smooth sailing in the land-barge.  The sites we visited included, from south to north in the order we visited them, the Fish Slough Group, the Chidago Canyon Panel and the Red Rock Canyon Petroglyphs.  We skipped the northernmost site, the Chalfant Group, largely because only I knew about it and didn't mention it due to a few of us seemingly bordering on heat stroke, and also because I wanted to save something for our next visit.
The Fish Slough site, our first of the day, was the least impressive.  The art is mostly limited to the front and back sides of one long boulder, and is heavily weathered.  What I didn't know at the time, but have learned since, is that over the low bluff not far behind the petroglyph site there is a village site.  Yeah, I'm filing that away for later.
Fish Slough petroglyph group.  I felt like Frankenstein pursued by angry torch-bearing villagers at this point, having packed the lads like sardines into a mommy-van, whisked them along hours of bumpy roads and made them trudge around in shadeless 100-degree heat - for this.
 Our second stop was the Chidago Canyon site.  I was redeemed as tour guide.  The petroglyphs were well-preserved, thought-provoking and abundant.  This site is quite large consisting of numerous detailed panels on boulder faces behind a low wooden fence erected by the BLM to remind visitors to be respectful.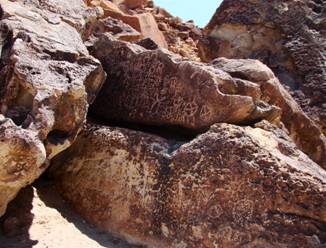 Here's a very interesting Chidago panel captured by veteran rock art hound, Randy Spiker.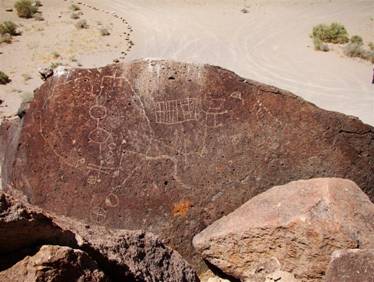 Intrepid Randy then conquered the Chidago boulder pile to discover this hidden gem at the very top.
Our third and final rock art stop for the day was Red Rock Canyon.  This site features a very large, well-developed parking area and obvious trail leading off eastward around a plateau of fractured volcanic boulders.  Other than a handful of small peckings on a boulder at the trailhead, and large bare patch complete with saw marks where a large panel had obviously and sadly been pilfered by hooligans, there didn't appear to be much here, especially for such a well marked site.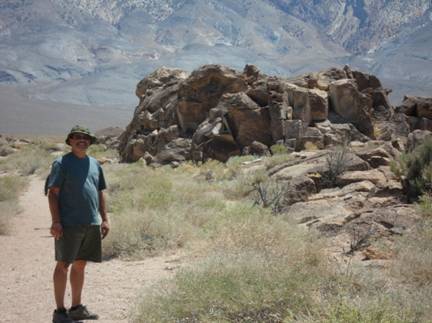 Stalwart OFLI-ite Reuben Otero keeps his spirits up despite having hiked half-way around the loop trail at Red Rock Canyon without seeing a whole lot of rock art.  Those are the White Mountains rising in the background.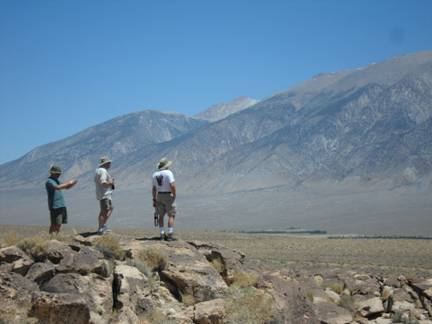 Reuben, Jim Barnett (me!) and Randy Spiker at the three-fourths mark at Red Rock Canyon and still not much in the way of ancient signposts.  Yes, Reuben is taking a tricorder reading while Randy and I strike our best "Indiana" poses.  Reuben:  "He's dead, Jim."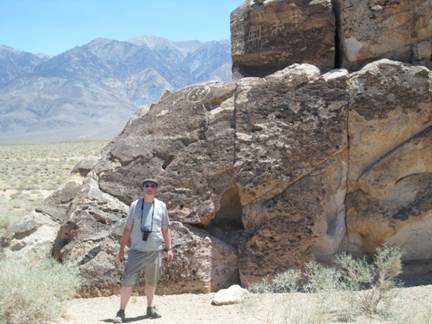 Neil English, with OFLI-ite Lonnie Bowling (the photographer) are on to something at Red Rock Canyon.  It turns out that the highest concentration of rock art at the site is on the far end of the loop trail from the main parking area.  Neil and Lonnie backtracked and followed the loop trail from the opposite direction.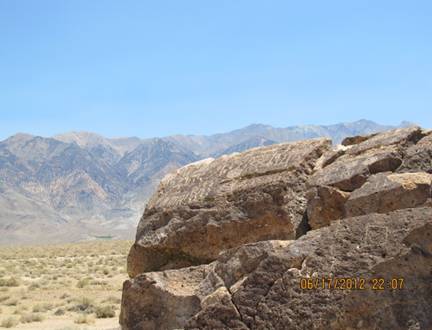 Rock art panel at Red Rock Canyon with the Whites in the background.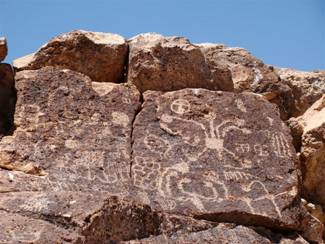 Another fine panel in Red Rock Canyon.  By this time we are all very hot, tired, thirsty and hungry.  Off to Las Palmas Taqueria in Bishop for their mind-boggling salsa bar, graciously funded by Reuben.
With the Fish Slough Road petroglyph adventure behind us, everyone now knew what to look for when we would later attempt to find the penultimate objective (after dark sky observing, of course) of our trip, Sky Rock.    
The Oldest (Living) Inhabitants of the Region.
The White Mountains are perhaps best known for the groves of Bristlecone Pines that dot their upper slopes.  There are two main groves developed for tourist visitation.  The lower, in my opinion, less striking grove is called the Schulman Grove and is located at the end of the paved portion of White Mountain Road, approximately ten miles up from Grandview.  It's nice, but being lower (~10,000 feet) than the other major grove, the Patriarch Grove, the Bristlecones at Schulman share space with Pinyons and Junipers, and lack the surreal effect of the stark gray expanses of Patriarch Grove.  The catch, of course, is the drive.  Patriarch Grove is approximately 13 miles up White Mountain Peak from the Schulman Grove over a roughly graded, sometimes treacherous dirt road.  You could probably make the drive in an ordinary passenger vehicle, but Jeff Cooke and I had the luxury of Subaru power.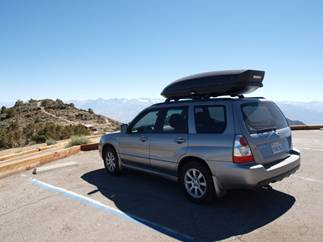 Japanese automaker Subaru, a division of Fuji Heavy Industries, makes rugged, reliable and capable all-wheel-drive vehicles, suitable for tackling poorly maintained dirt roads and moderate backcountry trails.
I'm covering the trek to Patriarch Grove out of chronological order.  Technically our visit to Patriarch Grove occurred late in the day, after our morning Sky Rock attempt which is discussed in the next section, but I figured I'd keep you waiting for the climax a bit longer.    
Patriarch Grove is located at a lofty 11,200 feet in elevation.  Not much but Bristlecones and marmots can survive at that elevation.  The Patriarch Grove lies on a small bench at the foot of the denuded slopes of White Mountain Peak.  There are a number of trails leading to different clusters of trees, but because Jeff and I arrived late in the day, we went the hard way, up the single-track winding its way east of the parking area.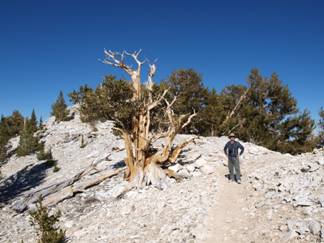 Fellow trekker Jeff Cooke poses with a Patriarch Grove denizen, for scale.  Look at how insanely dark blue those skies are.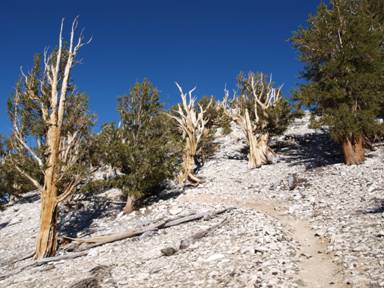 This was a steep trail.  It would have been hard enough at sea level, but at >11,000 feet it was a really tough.
It was unimaginably peaceful at Patriarch Grove.  There are not many sources of noise at 11,000 feet.  There were no birds and on the day of our visit only a little wind, and not much in the way of flora for the wind to rattle, really.  Of course, the 13 miles of poor dirt road also help ensure the solitude.
Another six or seven miles north of Patriarch Grove is the gate across White Mountain Road that marks the end point for vehicle traffic.  From that point it is another seven miles of walking to the summit of White Mountain Peak.  We didn't manage the summit this trip, but it is in our sights.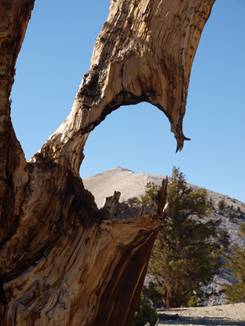 White Mountain Peak through a naturally occurring Ethos.
The hike to the summit and back requires between seven and nine hours depending on your fitness level, and the weather conditions at this elevation can change rapidly and vary widely from warm to freezing and back again, so you have to pack for hot and cold.  It's basically an all-day effort by the time you factor in the driving time from Grandview to the locked gate, the hike up and back and the drive back down.
One last observation about elevation and extinction – examine the sky in the picture of the Subaru and then the sky in the picture of the steep trail in the Patriarch Grove.  This gives an excellent idea as to the relative amount of extinction at different elevations.  Grandview is at 8,600 feet.  The Subaru is parked at 9,500 feet.  The Patriarch Grove is at just over 11,000 feet.  The sky is much deeper blue at 11,000 feet than even 9,500 feet.  Imagine how much less extinction there is at 8,600 feet than at sea level.  For astronomy, you've got to go up to "get down".
Quest for Sky Rock!
At seven in the morning on June 20th, the Solstice, six of us and a dog set out into the great unknown to find Sky Rock.  We took three separate vehicles, as some in our party were unsure whether they would attempt to find the site on foot or via a longer (apparent) 4x4 back route.  Reuben and Tom embarked in Tom's truck.  Randy and Neil loaded into Randy's truck.  Jeff and I piled into the minivan.  You can probably guess which route Jeff and I were planning to follow.
Earlier in this article I implied that there was a knack to locating unpublished prehistoric cultural sites.  The whereabouts of Sky Rock are kept very quiet.  No amount of Googling hiking and photography forums yielded directions or GPS coordinates for the site.  All I knew at first that it was located somewhere in the 100,000 acres of tableland.
For other trips, I've used a number of research techniques for finding poorly documented or closely guarded archaeological sites.  Several decades ago the governmental powers that be, academics and locals were not so conscientious about keeping a lid on location data for archaeological sites.  I've visited many unexcavated Ancestral Puebloan sites in the Four Corners region, for example, by obtaining out of date USGS maps of the region.  Maps printed before the mid-1970s typically include markers for cultural sites (e.g., "Indian Ruins" with a three dots in a triangle symbol).  Another technique I've used is sifting through online copies of old automobile travel magazines from the 40s, 50s, 60s and 70s.  Desert Magazine is a goldmine for such information, for example.  Neither of those strategies paid off here, however.
Drawing on past successes using outdated academic publications, I found a reference on Alibris, an online used book vendor, to a 1965 study of Owens Valley rock art written by a University of California professor.  I ordered it, paying the exorbitant $50 asked.  Lo and behold, there was a detailed pen-and-ink sketch of the Sky Rock panel among the hundred or so other illustrations.  The report also included a crude map on the locations of the illustrations were plotted by illustration number.  With great disappointment, I realized that either the professor was deliberately misidentifying locations of the rock art covered in the report or his brother, to whom he attributed preparation of the map, was extremely sloppy.  I had read enough chatter to be certain that Sky Rock was in the tablelands accessible by a foot trail off of Chalk Bluff Road, but the 1965 survey map put the panel over on the west side of the valley in the Sierra foothills.
Being unable to pinpoint Sky Rock prior to embarking on the attempt was troubling, so a few weeks prior to the trip shared my frustration with Tom Biermann and the other prospective attendees in a series of e-mails.  I included links to the handful of images I'd been able to locate that provided more contextual data than the Rowell photograph, and also excerpts from written description of hiking trips to the site, and asked for help.
Enter the "Biermann Factor".  Tom, off the top of his head, was able to name each of the Sierra peaks visible in the various linked images.  Using Google Earth and triangulating from different Sierra peaks, within a day or two Tom supplied what he believed would be the GPS coordinates for our rock.  Plugging the coordinates into Google Maps and zooming in on the marker in satellite viewing mode, I could confirm that the marker was dead center on a slab that looked to have the correct dimensions, outline and orientation, despite the graininess of the depiction.  The clincher, though, was this.  Using Google Earth, and the lone image of the approach trail as seen from Chalk Bluff Road that I was able to locate, I matched the Google Earth depiction of the ascent to the image exactly.  A virtual "hike" up the trail and along the wash that lead to the marker revealed an almost exact match to the handful of images showing the area of the wash to the east across from the panel.
So, I was pretty sure we knew exactly where we were going before we even left home to head to Grandview.  We convened at a turn out on Chalk Bluff Road near the trailhead up the bluff.  Tom and Reuben opted to try a mechanized approach around and through the tabelands, approaching the site from the rear.  Randy, Neil, Jeff, the pug and I decided to proceed on foot.  I plugged the coordinates into my Garmin handheld GPS, and up we went.  It was a short, but brutal hike from the Owens River flood plain to the top of the volcanic tuft marking the border of the tabelands.  From the top, though, the hike was easier, passing through a sandy, lightly vegetated wash flanked on east and west by tall lines of fractured volcanic boulders.  As the Sun climbed, so did the temperature.  Then I noticed that the GPS screen was frozen.  It wouldn't refresh.  We were near the point where I suspected we would need to start climbing into the jumbled boulders, but with the GPS glitch, we could be plus or minus two hundred meters from the optimal entry point into the rocks.  We decided to split up to find the site.  The pug and Randy crossed over a low saddle through the boulders to the opposite side.  Neil, Jeff and I stayed on the wash side of the boulder field and spread out.  It was like looking for a needle in a haystack.  A 400 meter by 50 meter pile of boulders has a limitless number of skyward-facing facets.  We used voice to keep track of one another.  Randy and pug reported having hit an impassable chasm on the back side of the field and indicated that they would be heading back around to the front.  There was no sign of Tom and Reuben in the truck, though we could see a faint two-track road on the back side of the rocks.
Did we find it?  The GPS gods were kind.  The Garmin suddenly fired back to life, and showed that we had overshot the target by almost 200 meters.  Neil, Jeff and I scrambled our way over the boulders back towards Chalk Bluff Road, and pug and Randy went back into the wash and backtracked, shadowing the team on the rocks.  About that time Tom and Reuben came sauntering up the wash, reporting that they had hit a segment of dirt road in the truck that Tom didn't think he would be able to drive back up had he driven down it.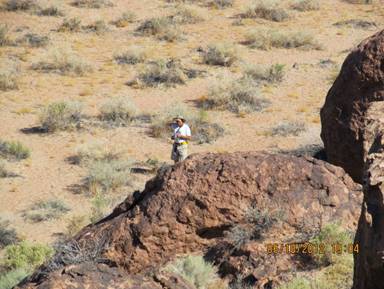 Randy and pug make their way back, along the wash, shadowing Neil, Jeff and I moving along the boulders above.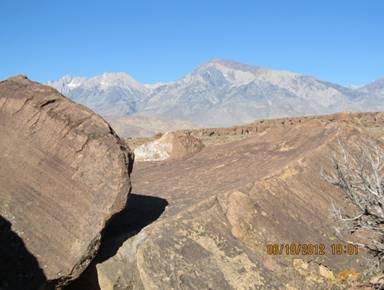 Yeah, that's it – "Sky Rock".  First contact!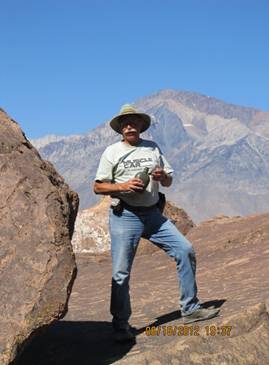 Sir Tom with Mount Tom, at Sky Rock.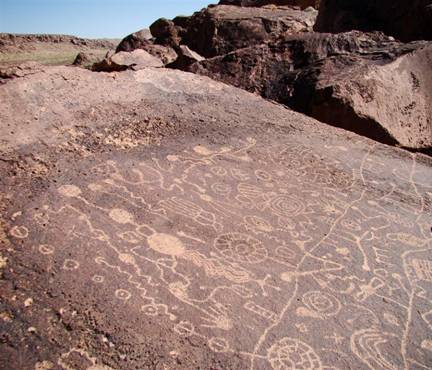 Note how much more precise, intricate and detailed this panel is than the other panels shown in this article.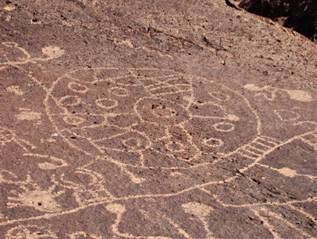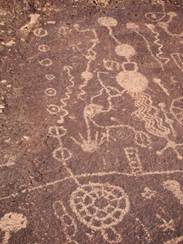 Here are a few details from the Sky Rock panel.
A visit to any rock art site invites the question "What does it all mean?"  Interpreting rock art is tricky.  The prehistoric artists didn't leave behind a written statement of purpose for their work.  Interpretation, therefore, invariably requires speculation.  The repetition of similar forms and structures at a single site or among different sites in a region suggests a consistency of meaning for those elements.  Some elements are evocative of natural phenomenon or household things.  I've seen depictions reminiscent of lightening from clouds and of woven baskets, for example.  Many others are too abstract for such easy associations.
Theories about the meaning of Owens Valley rock art range from the practical through the mystical to the downright nutty.  Some believe that rock art in hunter gatherer cultures served practical purposes such as marking game trails or water sources, or memorializing bountiful hunts.  Others posit that rock art played a religious or mystical role in these societies, and were the creation of tribal shamans intended to magically influence the physical world or to memorialize (hallucinogen-facilitated) journeys into alternate states of being.  Still others contend that much of the rock art in Owens Valley is actually ancient pre-Islamic Arabic, Phoenician or Celtic art and writing, evidencing the presence of sea-borne traders from far distant lands around the time of the end of the last ice age.
I'm in the "shamanist" camp for Sky Rock.  Here's why.  Beyond interpretation based on the depictions themselves, I believe the broader physical context of a site may help understanding its cultural context if not its actual meaning.  Sky Rock leans atop an underlying boulder, and has a third slab leaning atop it, "domino" style when viewed from the side.  The subordinate slab and a neighboring boulder meet to form a 9-inch-wide, twenty foot high vertical crack leading to a thirty foot long, channel that widens from 9-inches to five or six feet by the end of its run.  This passage deposits you in a large talus cavern located directly beneath the rock art slab.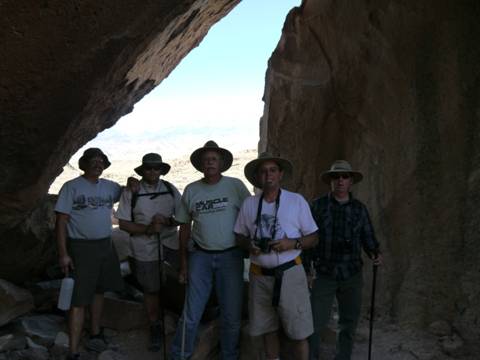 OFLI in "Shaman's Cave", under Sky Rock.
From the talus cavern, there is a crawl to the south through a low tunnel that puts you on the south side of the panel boulder.  Getting to the panel itself requires that you wedge your back against a boulder and use handholds on the south edge of Sky Rock to hoist yourself up.  It's not easy, and does require a momentary "leap of faith" as you launch off the backrest boulder and pull yourself up using the handholds to crest the panel's edge, but it's not particularly hard either, even for "old guys" like us.
A triptych showing Sky Rock from different vantages
To me, the immediate geography of the site (consisting of the ominous looking crack leading from the wash to the cave, then the low tunnel leading to the vertical chute that gives access to the panel) suggests a metaphor for an otherworldly journey.  The visitor leaves the ordinary world by squeezing through the dark crack and ascending into the cave beneath the boulder.  The cave is "windowed", allowing dissipation of smoke from a campfire, and furnishing a sheltered place for the ingestion of Jimson or other psycho-active material that we know to have been used by native peoples of the region.  On the verge of entering another world, the visitor crawls through the tunnel and scrambles atop the boulder.  The Sun sets behind the Sierras in the west, and the gulf of night yawns above just as things start to get interesting.  The fantastical figures pecked into the slab record the visitor's experiences during the ritual.  Dunno.  Maybe I've read too much Castaneda, or maybe the heat was getting to me, but that's how the site and its immediate context felt to me.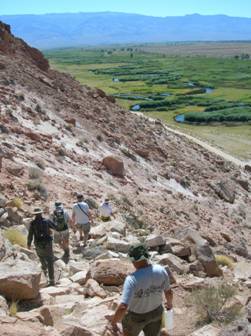 Victorious and wiser for it, OFLI descends to Chalk Bluff Road.
Other Amusements.
Our time in the White Mountains and Owens Valley came to a close too quickly.  We left many recreational options unexplored, including a trip to Bodie ghost town via an old, unpaved stage route, taking a tour of Cal Tech's radio telescope array in the Owens Valley, visiting the top of Mammoth Mountain by tram for lunch, hiking Devil's Postpile National Monument and associated waterfalls, visiting Star Wars filming locations in Death Valley, soaking in one of the scores of local hot springs, kayaking Mono Lake, trying our luck at the Paiute Palace Casino in Bishop, and many more.
I'll leave you with a few more images from our travels in the region, and then wrap up with a few concluding remarks.
Leonard?  Sheldon?  Raj?  Howard?  Are you guys in there?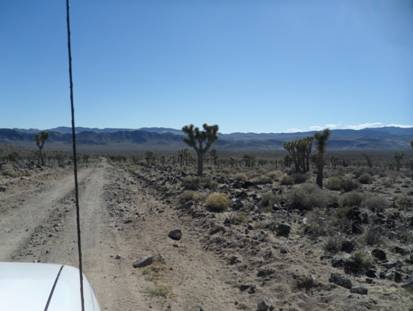 Randy and Lonnie brave the wilds of the Saline Valley in search of oases, hot tubs and burros.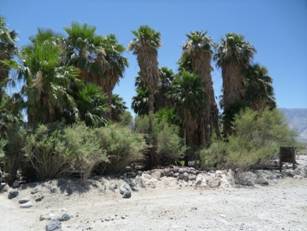 Oasis, check…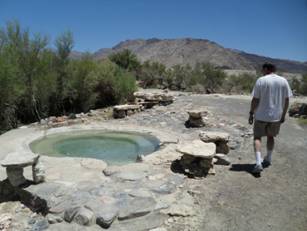 Hot tub, check…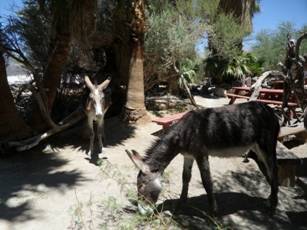 And, of course, burros.  Hola senoritas!
Conclusion.
"Oh, let the sun beat down upon my face, stars fill my dreams,
I am a traveler of both time and space, to be where I have been,
To sit with elders of the gentle race, this world has seldom seen,
They talk of days for which they sit and wait, all will be revealed."
- From the song "Kashmir" by Led Zeppelin, Physical Graffiti album, 1975
We are creatures held captive by the four dimensions making up space and time.  Individually we are finite in measure in each of those dimensions, from the volume we occupy through the distances we travel to the short spans of our lives.  There is little wonder that the vastness and timeless antiquity of the Universe engenders equal parts awe, longing and fear in us.  It mocks our mortality, inspires our ambitions and represents our greatest mystery.  The entirety of human history can legitimately be viewed as nothing more than an attempt by our species to extend the boundaries of the human dimension to be conterminous with the staggering dimensions of the Cosmos.  We want to travel its infinite gulfs and to live forever.  In this we are no different than any humans that have gone before nor will we be different in this regard to any humans that are to come.  This is the "human experience".  There is no better place to contemplate this than a high, quiet place in the dark, among friends.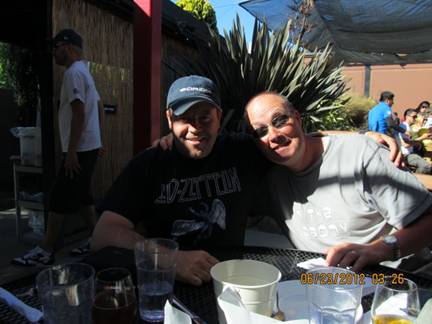 Me and Neil recovering from our adventure over pints at Lagunitas Brewing Company, Petaluma, California.
I hope you've enjoyed reading about OFLI's adventures in the Owens Valley and White Mountains.  I am already planning next year's dark sky extravaganza.  It will be even more saga-worthy than prior trips.  Keep your eyes peeled in the CN General Observing forum for details.  I should be posting something about the future trip in a couple of months.  If you think you would like to be written in to our next larger-than-life adventure, let me know.  You'd be more than welcome to tag along.
Article: An OFLI Dark Sky Adventure in an Ancient Land