CNers have asked about a donation box for Cloudy Nights over the years, so here you go. Donation is not required by any means, so please enjoy your stay.


0
John: You Have Arrived
Discuss this article in our forums
In the early 1980's I was living in Ft. Lauderdale Florida and heavily into fishing. My brother Randy and I would take my boat out to an island named Pavilion key that is located in Everglades National Park. We would stay up all night Snook fishing and I was always amazed at how dark the night sky was and how many stars and meteorites you could see.
I was a huge fan of Monty Python's Flying Circus, which was always on WPBT channel 2 the local PBS station and aired from 11:00 to 11:55 pm. Right before going off the air at 11:55 pm, Jack Horkheimer, then known as the Star Hustler would come on and talk about what was visible in the night sky this week. Well, with Jack's information, the dark skies of Pavilion Key and a pair of binoculars I became an amateur astronomer.
My first scope was a Meade 4.5 inch Newtonian reflector I bought at Service Merchandise. First light for this scope was Jupiter, and I remember how blown away I was when I realized what I was seeing was actually the planet and four satellites. The image in the eyepiece did not look real and I wasn't sure about what I was observing. At the time I had never looked through a telescope and did not know anyone who was an astronomer.
This was a great beginners scope and I used it casually for about ten years. As my interest in astronomy grew so did my astronomy budget. Meade was the best known name in telescope equipment and I progressed from an 8 inch LX 90 to a 10 inch LX 90. Then I got the astrophotography bug. The LX 90 is a fine scope, but trying to use one to image a deep sky object in alt/az is next to impossible. Even with a wedge and decent drift alignment I could barely get a one minute sub exposure. So this brings me to the present, I sold my LX 90, bought a Takahashi EM 11 Temma II Jr mount, a Vixen ED 103S refractor and a SBIG ST-10E ccd. On the Vixen I piggybacked an AstroTech 66ED refractor with a Meade DSI PRO for my guide scope. This present set up works very well. I transport my scope to Camp Zyxlor (a friends house) in St. Cloud Florida, to do my imaging. I forgot to mention I now reside in Satellite Beach Florida. My first astro- image was taken in August of 2007 and since then my skills have rapidly increased due to excellent tutelage from my mentor John Powell. I am a member of the Brevard Astronomical Society and every time I take and process an image I send out to our membership. On April 26, 2009 I captured three hours and fifteen minutes of photons from M17 the Swan Nebula. This prompted one of our members, Wyck Hoffler to make the statement regarding my imaging, as "John, you have arrived". Well coming from Wyck, I consider this to be the ultimate compliment. My imaging is ok, but it can be vastly improved and with the help of club members and the great people I meet here on Cloudy Nights, the sky is the limit.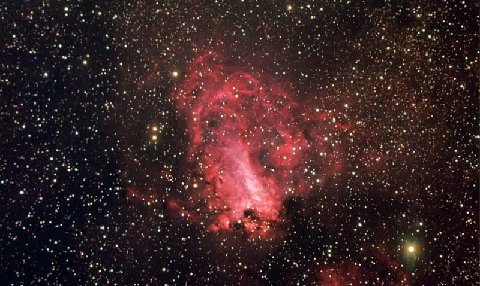 Article: John: You Have Arrived