CNers have asked about a donation box for Cloudy Nights over the years, so here you go. Donation is not required by any means, so please enjoy your stay.


0
Live 3D Stereoscopic Electronic Viewing
Discuss this article in our forums
Live 3D Stereoscopic Electronic Viewing

Before we dive into the equipment, the review and our jaw dropping viewing session, I want to take a moment to discuss Electronic Assisted Viewing and the equipment used for this purpose.
There are many reasons to employ the use of equipment designed to electronically assist your viewing session. If you view from light polluted skies, you can still enjoy views of distant galaxies, dim faint nebula, and targets you never imagined could be within your reach. You can also see live color views and incredible detail in many targets. You can re-visit all of your old favorites and see the colors and details which you never could before. This could represent a potential cure for those afflicted with aperture fever!
There are several types of equipment an astronomer can use to electronically enhance the view from their telescope. Some examples of this equipment have been around for a long time while others are on the cutting edge. Each offers different techniques and technology. For the purposes of testing the Virtual FX 2D to 3D unit, we used a Color MallinCam. The MallinCam, StellaCam, and Mintron all start with a basic technique. Since they are CCD video cameras, they can accumulate a tremendous amount of light in a very short period of time. Some cameras accumulate the light for 2 seconds while others offer settings for 2, 7, 14, 28 or 56 seconds. The camera will then send out a video signal with the accumulated images captured during the video sequence in a final, enhanced, still image. This final image can be viewed on a traditional TV, a computer monitor, or with video glasses which have evolved into head mounted displays. The different cameras all have different options when it comes to accumulating the light and producing the final image. Many would call this type of viewing, semi live, since there is a delay of 2 seconds or more before you view the final image. Image Intensifiers, like the Collins I3, and electronic eyepieces like Meade's #902, are true real time with no delay required to accumulate light. The image intensifiers use night vision technology to enhance the image and are great for galaxies, nebula and star clusters. The Meade #902 eyepiece is good for the planets, the moon and the sun but is not designed for deep sky objects. The Meade # 902 delivers an electronic video signal which can then be used to view on a large display and in conjunction with the Virtual 2D to 3D unit.
.
Electronically assisted observing has fast become an accepted and exciting format in which to observe the cosmos. John Paladini and I have had unique viewing experiences with image intensifiers, the Color MallinCam Video CCD system, Mintron, video glasses, head mounted displays, and electronic eyepieces like the Meade #902. The targets have included the Sun, Moon, Planets, and Deep Sky Objects such as Nebula, Galaxies, Globular Star Clusters, all of which were enhanced through the use of electronic assisted viewing methods and equipment. John even rigged my home made Generation III image intensifier with a 50mm lens F 1.8 and we were able to use it as a hand held unit and saw large faint dim nebula like Barnard's Loop. No tracking required. Wide field dim nebula like Barnard's Loop and the Orion Bubble represent unique targets which are a joy to view. We saw the Rosette Nebula, Barnard's Loop & M42 all within 30 seconds, no setup, no menu settings, no tracking required, and it fits in your pocket, simply amazing. The possibilities are endless and the golden age of astronomy and electronically assisted observing is really upon us.
Recently, John wrote an article for Cloudy Nights entitled "Video Binoviewing". During our viewing sessions, which included the video glasses and head mounted display system, we discussed the possibility of using a system advertised on the internet as The Virtual FX 2D-to-3D Converter System. I was skeptical and did not expect the system to put out an impressive view. I immediately thought of those red and blue glasses and 3D images in books, brought to life as they popped up off the page. As many folks know from the proliferation of IMAX theaters, the 3D experience has arrived at an impressive level of performance.
It should be noted that neither I, nor John Paladini, have any relationship with
www.vrealities.com
or the manufacturers of the products, but wish to thank them for their permission to use the images of the equipment they sell.
The Virtual FX 2D-to-3D Converter System performs complicated mathematical algorithms which convert standard 2D video into Real 3D that can be viewed with the included wireless glasses. It does this by creating separate and distinct left eye and right eye images on your TV screen and displaying those images in an alternating format. The lenses of the glasses open and close in sync with the televised images ensuring that your left eye sees only the left eye image and vice versa, thus producing true stereographic 3D
Virtual FX has 4 specifically calibrated modes to enhance the 3D experience and increase maximum depth perception

Technical Data
:
Power Requirement:
AC 120V, 60Hz (North American AC power supply only)
Power Consumption:
DC 4.5 watts, 90V
Dimensions:
7.375" W x 4.50" D x 1.626" H
Weight:
Approximately 1.1 lbs.
You can order the Virtual FX from
www.vrealities.com
for $115. You can also find it on Ebay and elsewhere on the internet for as little as $79.
The Virtual FX will not work with most Plasma or LCD Screens. According to the disclaimers on vendor's websites, The Virtual FX will also not work with TVs that have built in VCR's or built in DVD's although we did not conduct that test ourselves. The Virtual FX will work with Standard CRT TV's and various Head Mounted Displays. It also comes with a 6 months parts and labor manufacturer's warranty.
The system includes Composite and S-Video Capability as well as an option to adjust the parallax to enhance the 3D effect. The parallax adjustment allows you to adjust the distance between the shuttered images. It will separate or narrow on a horizontal axis.
The Virtual FX provides pre-set menu setting options for various types of image formats. The optional settings included labels like "talk show", "action 1", "action 2", "music", "video". Action 2 caused distortion and the best result for our application were achieved using the talk show setting.
It is important to note that the image is a synthetic image. By that we mean that it does not represent true, accurate, depth measurements as they exist in reality. You would need a baseline which would include parallax measurements to the target from independent points to establish accurate distance and 3D depth information. Nonetheless, the image is a much more detailed and interactive view of the target. Both John and I noted the ability to see details within the image previously not noticeable. There was as a level of interactivity with the target which both John and I also noted.
During additional testing, conducted after the session described below, John noted that the system will not boot up with a direct black and white camera such as the StellaCam, B+W MallinCam, Meade #902 eyepiece or Mintron. John also noted 2 solutions. You could record the image to a CD or VHS and then play it back or a better solution would be to use a camera or other device that outputs color, then boot up The Virtual FX and then switch to a B+W camera without turning off The Virtual FX machine. This would be an important note to anyone using a black and white MallinCam, StellaCam, Mintron or Mead #902 eyepiece.
John and I tested the 3D system on 4 displays systems using M42, The Great Orion Nebula, as the target. The first display was a 36" Sony Wega CRT. The second display was a pair of Virtual Visor 800 x 600 head mounted displays, the third display was a 50" Pioneer Plasma HDTV and the fourth display was a 9" Color Speco CRT flat tube monitor. Here are the results of our jaw dropping session:

First Display - 36" Sony Wega Trinitron:


We used my 12.5" Obsession with OMI mirror and the Color MallinCam Hyper Plus, and sent the image to a 36" Sony Wega inside the house. We used 2.1 second integration for an incredible color view of the nebula which also provided a nice dark background and no artifacts for a tight image with lots of cloud structure. We could see the detailed white cloud structure, red edged nebulosity and an outer blue edge which extended in a thin wing like fashion. Pretty impressive view. Now it was time to throw the switch and see what was in store for us. At first there was silence, and then I could hear myself chuckle to myself, holy cow, this image was beyond all my expectations. The 3D effect brought me into space, among the stars, floating out there with the nebula; it was like a space walk, for real. I could see stars floating in front of M42 and then behind them in the distance beyond the nebula. It was so captivating I was stunned. It was like we were floating out there, it was awesome. I was able to see dark lanes in the nebulosity I hadn't seen before. I saw the nebula and star field in a whole new way and my mind was racing with excitement. It was a view to behold. The range of depth perception seemed so real, so awesome. There were 2 pairs of wireless glasses with the system so John and I were able to view simultaneously. John enjoyed the 3D effect and said it is like looking through a window or portal. Definitely not like a pop up in a 3D image made for red/blue glasses, but pushed in with real depth performance.
Second Display - Virtual Visor Head Mounted Display

Resolution: 800x600 with Virtual Image Size of 76" at 8'
Field of View: 35 degrees with NTSC/PAL Video Input Signals
2D and 3D Stereoscopic Modes with Brightness and Contrast control functions
IPD Adjustments: None Required Weight: 3.5 oz. With Eye Relief: 25MM
Power Consumption: 6V
The S-Video port does not deliver true S-Video signal transmission but does provide a converter to use for S-Video cables to deliver a composite signal.
Priced at $499 from
www.vrealities.com
Still fresh from the first light 3D view on the Sony Wega, John and I each slipped on the head mounted display. The visor is well done, it allows you to flip up the visor to focus on what is in front of you. This is very handy in the field so you can orientate yourself with the focus adjustment knobs on your telescope. You can flip the visor up and down as you require. At first I required a moment to merge the image. Then the 3D came alive with the same detail we saw on the Sony Wega. We compared the 2D and 3D images in the head mounted displays and were impressed. When comparing the colors, black levels, contrast and sharpness, the Sony Wega performed better than the head mounted display. The head mounted display would be ideal out in the field. They added a very personal feel to the viewing session. We tried various preset settings on the 3D rendering machine and also adjusted the contrast and brightness on the head mounted display for an optimal image. The head mounted display comes with S.L.R. settings which shift the left and right image for the best 3D results. This is the shutter technology enabling the 3 dimensional effects. Some 3D movies use two cameras and do not require this capability, however, for astronomy, the use of S.L.R. is important since our 3D image is synthetic.
Third Display - 50" Pioneer Plasma HDTV



Although the system contained a warning about HDTV compatibility, I had previously viewed targets with the MallinCam and Plasma HDTV with fantastic results. Since we were all set up I couldn't resist the urge to at least give it a try. A few months back I had put M27, The Dumbell Nebula, up on the Plasma display and enjoyed a tremendous star field with a big, bright and colorful image and very good resolution. This time our target was softer on the plasma display, and a bit washed out. The colors were not as sharp. Now it was time to try the 3D rendering device. We tried various settings on the plasma in an effort to synchronize the signal with the 3D rendering device but had no luck.
Fourth Display - 9" Color Speco CRT color flat tube with 500 TVL

We tested this display during the day with the Color MallinCam on a terrestrial target with the Virtual FX 3D machine and it performed great. This monitor has S-Video inputs and put out the finest images of M42 with the Color MallinCam on the night we tested the various displays but it was two days after the session that I realized that we had not tested M42 with The Virtual FX 2D to 3D Converter on the 9" Color Speco. This might have delivered some of the finest 3D images that night. I liked the contrast, and color the best on this monitor, and the S Video signal was noticeably smoother than the composite signal. John was also impressed with the image on the Speco but would have preferred a larger screen. This monitor cost $270 and was available from various vendors on the internet.
Here is a list of our pros and cons related to The Virtual FX:

Pro:
Great Price. Currently Available for $79 - $115.

Con:
The inability to boot up The Virtual FX using a black and white camera.

Conclusion:
In conclusion, the 3D stereoscopic electronic viewing was an overwhelming success. I was highly skeptical prior to the session but have seen the 3D light and am a believer. Want to experience a space walk for yourself? Just plug this baby in and spend a night swimming amongst your targets and between the stars.
Douglas Baum & John Paladini
Photo below of John Paladini with 3D glasses and M42 on the 36" Sony Wega.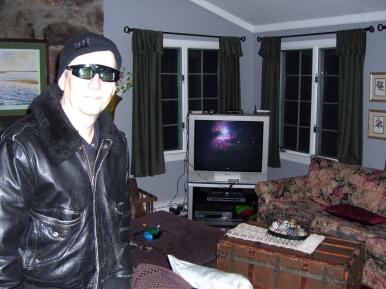 Article: Live 3D Stereoscopic Electronic Viewing