CNers have asked about a donation box for Cloudy Nights over the years, so here you go. Donation is not required by any means, so please enjoy your stay.


1
Video Binoviewing
Discuss this article in our forums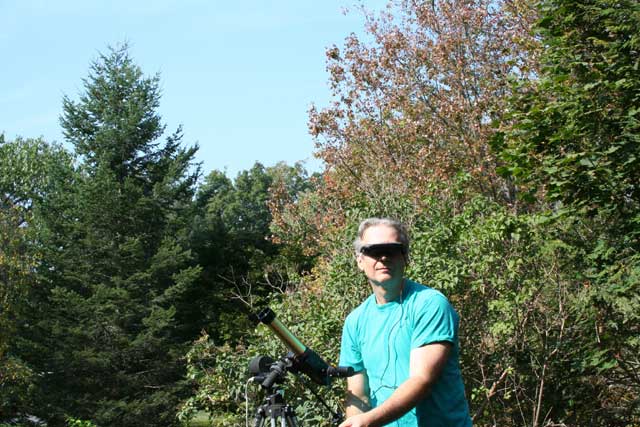 Video Binoviewing

By John Paladini
Mahopac NY

Many amateur astronomers are now using video cameras to observe both solar system and deep sky objects. Video cameras come in a wide range of sensitivity and price. Some are geared toward observing solar system objects, others with the ability to integrate multiple frames can capture faint deep sky objects. (i.e Mintron , Mallincam, Astrovideo cameras)

All video cameras have one thing in common and that is their output signal. Most cameras in the USA generate NTSC composite video. (AkA a T.V signal) The most common way to observe this image is to direct it to a TV or video monitor. The second most popular method is to use a video capture card and display it on a PC. I would like to present a third way to observe video images by using a pair of video glasses also know as video HMD (head mounted displays). I have used these glasses for video gaming and I like the feeling of being ÒimmersedÓ in the image. I wondered if this would work with video Astronomy. In short they work and work very well indeed.

My purpose of this article is not to review a specific brand but to inform others on what to look for when purchasing a pair of HMD for astronomical observing. I purchased my pair of video glasses on e-bay they cost about 250 dollars. What you get is a pair of funny looking glasses that contain two color LCDs and a line controller that contains a rechargeable ion battery and electronics to generate the image. My particular HMD has 640 by 480 resolution not the best out there but most video camera use a 1ž2 inch chip that do not require much more resolution anyway. The HMD also comes with stereo audio but that has no use for astronomical observing. This unit line controller only has a on/off switch and no contrast/brightness control. Manufacture claims it generates an image that is equivalent to watching an 80 inch TV from 1 meter away.

My first use was to observe the sun with a Coronado PST and a Meade Electronic eyepiece. The Meade Electronic eyepiece is a low end 320X240 B&W video camera
However this eyepiece has good sensitivity in read region and works very well with the Read H-alpha PST image. I attached the RCA jack to the line controller and turned it on.
Presto the sun appeared in front of me in all it glory. The first thing I noticed was that it was easier to focus the image. The second thing I noticed was improved image contrast .
This is similar to using a visual binoviewer.

On my second attempt I wanted to try my HMD on deep sky objects. I own a Mintron 12v1 camera. This camera has 2 second integration time. My first target was M13 using a 66mm William Optics APO. Sure enough a nice view of the globular cluster appeared in front of me. I felt like looking out a space ship window. Again I found it easier to focus on image. I then moved on to M27 the Dumbbell nebula good results with that also

Unfortunately I own only older B+W video cameras and the HMD has color capability.

It turns out that one of my fellow WAA (Westchester Amateur Astronomers) member (Douglas Baum) has a Mallincam Hyper Plus color camera. This video camera is considered one of the best out there at this time. We meet at Ward Pound Ridge reservation in Pound Ridge NY with his 12.5 inch(OMI mirror) Obsession telescope and fellow WAA member Tony Kim. Again the first target was M13 ? we set integration time to seven seconds, put on the HMD and Wow! Color. The first thing I noticed was how easily I was able to pick out the blue and yellow colors in the cluster. Our second target was M57 the Ring nebula and sure enough the colors were easy to pick up. At this point the dew levels were skyrocketing and we called it quits.

In conclusion I believe using a video HMD adds value to using a video camera.

Following is a list of Pros and Cons

Pros

1) HMDs are very light weight (only a few Oz)
2) Total image immersion
3) Cost is reasonable
4) Self contained power supply
5) Simple to use , just plug in and turn on
6) Improved contrast

Cons

1) Battery life is short 2-3 Hrs
2) My unit is fragile. In darkness one must be careful, easy to break
3) Limited to 640X480 VGA
4) No s-video input . Other model that have this ability cost a lot more.
5) Only one person at a time
6) Some people may have trouble focusing on image
7) No contrast / brightness control


I wish to thank Douglas Baum for use of his Mallincam camera and 12.5 Obsession
I wish to thank Tony Kim for his observation and pointing out issues that I missed.













Article: Video Binoviewing