CNers have asked about a donation box for Cloudy Nights over the years, so here you go. Donation is not required by any means, so please enjoy your stay.


0
CN: Behind the Scenes - Obsession Telescopes
Discuss this article in our forums
CN: Behind the Scenes
Obsession Telescopes
Here at CN, we realize that many of our readers are equipment junkies, but sometimes it's nice to get a glimpse into the people and the company behind the equipment.  With this in mind, we've decided to launch a new series of articles spot lighting and interviewing some of the better known manufacturers for the amateur astronomy community.  Think of this as a chance to get to know the people who make your favorite toys.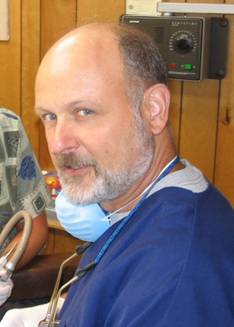 Dave Krie
ge
Obsession Telescopes
 
This month in CN's Behind the Scenes we're thrilled to interview

Dave Kriege

– the owner and founder of

Obsession Telescopes

.  Dave is one of the major players in bringing the dobsonian revolution to light.  In addition to Dave's finely crafted line of Obsessions he's also co-author of

The Dobsonian Telescope: A Practical Manual for Building Large Aperture Telescopes

.  Dave's company,

Obsession Telescopes

, currently offers premium dobsonians with 12.5, 15, 18, 20 and 25 inches of aperture for those amateurs who want to "go deep".


 




CN: Welcome Dave, and thanks for taking time out of your busy schedule for us.   I'm the kinda guy who likes to go straight to the source, so lets start at the beginning: How did you get interested in astronomy?


 
My dad got me started.  We built a 4 inch scope for an 8th grade science project.  Edmund mirror, cardboard tube, pipe fitting mount.  First light was crescent Venus.  I was hooked after that.  Built a 6 inch and 10 inch reflectors in high school.  Even made a little 8x8 foot observatory.
 


CN: I think many of us got our start like that, but few make telescopes for a living.  That's a long way to come.  How exactly did you get started with Obsession telescopes?  And where did the name come from? 


 
After high school I was out of astronomy for 20 years.  College and then getting my dental business going etc.   In 1987 I decided to get back into astronomy so I attended Apollo Rendezvous in Columbus, Ohio.  I met Bill Burton and Ron Ravneburg.  Both guys had built 17.5 inch truss tube dobs with Coulter mirrors.  I was fascinated with the large thin mirrors and big scope views.    Decided I had to make my own.  Went to Astrofest a month later in Kankakee Illinois.  A guy named Roger Tanner had a homebuilt 17.5 truss tube dob.  Looked at the Vail nebulae with an O-3 filter.  I was dazzled.   All this stuff was new to me.  Heck I didn't even know what a dobsonian telescope was until that summer.   I was very excited and wanted to build the biggest scope I could.  I ordered all the back issue of the old Telescope Making Magazine and did a lot of research on Dobs.  That winter I built Obsession 1.  The word Obsession came from my wife.  One night she came down to the basement where I was working on the scope and screamed "are you working on the **** telescope again!  You're obsessed with it!" I told my pattern maker friend at the foundry about my wife's comment and he cast the word Obsession into my aluminum side bearings.    So the whole name thing was an anger/comedy event.
 
But it made sense to me.  I was (and still am) obsessed with scopes and deep sky observing.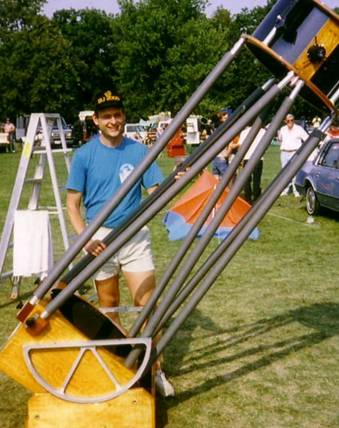 A young(er) Dave Kriege and Obsession 1
StarFest 1988
 
In 1988 0bsession 1 was featured on the cover of Telescope Making Magazine.  People were calling me to make a scope like my Obsession for them.   Then John Hudek at Galaxy Optics called me and wanted to buy my scope design.  I contracted a royalty arrangement with him.  But he got so busy making mirrors he didn't have time to build the scopes too.  So I thought I'd give it a try. Spent $10K on construction materials and made two scopes in 1990.  I've never been caught up with orders since then. My design was unique.  Large altitude bearings, special antifriction laminates, open self cooling mirror cell, quik release clamping levers, antiflexure ground board, low profile design, and a few other innovations were all new at the time.   I published this all in four articles in Telescope Making Magazine and in Astronomy Magazine.  Soon everyone adopted these design methods in big dobs.    Now there are a dozen competitors to Obsession copying my design ideas too.
 
My telescopes are designed so that you don't even know it's there when observing.   They must be easily transportable, easy to use, give kick **** images, and be the best quality possible.  Sometimes when I'm observing on my ladder I forget there is this huge scope working under me.
 


CN: When amateurs think about telescopes optics immediately come to mind.  A company like yours gets where it is today only by pairing first class structures with first class optics.  It must be a difficult choice, figuring out which companies to source your optics from.  I know you're currently using Galaxy and Torus, would you care to comment as to the rationale behind your choice?




 


They use interferometry to figure and test the mirror. Using hundreds of points across the entire face of the mirror we get an extremely accurate test.   There is no more stringent analysis the wave fringe interferometry.  This shows up at the eyepiece with awesome images.  In short they have the highest specs via interferometry and the highest reflectivity coatings.  By using these two suppliers and pre- purchasing hundreds of optics every year I can offer the highest quality and fastest delivery in the business.

 The modern 18" f4.5 Obsession



CN: What was the first official Obsession Telescope offered for sale?


 
It was an 18" made from s**** left over from my first two scopes that was sold even before it finished. 18" is still our second most popular aperture.  The number 1 seller is our 20 f/5.  People really like the crisp f/5 images and the photon power. No need to use a coma corrector.


 




CN: So, out of the entire line, which one's your personal favorite?


 
Nothing beats my 25 f/5 with a 31 Nagler cruising thru the Scutum star cloud.  Really big aperture views in a 10 minute set up scope.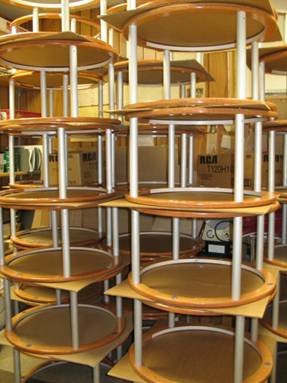 CN: I understand you stock most of your material.  This puts you of being in the unique position of being able to fill an order within weeks instead of months.  Correct?


 
I'm running a serious business and it's my primary source of income. I cut back to only two days a week at my dental office in 1999 to keep up with the scope demand.   Obsession telescopes isn't a garage operation. I need to keep cost down and quality up.  By building components in large numbers I get significant economies of scale. Also I can utilize industrial vendors with the latest high quality tooling and methods. I pre-purchase 200 large aperture mirrors at time. I'm constantly rotating about a million dollars worth of scope components. That's why I haven't had to raise my prices in 5 years. Most importantly people hate to wait!  Once they decide to get an Obsession scope they want it yesterday.  I've shipped 1240 telescopes from 12.5 to 36 inches.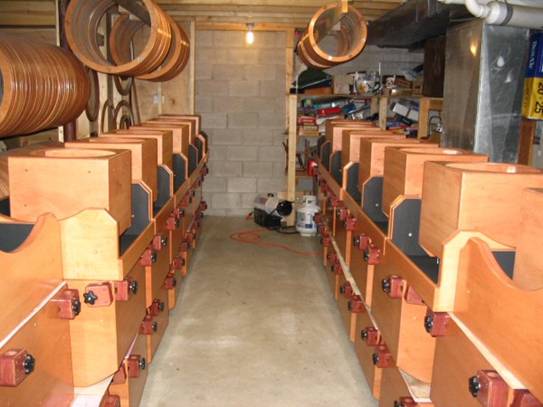 CN: That's a lot of big dobs! What countries can we find Obsessions in?




 


I've got scopes in over forty countries. North America, Europe, Australia, and the Far East.
 


CN: What do you see that differentiates your company from the other companies on the market?


 
We try very hard to produce only finest instruments possible.
 
Our mission is to get people to really see things with a big scope.  I tell them with a big dob they'll have a lifetime of observing fun.   I still get excited every time I use my scope.   It's fun spreading that kind of enthusiasm for astronomy.
 


CN: Most of our readers are a bit of a gear head deep down.  I know I am. I've got to ask - What does the future hold? Any planned changes to your lineup?




 


More curved spiders, field de-rotators for CCD imaging, electrical packages, etc.  I'd like to keep improving the product.  Maybe make some crazy big scopes in the 40 to 60 inch ranges someday.
 


CN: Well Dave, I think that's all my questions, thanks again for taking the time out of your busy schedule to visit with us. Are there any parting words you'd like to share with the readers?




 


Let's get people to turn off the lights and get our dark skies back!
 


CN: Amen.




---
Readers:  Got a question you'd like to ask your favorite manufacturer?  Submit it to: tomt@cloudynights.com  Please include the question, and indicate if the question is manufacturer specific.  If so, please indicate the manufacturer you'd like to see answer the question.  Please put Suggestions:Behind the Scenes in your subject line.
Vendors / Manufacturers: Would you like to be included in Behind the Scenes?  Please contact: tomt@cloudynights.com for consideration.  Please put VENDOR: Behind the Scenes in your subject line.
Article: CN: Behind the Scenes - Obsession Telescopes