CNers have asked about a donation box for Cloudy Nights over the years, so here you go. Donation is not required by any means, so please enjoy your stay.


0
CN: Behind the Scenes - William Optics
Discuss this article in our forums
CN: Behind the Scenes
William Optics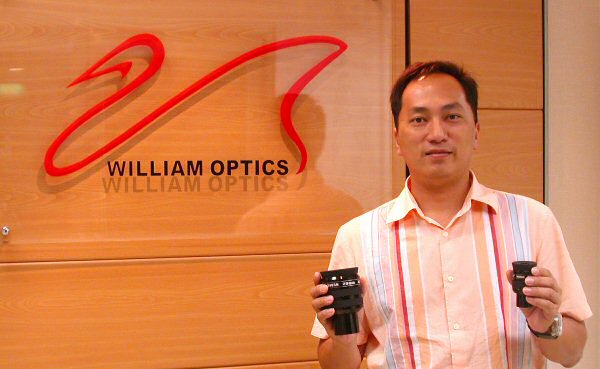 William Yang - CEO William Optics
Here at CN, we realize that many of our readers are equipment junkies, but sometimes it's nice to get a glimpse into the people and the company behind the equipment.  With this in mind, we've decided to launch a new series of articles spot lighting and interviewing some of the better known manufacturers for the amateur astronomy community.  Think of this as a chance to get to know the people who make your favorite toys.
We start the series off with William Optics - a manufacturer known for their exceptional values in refractors.  An American-Taiwanese company, William Optics first offered the Megrez in 2000 - a high quality achromat at an excellent price.   They've continued the tradition of quality and value, and over the past year, we've seen them introduce more and more interesting and exciting products - from the budget minded
Swan Eyepieces
, to the price point shattering
WO ED Triplet
, the ultra portable
ZenithStar 66 ED (Petzval)
, and more.  In fact, as I write this, they are poised to bring even more interesting products to market.  Company founder William Yang was kind enough to take some time out of his busy schedule and sit down with us (metaphorically speaking).
CN: Hi William, thanks much for agreeing to take part in the first manufacturer interview - we appreciate that you have a very busy schedule, and are very pleased that you can spare us some time.  If you would, please take a minute and tell us a bit about yourself.
I was born in Taiwan, lived 15 years in California where I got USA citizenship before coming back to my native country to pursue my interest in astronomy. I live with my family in Taipei, Taiwan, and take care of William Optics production from here.
CN: How did you get interested in astronomy?
I was interested in Astronomy since I was about 10 years old. I stole my grandmother's eyeglasses to build my first telescope. It was not a fluorite Megrez, but still it kindled my interested in the subject I must say!
Another interest I had since I was young, leafing through the pages of Sky & Telescope was astrophotography. Back then, I couldn't  afford  a telescope, but I remember telling myself one day I would take similar pictures!
Later on, I started building my first real refractor, after being amazed by the star Sirius. I wanted to find out why it was so bright, but the telescope was not good enough for the task.
My first purchased telescope was in 1986 during high school, to view the Halley Comet. I spent a whole summer to pay for it, but I spent many more summers enjoying its views! I then upgraded to an 80mm refractor with a DP mount, but I couldn't take perfect pictures by using a single motor: my hand was the other motor! I think this telescope started my love for small refractors that now I build for other people. I will never forget the Saturn rings I saw through it.
Many years later, I decided to move up to a bigger 7" doublet APO refractor. I will not mention the maker, but what I can tell you is that I was so disappointed with it, such a poor collimation and bad chromatic aberrations, that I started buying some very expensive brands one after the other, from 105mm to 180mm APO. I was very pleased with them, they allowed me to take great pictures, but I reasoned, most people would not be able to afford them, and I loved them so much that I decided to make my own stuff with equal quality but more reasonable prices so that anybody could enjoy my same passions and interests.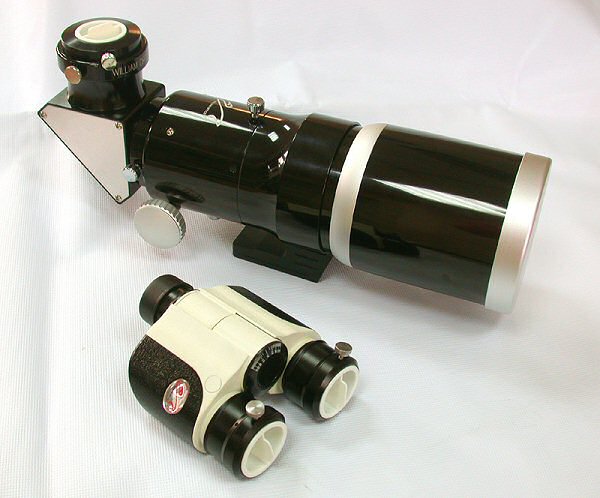 ZenithStar 80 - Dedicated Binoscope Version w/ WO Binoviewer
CN: I understand you are / were an avid astrophotographer - would you like to comment on that or share any images?
Yes, as I mentioned before, I am quite interested astrophotography.  I even publishes a short book here in Taiwan about it.
When I was young, my father used to be an avid hunter, in fact he was in the shotgun Olympic team..  Actually I took shooting up as a sports too in the USA, and even got a few medals. But I really disliked my father killing birds, so I asked him to take photos instead, and later on I helped in using my Megrez with his camera instead of the shotgun. This way, I got interested in bird watching too, and my wife too, she is a professional bird watcher. Luckily, Taiwan is an excellent place for bird watching. Allow me a parenthesis here: William Optics is not only about astronomy: we have many optics products that many bird watchers love, especially here in Taiwan where we have contacts with all the main clubs and tens of small ones and individual professional bird watchers.
I have a huge collection of pics, both of astronomy, birding, and nature... I quite enjoy hiking with my family and taking photos. I have asked my colleague to add some of my pics to our gallery: at the end of the day, I am a user like others, and I am not even the best! Some of the guys out there have taken AMAZING pictures with our telescopes!  Thank you all for sharing those with us.
http://www.william-optics.com/wowebs/gallery.htm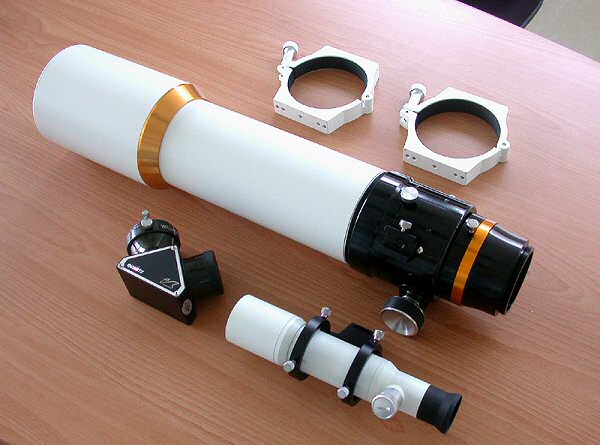 The Redesigned FLT-110
CN: There are some very nice pictures there, and I'd recommend that our readers take a moment and view them.  All this talk about your personal history with astronomy, is a natural lead in to the next question - Where and when did WO start?  Tell us a bit about your company.
I began William Optics in 1996 in Taiwan. I began as a retailer and distributor for American and Japanese famous brands, mainly to generate cash flow for my own branding plans. In the meanwhile, I learnt a lot from other companies and developed my own ideas, step by step, building on what I had learned and through the help and advice of many experts and friends, such as Tony Hallas. William Optics USA started business in 2000, to allow us to serve the American market directly and in a better way. 2005 will be our best year ever, and we hope to do even better in 2006.
CN: What do you see as your companies primary mission?
Crafting the world's  finest astronomical instruments, for all and at  a reasonable price.  We do not want this to be just a slogan, we believe in this, and many people can testify to our dedication to this. Every day, we try to push the bar a little higher in terms of quality, and a bit lower in terms of price, so that anybody can afford it; just like when I was young, I would like everybody to have access to good equipment to expand their knowledge of astronomy.
I am not just a businessman, in fact most people who know me would not define myself as such. I genuinely care about young people and try to help them as much as I can also through my professional enterprise. On top of lots of activities in Taiwan and China, two countries where there is still a lot to be done, for example this year William Optics has decided to sponsor the International Youth Astronomy Camp (
www.iayc.org
) in Europe and we are looking for further opportunities to help in the USA in the coming months.
Astronomy is a healthy hobby which entertains the young and the less young of us: I would not like to see my children playing video games all day, that's why I do not get too angry when they break one Megrez or two!  Furthermore, astronomy puts everything in perspective, how small we are and how much there is out there to learn.  
CN: Talking about the history of a company, I always start wondering about the first telescopes that they made.  How many did you sell? Is it still offered or when was it discontinued?
The Megrez started in 2000 and we have since sold thousands of them. It is not available as it was originally, but the new generation the Megrez II is still well alive and actually improved compared to the original version. It is still available in many different configurations, semi-apo, apo and fluorite apo, and soon will come in bigger sizes too! This small telescope was a real best seller, so well selling that some famous companies are now trying to clone the first generation in China I do not know whether to be angry or flattered!  Check out the Chinese Cloudynights called Astrofarm.net, and find out for yourselves.
CN: With it being a world market today, one wonders - What portions of the world do you sell to?
Apart from our WOnline shop, we have almost a hundred points of sales on 5 continents. The only continent where we are a bit weak right now is Africa but I am sure Daniel is working on it! Everywhere else, we have direct dealers in approximately 30 countries all over the world and they are expanding every month as more and more potential candidates contact us to market our excellent products to the local markets.  We work hard to bring the products out, but then it's our local partners, our dealers, who do a lot of work to make people aware of our products, so my thanks go to all of them, and to people like you, Tom, who use your personal time to spread the knowledge of astronomy products better.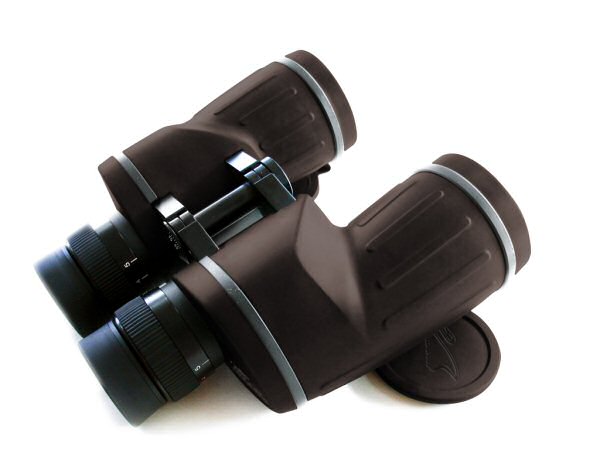 7x50 ED Binos - Waterproof / Shockproof

CN: I know that many of our readers would be very interested if you could take a moment and summarize the steps involved in bringing a new telescope to market.  I take it that it's a long, involved process?
It is a long process, as long as child birth, if not longer! You first need to have a design, run different production tests for the optics (which involve very high expenses, basically for tooling); you then proceed to find the right tube for the lens; this usually involves a lot of waiting too, as the CNC process to produce the tube involves many sub-manufacturers. Once you have a running sample, you still need to wait before you can run a full production, you need to consult with dealers, customers, and submanufacturers. There is almost always the issue of economy of scale, or even the smallest telescope would end up being to expensive for the final user. Let me give you an example... The ZS66 Petzval you tested. We designed it in 2004. We run a first sample production in the 62mm size, and we displayed it in a star party that summer and people already loved it. Why did you get it only in Spring 2005? Many things changed, we increased the size, we produced a better and sharper Petzval lens, we improved the tube shape twice, we were the first to introduce a complete glossy anodized tube on the market. Well, you know the rest of the story, and it's not finished yet! Every new product takes approximately 9 months to be released. Other companies are much slower than this, we already think we are among the fastest companies for time-to-market. It takes time and patience to produce a good product, time to fix it, time to improve it, time to make it know to the market.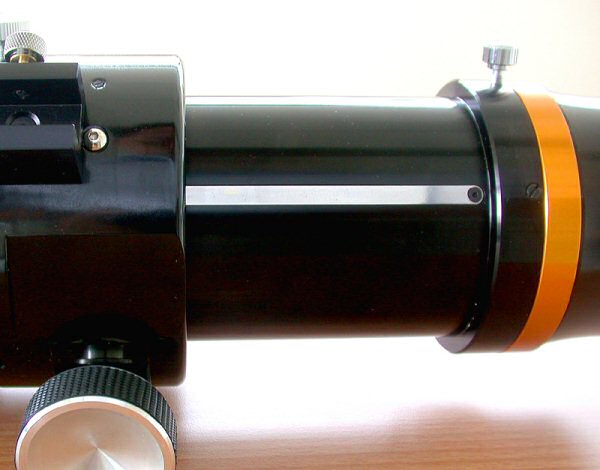 FLT-110 4" Drawtube


CN:
Whi
c
h other astronomy
c
ompany do you admire and why?
I do not want to single out one company. I admire many: I admire  AP for its product quality, TV for its great marketing, Tak for its creativity, and from my childhood memory, I remember Celestron with fondness.
But above all I believe in my own company, which I hope can learn and take a place among those!
CN:  What do you see that differentiates your company from the other companies on the market?
We see many differences with many companies, and similarities with others.  We are in this business to remain,  first of all.  As much as we are a small company grown out of sheer and genuine passion for astronomy, we are a professional enterprise and we want to improve our market position based on our strength points.  Our advantage is that we design, not simply buy a ready made product produced by a company with little knowledge of the end market. We dictate what we want, and we build it for you. As you know, 80% USA-based companies have some sourcing from Taiwan already. We are in Taiwan, and we are basically the only American-Taiwanese company with a strong brand right now.  We can take advantage of this favorable environment and market positioning for the end customer who chooses WO. Let me add one thing. It's  very very easy to get the Chinese fever nowadays, but if you do not know the culture, the people and how to do business in the country, it's easy for the fever to turn into a fatal pneumonia. I see many companies falling victim to this trend. This creates I.P. problems  for companies like us, and push us to invest more in innovation and protection of our products. But the best companies will emerge in the end, I am convinced of this, so I am not much worried. When a company starts being copied, that's the sign that it's succeeding, isn't?
CN: I'd have to agree with that.  You're certainly one of the innovators on the market today, with a very varied product line.  I know from some of our previous conversations that you've got some big plans.  I think our readers would like to know - What do you see your line up being in a year?
One year from now, I see bigger and cheaper... Don't make me talk more, please!
CN: Is there anything that's not currently on the market that you would like to see brought to the market?
A good mount like our GT-1 and some good large-field eyepiece. We are working on the eyepiece, and we are planning about the mount! For the eyepiece, Tom, you will be the first one to review!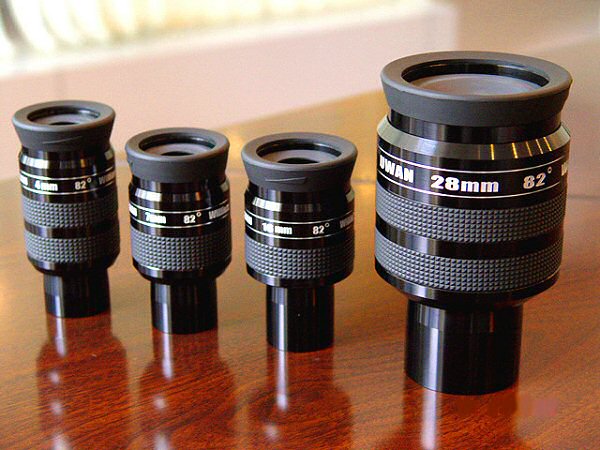 UWAN Wide Angle Eyepieces
CN: Well, William, I have to admit I'm really looking forward to that.  The range of high end, wide field eyepieces is really rather limited, and it would be nice to see some more competition, especially given the history WO has of value for the dollar..
CN: Well, any final comments for the readers William?  
If you allow me a final parentheses, I would like to borrow your time to publicize a little prize contest our marketing dept. has thought of:
We noticed that there are more people who own our telescopes that we knew, and many more who take pictures with them that we thought, based on this, we had an idea. To thank them for choosing WO and for their efforts, we would like to launch a photo prize contest.
Every two months, for six months from the launch of our new FLT110, I will choose two pictures between all we receive and that we have received so far, and award a small prize chosen from our products, such as a WO Barlow, eyepieces, filter's Now, I do not want that only the most professional users to win, so I will personally choose the winning pics based on many different parameters.  We will give more details on this in our next website update, so keep checking
www.william-optics.com
for details!
Once more, thank you for your efforts, and thanks to all friends on Cloudynights! See you all again next year in the USA at the next venue.
CN: Thanks very much for  your  time William!


Readers:  Got a question you'd like to ask your favorite manufacturer?  Submit it to: tomt@cloudynights.com.  Please include the question, and indicate if the question is manufacturer specific.  If so, please indicate the manufacturer you'd like to see answer the question.  Please put Suggestions:Behind the Scenes in your subject line.

Vendors / Manufacturers: Would you like to be included in

Behind the Scenes

?  Please contact: tomt@cloudynights.com for consideration.  Please put VENDOR: Behind the Scenes in your subject line.

Article: CN: Behind the Scenes - William Optics