CNers have asked about a donation box for Cloudy Nights over the years, so here you go. Donation is not required by any means, so please enjoy your stay.


2
CLEANING UP A CAVE ASTROLA
May 09 2020 01:56 PM | LB Myers in
Articles
Discuss this article in our forums
CLEANING UP A CAVE ASTROLA
By LB Myers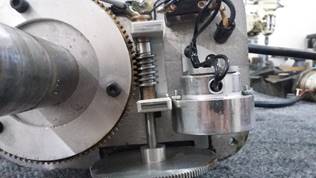 Until about 3 years ago I had not received a speeding ticket since 1986. But in the summer of 2017, I did get one. I was on the highway at the base of Mt. Hood, Oregon, on my way to Portland from central Oregon. I was in a hurry, not paying attention, daydreaming, and I was speeding. I was racing across a mountain range to buy an old Newtonian. I've always been a sucker for a good-looking Newtonian!
Back in the early-mid-eighties, I loved those S&T and Astronomy ads for the large Meade Research Grade and the Cave Astrolas. I just wasn't sure where I could find a white lab coat and clipboard to use with the scope! (probably dating myself!) But I knew back then, if I ever could get my hands on one, my life would be complete.
So, the day before my speeding ticket, I saw a Craigslist ad for an old Cave Astrola 10" (1977). The price was right and although it needed some TLC, I thought I could work with it. There I was trying to cover some 250 miles in about 2-3 hours. The trip added a few hundred dollars to the cost of the scope!
When I finally arrived, I discovered that the images didn't quite match the actual scope. Although I been around the block a few times I am still amazed at what something looks like in person verses images on an ad. This scope was in rough shape! I mean ROUGH! But I have seen worse (I think).
This scope had seen better days. The seller had it set up in his driveway when I arrived. The fiberglass tube was pretty well trashed. The Astrola mount was near frozen. Very rough movement. Although he had the original drive corrector, I didn't dare even try to power the electronics.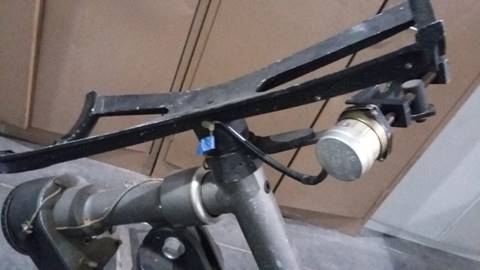 But as rough as everything really was, the primary and secondary were in great shape. A bit dusty, but in remarkable condition. I asked about that but didn't get a satisfactory answer. So, before I would commit to buying it, I asked permission to pull the mirror out and inspect it. Sure enough, it was a Cave. Serialized and dated. It matched the other information the seller gave me.
We worked out our deal and I secured everything except the optics in the bed of my pickup. I placed the optics in a well-padded container and actually seat belted them in. I made it back over the Cascade mountain range without another ticket. I arrived home before the typical rain of the Pacific Northwest began, with minutes to spare.
Within a day or so, I set it up in my shop just to stare at it and think it through. My first thoughts were "What the hell did I get into!" In time and after the buyer's remorse faded, I began to make a plan. It wasn't necessarily a good plan, but it was a plan. I would start on the mount first.
My goal was to disassemble the axis and then remove the bearings. Much easier said than done. As I recall, it wasn't just a two-hour job. I probably spent a full day just trying to remove the RA shaft. It was badly rusted into place. Frozen solid! It required me to make some special tools (hex wrenches among others) to remove the set screws, lots of penetrating oil, and a big hammer. After a lot of choice language, I broke it loose and pulled the 1.5" shaft out.
The declination axis was even worse than the RA. Another day spent, busted knuckles, and even more colorful language. Finally, it too broke loose and I removed the shaft. Now for the bearings. I closely inspected the bearings. The declination bearings were linear needle bearings. They were missing many of the needles. They were dry and rusted. They had to go. The RA bearings were shielded shoulder bearings. Although I couldn't inspect their interior, they were much rougher than they should have been. So, they too had to go.
A number of days later, after more penetrating oil, torching, hammering, cussing, smashed fingers, and praying, the bearings finally yielded. Although pleased that I was able to remove the bearings, I soon wondered, "oh crap, where am I going to find replacements". It was actually much easier than anticipated. Tom Cave used a standard bearing on both axes. After 50 years, those bearings were still available. But not real cheap.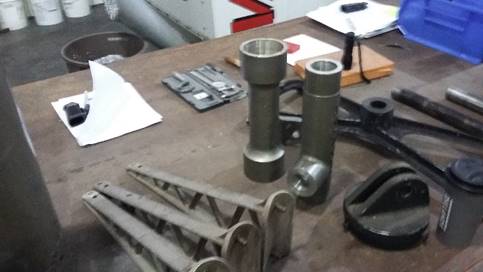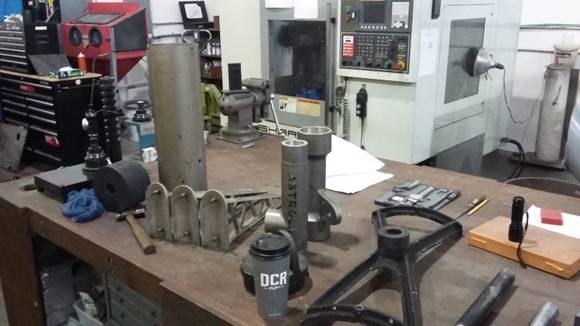 Work began on the RA, dec and saddle assemblies. I ended up realizing that hand sanding was for the birds. I wanted to take the castings down to the metal then refinish. I would still be sanding today had I not taken the castings over to my bead blasting (like sand blasting) cabinet. Twenty minutes later they were nice and clean down to the aluminum.
The fiberglass tube was next. What a beast! There were so many holes in it, I wondered if the previous owner(s) were trying to reduce the weight! I first needed to determine if any of the holes were useful. I marked the ones I wanted to keep and started plugging and fiber glassing those not needed. Also, near the mirror cell the was a large broken area of the OTA that took quite some time to reinforce and repair.
After fiberglassing, Bondo, priming, and filling, I probably spent 30-40 hours just hand sanding the tube. That included 4-5 hours of rough sanding the inside of the tube. I think I even spotted some undiscovered insect species that seem to have made themselves at home in the tube.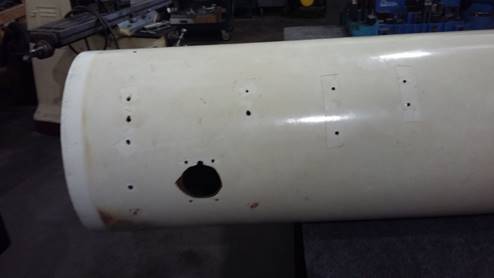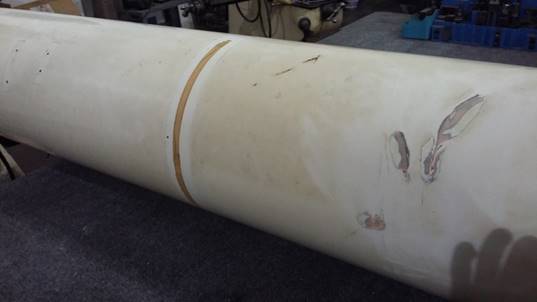 The inner tract ring of the rotating ring assembly attaches directly to the tube. As such, I need to attach the inner tract to the tube prior to painting. Otherwise it would have probably scratched the finished paint job. After attaching the tract ring, I very carefully masked it around the rotating tracts. That was a big job as well. I was then off to a friend at a professional paint shop. He had done other OTA's for me and I totally trusted his work. I choose a gloss white auto finish. When I received the finished tube, I needed to figure out the inner flat black. The inside was rough enough for a flat black paint job. So, the next step was to mask off all of the holes from the outside of the OTA and then carefully wrap the OTA in masking paper (that I got from my paint shop). I had ordered some very flat black spray paint that was available in a smaller rattle can. It was much easier to shoot with a small can. I believe I used about three of those cans to complete the inner flat black. I was pleased with the end result.
The RA, dec and saddle castings were all fairly easy and straight forward. As were the entire tangent arm assembly. I even added little touches of brass where I could. I used an acid etching primer on the cleaned parts. I hung them to dry for about three days. I then used a sandable/filler primer over the first primer. After sanding down to 220 grit, I re-primed and re sanded. I repeated this process until I was satisfied. Before I applied the finish color coats, I went ahead and lightly heated the castings and pressed in the new bearings. As for the finish colors, I realize I didn't copy the original paint exactly. That was ok with me😊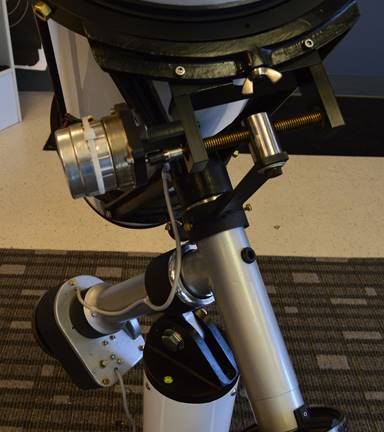 The drive system was yet another story. While all of the components seemed to be there, nothing worked. The gear train, clutch, motor all had to be removed for disassembly of the RA axis. While out and in pieces, I was able to go through each part and bring them back from the dead. The original drive corrector was a different story. It is electrical, not mechanical! Not my wheelhouse.
I figured what the heck, dive into them anyway. I simply went through the drive corrector with a soldering iron, re doing any joints, connections, or wires that seemed corroded. I got lucky. I didn't destroy it. It actually turned on and powered up. I was shocked! Having had luck in getting the electronics to work, I decided to even refurbish the drive corrector housing and hand paddles.
I retraced the wiring beneath the RA gear cover as best I could. I mapped it out on paper and spent a few evenings figuring things out. I re wired everything under the cover. This Cave now operates on its original electronics. I have to say, I don't care for needing two hand controllers. One for the RA and one for the dec. Oh well, that is how Tom Cave did it back then.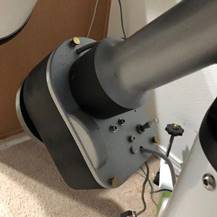 I probably spent another 5 hours on the actual RA and dec shafts. I mounted them in my lathe and removed a lot of corrosion. I had to be careful not to get too aggressive where the bearings would come in contact with the shafts. I wanted a solid, tight fit. Bearing slop would have defeated the entire purpose of the restoration. I took the pier and legs to my powder coater. I was lucky: He was two doors away from my shop door. He bead blasted and finished them in white gloss. For the lower end, I always like white because it's easier to see in the dark. At my age, I really don't what to do a face plant at 2 in the morning!
All in all, the project took about a year and a half. There were times when I wondered if I would ever finish it. The optics turned out to be better than expected. Views of the planets and moon are just what you would expect from a classic Cave 10" F-6. When I have taken it to a dark sky location the deep space views were fabulous. It was a very worthwhile project.
So, did this make my life complete? Perhaps we can talk about that later 😊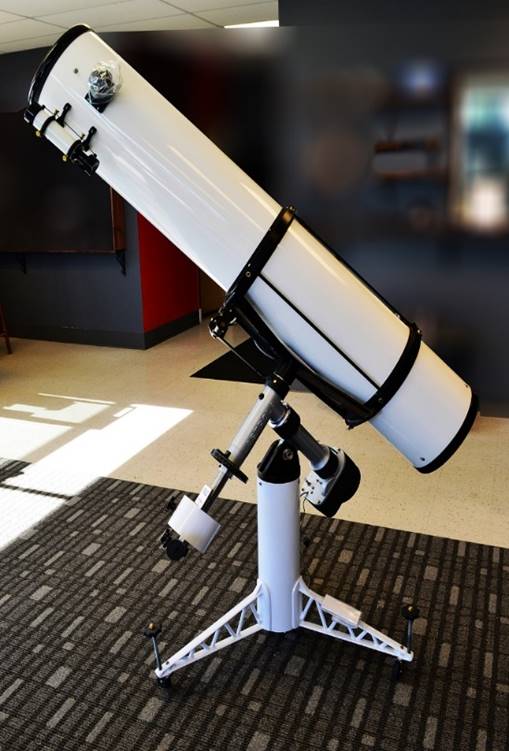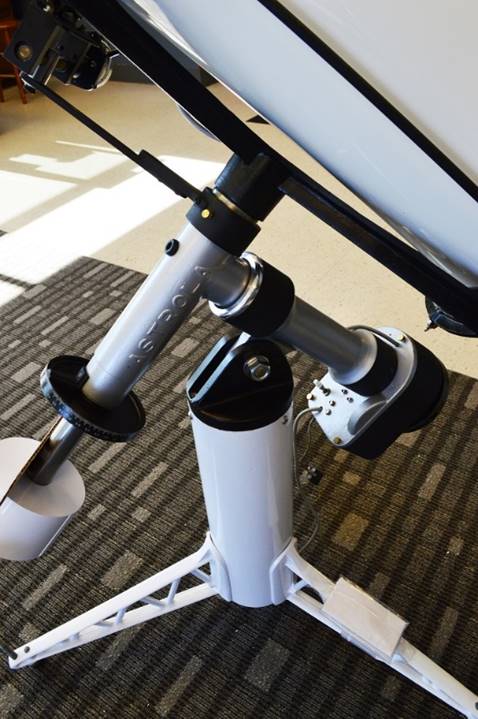 PhilH, L. Regira, Mert and 35 others like this
Article: CLEANING UP A CAVE ASTROLA