CNers have asked about a donation box for Cloudy Nights over the years, so here you go. Donation is not required by any means, so please enjoy your stay.


0
A Plethora of Plossls
Discuss this article in our forums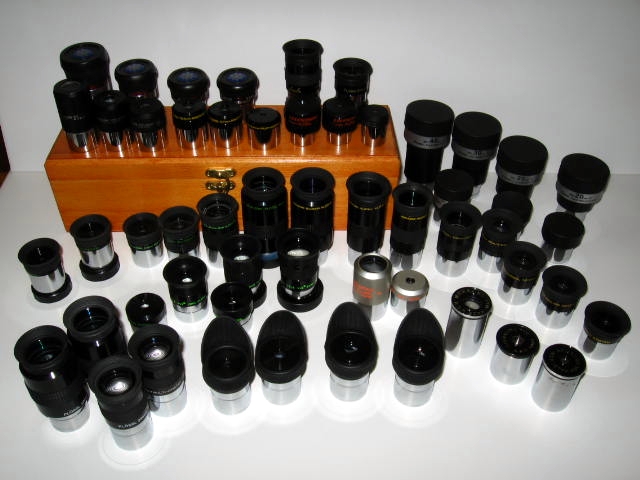 The prodigiously popular Plossl is a perennial pick with astronomers, young and old. Invented in mid-1800 by G. S. Plossl of Austria, it is one of the oldest eyepiece designs still readily available. His design, however, remained obscure for nearly a century, not becoming popular until around 1960. For this reason some people get the impression that the Plossl is a more modern design. This somewhat simple design consists of two achromat doublet lenses or four elements in groups of two, one pair for the eye lens and one pair for the field lens. This provides a better corrected image over three-element designs such as the Kellner. Thus it works better in fast telescope optics, even down to focal ratio F4. Its 50º AFOV (apparent field of view) was considered "wide field" for many years, especially when compared to the Huyghenian or Ramsden designs. It was thus once purchased as a "premium" eyepiece, often being the most expensive eyepiece in one's collection.
Today however, thanks to modern methods of mass-production and glass coatings, the Plossl survives today as one of the best optical bargains available to the amateur astronomer. High quality brands can often be found for under $50 US Dollars each and even the premium brands like Televue can be purchased easily for under $100 USD. Practically every brand name from Astrola to Zhumell has jumped on the Plossl band wagon, and examples can be found from many countries of origin including China.
Why is the Plossl so popular today? I'm not sure I know the answer to that. By today's standards, it does not have the widest true field of view, and it is not the design with the sharpest edge of field. Although long focal lengths have ample eye relief, that shrinks rapidly when you get below 20mm and below 10mm the design starts to really get intimate as you squint to view through a tiny top lens with your eye only a few millimeters from the eyepiece. Today, there are many brands of 5, 6, or even 8-element designs in the same (or next) price bracket that for many provide improved viewing performance. Probably the biggest reason for their popularity might be the ease and low cost of manufacture while maintaining a high quality image.
So just why do I like Plossls? There are a number of reasons actually. First, Plossls are light weight. Even the 32mm and 40mm eyepieces weigh in at about ¼ pound. I prefer using altazimuth mounts and I don't like fiddling with the balance if I don't have to. I can run the gamut of Plossl focal lengths from 32mm to 6mm without rebalancing the scope on the mount. They are also physically small compared to their super-wide and ultra-wide relatives, so they take up much less space in your eyepiece case or bag.
Second, Plossls have excellent image quality for the money. Can't afford a Televue Nagler? The 26mm Type 5 Nagler currently costs $500. For that same money, give or take a dollar, you can buy every Televue Plossl from 32mm to 8mm, and another $100 gets you the Televue 2x Barlow. For a $600 investment you are truly good to go for any observing task, without sacrificing the legendary Televue image quality.
Third, the Plossl line is usually par-focal, that is, you need little to no refocusing when you change from one focal length to another. This is helpful when working at high powers, or with a non-tracking mount.
Fourth, Plossls have excellent viewing comfort. Well, at least with the longer focal lengths. 25mm and above are eye glass-friendly, with the 20mm being marginal. I find that with the shorter focal lengths, I usually get enough power from the telescope that my astigmatism is negated, so I don't need my glasses with them. Still, if you prefer viewing comfort with short focal lengths, just couple a Plossl with a good quality multiplier like a Barlow or Powermate. My Meade 5x TeleXtender turns a 25mm Plossl into a 5mm, and a 20mm into a 4mm, all with much better viewing comfort, field of view, and eye relief than comparable focal length Plossls.
Fifth, they come in a very wide variety of focal lengths, as well as two standard sizes. The 30mm on up come in the 2" size, and the 40mm on down come in 1.25" size. And between 40mm and 5mm you can find just about every number in-between. I have counted no less than 22 separate focal lengths throughout my collection. Between 20mm and 10mm for example, I have those two inclusive, 17, 16, 15, 14, 12.4, 12, and 10.5. (I have seen an 18 available somewhere, but don't have it… yet.) Now admittedly the difference between 12mm and 12.4mm is about non-existent, but if you are looking for a particular focal length to fill in your collection, the Plossl design is one of the first places to look.
Sixth, they make great eyepieces for use in binoviewers. They have all the qualities I look for in a binoviewer candidate: light weight, modestly priced, excellent on-axis image quality, and a clean image usually lacking of ghosting, glaring, and blackouts. I have four pairs of Plossls for my binoviewers.
Last but not least, is the variety of "outer wear." Plossls come in all shapes and colors, from the "classical" designs out of the Guan Sheng Optical Company to the more modern Vixen line-up. Some colors I've seen are black, white, gold, and silver; with all kinds of colors in the trim and lettering. If you're looking for bling to enhance your new scope, look for Plossls.
Now you may be asking, just what turned me into a Plossaholic? It was more by accident than intent. Many telescope systems come with one or more Plossls. My first big scope system, a Meade Schmidt-Newtonian, came with a 26mm 4000 series Plossl, and Meade at the time offered the rest of the set with a case for $99. How could anyone resist! So that was my first complete eyepiece set of Plossls. When I purchased my Vixen 95L Mak system, I was so impressed with the design and quality of the 20mm Plossl that it came with that I eventually purchased the complete set. This set remains one of my favorites. Plossls regularly come up on the used markets; and the older, Japanese-made specimens seem to attract a lot of attention. They are, no doubt, very high quality but I also sometimes buy "lesser" quality Plossls just to fill out my collection.
As I mentioned above, the modern day Plossl design is simply two pairs of elements separated by an air space. Each identical pair is like the crown/flint in an achromat refractor's objective. The two inner surfaces are convex. Beyond that, I have found some variations in the design. For example, in the 2002 Meade Catalog, the 3000 series has flat outer surfaces, whereas the 4000 series has convex outer surfaces. Others have an asymmetrical design, as in the original Plossl eyepiece. Sometimes a company may add a fifth element, as in the Meade 5000 series 5-element "Plossls." The fifth element in this case gives the 5000 Plossl a little more eye relief and 10º more AFOV, but at the expense of a less sharp edge of field in telescopes with fast focal ratios.
But, enough of my ramblings; it's time for the photo tour of my collection!
Below, my very first set of quality eyepieces, the
Meade 4000 series Plossls.
The Vixen NPL series is another complete
set I currently own.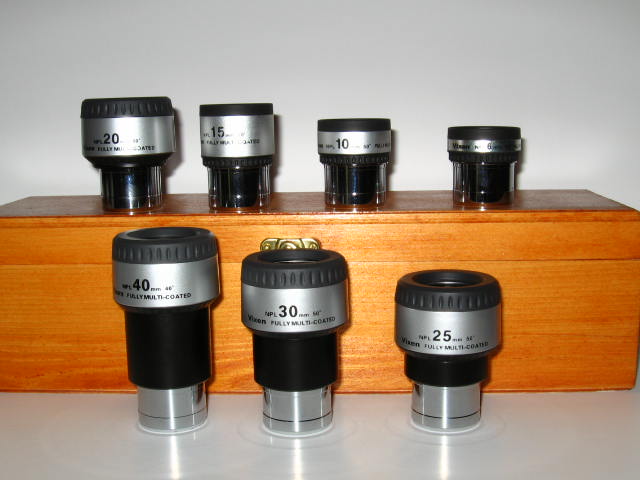 Until recently, many name brands carried Plossls
in the .965" format. Below are two black Celestron
.965" eyepieces with a 1.25" silver top in the center.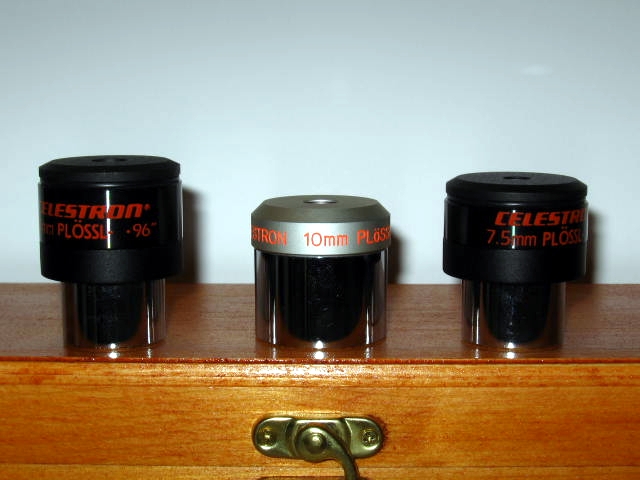 Criterion made these classic "asymmetrical" Plossls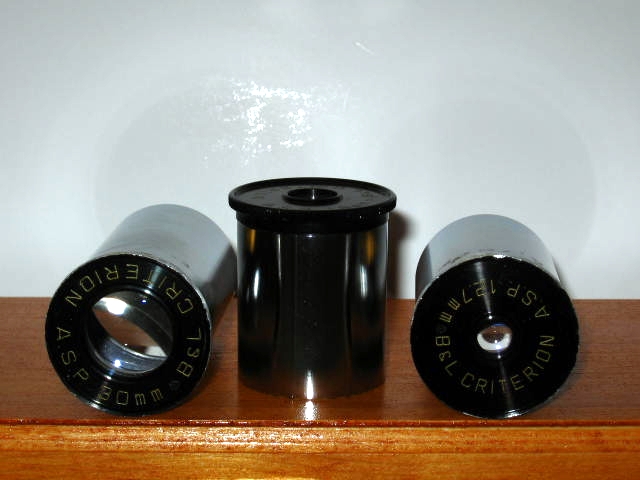 Three examples of Orion's Explorer II set, actually
a mix of 3- and 4-element eyepieces. I particularly
like the quality of the 17mm for the price point.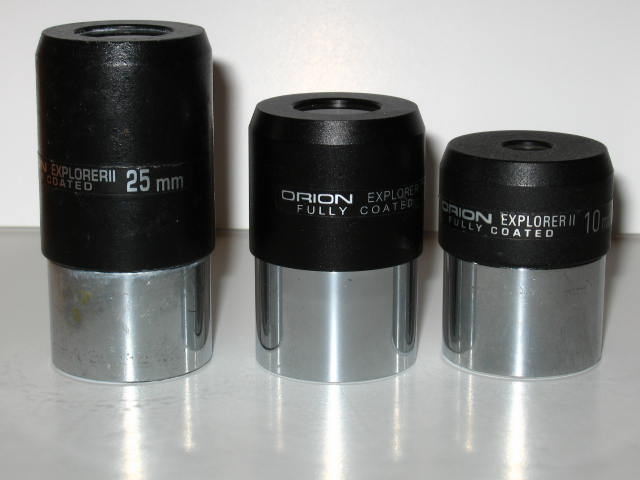 Plossl eyepieces make great pairs for binoviewers! I
Have four Taiwanese-made pairs that I regularly use.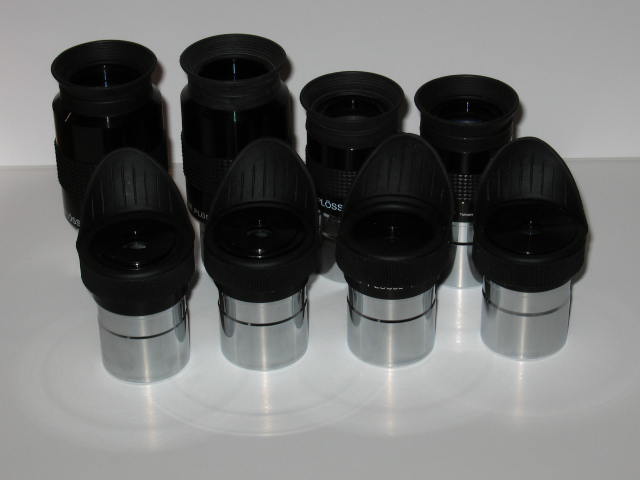 Meade 4000 series: then (left) and now (right).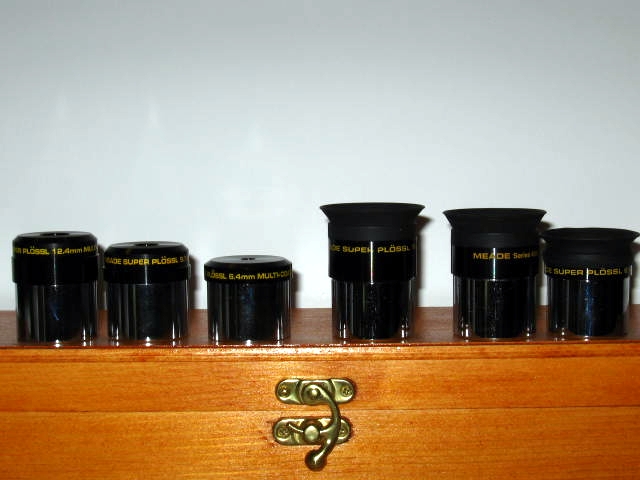 Celestron silver tops.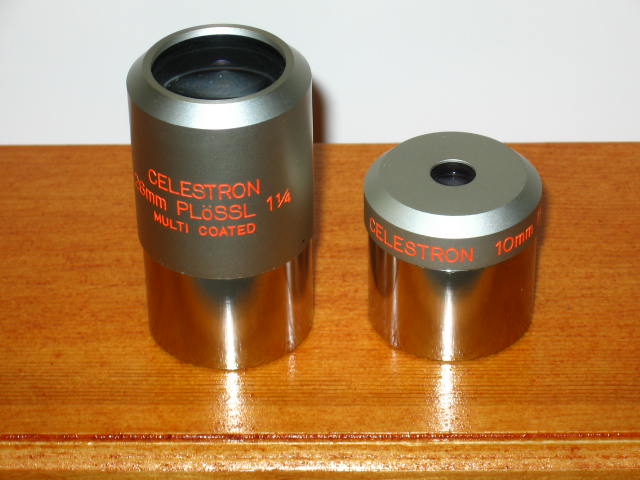 These Taiwanese-made Astrola's came with a Hardin
optical reflector package. I love the gold lettering!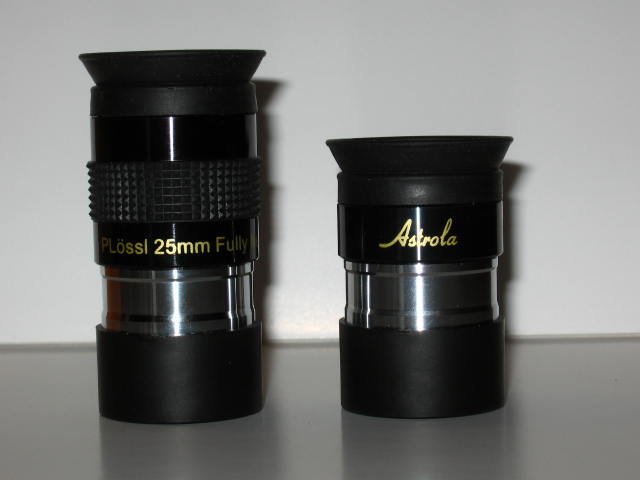 Here are some pictures submitted for my article by friends and contributors
From Cloudy Nights:
Alan and Sue French own this vintage smooth side Televue
collection.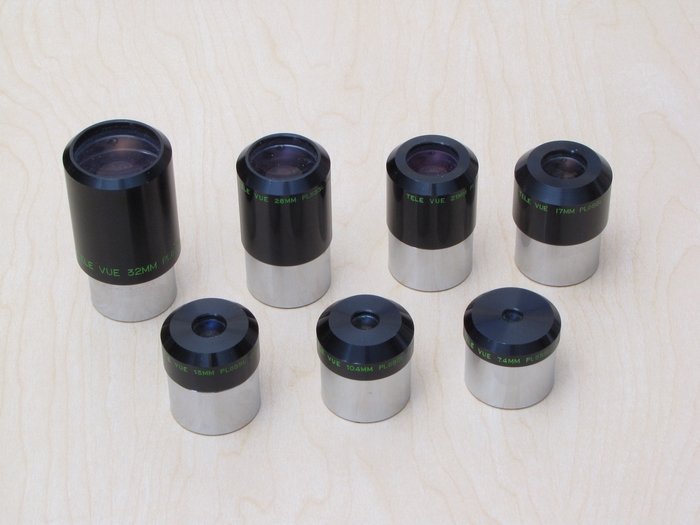 Here are early versions of the Meade 3000 series owned by
Bill Paolini.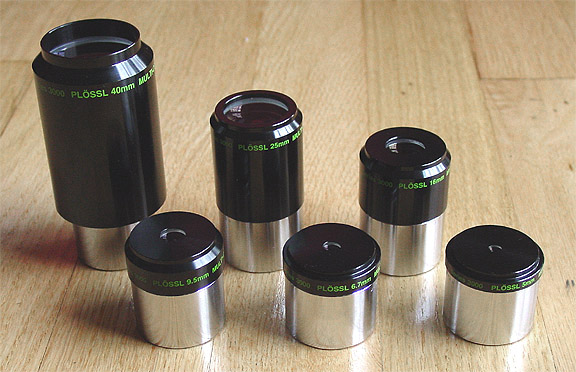 Submitted for your enjoyment are Revelation brand Plossls owned
by "Great Bear" of CN. The graphics are very nice on this set.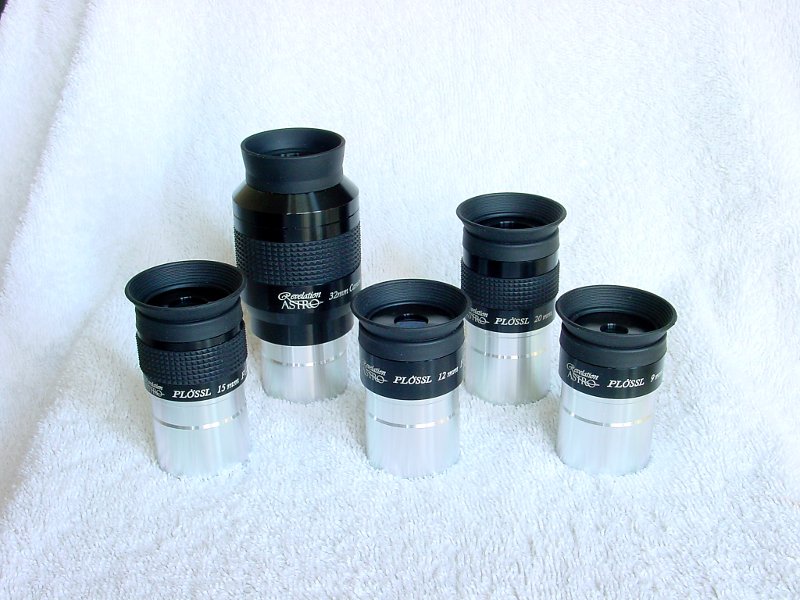 Modern-day Sterlings owned by B. Paolini, sold by Smart Astronomy:
Bill gives this set high marks for image quality.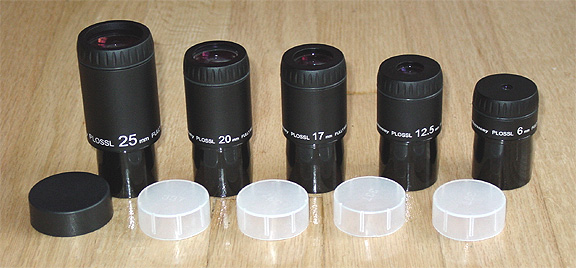 This 8mm Carton of Japan was submitted by Mike Hosea.
This inexpensive eyepiece is currently sold by
Telescope-Warehouse.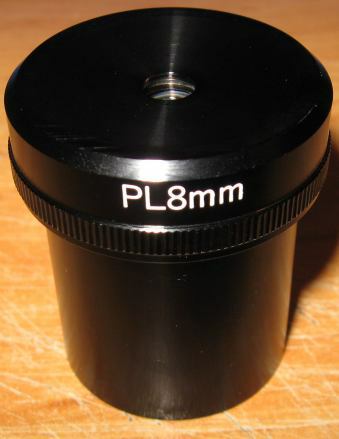 These Omcon Plossls by Antares are owned by Pollux556,
a CN member from Canada.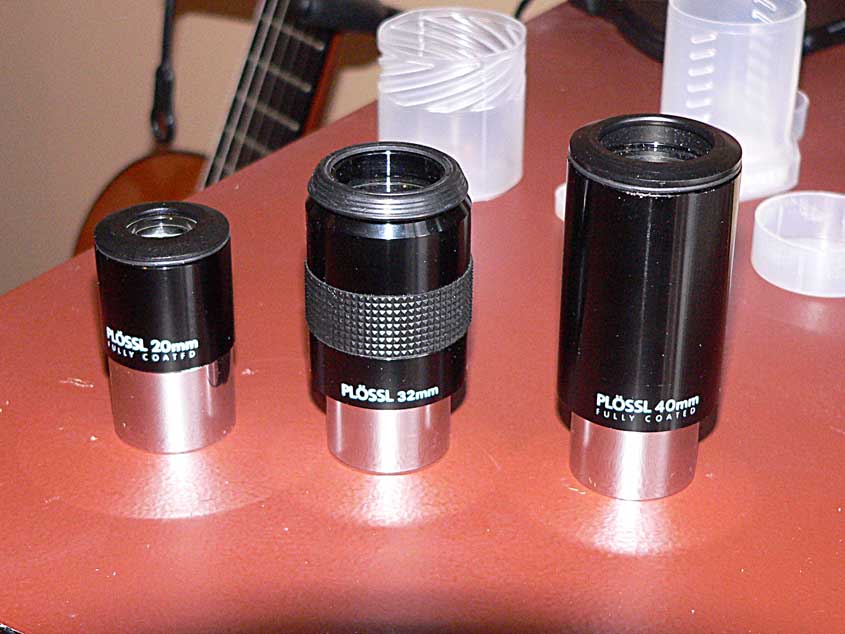 These unusual looking eyepieces made by Sheldon Faworski uses
Japanese optics. (A GSO-made specimen is on their left.)
They are owned by Joe Doyle.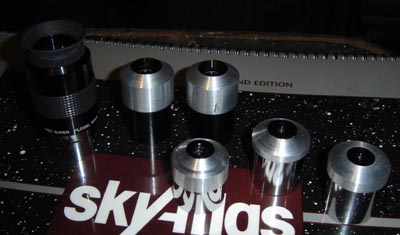 And, of course, Plossls come in the massive 2" variety, such as these
fine specimens owned by Bill Paolini (1-1/4" eyepieces shown actual
size!)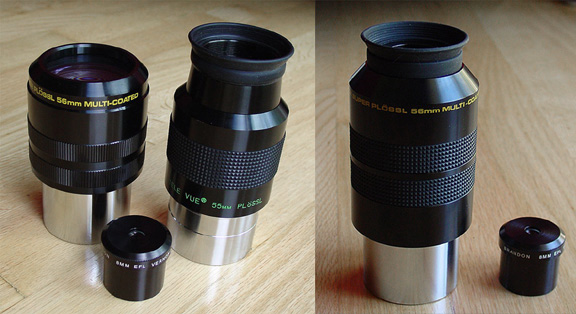 My thanks to everyone who submitted their photos for my article!
BigC, mitsos68, AA5TB and 1 other like this
Article: A Plethora of Plossls