CNers have asked about a donation box for Cloudy Nights over the years, so here you go. Donation is not required by any means, so please enjoy your stay.


0
Goto Optical responds to Takahashi with a wave of offerings for 1976
Jul 01 2023 05:00 AM | PawPaw in
Articles
Discuss this article in our forums
Goto Optical responds to Takahashi with a wave of offerings for 1976
Mr. Dave Trott has produced several videos covering the history of Takahashi's early telescopes. These videos are full of excellent information and the quality and presentation are top notch. In one of these Dave poses a statement and a question from Takahashi's marketing perspective: "Hello Goto, Hello Nikon wake up there's a new player!" "Are you awake yet Goto, Are you awake yet Nikon?"
The video can be found here: https://www.youtube.com/watch?v=v1jbt6jU-QY. It covers the model TS 80.
Another video covers Takahashi's early history: https://www.youtube.com/watch?v=DgD5UzFV7X8.
In this article I want to present what may have been Goto's response and perspective on their new competition. For some background I encourage you to watch Dave's Tak series videos. While I can't present a case for Nikon I do have some personal experience with Goto and continue my research. I invite you to join and follow me down the "Goto rabbit hole".
I will start with a broad view of Goto's history. Instead of re-inventing the wheel their history is neatly documented here: https://www.goto.co.jp/english/about/history/.
Specifically we will be focusing on the Mark-X era which made its debut commercially in 1976 but was conceived and planned for at least two years before. So yes, Goto heard the loud statement from Tak and paid attention to the question. Goto knew they were behind by several years. Time to catch up?
In circa 1974 the impetus came from Goto's own employees who were members of an Astronomy club. Most members of the club were employees of Goto Optical Research Institute and participated in a committee set up internal to Goto for researching the future of the amateur telescope market. The committee members took notice and discussed the sad state that 50% of astronomy club members were using Takahashi Seisakusho telescopes instead of Goto's.
Development meetings were held, and they continued to research what would be the ideal telescope for the amateur market. From these meetings the system mount concept emerged. Flexibility of design was high on the list as astrophotography was becoming more popular. The ability to break the mount down into sub parts so travel was made easier was adopted and approved. The project was given the name of Mark-X. The committee reported their findings and recommendations to management and to their surprise the president, Seizo Goto, approved of their report and plans. He directed them to continue work on the mount and he would start a team to develop new objectives for the Mark-X system. In June 1975 a request to start commercialization development and design was presented and approved.
More information about the mount development can be found at: https://blog.goo.ne.jp/gototelesco....
I also started a thread on my Mark-X mount at: https://www.cloudynights.com/topic/7240....
I want to focus this article on the new objectives that Sezio Goto and his team were developing for the Mark-X. Many have referenced the objectives that Goto offered with the Mark-X, but I have not come across a more detailed list than the one available on Wikipedia.
The Wikipedia list: https://ja.wikipedia.org/wiki...
The bulk of the options on the above list were designed and manufactured in tandem. The timeframe from start of concept to product release was approximately 18 months. I would like to point out the speed with which Goto designed tested and produced these new objectives in response to Takahashi's bold competition was impressive. Five products were released in 1976 including the mount which had many different options/parts. I will count the mount as one for this discussion. Not all the options above were ready for release in 1976 but the following list was. In my opinion Goto demonstrated a unique manufacturing ability, completely in house, to develop, design and produce several new Semi-APO and APO objectives in a short period of time. The following models were released for the 1976 debut.
MX-1 Equatorial mount (consists of many MX parts)
MX-52 8cm 2-element Super Apo F12.5
MX-53 8cm 2-element Super Apo F15
MX-54 8cm 2-element Fluorite Super Apo F15
MX-55 8cm 3-element ED Super Apo F15
By 1977 I have been able to confirm the following were also available and documented by Goto:
MX-56A 8cm 3-element Standard Apo F8.25
MX-56B 8cm 3-element Standard Apo F12.5
MX-56C 8cm 3-element Standard Apo F15
Note that Goto used "Standard APO" to describe the chromatic aberration is comparable to Carl Zeiss 3 element Apochromat.
MX-57A 8cm Semi-Apo F8.25
MX-57B 8cm Semi-Apo F12.5
MX-57C 8cm Semi-Apo F15
In addition to the new objectives the Mark-X mount was completed, tested and available for the 1976 debut. The list above omits two achromatic objective/OTA and a 100mm Maksutov that Goto also made available. The MX-41, MX-51 and the MX-70 respectively, were available in the Goto lineup for several years prior to 1976. Note the first new objectives offered were likely the most difficult to design and manufacture. This speaks volumes to the fact that Goto was trying to catch up with Takahashi. Also note that the Semi-Apo and the Standard Apo design came after the new Super Apochromats. No one can be certain of the number sold but many in Japan allude to the rarity the MX-52,53,54 and 55. There have been discussions by Goto fans that the "Super" objectives may number less than 10 in total.
By the end of 1977 Goto released another 8 new products. This is documented in the Goto flyer called "Mark-X Fun". Goto published this flyer every year starting in 1977 to showcase amateur astronomers using their new products. Today we would call this an online review. Goto didn't rely on just advertisements in the Tenmon guide and other publications. Seizo Goto relied on a method he used decades before by holding observation sessions using the Mark-X with the new objectives. Goto hosted the sessions on the roof of the greater Tokyo wholesale center (owned by Goto). Meals and beds were provided. Hundreds of enthusiasts attended to see the new Mark-X system as 40 Mark-X systems of various types were set up for use. Here are a few examples of what was written in the 1977 Mark-X Fun including the introduction and a picture of one of the viewing sessions.
Introduction of "Mark-X Fun 1977"
"Thank you for using the Mark X system. It's been a year since the first Mark X was shipped. Thanks to you,the equatorial mount that we made with all our hearts has been very well received and is used by various astronomical fans all over the country. In addition, we receive many inquiries about the Mark X system, and we receive many phone calls and letters that cannot be processed every day. What is born must be raised. We believe that it is Goto's mission to further enhance the Mark X system. As the first step, we are announcing eight new products this year, all of which will be available this fall. We would like to express our gratitude to everyone who has used the MARK-X FUN 1977. Perhaps because it was the first year, the collection of manuscripts was small, but I had some very unique ideas. We were also fortunate to have contributed from our great senior, Dr. Masatoshi Takida, in astrophotography. We are thinking of making even more fulfilling next year, so we look forward to working with you. Goto Optical Research Institute Mark X Section."
"E.D. = 80mm, F.L. = 660mm. An objective lens with F: 8.25, which is astonishingly bright as a refraction, was born. Moreover, since spherical aberration, which is indispensable as an objective lens for astronomical objects, is corrected, it is not only a lens used for photography of nebula and star clusters, but also for high-magnification observation with a 4 to 6 mm class eyepiece. Is also fully effective. Shortening the focus can be said to be the trend of the present era, but it will only come to life with the support of perfect aberration correction. 2-ball semi-apo (set) ¥ 155,000 1 3-ball marked appointment (set) ¥ 199,000-Packing shipping fee-3,500"
"Please write to MARK-X FUN 1978. We are looking for manuscripts for the next issue of MARK-X FUN. Anything related to Mark X, such as your favorite Mark X, new ideas, observation equipment, astrophotography taken with it, snaps at the observation meeting, etc. is fine. The photo should be black and white, and the size should be from your hand to one or two cabinets, and the description should be about 400 characters. Please send the cut-off to the Mark X staff at the end of August. We will give a souvenir to those who are hired. The 4th Comparative Observation Meeting was a great success At the comparative observation meeting held on August 9, many enthusiasts from all over the country gathered because they could see the stars with a new lens of F: 8.25. Fortunately, the clouds began to break from midnight, and 40 Mark Xs of each type were also active at the same time. Surprising voices were heard about the new lens, saying, "Even though the F value is so bright, both chromatic aberration and spherical aberration are corrected so well." Expecting the success of the Mark X monitor club We recruited Mark X monitors in the October 1976 issue of Tenga, but decided on the following club and submitted four reports over a two-year period. I will get it. Based on this material, I would like to grow Mark X even easier to use. Sendai Astronomical Club, Astronomical Club Hoshi no Kai (Yamagata), Kita 47 Club (Ma) Nihon University Faculty of Science Astronomy Study Group, Kansai Astronomical Club, Hanshin Astronomical Club, Leo Astronomical Photo Study Group (Tokushima) Kumamoto University Astronomical Club"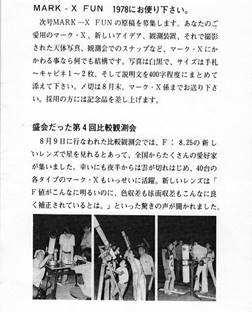 Now let's take a closer look at the Super series APO objectives released by Goto in 1976. Takahashi has been credited for making the first prototype Fluorite telescope in Japan and this is true, but they were not the first to make it available as a commercial product in the Japanese market. According to Takahashi's own corporate history, Goto beat them to the punch by 16 months. Here is an excerpt written by Kiichrou Takahashi for a magazine article issued in 1987:
Early days of fluorite telescope
The beginning was in 1970 with the president Takahashi and Canon Optron they proposed us to use fluorite material as telescope objectives. We've known as fluorite extraordinary low desperation material to vastly improve color aberration and wide range of optical transparency of human eye-band to ultra violet range. It had used in vintage micro-scope to recent camera lens, although, we did not have confidence if it could manufacturable on large sized objective with high precision.
Fluorite is crystal of CaF2, it's polishing work is completely different from the glass. We hardly tried to solve this difficulty in almost all of the developments. The debut was just only one prototype, which could bring to the eclipse at Africa in 1973.6. The astonishing photo of the Corona which was taken by the president Kiichirou takahashi had acclaimed very high reputations. The full size print still posted in our lobby, already discolored and hand writing note is almost invisible, recall the development that passed away. In 1977, We released brand new product TS-90F( D=90mm fl=1000mm triplet apochromat 190000yen) which was the first fluorite telescope product ever made. and it was the 10th anniversary of Takahashi Seisakusyo. Although at that time, It was said to be fluorite as ultra special rare and expensive material, indeed expensive than glass material, market would not move to us.
This article by the president of Takahashi confirms the early difficulties of working with Fluorite material. It took Takahashi a little over 3 years to make a prototype objective and a further 3.5 years to bring it to market. While I cannot confirm how long Goto worked on MX-54 2 element fluorite objective they offered it as a commercial product before Takahashi. Goto deserves some credit for this achievement plus they did the polishing and full manufacture in house. We do not know who Goto procured the fluorite from. The exact date when Goto started development of the Super Apo's and the fluorite is not known but records point to late 1974 or early 1975.
Starting on page 8 is the Goto advertisement from 1976.3 Tenmon guide announcing the release of the MX-54 along with the other two new Super objectives. Translated by Mr. Koji Matsumoto. A well-known vendor and historical expert on Japanese amateur telescopes from the 1970's to present. Mr. Koji has provided an international service for collectors of fine Japanese optics to acquire some of the finest Japan has to offer. Mr. Koji has written several articles about historical Goto telescopes that include visual comparisons and testing to other brands. Some of these relevant articles are on his website and provide a rare perspective on Goto products.
https://koji-matsumoto.com/GOTO%208cm%20Triplet%20Super%20APO/index.html
https://koji-matsumoto.com/GOTO%208cm%20Triplet%20Super%20APO/impressions.html
https://koji-matsumoto.com/GOTO%2080mm%20F15%20Triplet%20Standard%20APO/GOTO%2080...
https://koji-matsumoto.com/GOTO%2080mm%20F12.5%20semi-apo/index.html
Note on the bottom of page 2 of the Goto advertisement from 1976.3 Tenmon guide there is a note stating the following.
"Big refractor like diameter of 150mm, 200mm, 250mm Super Apochromat is possible. Please ask our company about details".
This footnote is significant for several reasons but primarily it shows that Goto was not only competing in the amateur market but wanted to make the new optical technology available to professional observatories. After researching several historical documents, I was able to confirm that Goto delivered more than one of these 200mm + Super Apochromats to the Japanese professional market. In Goto's 70th Anniversary book documenting its own history there are entries detailing delivery of at least two. In 1975 Goto describes one 250mm Apochromatic objective was delivered inside Japan. The location and recipient were not noted. In 1984 the same book documents a 200mm Apochromatic telescope (F/15) delivered to an unknown location in Japan.
In the 1976.9 Tenmon guide Goto ran an advertisement detailing the research, development, and manufacture of the "world's first 20cm class Super Apochromat machine". Upon completion this Super Apochromat was sent by rail car to Suda observatory in Asaka City. Further research is ongoing as to the whereabouts of this telescope. However, another Goto 20cm ED telescope has been found and still in use at the Sapporo observatory (https://www.ssc.slp.or.jp/planet/sapporo-obs). In addition, our friend and caretaker of the Japanese telescope museum Galakuma documented a visit to this very telescope. An excerpt from Galakuma describing the telescope on 2019/07/06.
"When I searched Tokyo Kogaku's telescopes, I came across the former telescope of the Sapporo Astronomical Observatory. Mr. Hirai, who has been taking care of me on the bulletin board, was the one who guided me. Each facility is managed by the Sapporo City Science Museum, and even though the science museum also has a splendid telescope, I can see how much it has been loved by the citizens."

"It was open to the public from 14:00 in the afternoon, but people who wanted to observe it came one after another. A veteran named Mr. Hayashi was showing Venus."

"Mr. Hirai was involved in the introduction of the current second-generation telescope as a city employee, and we heard a lot about him. My current telescope is the Goto Optical 20cm Apochromatic. That alone is valuable, but it's compact for a 20cm F12, and for some reason it looks easier to use than the familiar 15cm"
Several pictures of this Goto 20cm Apochromat can also be found at this site:
https://hokkaidoguide.com/sapporo-city-observatory/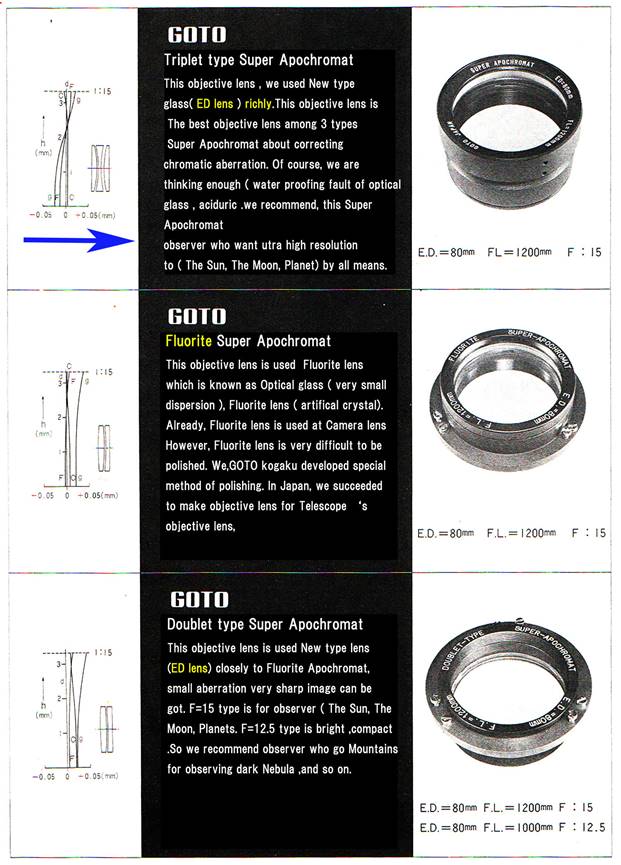 Included in the following pages are three system diagrams for the Mark-X. One each from 1976, 1979 and 1986. I include these to show how Goto evolved the Mark-X product. The 1976 diagram shows the Super-series Apo's and an array of options for the Mark-X mount. Note the F8.25 objective is not available only the F12.5 and F15. I have so far ignored the MX-61 which is an F8 reflector also available.
The 1979 diagram shows several new objectives and options available in addition to the Super series. We know for a fact the Semi and Standard series on this diagram were released circa 1977. The MX-56A, B and C made their debut as the F8.25 with the A denoting the F8.25, B the F12.5 and C the F15. All three F ratios the F8.25, F12.5 and the F15 were offered as a Semi-Apo or Standard Apo with the F15 also offered as an Achromat. New in 1977 was the addition of a guide scope for the MX-61 reflector. The MX-62 a 60mm F15 OTA which was also a school telescope called the ST-6. A new accessory for the mount was the MX-45, a set of OTA 95mm rings in addition to the already available MX-50 lens barrel. The mounts motor control was also updated from the original MX-21 to the MX-26. Not sure what the update was.
The 1986 diagram shows quite a change in seven years. The only objective models remaining from 1976 were the MX-41, MX-51 and the MX-61. The MX-62 was still available as the guide scope for the MX-61. The Semi-Apo's were dropped and replacing all the Apo's were two new models. The MX-58 and the MX-59. An 80mm 2 element ED-Apo F8.25 and an 80mm 2 element ED-Apo F12.5 respectively. I do not have an exact date when these two models were released. The Mark-X mount added a new motor called the P type and a new controller the MX-28 coined as the Comet Tracker. It was released just prior to and for the appearance of Hally's comet in 1986. A new General-purpose axis the MX-7 and the MX-8 an L-formed mounting plate was added allowing multiple cameras and other auxiliary equipment to be added with individual rotating ends. I have deliberately omitted mention of the MX-II system which debuted in 1986 and ended in 1988, 68 systems were built. The MX-II deserves its own paper to cover adequately.
I want to present a few details that were found regarding the Standard Apo series. According to several Japan classic enthusiasts the Standard Apo series from Goto are as infrequently found as the Super Apo series objectives. The question will always remain on why Goto released the Super Apo series first and the Standard Apo series second. Mr. Koji Matsumoto commented on his writeup of the MX-57C, the Standard Apo F/15, that it was a "serious mystery why it was so rare in Japan because the performance was really great". Goto explained their reasoning for making the 3-element Standard Apo and why they called it such in the following advertisement from circa 1979. I will present both the Ads original version and the translated excerpts. Note the following two excerpts describe Goto's design concept for the Standard-Apo.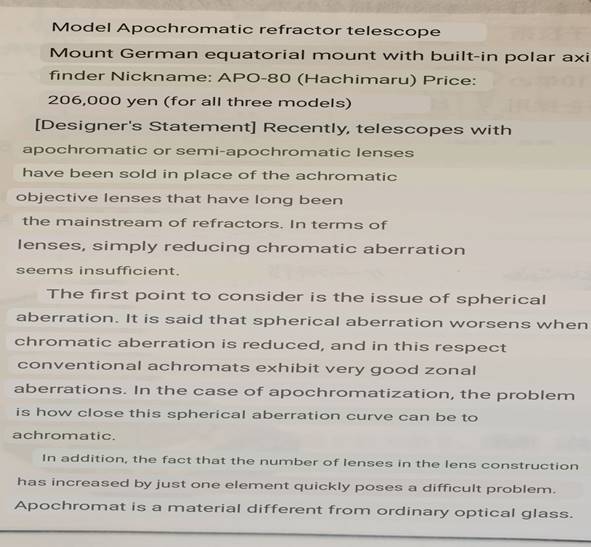 The original advertisement
Unlike the Super-Apo document this Standard Apo does not include any specifications or diagrams. No Chromatic or Spherical aberration charts have been found. The type of glass is not specifically annotated. Instead, Goto refers to "ED Lens Richly" for the Super series and the Standard Apo document simply resorts to stating the "Apochromat is a material different from ordinary optical glass". Finding specific details on the glass type is unlikely 47 years after production. With that said my intent for this article was to document as faithfully as possible the first Apochromatic offerings designed by Goto Optical. I could go down another rabbit hole of what ED glass was used but I believe that deserves its own article to sufficiently cover. I will note from research there seems to have been only two manufacturers of "ED glass" during this time in Japan.
Finally let's look at Goto's last Apo's before exiting the Amateur market. The Mark-X diagram from 1986 shows two ED Apo's. The MX-58 an 80mm F8.25 and the MX-59 an 80mm F12.5. The F15 was available only as an Achromat. As for the ED lens Goto stated the following: "With a number of optical systems developed, Goto's optical engineering expertise makes it possible to manufacture lenses right from the design stage to the polishing stage and up to the final optical adjustment state at its own manufacturing facility. At present doublet ED Apochromatic lenses are offered as our standard optical system". Again, no mention of glass type or diagrams are included.
As we emerge back from the "Goto rabbit hole" I think it important to acknowledge the competitive spirit that inspired Goto optical to answer the new upstart Takahashi. It is entirely possible if Seizo Goto were not president during the dawn of the Mark-X era Goto would have simply ignored Takahashi and concentrated on their main business model, that of Planetariums and large telescopes. It should be noted that while Goto exited the small telescope market circa 1990 they never ceased to design and manufacture large telescopes. Goto currently makes 20cm / 25cm coude type with ED lens and 45cm / 60cm Cassegrain telescopes for public observatories and educational institutions. An overview of Goto's telescopes can be found at: https://www.goto.co.jp/observatory/telescope/
Goto Optical also opened a new division in 2012 called "Goto Telescope Company, LTD, a division of Goto Optical Laboratory Co, LTD. Their websites are respectively: http://gototelesco.co.jp/ and https://www.goto.co.jp/about/ Goto telescope has brought to market several new products some in limited runs of production and others still available and in full production. One of their newest products to be released in 2023 is the MX-HD+ harmonic drive equatorial mount, an updated and larger version of the MX-HD mount.
I hope this article helps set some of the historical record on a good path and to answer the question that Dave Trott rightfully asked on the possible Takahashi question from 1972.
"Are you awake yet Goto?"
YES, we are awake and well thank you! Goto Optical's stated philosophy: Our starting point is in "celestial bodies and space". Looking ahead to the future, we will continue to push forward with all our strengths so that our products can contribute to the development of science education in the future. "With the stars, based on technology".
It may be wise to keep an eye on Goto Telescope Co LTD as I can personally confirm there will be a continued effort to bring products to market. "Hello Takahashi……ready for some competition"?
I have included some pictures of the known Goto 20cm F/12 Apochromat and several examples of Goto's Mark-X telescopes from my collection.

Sapporo Observatory 20cm F/12 ED-Apochromat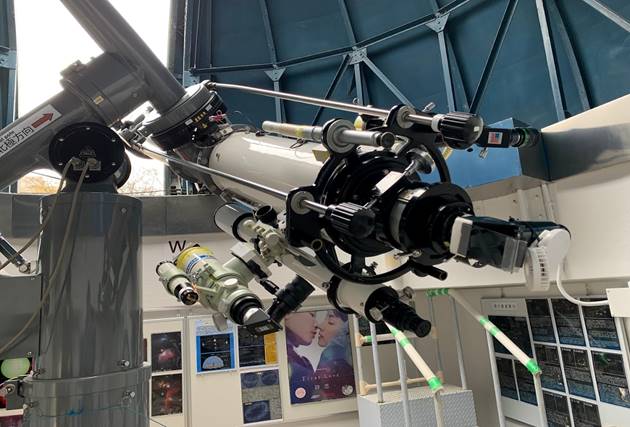 Sapporo Observatory Objective lens.
Circa 1977 Semi-Apo MX-57B
Circa 1978 Semi-Apo MX-57A
Circa 1977 Triplet Type Standard Apo MX- 56B
Circa 1979 Mark-X and 12.5cm reflector MX-61

MX56B and MX57B setup on Mark-X visual comparison test
Dave Trott, Terra Nova, ANM and 7 others like this
Article: Goto Optical responds to Takahashi with a wave of offerings for 1976