CNers have asked about a donation box for Cloudy Nights over the years, so here you go. Donation is not required by any means, so please enjoy your stay.


0
Group Photo: Using Astrophotography for Public Outreach
Apr 20 2013 02:39 AM | Epicurus Rex in
Articles
Discuss this article in our forums
Group Photo: Using Astrophotography for Public Outreach
by Drew Farwell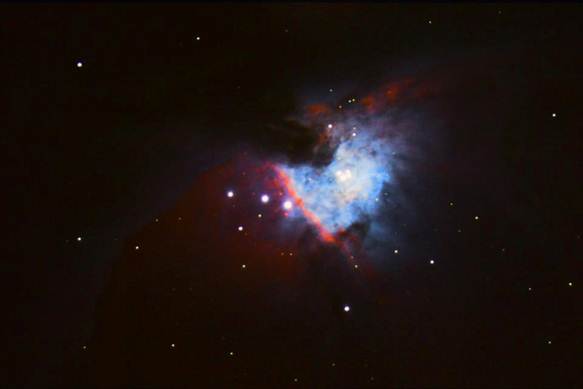 "There are always two people in every picture: the photographer and the viewer".
-Ansel Adams
It started, innocently enough, one beautiful summer night in the front yard of my home at the heart of Green Bay, WI. The crickets were chirping, the humidity was low and the temperature was in the lower 60's. The city was bathed in the light of the almost full moon, and the skies were aglow with light from the city, concealing everything but the brightest of planets and the Moon itself.  Observing alone in quiet solitude, I was overcome by awe as I gazed upon the Moon's craters and maria. It was beautiful, one of those nights you wish you could share with everyone. I ran into the house and grabbed my wife's point and shoot digital camera. Turning the knob to movie mode, I put the lens of the camera up to the eyepiece. The camera's autofocus sprang into action, bringing the Tycho crater clearly into view. I had managed to capture some of the magic of that moment in the memory card of that little camera. An astrophotographer was born.
One of the greatest joys of owning a telescope is, for me, the ability to share the heavens with others. During the crisp, clear summer nights in Wisconsin there is never a shortage of interested passersby curious to see what awaits them in the eyepiece. However, during the frigid, clear winter nights, the number of interested parties' drops significantly. In the northern Hemisphere, it is during these frigid months that many of the brightest and most beautiful objects in the night sky are visible. Jupiter and its moons, the Orion Nebula, and the Pleiades are all easily visible from within the city limits. Finding someone who is interested in seeing them in subzero temperatures proves far more challenging.
While I have no aversion to observing by myself, I often find that may attempts to verbally convey the wonder and majesty of my observational targets often falls short. It is hard to convince someone who has only a marginal interest in astronomy that there is a perfectly good reason to set up a telescope in subzero temperatures using only words. As luck would have it, I stumbled across the video of the moon I had taken the prior summer. As I relived that warm summer night, I convinced myself that astrophotography was the perfect solution to share my passion with my family and friends.    
Facebook and Flickr and Youtube (Oh my!)
If you're a part of an astronomy club, you know how important public outreach is for amateur astronomers. There is no substitution for getting people to the eyepiece. No amount of digital technology is likely to change that. The average person has no idea what they'll see if they make the hour long drive out to a dark sky site though. For this reason, many people refuse to make the drive. This is where social media becomes a very powerful ally. Profile pages tied to photo sharing accounts and YouTube channels give your club an online presence and the public access to night skies they have lost. Well orchestrated online efforts present a compelling reason to attend club events.    
On February 17th, 2013 at 03:00 in the morning, in -25 degree temperatures, I captured my first video of Saturn for 2013. It was windy and I caught the planet just above my neighbor's roof line (you can imagine the distortion this caused). The excitement I felt seeing Saturn on my laptop that morning rivaled the excitement I felt the first time I saw Saturn in the eyepiece. It was grainy, it was distorted but it was Saturn. I shared it on various social networking platforms, whining like a mule about the perilous conditions the entire time and apologizing for the image quality. Not one person commented about the weather or the grainy image; they were all too focused on the beauty of the ringed planet.
People love technology. No setup in amateur astronomy uses more technology than astrophotography. The mounts, scopes, cameras and computers make quite the impression on those unfamiliar with the hobby. If you really want to hook your audience at an astronomy event, let your guest astronomers control the shutter release so they can take their own picture. Then offer to email it to them after the event. It's a great way to bolster your astronomy club's mailing list and it creates a lasting impression for your guest. 
Doing astrophotography in town does present some challenges though. Depending on where trees and buildings are, you may not have an unobstructed view of the sky. Light pollution may also be a significant issue. From my yard, it is impossible to polar align my mount. Even Celestron's All Star alignment on my CGEM DX is of little use because of the tree density on our property. This can make astrophotography quite challenging. While it is easy to use the video setting to record planets, deep space objects requiring longer exposure times require far more tinkering. Still, it is possible to take images that will impress most amateurs unfamiliar with astronomy.
In addition to the obvious benefits, there have been a few unforeseen benefits to my public astrophotography adventure as well. I now have a standing invitation to a dark sky site from one of my online contacts that enjoys the photos and my telescope gets invited to as many family gatherings as I do. Perhaps the greatest thing about sharing astronomy with others though, is the way in which others share their appreciation with you. My Mother-in-law, who has come to enjoy astronomy almost as much as I do, recently obtained a picture of the Orion Nebula I had taken. She had the picture printed, matted and framed and presented it to me as a gift. It was one of the most touching and thoughtful gifts I have ever received.    
If you love sharing astronomy with others, I implore you to consider trying your hand at astrophotography. With the advent of photo sharing, video sharing and social networks, you have the opportunity to show the urban public a night sky that they might never see any other way. Share your passion with people around the world. Recapture the night.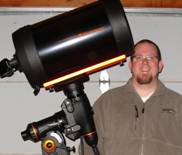 Drew Farwell is an amateur astronomer focused on urban outreach and is the author of the blog Front Yard Astronomy.
Article: Group Photo: Using Astrophotography for Public Outreach