CNers have asked about a donation box for Cloudy Nights over the years, so here you go. Donation is not required by any means, so please enjoy your stay.


0
How to Project:  Small accessory counterweight(s)
Nov 22 2012 03:18 AM | admin in
Articles
How to Project:  Small accessory counterweight(s)
by Mike Gibson 10/12/12
Introduction
Here is a simple and inexpensive solution to a problem many of us have faced when trying to balance a light load on a small to medium size equatorial mount.  Try as we might, it is often difficult to locate small counterweights in the 1 – 3 pound range for smaller OTAs or cameras mounted to prime lenses, no matter what the price.  Sure, we've used Vise-Grip pliers and other ideas for this pesky problem, but I have a fix that is very cheap and effective.  This solution would also work for any application needing a small balance weight on a shaft.
Required Materials
Large flat washers sized for shaft diameter
Vinyl electrical tape or equivalent friction tape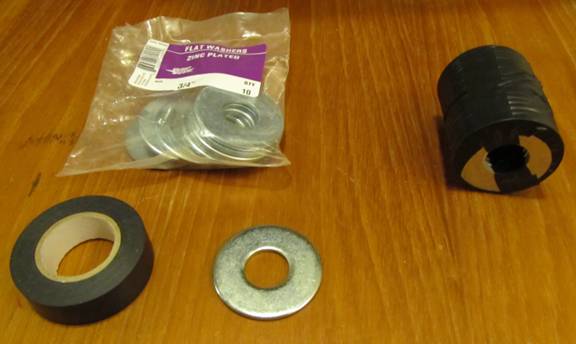 Procedure
OK, nothing could be simpler.  Just build your own "Mini counterweight(s)" to meet your particular needs depending on counterweight or balance shaft diameter and preferred weight.  For larger mounts, the weight (and length) of the counterweight or balance shaft alone will limit the effectiveness of this idea, but for most smaller mounts this should work:
Step 1.   Measure the diameter of your counterweight shaft to determine which common flat washer size is suitable for your mount.  The flat washer inner diameter should be the closest oversize to still slide freely on the shaft.  In my case for the Meade LXD55/75 mount counterweight shaft diameter of 20mm, I chose large 0.75 inch (or 3/4 inch) flat washers (see photo).  Flat washers are available at any home store or hardware store in bulk packages at very low cost. 
Step 2.   Plan your Mini-counterweight strategy for using multiple weights or one larger weight.  This is important because as the weight increases, it will tend to slide more on the shaft with the basic friction fit.  I found that 1.0 to 1.5 pounds (0.45 – 0.68 kg) was best for a 20mm shaft.  This weight will decrease for smaller shaft sizes due to less friction from the smaller shaft surface area.
Step 3.   Build your counterweight packs!  Just stack them like poker chips and wrap them in vinyl tape, taking care to offset the alignment just a bit to increase the friction when sliding on the counterweight shaft.  Be sure to also wrap vinyl tape loops inside the stack of washers as if winding a toroid filter with wire.  Do this progressively until you get the desired friction fit on the shaft.  Keep in mind that dew moisture or frost on the shaft and ambient temperature may change the friction characteristics of the tape, so tighter is better.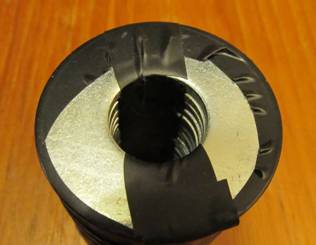 Step 4.   Test your Mini-counterweights for intended mount loads and get a feel for the limits of your mounts bearing friction as loads get very light.  Offset weight as needed to place a desired bias on the R.A. drive for astrophotography or precision guiding without backlash.
Conclusion
No matter how often I searched eBay or telescope accessory vendors, I could never find tiny counterweights for medium sized counterweight shafts, or those that I did see usually didn't list the counterweight's inner diameter to match my mount.  This solution meets my needs for a DSLR + prime lens on a common equatorial mount.  Hope it may be useful for you too!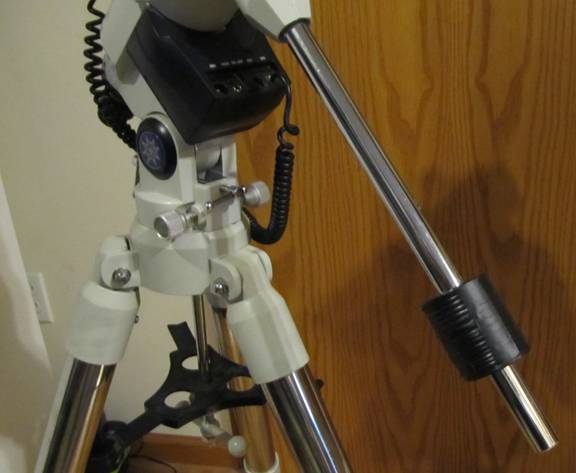 Example: Meade LXD75 GEM with homemade mini-counterweight
lemmu and brianfulda like this
Article: How to Project:  Small accessory counterweight(s)