CNers have asked about a donation box for Cloudy Nights over the years, so here you go. Donation is not required by any means, so please enjoy your stay.


0
Broke Back Solutions #2: How to make big heavy scopes easy to move
Discuss this article in our forums
Broke Back Solutions #2: How to make big heavy scopes easy to move
By Tom Harrison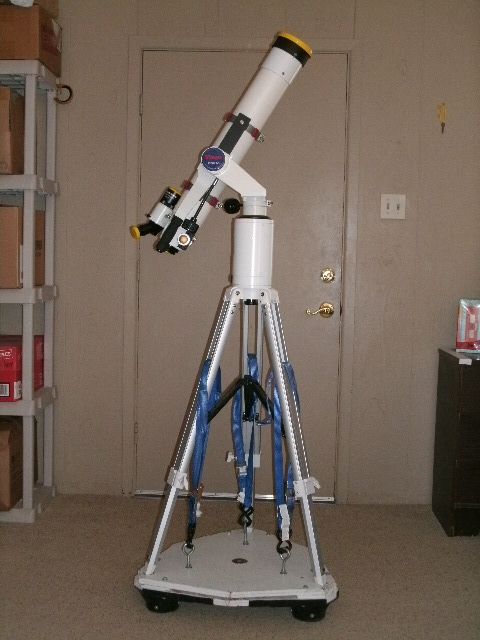 Figure 1
Are you like me? Old, weak and broken. The thought of carrying out the mount, the scope and a 3rd trip for the box of accessories just tires me right out so I don't even go out. Here is my solution for a one trip, everything at once, no heavy lifting, already set-up to go, scope.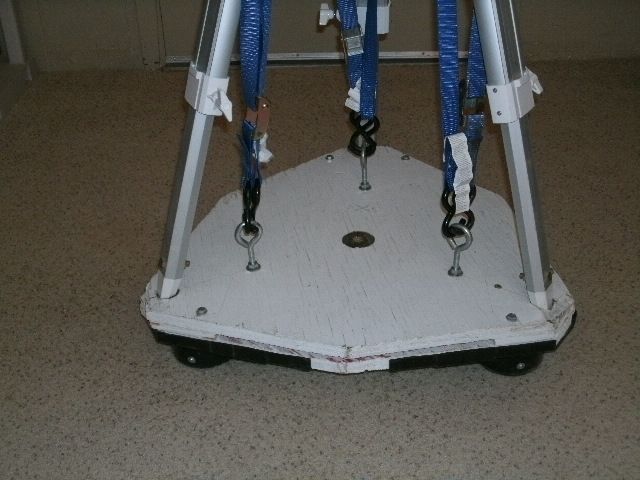 Figure 2
A tripod baseplate that can be rolled out with a 2-wheeled handcart. I used two 3/4" plywood triangles spaced apart with 1/2" plywood in the corners. Just insert the blade of the handcart, tip back and roll outside. If your setup is not too heavy you can easily go up and down steps. In use I don't remove the tripod from the base. The legs are not spread out as far but as long as you use thick heavy wood for the base, stability is not an issue. Or maybe bolt a stack of health club weights on the center. Instead of making the sides straight, I spaced them out to a point for more wood weight and it is easier to slide in the 2-wheeler blade in the dark. You could also use those circles of wood that alot of stores carry.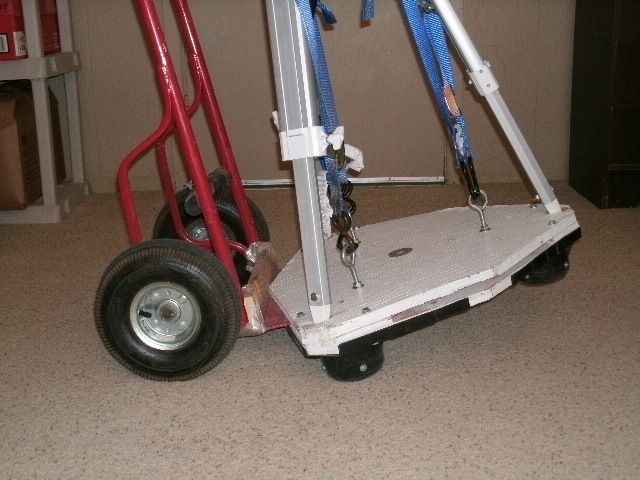 Figure 3
I tried one central tiedown strap at first, but the tripod legs came out of their holes during movement. So you need 3 trailer tie downs to secure the load. The 3 plastic feet shown, came off a shipping carton, but my other bigger platform has 4x4 feet. Those various length deck screws are great to use but you need to drill a pilot hole so the heads won't break off when using a powered screwdriver.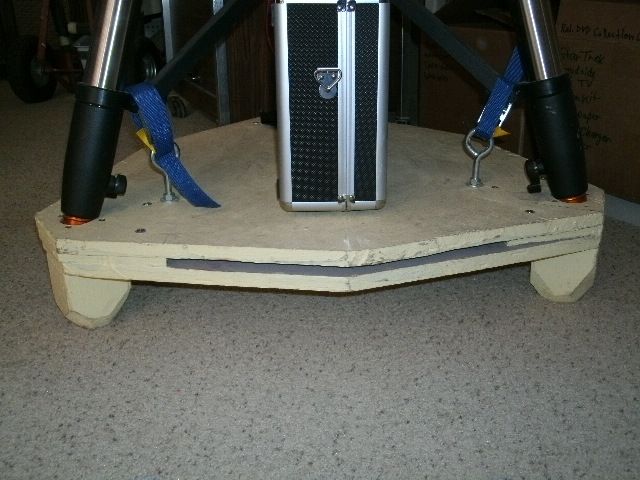 Figure 4
Measure the narrowest doorway you want to go thru, layout your triangle with the 3 sides the same width. When you cut off the points to be flush with your feet, that will leave about 2" of clearance on each side for easy rollout. Use aired up tires and you won't shake your scope parts loose or jar your mirrors out of alignment.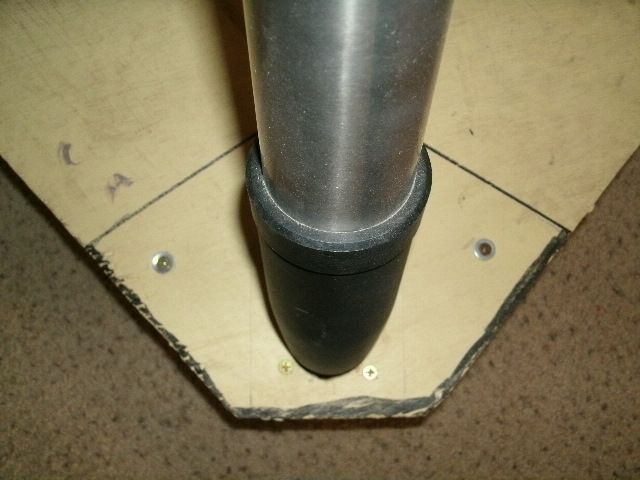 Figure 5
I did a previous article titled 'Broke Back Solutions' that is still in the article archives showing how to put wheels on a dobsonian. The lasts picture shows the shape of the corner plates.
When you take the drudgery of heavy lifting out of telescope use, you will use it more often and have more fun, and be able to use large scopes well into old age.
Article: Broke Back Solutions #2: How to make big heavy scopes easy to move