CNers have asked about a donation box for Cloudy Nights over the years, so here you go. Donation is not required by any means, so please enjoy your stay.


0
Forum Faq V4
CloudyNights Forum Signup FAQ .3
1) I'm new to internet boards or UBBthreads in particular - where can I find help on how to use the board?
Try the user manual for ubbthreads located
here
---
2) I keep getting the error message: All fields are not filled in.
When visiting the signup page be sure that all fields are filled in including the "I Agree" check box just above the new user information.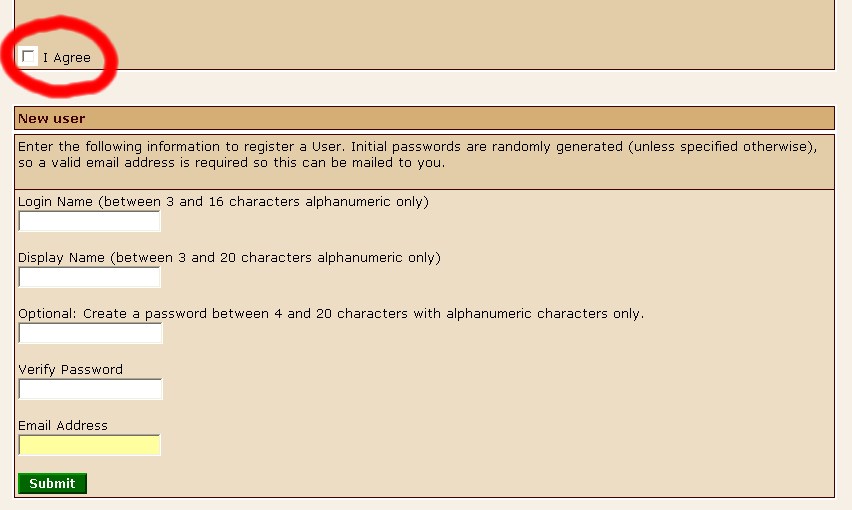 Be certain to use a  valid e-mail address.
---

3) I think I signed up ok, but now I can't seem to log in.
If you recieved the following screen in your browser: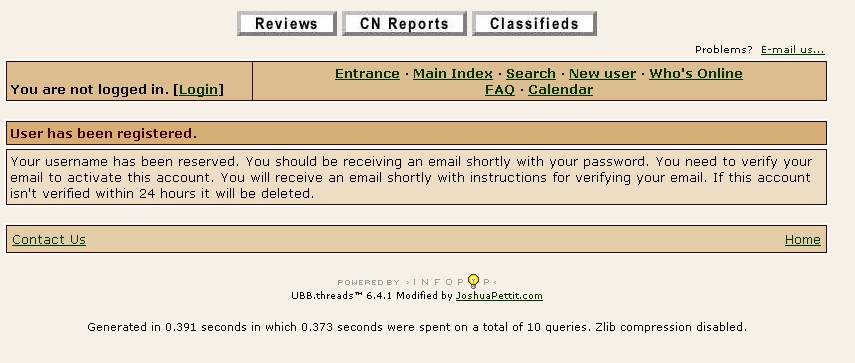 You did indeed complete the reservation process.  However, there is one more step that you must do to activate your account.  You should shortly (usually within 1 minute) recieve a confirmation e-mail at the account you provided.

You *must* click on the provided link to activate your account.  If you do not activate your account within 24 hours, you will need to recreate it.
---
4) I never recieved the confirmation / activation e-mail - what gives?
If you are certain that you entered a valid e-mail address in the e-mail field, you may want to check with your ISP (INternet Service Provider)  regarding their spam/e-mail blocking filters.  Or alternatly with any filters you may have set up.  On yahoo mail, you may wish to also check your bulk mail folder.  If none of this works, you may wish to try registering from another e-mail address.
---
5) OK, I got the confirmation e-mail, and activated it, but I still can't log in.
Due to the marked increase of spam, and in an effort to better serve our users, we've permenantly gone into approval mode. The admins now need to personally approve every new member.  Your account *should be* activated within 24-48 hours.
---
6) I forgot my username / password - can you provide it for me?
ACtually, the admins CAN'T - but you can get it yourself.  IF you remember your login name or the e-mail address you registered under.  This functionality is located under the login box.  See the following picture for details:
---
7) I log in ok, but for some reason I keep getting logged out - what's up with this?
To keep you logged in, the CN forums rely on cookies (a small file that saves your session details) - if your browser is set to reject cookies, you need to reconfigure it to accept them.  All browsers will usually accept cookies as the default settings.
---
8) I'm using a Hotmail / Yahoo / other freebie account, and it's telling me I can't create a user ID using one of those e-mails.  Why?
Unfortunatly, we've had problems with folks creating "junk" accounts and trolling (creating trouble) in the forums.  Occasionally we have to disable account creations from these domains.  Either use another account, or try again later.
---
9) It's been ages since I logged in, and the system can't seem to find my e-mail address.
Because we get so many users that sign up for the forums, we occasionally run a utility that prunes out inactive users.  If your account has not been used for a lengthy amount of time, you may have to re-register.
---
10) My read posts or PM indicator seems to be stuck.
This probably means you have a cookie problem. Try clearing your cookies like this: When logged into CN, goto:
My Home, Maintenance, My cookies, Expire cookies
This will log you out, but when you log back in the problem should be solved. If this does not solve your issue, try clearing the cookies through your local browser.
---
11) I'm having other problems.
While most browsers will work fairly well with many of the features of CloudyNights.com, we recommend that you use either Netscape 4.79 (or better) or Internet Explorer 5.0 (or better). Several other browsers have been tested and do work quite well, including Pocket IE, Opera, and Mozillia.
You might also try another machine or  browser - if you have ready access to one.
---
12) Junk mail and pre-approval of the forums@cloudynights.com e-mail
Usually, questions posted to this account are answered within 2-3 days, however, please note that the forums@cloudynights.com e-mail gets literally hundreds of e-mails a day. 99.9% of these are junk mail. If you do not recieve an answer to your question within 5-7 days, please resend it as the earlier message was probably disregarded by the system as junk.
In addition, please be aware that you need to preconfigure your account to accept e-mails coming from forums@cloudynights.com
As time is extremely limited, we will not take the time to register your e-mails when we recieve messages like:
I apologize for this automatic reply to your email.

To control spam, I now allow incoming messages only from senders I have approved beforehand.

If you would like to be added to my list of approved senders, please fill out the short request form (see link below). Once I approve you, I will receive your original message in my inbox. You do not need to resend your message. I apologize for this one-time inconvenience.

Click the link below to fill out the request:
Please pre-configure your e-mail settings to accept mails from forums@cloudynights.com
---
---
<
return
>
Article: Forum Faq V4