CNers have asked about a donation box for Cloudy Nights over the years, so here you go. Donation is not required by any means, so please enjoy your stay.


1
Scrubbing the Light Cup's Optical Chimney for Santa
Scrubbing the Light Cup's Optical Chimney for Santa
12/23/06
First of all, although I'm braved at cleaning eyepieces and diagonal and my Dob's mirror, let me say I'm the world
largest, plumpest chicken

when it comes to cleaning objective lens! I was too stricken with fear that if I were
to clean the lens of my TV-102 Light Cup, so dreadful that it would result in a "Scar Cup"

. To get an idea, just
look at that 5½ year-old TV-102 Light Cup's lens

. After one person saw that photo he called it disgusting!
In my defense, the Light Cup paid the price of the "most often used" style of observing.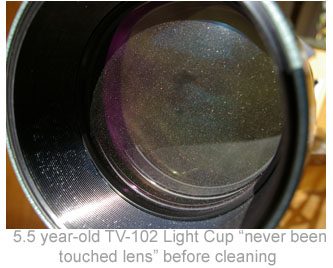 I first learned about this new cleaning solution and kit from Roland Christen on Astromart forum and Astro-
physics Yahoo group. So armed with Baader Optical Wonder solution I got from Astro-physics, I took a deep
breath and

.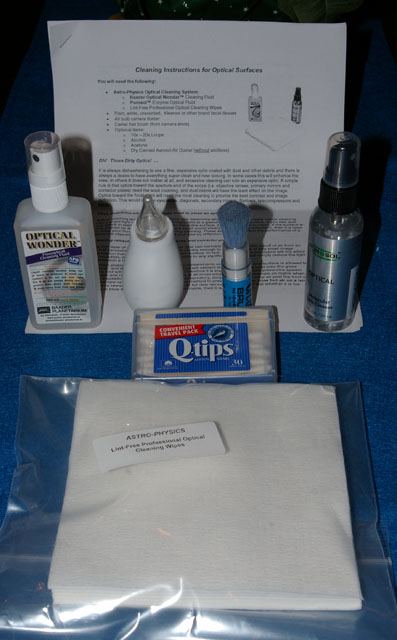 I also "invited" Uncle Al, Roland Christen (same instruction also included in the kit) and Thomas Baader
into my kitchen "optical bench" to assist me. You might say I followed the combined instructions of all
three

. Not applying any pressure with the kleenex and Q-tips, working in small area (between 1 and 1½
inches) per instructions. I did widen the area in the final phases since the surface looked fairly clean by
then with only some smears left from the solution. The clear bottle solution smells like alcohol. I also
used the odorless enzyme bottle to take care of some spots. Final cleansing done on some spots with
saliva per instruction

. Lastly, I breathed on the lens (after I've gargled on some Listerine to get rid of
bad breath of course

- ok it's a jest) and wiped all trace of smudges left by the cleaning fluid with the lint-
free micro-fiber wipes. I couldn't believe while trying to take the photo of the result, some dusts settled on the
lens already

! Viola, mouse over the photo of the Light Cup's lens to see the result.
Oh one other note. Astro-physics does not sell the lint-free wipes independently from the kit. I asked
Roland and he pointed me to where to get more when I run out (I used about 8 wipes for this job). I recently
found out that Alpine Astronomical also carries them.
Bottom-line? It was neither hard nor scary as I had schizophrenically

imagined it be! The cleaning
kit made it easier and eases anxiety. Go ahead and clean your dirty objective lens when it is necessary
(I'd say 5.5 years qualified as necessary wouldn't you say

). In summary, if the world largest Chicken
B[ee] can overcome his psychological fear and "clean up his act"

, anyone and I mean any-everyone does
not need to have fear and clean their refractor lens. Make sure you do "invite" Uncle Al, Roland Christen and
Thomas Baader into your kitchen to assist you though

.
Now Santa has no excuse sliding down my TV-102 tube

.

Ron the 4-inch/5-inch Tall Evangelist B[ee]
ronbee@yahoo.com


---
Article: Scrubbing the Light Cup's Optical Chimney for Santa