CNers have asked about a donation box for Cloudy Nights over the years, so here you go. Donation is not required by any means, so please enjoy your stay.


0
Tele Vue VS Astro-Physics - Battle of the Titans
Apr 01 2005 11:24 AM | CN_Admin in
Humour
Discuss this article in our forums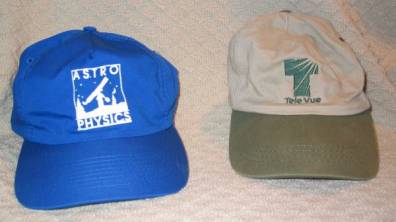 Giants of the industry, these two titans
battle it out in this Cloudy Nights exclusive...
Debate has long raged over the best system on the market. Some prefer the instant satisfaction and gratification with Al Nagler and Tele Vue while others feel that their desires can only be satisfied by something from the renowned Roland Christen of Astro-Physics.
In this article, we do an in-depth side by side comparison of the baseball caps available from both companies.
The key to caps from both of these manufactures is that they provide a low magnification (~1x) and wide well corrected field of view. However - depending on the individual user, and their unique physiology, some optical aberrations (most commonly astigmatism) creep into play. We've fully tested both of these caps and found they work well with both sun and prescription glasses. One caveat, due mainly to the form factor: If you are severely near-sighted, you may bump the front brim against objects while placing them under close study, but despair not -both caps have a helical rotating adjustment that allows for individualized placement.
Tele Vue

Astro-Physics

Conservative Tan and Brown styling appeals to the taupe siding crowd

Looking at the system as a whole allows you to see TV's elegance of design

Expensive, but comes with a free telescope

1x magnification and 168 TFOV delivers wide sharp vistas

Accessories included: Telescope, packing material

Bright blue ensures a standout in the crowd

Silk screened logos and plastic fasteners bespeak a traditional approach

Specifically designed for astrophotography

Ardent user base assures high resale value

1x magnification and 168 TFOV delivers wide sharp vistas

Accessories included: packing material - no it's not bubble wrap
Which cap is right for you? Read on to find out...
AP - Extremely high prices on the used market keep demand high
A royal blue cap that sports a white logo (designed specifically for Roland Christen) and fitted precisely for each individual head, it is capable of setting off any astronomer in your family. When displaying one of these caps in public, it will be fairly clear to the non-astronomer that here is some one who is serious about astronomy - or physics - or maybe just baseball caps. In any case, there's no denying that these caps maintain their value well, and it's not surprising given the AP reputation for quality and their (associated) high wait times. Available new only from Astro-Physics, you may find yourself hunting for a used model. If you are lucky enough to pick one up off Astromart, you could find yourself paying more than the original cost, and rumors are you can even buy spots on the wait list from scalpers. With wait times of more than three years, are they really worth the mystique amateurs have placed on them?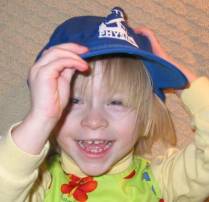 This is the typical position for cap placement.
Note the overjoyed user
Designed for photography, the AP caps aren't quite as well color corrected as you might expect given their price point. My sample, a 2001 Adult, clearly showed a white logo, but the rest of the cap itself has a rather bluish tint. Admittedly, some may not find this a distraction for visual use, but some will most certainly complain. Personally I find it depends on the ensemble I'm wearing that day.
I was surprised to find that the hat size (although adjustable) lacked the polish of the adjustment on the TV. AP, it seems, uses that tried and true method any cap wearing aficionado will remember from their younger days - the detachable, snap-able tabs. The bad news is that a cap that utilizes this system isn't nearly as adjustable as one that uses a clamp/buckle system similar to that found on the Tele Vue unit. However, I should note that it does work well enough and many users may find it a comforting throwback.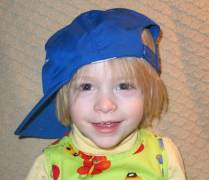 This position is frequently seen among the younger crowd
and is known as "On and Locked"
Baseball caps have the quickest cool down times of any cap on the market, and as such make great grab and go choices for times when you just don't want to haul out those larger hats. In the case of the AP, cool down times were even quicker than I expected - perhaps a bit too quickly actually - and my head quickly reached ambient temperature. Additionally, I could detect no pinching of the head during cool down, as is common in so many of the caps that are manufactured in the Far East. Incidentally, all AP caps are manufactured in a US protectorate, and tested individually before sale in the United States.
Tele Vue = Expensive Caps? But they come with a free scope...
A tan unit with green logo and bill, the Tele Vue cap is the perfect accessory to confuse non-astronomers, causing them to ask - "What's Tele Vue?Ó and giving you the opening to explain just how much you are willing to pay to become an amateur astronomer. These are available immediately from any one of dozens of Tele Vue retailers, and come bundled with a free telescope. I've heard some complaints about the high cost of Tele Vue hats, but I've always tried to explain the costs in terms of their quality control. Think of it this way: not only do you pay for the hat on your head, but you also pay for all the hats that had to be thrown out because they didn't meet Al Nagler's strict quality control restrictions.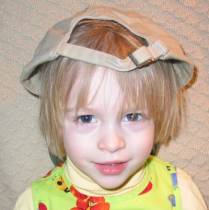 This innovative position is excellent for those
suffering from severe near-sightedness, but
shouldn't be attempted by the beginner.
Astrophotographers will immediately decry that the head opening really isn't big enough, but in reality these caps are designed for visual use, and one should take that into account when purchasing. My sample clearly shows green and tan both in and out of focus, but I find this isn't objectionable in use. (In fact, I tend to wear a lot of green, so I'm actually somewhat pleased with the effect.)
TV uses an innovative hat size adjuster that is infinitely variable between their largest and smallest size, thus ensuring nearly every head has a perfect fit. Kudo's TV! This type of innovation can make or break a market share. In another bold move, TV chose to eschew the traditional plastic, and make the clamp/slider of brass - something that speaks volumes as to the overall fit and finish of the cap.
I found the TV cap to take slightly longer to cool down than the AP.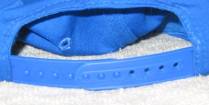 AP's tried and true fastening system
And to put a rest to an old debate in the Tele Vue yahoo group, TV caps are made overseas, but final assembly is done in the US.
More meaningless comparisons, rambling and hair splitting...
The fit and finish on both caps is quite acceptable, although I'd have to say the edge goes to Tele Vue. They use a corduroy type fabric with an embroidered logo and text, while AP goes for the traditional approach and uses a smoother fabric, with a silk screened logo and text. Neither company will release specific details about the materials contained within, citing proprietary designs, as they are naturally worried about competition. (If you recall the whole ugly incident between Meade and Tele Vue years ago when Meade took TV's cap line and essentially had them duplicated offshore, you can understand why these companies choose to keep such data under their, umm, well... hats...)
In use, I found both to provide nearly identical views - a miraculous TFOV of around 168+ degrees, with acceptable edge correction, and some astigmatism on axis. No difference in NELM was distinguishable under either cap.
I did find the visor on the AP cap to be slightly larger, thus providing more shadow grasp, and slightly better contrast under certain conditions.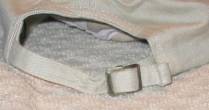 The TV slide - way of the future?
I also found the AP to be slightly more portable, as it recovered from crushing slightly better. Taking nothing away from the fit and finish of the Tele Vue unit, I still have some creases that I'm unable to get out.
Conclusions - or just buy what we tell you...
Which cap you choose will depend greatly on your needs and desires, but in practice I found most differences to be extremely minor. Yes, there is a bit more color in the TV caps, but depending on my tastes for the day, I often like that. The AP had a faster cool down time, but I'm not really sure that was a plus. The TV cap does come with a rather nifty free telescope (check with dealer to determine model before purchase), but altogether, the differences were extremely minor. Ignoring the included accessories, if I had to give an edge to either of these caps, I'd probably have to give it to the TV, mainly for the fit and finish.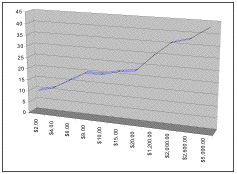 User satisfaction per dollar spent.
Don't YOU want to be satisfied?
If cool down time is a concern, you may wish to purchase a different style of cap altogether, but these should be acceptable for the majority of users.
Everybody should own a quality grab and go baseball cap, as they make a fine compliment to your other larger caps. Kudos to AP and TV for bringing these fine specimens to market.
Update: April 2, 2004 - Synta's Attack of the Clones!
I've recently been testing Synta's latest addition to the market. Put bluntly, controversy abounds. Some claim it will put a severe dent in the business of the premium companies; others are staunchly sticking by their chosen brands. The innovative thing about this model is it's a fraction of the cost of the TV and AP offerings and comes in many different styles and colors. Overall fit and finish are not quite as good, but the shade grasp, contrast and cool down times are all very similar.
There have been reports of these caps being returned because of poor quality control, but both samples I've seen have been decent. No, they aren't TV or AP quality, but the majority of users will be quite happy with them. If you are looking to get started in this hobby, or if you are just looking for something to cover your head, look no further? Personally, rather than seeing them as competition to the AP and TV hats, I see them more as an introductory item - one aimed at the newbie who perhaps would never have purchased a premium baseball cap because of the cost. Whichever way you cut it, now is a great time to be an astronomer!
Offered for April 1 with our apologies to Al Nagler and Roland Christen
Article: Tele Vue VS Astro-Physics - Battle of the Titans