CNers have asked about a donation box for Cloudy Nights over the years, so here you go. Donation is not required by any means, so please enjoy your stay.


0
I NEED A LARGER LIVING ROOM!
Apr 30 2020 03:27 PM | LB Myers in
Articles
Discuss this article in our forums
I NEED A LARGER LIVING ROOM
Larry Myers
"Our largest and best…the 8" reflector. Designed for serious amateurs, colleges, schools". Or, "The Super Space Conqueror…6" reflector telescope. American made". My dreams were fed by those Edmund ads. What a dilemma for a 14-year-old back in the mid-sixties.
I would sit in class with my textbook open. Thinking that I had fooled my teachers into believing that they had my attention, l would actually have an Edmund Scientific catalog open and hidden from view from the teacher. I would sit there and memorize individual part numbers so that when the day would come, I'd be ready to place my order. But a 6" or 8". Tough choice. As if I had a choice at the time! Glad I didn't hold my breath.
So began my quest. A passion that still exists today. I cannot explain why I have spent 50+ years thinking about telescopes, building telescopes, and enjoying telescopes. I just do. And I have been fortunate to have spent a lot of years making a living on telescope stuff. I need to make a confession here. I enjoy building them as much as using them. There… I said it!
I was fortunate to have been involved in amateur astronomy during the 60's, 70's, 80's, and 90's. I was fortunate to have met many of the movers and shakers of the times. Most were met at RTMC. I recall sadly leaving many RTMC gatherings thinking only 363 days left before my next pilgrimage.
Somewhere back in the late 80's or early 90's I decided to start my own astronomy company. Inspired by my friend Tom Mathis, I chose to build custom equatorial German and fork mounts. With Tom's blessings I introduced the MI-250 (Mountain Instruments 250) It was half the size of Tom's MI-500 (Mathis Instruments 500). This was a smaller mount with a load capacity of 50-100 pounds. Production wise, it was as large as my modest machine shop could handle. Although the were a few times that I was able to get my cutting fluid-soaked hands on some Mathis 500 castings.
On one such occasion I built up an MI-500 fork mount and loaded it up with a superb C-14 that I had at the time. It was quite the setup even for the early 90's. Actually, it was a beast. Weighing in at well over 300 pounds, I often thought that while not in use I could use it to pull engines. (albeit slowly). I eventually sold the OTA to a friend and the mount to a college in Northern California.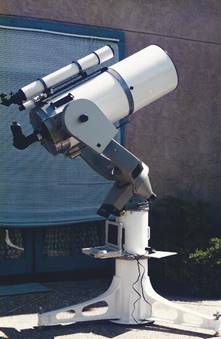 Star testing 1992 - Shown with an old 286 laptop and an old Meade 80mm
In the mid 2000's I drifted into a non-astronomical product line. The issues of being a small astro-business in a big competitive market were wearing me down. Although I was no longer building mounts, the astronomy compulsion never left me. During the last 15 years, I still dabbled in telescopes. From restoring old classics to building them from scratch.
In the summer of 2017, an old friend contacted me about the old beat up MI-500 that I had built. The college was willing to give it to me. Apparently, it was being stored on the floor. About the same time the friend that bought the C-14 had contacted me. He said the C-14 had been in storage for 13 years. Would I like it back?
With an astro friend as a copilot I was soon on the road from Central Oregon to Northern California. I met both friends' mid-way along Interstate 5. The bed of my pickup was filled. I had quite a load. But we all arrived safely and in one piece.
Six months lapsed before I began to think about the old MI-500 and C-14. I slowly started to formulate a plan and even started to sketch things out. After a few months of thinking about changes and where I wanted to go with the project, I began.
There were a few ideas that I wanted to incorporate. Away with the old stepper motor drive. In with a go-to system. Add some shiny brass, a new paint job, balance the forks, and rebuild the whole thing, ground up!
The first step was to figure out the fork balancing. I decided to add an old Comet Catcher to the non-drive side. With all of the mounting components and OTA I was able to get within a ¼ pound of each other (factoring in the moment arm). The Schmidt-Newtonian is a 5", F3.6. A nice wide field.
Another friend gave me an old Jeagers 4" F15. It just had to be incorporated! I went to work rebuilding the Comet Catcher and Jeagers. I designed and cut out the new tube rings for the Jeagers and a mounting system for the Schmidt-Newtonian. I machined them from aluminum plate and later had them brass plated.
About the same time, I designed some setting circles for the RA and declination axis. I know that they were not necessary for a go-to equipped system but I wanted a certain "look". These too would eventually be engraved and brass plated.
The right ascension axis needed some serious doctoring. While the large Byers gear would do just fine, I needed to replace the old 90's stepper motor drive system. This included a redesign of the gearing ratios. I replaced the steppers with modern servos.
The RA, forks and base were all refinished by hand. That included a lot of Bondo, sand paper, and elbow grease.
I disassembled the OTA down to bare bones. I had to rebuild the focuser, patch and refinish the C-14 mirror casting, and devise a mirror lock system. I also had to accommodate the new refractor tube rings onto the rear and front cells. I wish now that I had included fan system to cool the primary mirror. Oh well, another project!
There was a great deal of time invested in assembly, fitting a part, and then disassembly. I eventually arrived at the point where I had to completely assemble the entire system in order to evaluate the go-to system. I wanted to confirm that it would actually drive the beast. I really wasn't sure. It turned out just fine.
The last phase of the restoration was the paint job. I used an automotive paint laid over an aluminum acid etching primer followed by a sandable primer. Although lighting can play tricks on the camera the top coat is a burgundy followed with a clear top coat.
I was pretty excited to receive the parts from the brass plater. My fingers were crossed that they would still fit. I over- cut many of the parts in order that they would fit after plating. All turned out well.
This project was a challenge but well worth it. The scope will eventually be used for public viewing and be permanently housed. For the time being the are a few changes that need to be made and the scope currently sits in my living room. It's in good company however I need a larger living room!
John Miele, Mark9473, jstrandberg and 41 others like this
Article: I NEED A LARGER LIVING ROOM!