CNers have asked about a donation box for Cloudy Nights over the years, so here you go. Donation is not required by any means, so please enjoy your stay.


1
Kids: My Son Tyler
Mar 29 2005 11:15 AM | scottinash in
Kids
Tyler with his new 10" truss dob
It's 2003 and my son Tyler is now thirteen years old and has such a great understanding and love for viewing and learning more about the universe. Tyler was hooked back in 1999 when I woke him up from sleep one night and told him to dress and come outside with me. The Moon, Saturn and Jupiter were up and he was totally amazed as I showed him the view through my then new 4.5" Newtonian. He made me promise that night to never go out again without him…what a fun night!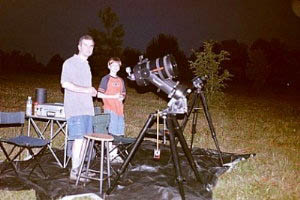 Tyler with 60mm Maksutov
Well, over the years I have upgraded scopes several times and have tried my best not to break the promise unless of course it was a school night and he just had to go to bed. As matter of fact, its just not as much fun without him always by my side! Better yet, Tyler has worked his way into several good telescopes over the years and has moved from the 4.5" that I gave him, to a 60mm Gregorian Maksutov, to a 6" Dobsonian, and now his latest, a 10" f4.5 truss telescope. This scope is excellent and looks like a work of art! We had a fun time putting it together from parts purchased from all over the country. He always draws a crowd at public parties and not just because of his great looking scope, but also because of his ability to share his enthusiasm and growing knowledge of the universe.
Our club supports a local Middle School's astronomy program (not even Tyler's school) and he absolutely loves to go there and "teach" kids near his age about the magnificent adventures in astronomy. The teachers love it when they see he's present. I'm proud of Tyler!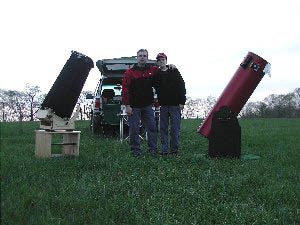 Tyler and Dad on the camping trip
Just this past weekend we attended a star party at a local, yet remote, state park with several members from various Tennessee Clubs. Tyler and I packed our scopes, tent, food, etc, traveled about and hour and had wonderful weekend. This event was scheduled to be a private time to enjoy observing without the public in attendance so Tyler planned to finish his Messier Object list, including the Virgo Cluster. Well, about an hour into the session, just as Virgo came up, a group of boy scouts came out of the woods and asked if we could show them things. We would never say no to this so Tyler placed his plans on hold and presented the scouts, their leaders, and a few other visitors a grandiose tour of the sky. The teens treated Tyler with great respect and no indication they knew he was younger than they were…after all, it was dark out and his voice is getting deeper lately. The adults did realize his age and were blown away. One lady was a schoolteacher and was amazed at how many of her questions he blurted out answers for. They stayed around for a couple of hours and we had a great time.
Finally, Tyler's Virgo adventure began. He asked if I would hold the map and verify when he thought he had the object in the eyepiece…. He amazed me! I have never been able to navigate through Virgo so accurately! He was performing at his peak this night and logged all Messier galaxies in this constellation and only has a few more scattered objects to log before applying for the Astronomy League Messier certificate. I'm excited for him and can't wait to be there when he gets his last object logged!
Never underestimate what a small exposure to a young one can do to spark a desire to learn!
Article: Kids: My Son Tyler