CNers have asked about a donation box for Cloudy Nights over the years, so here you go. Donation is not required by any means, so please enjoy your stay.


0
NV Phonetography: Part II
Mar 01 2023 07:00 AM | GeezerGazer in
Articles
Discuss this article in our forums
NV Phonetography: Part II
By Ray Taylor and Gavin Orpin
In 2018, CNers Gavster, Moshen and I wrote about our efforts to take smartphone photos of the images produced by our telescopes using a Night Vision Device (NVD):
https://www.cloudynights.com/articles/cat/articles/night-vision-phone-photography-r3149
Moshen has moved on to a dedicated AP camera, but Gavin and I are still using our smartphones to take NV astro photos and we continue to collaborate. We thought it was time for an update to the original article because of changes we've made for improved results.
I am partial to using my Mod 3C NVD in prime focus and I have always used an iPhone/iOS system. Gavin primarily uses afocal for visual use and sometimes prime focus for imaging through his PVS-14 NVD, with a Huawei phone/Android system. My largest aperture is an 8" Newt. Gavin's biggest aperture is a 16" Dob. We use completely different equipment and systems to achieve our results… which means that NV is a versatile tool that does not require a single path to very satisfactory phonetography results.
CNer GeezerGazer, Ray Taylor, Modesto, CA.
Time flies when you're having fun! And I still have fun with smartphone NV astrophotography… "Phonetography" is the term we use, coined by Bill Paolini. It is a quick, relatively easy way to preserve images from a telescopic optical system. I no longer take notes when observing because the images suffice. But since 2017, when I started taking images with my iPhone 6+, I've made several hardware changes. My very first change was to a tracking mount; I chose the iOptron AZMP, which made the single biggest improvement in my images by allowing longer exposures and/or, averaging time in NightCap. Because my telescope is used for photography, I opted for a scope with a faster focal ratio. I've also upgraded my phone about every two years, currently using an iPhone 12 Pro Max, which has helped a great deal to improve image resolution. And, I've changed how my phone is attached to the NVD.
To be clear, what we do is actually afocal projection photography. My NVD has a removable objective, so the image from the optical system/scope can be focused directly on the NVD's sensor for a prime focus optical system. The phone has its own non-removable lens which captures the image from the NV eyepiece. It's two independent optical systems, one capturing the image from the other. When the NVD is used in afocal, with a 1x lens attached, it is using three independent optical systems… the scope & eyepiece, the NVD & 1x lens, and the phone with its own lens and sensor. Both systems perform very well as long as the optical systems are compatible.
One of my biggest hurdles to best possible images was keeping the phone perfectly perpendicular, and aligned to the NV eyepiece. For several years I used a simple clamping device that held the phone and used plastic "fingers" to grip the eyepiece of the NVD. As long as care is used to align the bracket on all three axes, the clamping brackets usually perform satisfactorily. But clamping brackets are not the best solution, because they can slip. I found better solutions, that perform consistently better with my equipment.
Sandmarc and Ulanzi make iPhone cases that are threaded for adapters that can be used to attach them directly to NVD ocular threads. These phone cases work very well using a 17mm threaded connection to the phone case. In 2021, I purchased a Beastcage for iPhone. It is much heavier, offers superb protection, and is very versatile. It also offers a bigger (M37) metric thread to connect to the phone. For me, it was the best solution. I use my phone for all of my photo needs, and the Beastcage offers attachment points for a tripod, a shoulder strap, supplemental lenses, filters, grips, and other accessories like LED lights or microphones, and it can be used for videography or photography. Here's a link that includes photos of all three cases with adapters to attach to an NVD:
https://www.cloudynights.com/topic/780028-nvd-to-phone-camera-connection/?hl=+connecting++iphone++to++nvd#entry11960471
In 2017, I primarily used a f:7 TEC 140 telescope. But in 2018, I switched to an Explorer Scientific 812mm f:3.9 Newtonian for NV. I added a Teleskop Service .73x reducer/corrector, that provides a well corrected f:2.8 focal ratio. When NV is used without narrow band H-a filters, a slower focal ratio optic performs well for galaxies and globulars, but with narrow band, H-a filtering for nebulae, a fast focal ratio improves both visual and photographic results.
Also in 2018, I started using old Nikon camera lenses (50, 105, 135 and 300mm) which are attached with an adapter to the NVD in prime focus. In the following link, you can read about how camera lenses can be attached to a NVD, and, how to add 1.25" filters without causing vignetting. The old camera lenses provide an inexpensive way to see and photograph the night sky at very low magnification, between 2x and 11x, while offering excellent image quality at f:2.8.
https://www.cloudynights.com/topic/642703-nv-phonetography-w300mm-nikon/?hl=+connecting++nvd++to++camera++lenses
https://www.cloudynights.com/topic/635761-mounting-filters-with-nikon-lenses/?hl=+nikon++to++c#entry12057158
Each of the old, manual Nikon camera lenses I use, provides a unique perspective of the night sky. The following collage of three images reveals what the telescope and two camera lenses can show of large nebular subjects like the Gamma Cygni H-a Complex. On the left, the view is limited to the Great Divide, visible when using my 8" Newt with .73x reducer, for 22x and 1.7° FoV. The center image was taken with a Nikon 300mm, for 11x and 3.3° FoV. And on the right, I was using a 135mm lens for 5x and 8° FoV.
By comparison, a 50mm Nikon lens at 2x and 20° FoV permits the Gamma Cygni complex AND the North American and Pelican regions to be in the same image. This image was taken in 2022, using a Baader 6.5nm H-a filter, ISO 500, 1 sec exposure, with 30 sec of averaging in NightCap. The difference between seeing part of a nebula with my telescope and seeing how these very large objects fit together with much wider views using camera lenses, offers a completely different experience.
These optics offer different scale for taking images of large, medium and small nebulae. For imaging nebulae, I mainly use either a 6.5nm High Speed Baader filter or a 7nm Optolong H-a filter. I rarely use a 3.5nm H.S. Baader filter for very dim nebulae. For most planetary nebulae, galaxies and globulars, I use a 2x Barlow with the 8" Newt and no filter in prime focus.
M51 Whirlpool Galaxy, taken in 2019, 8" Newt, 2x Barlow, at ISO 640, 1/2 sec exposure, averaged in NightCap for 20 sec.
This image from 2021, of the Needle Galaxy, NGC 4565, was also taken with the 8" Newt with 2x Barlow, ISO 800 (no filter), 1/5 sec exposure, averaged in NightCap for only 8 sec.
This image of the Hercules Cluster, M13, was taken in 2021, with the 8" Newt and 2x Barlow, at ISO 50 (no filter), 1/2 sec exposure, averaged for only 4 sec.
I still use the NightCap Camera app on my iPhone for manual control of ISO, white balance, exposure, focus, and to control averaging time needed to reduce electronic noise in the final image. Although I have tried many newer iPhone camera apps, I have found that none perform as well as NightCap for NV imaging with the iPhone. See this link for using NightCap for iPhone in Long Exposure mode:
https://www.cloudynights.com/topic/693694-nightcap-long-exposure-mode-for-iphone/
To eliminate note-taking during observing sessions, I started taking photos in 2017. Since then, I've photographed almost every object that I have observed with NV. My library of astro photos now includes all of the Messier, about half of the Sharpless, more than 150 NGC, over 50 IC and at least 100 from other catalogs, such as Barnard for dark nebulae. And I still enjoy taking images!
This photo of the Soul Nebula, IC 1848, was taken in 2022, using the Nikon 300mm lens at f:2.8, ISO 500, 1 sec exp., averaged in NightCap for 30 sec, with a Baader 6.5nm High Speed H-a filter.
This photo of Sh2-27, an enormous but faint nebula in Ophiuchus, has always reminded me of an Orc (the Hobbit word for Goblin) with a bulbous nose and two big scars across his right eye! This image reveals a 20° FoV taken with a 50mm C-mount Computar lens with a 3.5nm H-a filter in prime focus with my Mod 3C, taken at ISO 160, 1s exposure with 25s of averaging in NightCap. This is the only image shown here that I took from a blue zone observing site, about Bortle 3-4.
There is a small learning curve to using a smartphone with NV, but it's a snap compared to other forms of astrophotography. All but the last image presented in my part of this article were taken from my most-used observing site, a green zone on the light pollution map, Bortle 4-5, about 40 miles from home. Any image processing I do is very limited and rudimentary, using simple tools in Photos editing on the iPhone or my Mac, but many of my images remain unprocessed. Clear Skies, Ray
CNer Gavster, Gavin Orpin, London, UK
When our first article was published in 2018, I had only had my PVS-14 for six months, so was still very much learning new skills and techniques. Four years later, everything has changed – my night vision units, my scopes, my filters, my phone and my ability (I think!). And most importantly, it's been a lot of fun…
The first key change I made was switching to a Huawei P20 Pro phone in mid-2018. This enabled me to take single exposures up to 30 seconds, adjust ISO from 50 to 2000+. It also has a dedicated monochrome lens, which I think is ideally suited to NV. I've been so pleased with the results, I've stuck with this phone to this day.
My scopes have been continually updated over this time. Currently I use three types:
1) Small fast refractor, Takahashi FSQ85 or Astro-Physics Stowaway, for a wide field of view of about 4-6 degrees;
2) Mid size refractor or small reflector, Astro-Physics 130GTX or Takahashi Epsilon 130D, for a mid-range field of view of about 2-3 degrees (not forgetting my William Optics Pegasus 103mm Binoscope for amazing two eye observing with two PVS-14); and
3) Large Dobsonian, Skyvision 16 inch F4, for greater image scale of smaller objects (including most galaxies), at about 1-1.4 degrees (approximately 30-40x magnification).
Like Ray, I use Alt-Az goto tracking mounts with all my scope: a Skywatcher Az-GTI for the scopes in category 1, a TTS-160 Panther for category 2 and my 16 inch Dob is goto with Servocat/Nexus DSC. With respect to filters, I have gradually moved to very narrow, high quality Ha filters for emission nebulae at both dark and light polluted sites. My most used Ha filter is a Chroma 3nm H-a; I rarely use my 5nm Ha Chroma. For galaxies and globulars I use a Baader 685 at light polluted sites and (sometimes) an Astronomik 642 at dark sites.
Finally, I have upgraded my night vision monoculars several times since 2018. Availability of units has improved over the past few years and I now have a range of Gen 3 white phosphor PVS-14's with SNRs ranging from 34 to 41 and EBI's ranging from 0.1 to 0.7. My favorite one does seem to change on a weekly basis!! Using information from the Cloudy Nights, Night Vision forum, I have also converted one of my PVS-14s to do prime focus using a Trybe mounting latch. This means that I am now able to do both afocal and prime observing, but, particularly for nebulae, afocal remains my preference. This is because with afocal, I can run very fast effective focal ratio setups with my scopes using a 67mm TeleVue eyepiece to get brighter and more detailed views than the prime alternative. I will show a prime versus afocal comparison below.
I have recently started taking some videos of my observing using my iPhone 13 and the NightCap camera app, which shows a less detailed image, but I think gives a fun alternative that is more like the actual, live NV observing experience (together with the slewing noise of my scopes/mounts and the very informative commentary I give as we see the objects ☺ ).
I'm very happy with both the live visual views and the phonetography images I get with my current setups, but I'm always on the lookout for ways to improve, so who knows what my setups will be in 2026?
Shown below are some of my favorite phone images taken in 2022, using my latest setups. These were all taken at a relatively dark site (approximately SQM 21) on the Isle of Wight, Southern England. No post processing of images was done.
Rosette nebulae – Astro Physics 130GTX with 41mm panoptic in afocal and 3nm filter. 100 ISO, 30 second exposure.
Barnard's Loop – PVS-14 at 1x with 3nm Ha filter. 50 ISO, 30 second exposure.
Horsehead and Flame nebulae - Astro Physics 130GTX with 41mm panoptic in afocal and 3nm filter. 100 ISO, 30 second exposure.
IC 1396 nebulae containing the Elephant's Trunk – 16 inch Dobsonian with 67mm TeleVue in afocal and 3nm H-a filter. 100 ISO, 30 second exposure.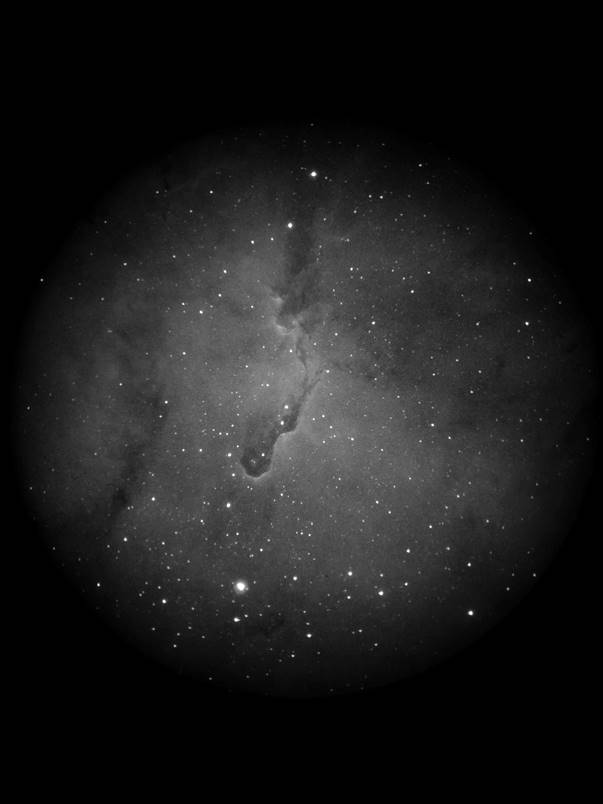 Pac-man nebula - Afocal vs Prime comparison (125 ISO, 30 second exposure)
Top: 16 inch dobsonian with 0.75x starizona nexus reducer, 3nm ha filter, PVS-14 in prime
Bottom: 16 inch dobsonian with Paracorr, 41mm panoptic afocal and 3nm ha filter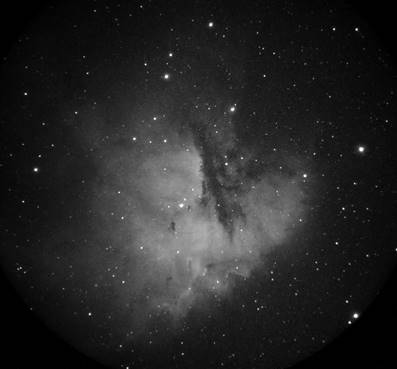 Veil nebula – Astrophysics 92mm Stowaway with 67mm Televue, 3nm Ha filter. 100 ISO, 30 second exposure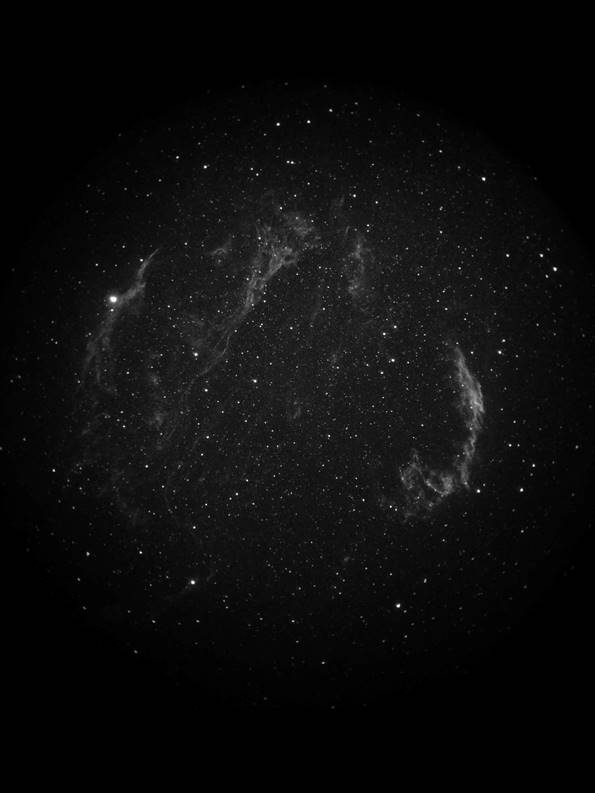 Eagle nebula with the Pillars of Creation – 16 inch dobsonian with 41mm Panoptic, 3nm Ha filter. 50 ISO, 20 second exposure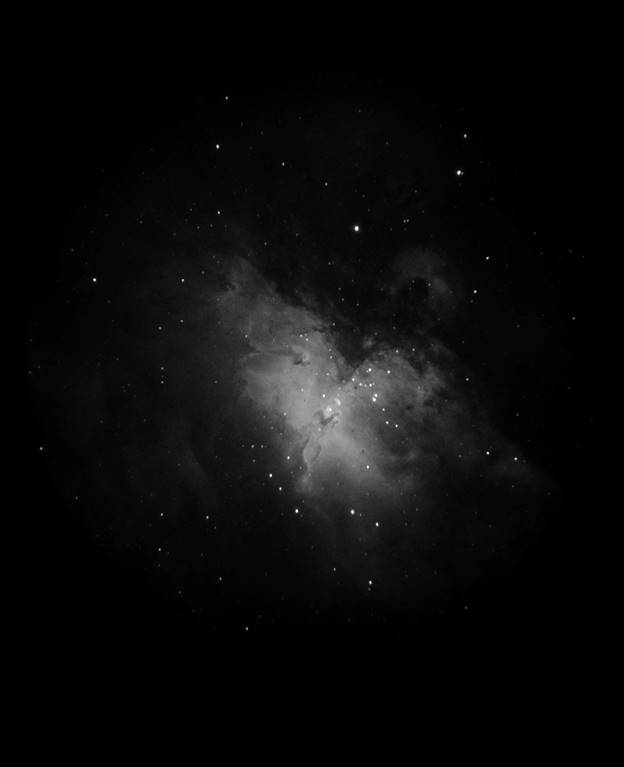 jstrandberg, B McCandless, CharLakeAstro and 2 others like this
Article: NV Phonetography: Part II