CNers have asked about a donation box for Cloudy Nights over the years, so here you go. Donation is not required by any means, so please enjoy your stay.


0
A Down-Home Farm Observatory
Discuss this article in our forums

A Down-Home Farm Observatory
By John Mills

The cooler, late summer breezes that lazily flow across the fields surrounding the old farm we live on are most welcome; they herald the coming dark-sky evenings that favor my hobby so much. The haze is cleared from the air and the aroma of the surrounding flowers and trees refresh the senses. These "Indian Summers" are a sort-of spring before the quiet, freezing winter months take their icy grip here in the northeast.
An afternoon with azure blue sky beckons me to another deepest-sky observing session. The observatory that so efficiently facilitates my interests sits about a hundred feet or so from my door, just over the grassy knoll beyond the gravel driveway. With a somewhat rude, homespun plywood eyepiece box in hand I stroll down to the structure my children claim as a Jungle Gym. (Yes, they allow me to use it occasionally)
Along with the kit box comes the other accoutrements of the sky tourist / astronomer: A hot drink - in this case a steaming cup of sweet meadow (mint) tea, a 20 year old knit wool cap sits jauntily atop my head and a heavy coat, with gloves in-pocket, keeps the growing chill off my back. Occasionally, a few of the neighbor's horses find their way through the old fencerow. As the evening progresses, I can hear them "whinny" as they graze past the observatory. It's kind of a comforting sound, a reminder that as the stars course their way overhead through the ages the simple things of life here on Earth go on much the same.
In honor of the (relative) darkness of the night sky overhead I have dubbed my local, "Darksky Farm". It's reminiscent of the home described by Leslie Peltier in his wonderful book, Starlight Nights. I suppose I betray my love of the lore of astronomy by mentioning Leslie's book which I consider to be a must read for any astronomer who "feels" his hobby. It is sure that we should all find an interest in life; one that brings us away from the hustle and rush that the modern era railroads us into - especially one that nurtures relationships and builds happy memories. Amateur astronomy has done that for me since 1971. I was 10 that year; I remember it well for I had just read my first book on the subject: A Field Guide to the Stars and Planets by Donald H. Menzel.

A Basic Design

As you can see in the photographs, our observatory might better be described a scope shelter. It is really nothing more than a wood 8'x 8' pre-fab utility shed with roll-down tarpaulin curtains hung from a simple but solid pressure treated wooden frame. As most projects go, it has slowly grown from a basic concrete block pad let into the ground to something quite a bit more substantial, although it remains simple and portable. If we should ever move it will probably all go with us save the stone observing floor. Since it hardly required more than a day to build I'd imagine that tear-down would be less yet.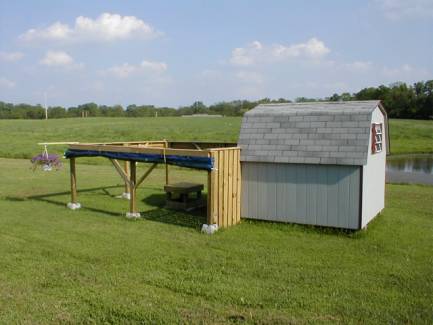 Before the crushed stone "floor" was added - Looking Southeast


Originally, I had conceived the design around the use of a large fork-mounted Schmidt Cassegrain, the higher mounting fulcrum of which allows the observer to remain seated low on a stool yet observe low-altitude over the wall. The curtain "walls" are 12 ft. x 12 ft. square and almost 5- ft. high. The simplicity of the design is deceiving in that it really does work - to my enormous comfort in a mid-winter's breeze. A side-benefit is that any stray light beams are shrouded-out as well. (It should be admitted here that while I don't mind the company of the neighbor's horses, the observatory walls keep them from wandering to near the equipment or from scaring me out of my wits by snorting in my ear!)

The SCT I had intended to keep and designed the shelter around went away. Not because we wanted it to, but sometimes other things in life take precedence over a hobby. That being said, we replaced it a year later with an inexpensive Orion XT10 and thought that would do. It only wet our appetite for deeper views so we contemplated building a large Sonotube dob as a family project. We discovered quickly, as many have, that when all materials needed to scratch-build a scope are added up the savings hoped for quickly disappear. Anyway, we found a deal on an excellent 16" f/4.6 mirror by JC Wilkinson (Formerly of Galaxy Optics) at Astro Systems, the makers of the TeleKit truss dob. To make a long story short the intended gradual progress to a large aperture scope gave way to the purchase of a complete TeleKit, optics and all. We haven't been disappointed a bit.

It didn't take long before it became obvious that an observing floor was needed. The ground quickly turned to mud under foot and observer's chair during the spring thaw and summer rain, so a crushed white granite "floor" was added. I simply put about 5 inches of the stone on a heavy plastic tarpaulin base; this also helps keep the grass and weeds down. I was able to have the stone for free since a local quarry was dumping it. I might add that the granite is white / light-gray. Perhaps the lighter color helps repel some heat buildup under the direct gaze of the hot summer sun. I believe it's better than a solid slab of concrete where resistance to heat accumulation is concerned. A simple 2x4 and attached 6" wide strip of steel roofing panel was set into the channels of the pier blocks. This keeps the stone in place around the perimeter.

A method for holding the tarpaulin walls down in a breeze had to be devised. When the air moved they would "flap" hopelessly out of control. Ropes and other complex rigging seemed impractical so an idea was born; why not attach 1 inch PVC pipe to the bottom of the curtain with locking nylon ties- A 10 ft. length of - inch steel rebar was inserted into the PVC pipe for added weight and end caps were glued in place. This has proved to be about the perfect solution - the weighted PVC pipe also allows one person to quickly and easily handle the task of raising or lowering the walls. An added bonus of roll-up walls is that I can leave them up when it's warm, allowing the air to move about me and the telescope.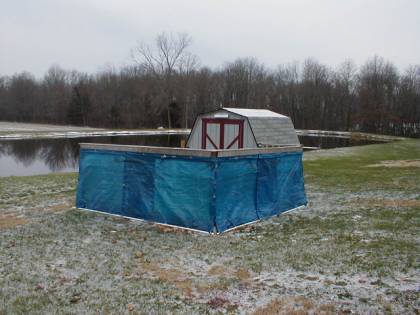 With curtains down (Don't worry, that's a pond not a slurry pit!)
Since the shelter was intended for use with an SCT, the low-altitude view south was hampered by the wall height when using the 16" dob. As you probably know, some of the most "juicy" chunks of sky lay south of us, so I was inclined to lower the south wall and install a 12 ft. steel roofing panel horizontally with screws to provide at least a partial wind break. With little more trouble I could install a hinged upper piece to provide maximum protection when not viewing south, yet I have found the winter breezes coming out of the northwest the most punishing and so it remains as is for simplicity.

The only other item of importance would be the 24 inch by 24 inch by 6" concrete pad or base I formed at the center of the stone floor. It rests directly upon the soil below and the surrounding stone comes to within an inch of the top. This was a perfect finish to a very simple, inexpensive and practical scope shelter.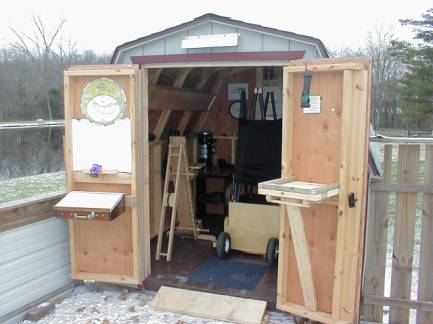 Our equipment is ready. The lowered south wall is seen at left

Some wives cry when they hear their husband say, "Honey, I'm going out for the evening." Not so my wife; she's used to it and is occasionally heard to say in response, "I'm coming too!" While my wife and two boys do not share the same robust level of enthusiasm for the dim, indistinct "fuzz patches" I search for,

The Darksky Farm Observatory has made astronomy more accessible and more comfortable for the whole family.

Materials Manifest:

* Any good utility shed - preferably wood for security and longevity. I also recommend a light color on the walls and roofing to keep heat buildup back a little more. A small window adds ventilation.
* Dark colored medium weight plastic tarpaulin.
* Pressure-treated (P.T.) 4x4 posts sitting on concrete deck piers.
* P.T. 2x4 bracing.
* P.T. 1x4 furring to mount tarpaulin on.
* P.T. 1x6 top cap.
* P.T. 2x4's with attached rigid skirt for holding the stone in place.
* Deck screws for P.T. material as required.
* Crushed white granite (3/4" size preferred) over heavy tarpaulin base.
* Concrete scope pad as required.

Article: A Down-Home Farm Observatory