CNers have asked about a donation box for Cloudy Nights over the years, so here you go. Donation is not required by any means, so please enjoy your stay.


0
Star Shooter Mobile Observatory
Discuss this article in our forums
Star Shooter Mobile Observatory
One man's Obsession; another man's nightmare.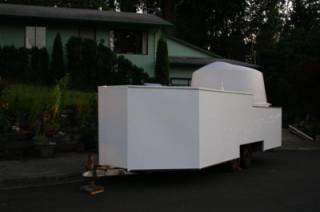 The concept was simple; mount my telescope and computer in a trailer so I could travel to dark sky sites. A ten foot trailer and an eight foot dome for protection and you have it, a portable observatory. Soon after coming up with the idea I was given a twenty-four foot trailer frame and from there on out all bets were off.

I started in search of a dome. Given to an over active imagination I looked at all kinds of possibilities. Radar domes, microwave covers, Union 76 balls, and just about everything else hemispherical or round. No luck with anything that didn't cost an arm and a leg. Then one night, while searching the web, I came across a resourceful gentleman (Tom Monroe) from Canada that had converted a poly calf barn into a permanent observatory (Poly Star Observatory). Not only did it work but he did it for less than $600.00 US. I E-Mailed him back and forth for awhile and found out he acquired it from Poly Dome in Wisconsin and soon had mine on order.

I'm off!!! Or should I say started.

With my trailer frame and newly acquired poly-dome I started building. At first I figured four foot tall for the computer room so the scope could see down to the horizon and the pier would not be too tall. Ever try setting in four feet of height? (don't!) I settled on five feet instead, but did not want to raise the dome that high so I left the dome section at four. Many headaches later I wished I had made it all five feet. With a tendency to overdo things I built the upper frame out of 1.5" steel tubing and covered the inside walls with 3/8" exterior plywood, insulated with foam and covered the outside with aluminum RV siding. Let me tell you, this is one well built trailer. I do believe it could roll over and still retain its shape.

Next came time to fill it up. If you think I went overboard before, look out! The scope came first, then a computer to control the camera, and another to run the planetarium program and digital setting circles. Then, a third to control the dome and any other automation that might come up. Oh yes, and a fourth to monitor the weather station. Oops, forgot to mention that, I felt it might be nice to monitor the wind, dew point, and barometric pressure so I added a weather station. Did I mention the weather radio to keep me informed of incoming fronts and weather emergencies and forest fires? I think you can see a theme developing here. Now with a microwave to heat coffee and snacks, a refrigerator to keep the beer cold, a DVD player, VCR, and two bunks to sleep the long night's activity off; I must be done. Wrong!!! I still had to power this thing. While standard AC power works just fine when you have it, there isn't much available in the middle of the Ochoco Mountains of Oregon at 6,000 feet so a generator was bought. I was soon told that if I "ran that thing all night" the rest of my star party goers would have me drawn and quartered by daybreak. So, batteries were purchased along with power inverters and conditioners and all that is required to run for ten hours in silence, so peace will now reign through the night.
Well with all that behind me. With two and a half years of building, tearing down and rebuilding, and the loss of all free time and spending money. With the near divorce of my wife. I gave birth to a 4,000 lb mobile observatory, "Star Shooter Mobile Observatory".

Lessons I have learned along the way:

* Be careful how big your dreams are, they may not fit in your life or your pocket book.
* Just because you can do something don't mean you should. Things can get out of hand.
* Finish the project before you improve on it. Otherwise it may take you forever to finish.

About the builder/author.

I am a self employed computer consultant with a tendency to throw myself into what ever I do. A little on the eclectic side and some may say a little eccentric. Over the hill, but haven't started the free fall into old age yet. I guess I'm just me.

Merlin J Raymond
AKA Magic Man
SSMO
Star Shooter Mobile Observatory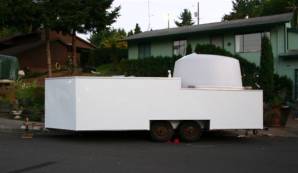 Dark Skies? Will Travel.


Dedicated to the imaging of Deep Space; and to the educational outreach to the schools and community.

SSMO was conceived in 2002 and dedicated in 2005 when it was obvious that the skies in the Portland Or area were not sufficiently dark for imaging. So the idea was born that it would go where there are dark skies.

Star Shooter provides easy setup, and a protection from wind and dew along with creature comforts for a long night of imaging.

Equipment

SSMO has four computers systems, four TV monitors, two TV cameras, weather station, weather radio, refrigerator, microwave, air conditioner, DVD player, VCR tape player and two bunks to support the compliment of scopes.

As for scopes: It carries 20X70 Binoculars, 60mm refractor, 80mm refractor, 100mm refractor, 10" Dobsonian, 5"matsutov, 8"cassegrain, and currently using an 11" cassegrain. Also supports a CCD camera, TV camera eye piece, and film camera. All of this is powered by 240 amp hour battery pack, 5000 watt generator, a 5 wind generator, or standard 110volt AC.

Thank You

I would like to thank Weatherview 32 for the software for the weather station.
Ron Karcher of DRACO Observatory without whom this job would be much harder.
Also I would like to thank my wife for putting up with me and my projects.

Merlin J Raymond
Proprietor Star Shooter Mobile Observatory.
Getting Started

Astronomical Contacts in the Northwest.
Astronomical League USA
www.astroleague.org
The American Association of Amateur Astronomers USA
www.astromax.com
Pine Mountain Observatory Prineville Or
www.pmo.sun.uoregon.edu
Sunriver River Observatory Sunriver Or
www.sunrivernaturecerter.org
Goldendale Observatory State Park Goldendale Wa
www.perr.com/gosp.html
Mount Bachelor Star Party Bend Or
www.mbsp.org
Oregon Star Party Prineville Or
www.oregonstarparty.org
Rose City Astronomers Portland Or
www.rca-omsi.org
Night Sky 45 Salem Or
www.nightsky45.com
North West Astronomical Group Vernonia Or
www.nwag.portland.or.us
Hart of the Valley Astronomers Corvallis Or
www.hva.peak.org
Eugene Astronomical Society Eugene Or
www.eugeneastro.org
Southern Oregon Sky Watchers Roseburg Or
www.orskywatchers.org
Central Oregon Astronomical Society Bend Or
www.astroimaging.com
Friends of Pine Mountain Bend Or
www.pmo.sun.uoregon.edu/~pmo/
Seattle Astronomical Society Seattle Wa
www.seattleastro.org
WACO Ferndale Wa
www.whatcomastronomy.org
Yakima Astronomical Society Yakima Wa
www.perr.com/yvac.org
Vancouver Sidewalk Astronomers Vancouver Wa
www.vancouversidewalkastronomers.org
Boise Astronomical Society Boise Id
www.boiseastro.org
This is just a start and you will find many more links from these web sites.
These are listed in no particular order and I won't guaranty their accuracy but there is enough to get you started.
As for getting started; if you have this you have already made the biggest step. You have made contact at one of many star parties. These people will guide you down the path. Follow their guidance. It can save you time and money.
As for telescopes; you really don't need an expensive setup. A good pair of 7x50 mm binoculars a planisphere and a lawn chair will get you started. Less than $100.00 and you get a good lawn chair. So keep staying up late and looking at the stars.
Clear Dark Skies
Magic Man
Star Shooter Mobile Observatory
Article: Star Shooter Mobile Observatory