CNers have asked about a donation box for Cloudy Nights over the years, so here you go. Donation is not required by any means, so please enjoy your stay.


0
My Lunar Eclipse Experience
Discuss this article in our forums
My Lunar Eclipse experience, aboard the Caribbean Princes on February 20th, 2008.
By: Christopher Schroeder.
Photo from the ship's photo gallery from an on staff Photographer
The story starts last year when my wife, Jackie, and I booked our annual 'Get away from the snow and cold' cruise with our good friends Greg & Lori Plante, whom we met on our first Princess cruise aboard the Golden Princess in 2004, we have been cruising with them every year since. We had booked the cruise late spring of 2007 with no thought about the exact time frame other then some time in February.
About four weeks before we were to leave for the cruise, I was attending a board meeting of our local astronomy club, Neville Public Museum Astronomical Society, NPMAS. One of the things we were discussing was organizing a Lunar Eclipse viewing at the club President's, Gerry Kocken, business location, for the club members. Then it hit me, I won't be here for this, I'll be on our cruise, darn.
On one of our previous cruises, I had brought a telescope along and the motion of the ship, not to mention all of the bright lights on the ship, wasn't conducive to a good viewing. I now normally bring along a good pair of binoculars for wide field low power viewing, I and the binoculars move together so the ship's motion isn't much of a factor. However for this trip the Lunar Eclipse was too good of an opportunity to miss, I missed the last two for my area because of clouds and I knew the weather would be better aboard the ship.
Previously I have done some public out reach with our club as well as doing my own Halloween evening public viewing with the trick-or-treaters on my driveway, and both the kiddies and parents always got a kick out of it. So I thought that my fellow passengers would also like to be able to see the eclipse as well. So I wrote a letter to Princess Cruise Lines letting them know about the event saying that I would be willing to bring a telescope and give a talk, and narrate during the eclipse. Within a week, I received a call from Princess thanking me for my letter, and my offer, they however don't decide what each ship does while at sea, and the Cruise Director is the person who plans what events the ship does. I was told though that I should bring my scope, and to talk to the Cruise director when I get aboard.
I had printed out a couple of fact sheets that I got from NASA's website about the eclipse as well as some sky charts for our approximate location of half way between St. Maartin, and St. Thomas in the eastern Caribbean, as that would approximately be the ship's location during the eclipse. I'm one of many moderators for Cloudy Nights, an astronomy website and forum, which is sponsored by Astronomics. A few weeks before the cruise, we were asked by our sponsor if any of us would like to do a review on the new Astronomy Technologies Voyager Alt/Az mount, they where looking for someone with specific scopes and other mounts, I fit what they were looking for and I was selected as one of the reviewers. The mount appeared the day before we were to fly out so I had to unpack the mount from its shipping cartons, and repack it for air travel, I used a padded tripod case packed inside my old canvas duffle bay. I also brought along my William Optics ZenithStar 80FD APO refractor along with a WO 2" dielectric diagonal, and a Baader Hyperion Zoom eye piece and other assorted accessories.
When we first got aboard the ship, I was able to talk to the Deputy Cruse Director Stu, Stuart Mae, and told him about the event and explained what I was willing to do. I also handed him a one of the NASA reports I had brought with me. I was told politely that he would look into it but don't expect anything. This was about a week and half before the eclipse, and I hadn't heard back from Stu so I started telling my fellow passengers crew about the eclipse and we posted a picture showing the stages and times of the eclipse on our stateroom door.
On the 19
th
I got a call form Stu he seemed excited and asked me if I was still willing to do the event, he even offered to organize a pre-event lecture and asked if I needed a projector, and such. I thanked him but said I could do everything on deck during the eclipse as it lasts quite a while, and I had my trusty Lucky Duck green laser pointer (GLP) with me and I could point out Constellations, and other objects in the night sky as the moon went through its stages. So we met on the Sports Deck forward (deck 17) where there is a large area with plenty of lounge chairs to check out its suitability. The only bad thing was the ship was having a sail-away party that night as well, around the forward midships pool so there will be plenty of noise and light, but we had part of the ships superstructure between us, so hopefully it wouldn't be too bad.
Stu put a nice highlighted event in the ship's paper, the Princess Patter that night for the next day's events. Stu also mentioned it during the day on the 20
th,
during his "what's happening" ship's announcement. The event was scheduled to start at 10 PM AST (Atlantic Standard Time, -4 hours UCT) which was the start time for the Moon to enter the umbra. I went up at 9:30 to set up, and there were already a couple of people there. Just before 10:00 I brought my GLP out, and started to show those there some of the Constellations, they were much higher then what I'm use to at home, which makes sense given the nearly 20º difference in latitude. I showed them Saturn & Mars as well. I used the scope on Saturn but due to the ship's motion, I had to keep the power down so we didn't get a good look at the rings. But I was able to locate three of Saturn's moons, not too bad for a low powered view from a 3.1" scope. At 10:00, Stu made another announcement about the Lunar Eclipse and more people started to show up. Even the ship's Captain, Commodore Giuseppe Romano, came up to personally thank me and asked if there wasn't anything more he could do. Stu also stopped by a few times through the night, and he sometimes had some of the ship's crew in tow, but otherwise, he was pretty busy with the big party below us.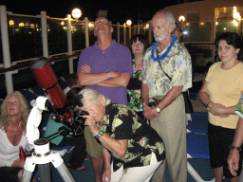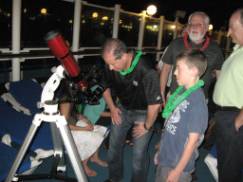 I toke these before the crowd really showed up
Around 10:30 more and more people kept coming up, and were taking turns looking through my scope with some taking photos afocal through the eye piece, and circling around me as I was having to talk louder to get above the music and crowd noise from the party below. Every now and then I would hear "sir or mister, can you adjust the scope, I can't see anything", so I would have to make my way through the circle of listeners to get to the scope, make a quick adjustment, and a half second peek through the scope. As it got closer to 11 PM, more and more people kept showing up, and the line for looking through my scope got longer and longer, at the same time the crowd around me got bigger and bigger, so I had to keep moving farther from the scope to make room for everyone. They all had a lot of questions, like, why does the moon look red?, and would it hurt their eyes when moon was fully in eclipse?, how often does this happen?, was I a professional astronomer?, and so on. With each new group I would have to repeat this information.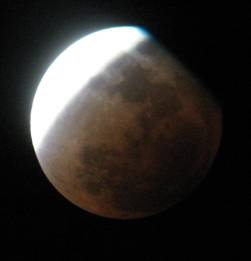 Photo taken afocal courtesy of fellow passenger Butch Sanson
At 10:50, an announcement came from the bridge, letting people know that at 11:01, the moon would be in full eclipse, and everyone should make their way topside to view it! And boy did they, they turned down the music from the party as my fellow passengers came up to look at the moon. About 1500 people, for my best guess, with over a hundred people in my immediate vicinity. The people were all very excited, and just at the top of the hour, a black cloud moved over the moon and the crowd let out a huge cheer thinking this was the full eclipse? I had to keep myself from laughing out load, as I explained to everyone that it was just a cloud, and no you can't see the clouds because there aren't any lights shining up, like in the city. To prove my point, I asked everyone, what happened to Saturn, just below the moon? And
Regulus
just above the moon? Just as the confused look started to disappear from their faces, so did the clouds from the moon, and once again a dark red full moon was out. After a while more clouds moved in and a light sprinkle started so crowd started to go for cover on the lower decks. I capped the scope and continued talking to the few brave souls who stayed out with me, still asking questions. Just then it really started to rain hard so I broke down the scope and started to pack up, just then a lady came up to me, and asked me what I did for a living. When I told her my occupation, she replied, "I am a professional educator, and if you ever wanted a career change, you should go into education. You did a wonderful job, and I learned a lot, thank you so much!!" Well gee I replied, "I can't think of a nicer compliment, thank you"
I had many people come up to me for the rest of the cruise thanking me, and telling me it was the highlight of their cruise. So it was worth all of the extra effort with the additional check-in bag and carry-on bag, to bring so much pleasure to my fellow passengers.
Links;
NASA Eclipse page,
http://sunearth.gsfc.nasa.gov/eclipse/LEmono/TLE2008Feb21/TLE2008Feb21.html
Cloudy Nights,
www.CloudySkies.com
Astronomics,
www.astronomics.com
William Optics,
www.williamoptics.com
Princess Cruise Lines,
www.princess.com
Article: My Lunar Eclipse Experience