CNers have asked about a donation box for Cloudy Nights over the years, so here you go. Donation is not required by any means, so please enjoy your stay.


0
Photoelectric Photometry of Variable Stars - Past and Present
Nov 14 2020 02:15 PM | Rustler46 in
Articles
Discuss this article in our forums
Photoelectric Photometry of Variable Stars - Past and Present
By Russell Milton
Someone on the Classic Telescopes forum asked me (see reply #3750) to share what I called "another story" of my experience with photoelectric photometry (PEP) of variable stars. I hope this article will encourage others to make such contributions to scientific studies of variable stars. So what follows will largely be what I remember about my experience as a photoelectric photometrist back 1985-90. Many of the concepts and techniques are still valid today. You'll find technology has improved greatly since 1990. In particular the use of digital imaging cameras provide for measurements of a number of stars within the camera's field of view. Historically in the 1980s it was a laborious process, measuring one star at a time. There may be differences in achievable accuracy comparing 1985 versus 2020 methodology.
I had started off as a member of the American Association of Variable Star Observers (AAVSO), making visual observations of the Spring variable R Leonis. This was great fun, gathering useful measures of that long-period variable star as it changed in brightness. Such estimates are accurate to perhaps a couple tenths of a magnitude. But being a science sort of guy, I looked into the higher accuracy measurements afforded by photoelectric photometry or PEP. Here's the current AAVSO introduction to that method of measure:
For those wanting to pursue PEP with digital cameras, Sky and Telescope magazine in its December 2020 issue has some further guidance in an article entitled Measuring the Stars (page 60).
If memory serves me correctly, my measurements were typically accurate to ±0.007 magnitude, and sometimes as low as ±0.003 magnitude. This appealed to my science-guy mentality. And measures of that quality are greatly valued by professionals. Being of an age that I call the "vacuum-tube generation", I looked into utilizing a photomultiplier tube (or PMT), which had been invented about 1934 by a Russian scientist. Its subsequent development led to the venerable RCA 1P21, which was state of the art for some years. My own photometer used a Japanese equivalent of that photomultiplier design, which was less expensive than RCA's product.
In general these photomultipliers work like this as measurers of light intensity. A light sensitive surface inside the photomultiplier tube is exposed the starlight being measured. This photo-cathode, on being stimulated by the incident light, ejects a number of electrons via the photoelectric effect. Albert Einstein received a Nobel prize for his discoveries in this area. These photo-electrons are exposed to an electrical field (voltage) that accelerates these to the surface of a nearly metal plate inside the tube called a dynode. This is the first stage of the 10-stage photomultiplier tube. Each electron impacting that first dynode) kicks loose an additional number of electrons to be sent to the next stage by the voltage present. This process is called secondary emission. So each of the 10 stages multiplies the electrons freed in the preceding stage. Each of these 10 stages has an electrical potential between successive dynodes of 100 volts, giving a total of 1000 volts that must be supplied to the tube.
So in summary, a small amount of star light produces a growing cascade of electrons which exits the PMT from its output called the anode. Such a cascade of "bazillions" of electrons, is a very tiny electrical current, that is a measure of the star's brightness. Measuring this tiny electrical current is what is involved with the sub-discipline of PEP called direct current or DC photoelectric photometry. An analog micro-amp meter is the output measuring device.
But the story is even more interesting than that. Light can behave either like waves or like individual particles, call photons. So if a single photon enters the photomultiplier tube, it produces as before a tiny electrical current. But this current arrives as a pulse of electrons - one pulse for each photon of light entering the PMT. It is counting these pulses that is the methodology for photon-counting photoelectric photometry. Now light, even very faint starlight, is composed of a huge number of photons. As a consequence the pulses are very numerous, and they come very fast. So the pulse counting electronics must be specially designed to accurately count all the pulses.
There is another minor adjustment that needs to be made. When a photon impacting the photo-cathode has caused some electrons to be accelerated toward the first dynode, the cathode is temporarily insensitive to any more photons arriving during a short period of time called dead time. These missed photons can be accounted for by a process called dead-time correction. This adjustment, though minor, is best applied for highest accuracy measures. The method employed has been lost in the fog of my memory. So it will not be discussed further.
With these thoughts in mind, I'll now describe the methods used in photoelectric photometry. In 1985 PEP was quite labor-intensive and time consuming, compared to more modern methods. In my case the method used was called differential photometry, which made the process less complex. One measures the difference in brightness between the variable star and a nearby star of constant brightness called the comparison-star. Now if the comparison star is not in fact constant, then the differential measurement is not accurate. So a second nearby constant star (called the check-star) is measured at the same time. If the differential magnitude (comparison to check star) is constant, this means both comparison-star and check-star are of constant brightness. And this is what we want for our measures of the variable to be valid.
For a short time I used my home-made 8-inch reflector for differential DC photometry.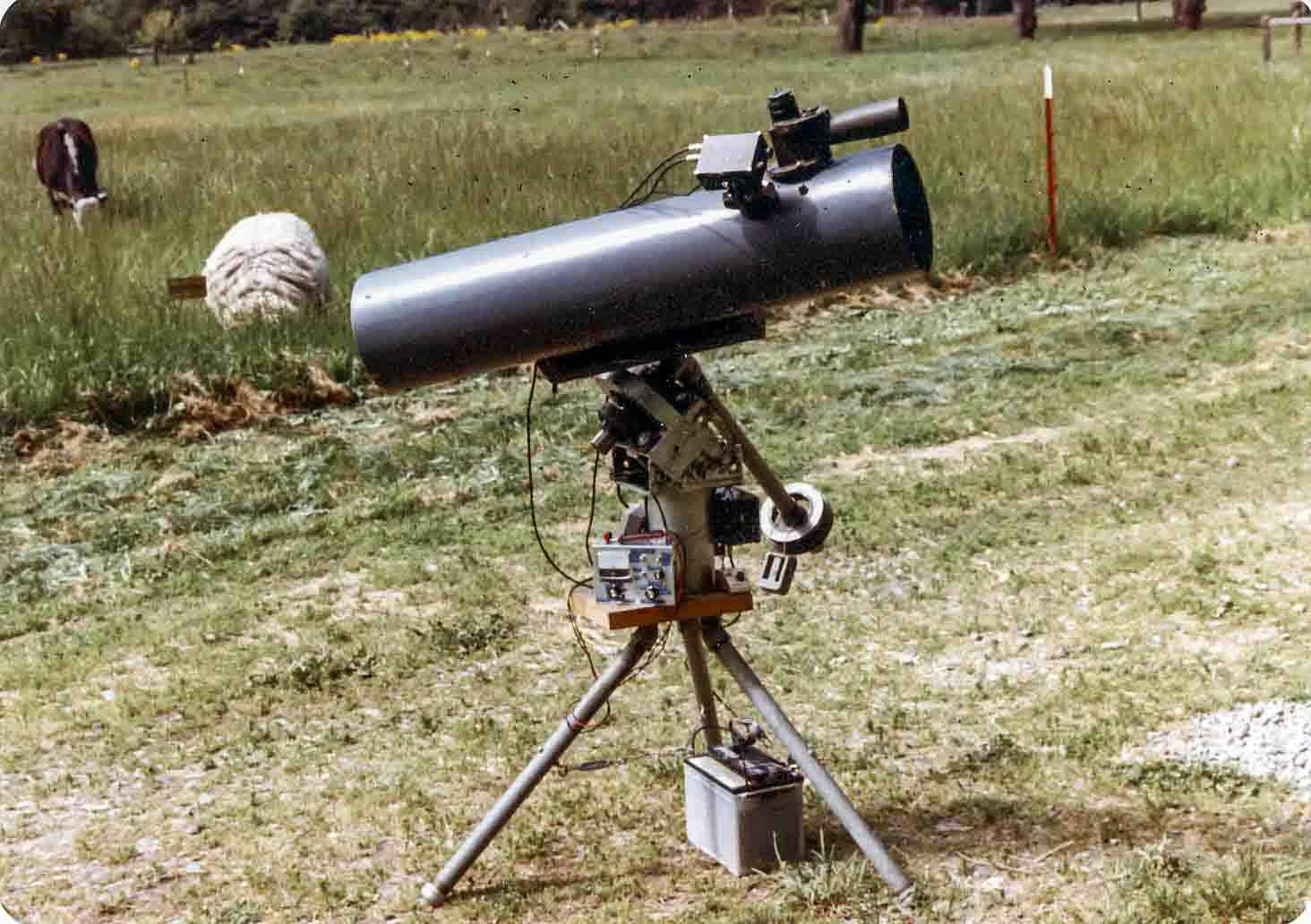 But I soon learned that the mount's lack of slow motions controls made it very difficult to find and center variable and comparison stars. But it did produce one notable finding from that period, the time of minimum of the eclipsing binary star V1010 Ophiuchi. Here is a hand plot of that result.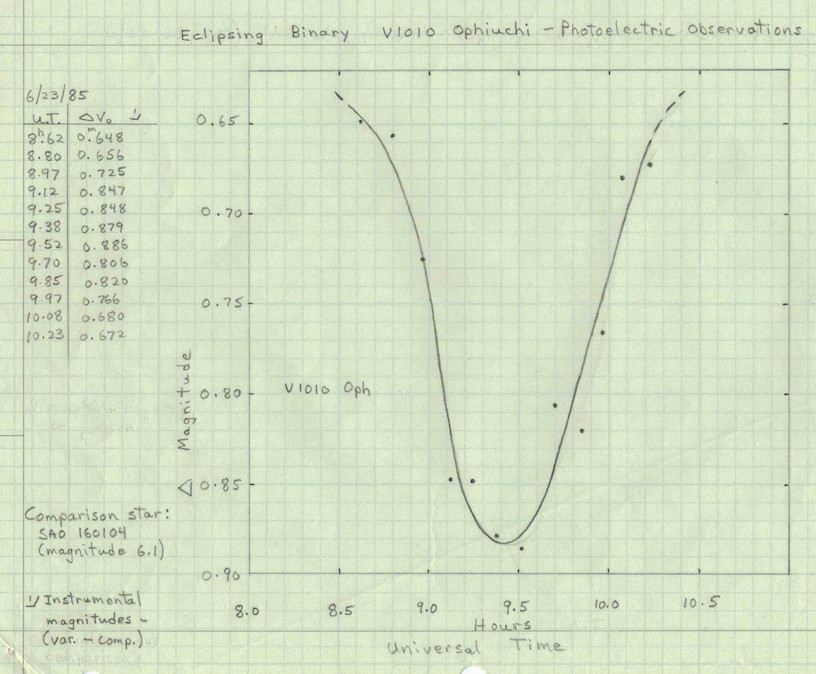 So in 1985 I sold my cherished 1973 Celestron-5 to finance a Celestron Super C-8 Plus. This proved much easier to use, and was employed for the rest of my photometry.
As for PEP hardware I purchased a commercial HPO photometer head (by Hopkins-Phoenix Observatory) with a Hamamatsu 1P21 photomultiplier tube. This resided in a light-tight housing with coaxial cable connections for measurement channel & the 1000-volt supply voltage. From plans I made the 1000 volt, 1 milliamp supply, which worked quite well. Jeff Hopkins of HPO was a great help in getting all this going. Previously the measuring instrument for DC photometry was as mentioned a simple analog DC amp meter (seen in the above photo). But I had learned of the increased accuracy afforded by pulse-counting techniques. So with Jeff's help I assembled a pulse-counting electrical chassis. Here's a photo of the PEP equipment: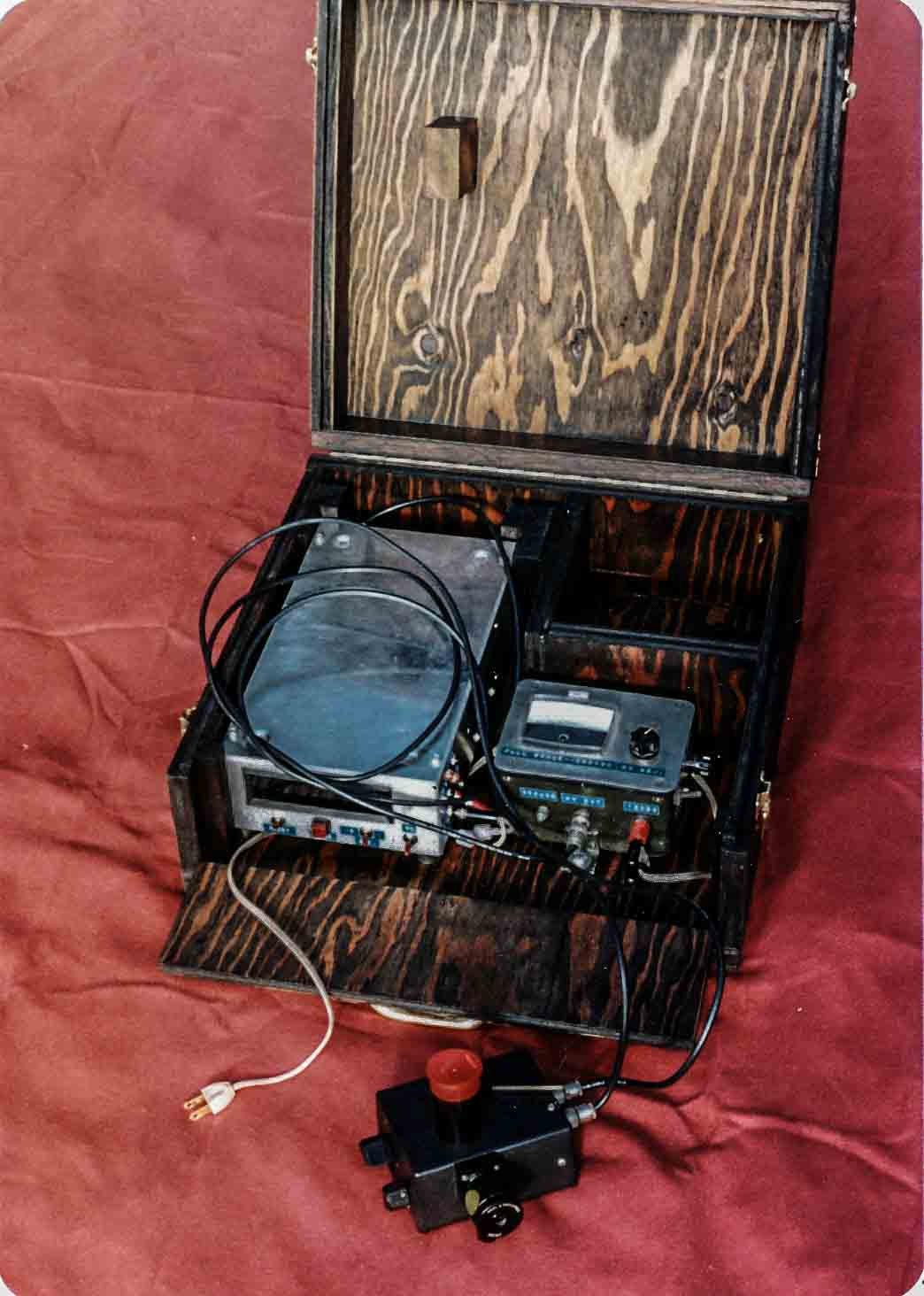 In my home made carrying case can be found the pulse counter on left, 1000-volt DC power supply on right and the photometer head in front.
Here's the observatory built in part to house my PEP rig.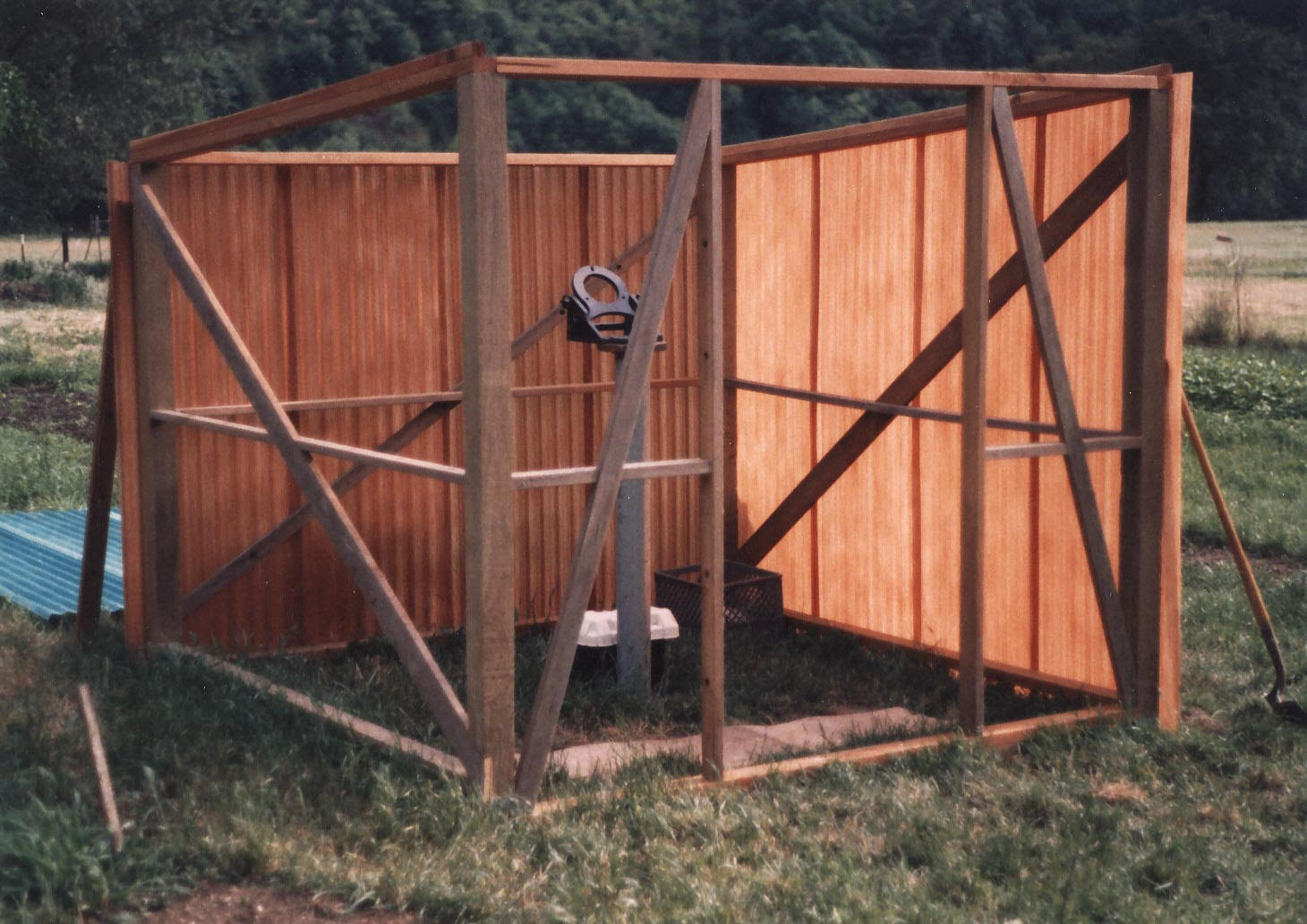 For both DC and pulse counting methods the sequence of measurement is this:
Comparison-star
Variable-star
Comparison
Variable
Comparison
Variable
Comparison
Check-star
Comparison
This gives three differential measures of the variable star, which allows for a simple statistical estimate of probable error. This ± value is known as "standard deviation" in statistics. The single measure of the check star is good enough to ensure the comparison-star isn't variable.
Each sequence of measures shown in the above series takes about 20-minutes at the telescope. I did have software to compute the magnitude brightness of the variable. But for consistency of measures by different photometrists, all AAVSO data was processed by that organization, using its own software. So my raw measurements were sent via US mail to AAVSO on 4-inch floppy discs - remember those? The raw data was transcribed onto the disc in standard format for efficient processing by AAVSO. Here is a raw data sheet for a single data point of a variable star's light curve, as captured at the telescope. In this case the variable is Rho Persei.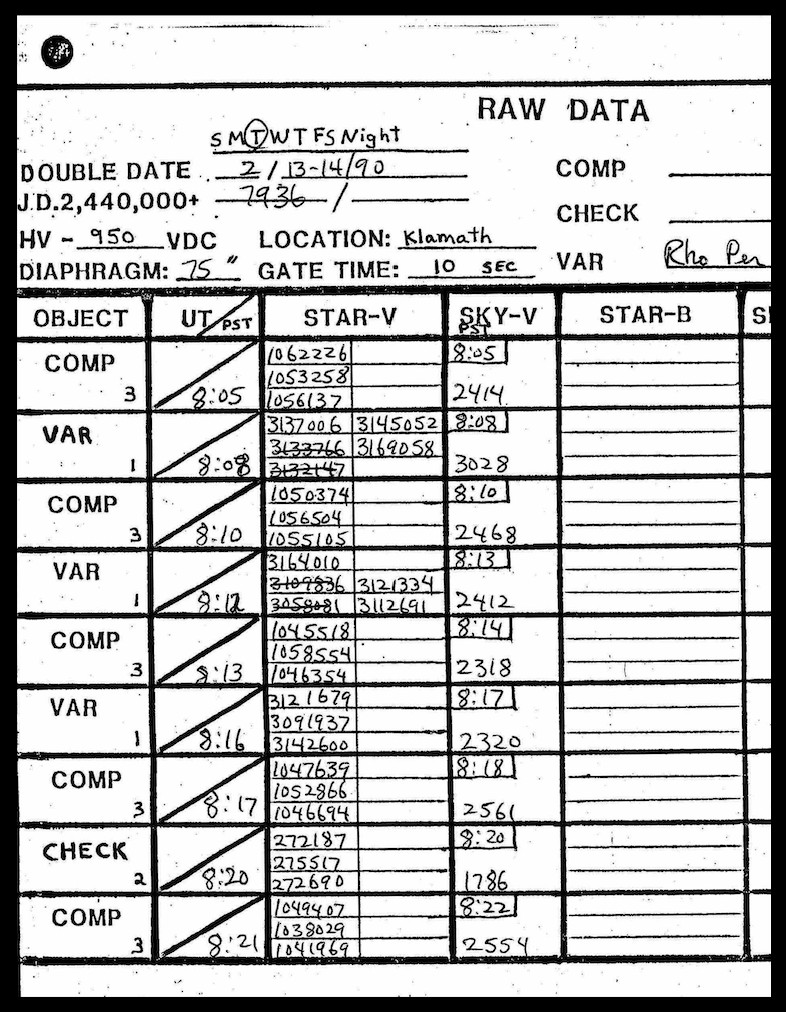 In practice I was diligently watching the pulse counter's screen, transcribing the 7 numbers displayed onto the paper data sheet. This needed to be finished before the next group appeared 10 seconds later. Notice that a measure of the sky brightness in the vicinity of the star is taken, so that background light can be removed, leaving only the star's light to be measured. Both variable and sky brightness were taken through a small aperture in the telescope's focal plane that excludes all other light. As I recall the "dark current" (when no light was reaching the photometer) was about 250 counts in 10 seconds, depending on the ambient temperature. So in the above raw data for Rho Persei, the vast majority of the over 3 millions of pulses counted in ten seconds resulted from individual photons. These had entered the telescope's 8-inch aperture and passed through the photometer's aperture, finally energizing the photomultiplier tube's photo-cathode. Photons were indeed being counted. I found that quite astounding and still do.
In closing, another organization to consider along with AAVSO for collaboration with professional astronomers is IAPPP (International Amateur-Professional Photoelectric Photometry). These scientists are most grateful to obtain high quality data obtained by amateur PEP photometrists. They often include such amateurs as co-authors in the scientific papers they publish. I was privileged to be associated in this way in around half dozen or so papers published in scientific journals. So that is an added benefit from this activity.
As best as I remember, that is a snapshot of the state of the art in 1985. I do hope some others will be moved to take up this important work. I got out of it around 1990, because of becoming too much driven by gathering data. I had been spending many hours in variable star photometry to the detriment of other important activities. I felt at that time my love of astronomy had been skewed too far in the direction of science as an end. But perhaps in the future I'll do some limited photoelectric photometry using modern methods. These allow measuring the brightness of a whole field of stars in one exposure utilizing a digital camera - much easier than historic methods.
There is an interesting epilog regarding the photomultiplier tube. While the vast majority of vacuum tubes from the first half of 1900s have been replaced by solid state devices, that has not been the case with the PMT. It still finds current use in many specialize applications. Sometimes the "old dogs" do the new tricks better, if you catch the pun. But I do hope you have enjoyed this perspective from that earlier era.
B McCandless, eros312, AllanDystrup and 5 others like this
Article: Photoelectric Photometry of Variable Stars - Past and Present