CNers have asked about a donation box for Cloudy Nights over the years, so here you go. Donation is not required by any means, so please enjoy your stay.


0
Questar Standard: Tristand vs. Astropier
Nov 13 2022 10:46 AM | justfred in
Articles
Discuss this article in our forums
Questar Standard: Tristand vs. Astropier
There are several mounting options for the Questar telescope. These include the Tristand and its taller version, the Astropier.
I have the Tristand for my '66 Questar Standard and have used it for several years. It's great. Sturdy, easy to polar align, compact design with folding legs. I really like it - but I have always wondered about the Astropier: would I like it better?
There are a lot of forum comments about these two mounting options and most seem to favor the Tristand - mainly that it is more comfortable to use if you like to observe sitting down. Honestly I haven't seen that many commenters who prefer the Astropier; I've even seen concerns about the taller Astropier being more likely to tip over but most of these comments were from people who had never owned an Astropier or used one. I have never ever heard of a single incident where this happened.
Well, over the weekend I looked around and found some scrap 2X4s, 2X8s, a few deck screws, an electric drill, a rip saw, and I had a free afternoon…
I made a wooden riser to set my Tristand on.
First a few basic measurements:
With my Tristand mounting plate set at 00 ( horizontal), the height to plate from floor is 36".
Per published info the height of the Astropier level mounting plate from the floor is 47"
A difference of 11" from my Tristand ( you can special order the Astropier up to a foot higher - or anything in between)
I am 6' 0" tall and normally observe seated in a Starbound chair with the Tristand in Polar configuration.
With Questar in alt/az configuration:
Questar base to eyepiece centerline with OTA at Zenith: 4 ¾ "
Questar base to top of eyepiece with OTA level: 11 ½ "
So I made a triangular riser with 28" long 2x8s on their sides, held together at the ends with a piece of 2X8 laid flat on top and fastened with the deck screws. I then laid pieces of 2X4 flat on top of that and fastened them with deck screws. ( pics below) The resulting height is 10.5". Actually it was 10" because my Tristand has levelers and I used a ⅞" drill bit to countersink shallow holes for the levelers to sit in and not slip. Close enough to the 11" difference between the measured Tristand height and Astropier published numbers. It would give me a good comparison.
Before you judge my carpentry skill too harshly from the pics below, please note this was intended as a "proof-of-concept" effort. And also my carpentry skills fall into the lowest "framer" category. The two higher levels being "finisher" and "cabinet maker". :-)
How did it turn out later that cool, clear Autumn night? Great!
Lyra and Cygnus ease along high in the sky this time of year and I was able to adjust my Starbound chair and comfortably observe The Ring, Alberio, The Double Double, and several other showpieces that usually are tough using the Tristand at the Zenith in polar configuration.
What about due north? Another spot in the heavens that requires some punishment to my knees and neck with the Tristand in polar configuration. Again - not a problem: Herchel's Garnet Star, M52, NGC 457 were easily viewed with the OTA rotated and the chair remaining at a comfortable height.
I've used it for a couple of nights now and one thing I know I will change is to leave off the extra 2X4 pieces. This would drop the overall height of the riser to approximately 9" depending on how deep I countersink the stops for the tristand feet. This would make viewing just about perfect for objects near the horizon and the Starbound at its highest adjustment. Right now, for me, the eyepiece is just a little high in that configuration with the riser as-built.
Another benefit is that you can prop your feet on the 2X8s. This was nice.
Also, the riser is plenty heavy enough to maintain the Tristand sturdiness you're used to. This configuration is every bit as stable as without the riser. And it's not too heavy to move around plus it doesn't take up much space if stored on one of its sides.
Solving the Zenith and North viewing using a Tristand is actually pretty easy without a riser: you simply catch the objects when they're further to the East or wait till the objects move farther to the West. You can also put the scope in Alt/Az configuration at any time and use a program to give you the alt/az location for the excellent Questar setting circles use. You do the same for objects that are low to the South. Star hopping works great in alt/az also. You won't have tracking but that's usually not an issue. Going back to Polar alignment takes about two minutes using the Kochab method.
For me, I like the extra height provided by the riser. I'm going to get the prototype to a buddy of mine who actually is a cabinet maker and see what he can do to pretty it up.
Also, I know now that, as advertised, the Astropier would be too high for me to observe seated (they do say it's for folks that like to stand… ). I could special order one to give me a just-right 44 ½" height from ground to level mounting plate but I'm not sure that would be worth the extra expense since a simple riser works so well.
Will I use it all the time? Probably not. For outreach events I'll leave it in the truck and choose easier targets for the stand-alone Tristand. But I'll definitely use it when it's just me going through a night's observation list.
All I need to do now is to make a few measurements using Florida Keys and Canadian latitudes and see how those work. These places and everywhere in between are where we might end up while traveling. :-)
What do you think?
Best of skies for you all!
Fred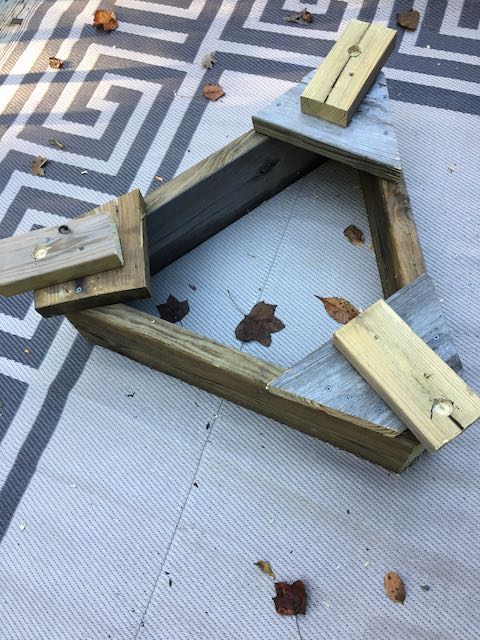 leesmojver and rojavastars like this
Article: Questar Standard: Tristand vs. Astropier