CNers have asked about a donation box for Cloudy Nights over the years, so here you go. Donation is not required by any means, so please enjoy your stay.


1
Rehab Partner
Mar 22 2018 10:09 AM | justfred in
Articles
Discuss this article in our forums
Rehab Partner
Back in November I mentioned to our family doctor that I was having to take an extra break while cutting the grass. I smiled and told her I guessed I was just getting old. She frowned and ordered some tests. Three weeks later I was coming out of recovery after a quadruple bi-pass. I'm doing great and the prognosis is for a long and healthy life… but for the next few months I am limited to lifting no more than 10 pounds. Now I have a real problem – how am I going to observe?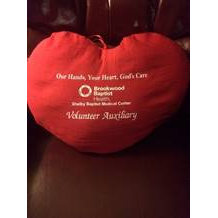 Hopefully you don't have one of these
I am scope-sitting an 11 inch Starmaster EL – no way.
My beloved Questar Standard weighs less than 7 pounds but its tristand comes in at 25 pounds – nope.
My equally beloved Orion XT6 OTA only weighs 10 pounds but the base weighs in at 20 lbs – unh unh.
Binoculars? Holding them up after a short while is not comfortable at all (I'm still pretty sore after the surgery).
Looks like naked eye only… well, there was one more option – I moved things around and in the back of the closet found a bulky red tote. In it was a scope I had bought some time ago at a tempting price on a whim. More for nostalgia than anything else – an Astroscan! Its wide field images were actually pretty good but I never found anything to set it on that really worked for me.
A quick look through Ebay, Craig's List, and Facebook Marketplace and I found an ad for another Astroscan not far from where we live here in Birmingham. This one had the tripod by Edmunds included in the deal. The price was not bad and… I now have two Astroscans. I love this country!
The new tripod weighs much less than 10 pounds and is one of the models that you attach the Astroscan base to. It solves the "where do I put this thing to look through it" problem. It solves it really well as a matter of fact – and none of the individual pieces weighs more than 10 pounds. Well, the Astroscan comes in at 10+ but I'll call that good.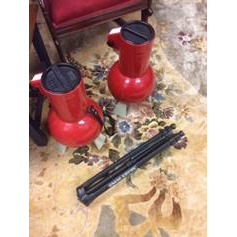 I love this country!
That same night it was clear and the transparency was excellent (for Birmingham). I could see six stars in the Little Dipper. I set the tripod up and attached the base and then set the telescope into it. I was off to the races.
First target was the M81/M82 duo – I was using the 28mm Plossl which yields a whopping 16¼ X with an amazing 3° apparent field of view. They were easy to spot and definitely there with direct vision. There were no bloated or flared star images in the field of view. You could tell it wasn't the Questar but the stars were points of light all the same. I was impressed.
I was cheating a little using a green laser to point. I held it up against the focuser assembly and the alignment was not bad – but with a 3° AFOV how good does it have to be?
Jupiter was still in the trees but I looked anyway. As it moved through the limbs you could see moons and at 30X and 1.7° AFOV with my "high power" 15mm Plossl you could just make out dim bands. I did try a 5mm Plossl but at 89X the view was too soft. 40X or 50X are going to be the limit.
M13 and its smaller neighbor M92 were clearly there – no, it did not resolve individual stars…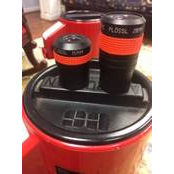 28mm and 15mm Plossls
The beautiful very red carbon star UX in Draco stood out.
Tiny M57 in Lyra was definitely there. The Double-Double was just Double.
T-Lyrae was another showpiece carbon star that, to me, was glowing a darker red than UX Draconis.
The surprise was M51, the Whirlpool; It was dim but definitely there with direct vision. I didn't expect that, but the nights aren't usually this transparent and it was on the meridian so the conditions were good. Again my best view was with the 15mm Plossl.
I must admit that I looked for, but never found, the Cat's Eye – Caldwell 6.
It was getting a little chilly and I sneezed once (a scary thing after surgery) and called it a night. I'll look more for that one in a few days.
I was having fun.
Not bad at all for a night's observing.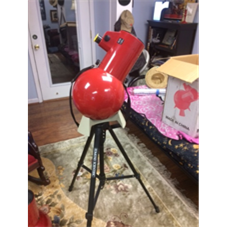 Ready to go.
The Astroscan may have its detractors but I'm not one of them. It's 4.125inch parabolic optics at F/4.2 are housed in a relatively kid-resistant and star party friendly, sealed, compact package that travels well. The addition of the Edmunds tripod makes it one of the easiest scopes to set up I have ever used. It's bowling ball shape is infinitely adjustable to any viewing angle and modest eyepieces match up well to provide pleasing images.
This is a solid, real telescope that does the job it was designed for – rich field viewing – very well.
I have found my rehab astronomy partner!
~
Now. Back to the bypass surgery. I started to say I don't want to scare anyone but I do want to scare you. I had almost no signs of heart problems and I had 78%/90%/95%/95%/100% blockages. No classic Hollywood symptoms – just a little more out of breath when I worked in the yard on a hot day. I had the non-invasive Cardiac Calcium Count test done several years ago and I passed it with flying colors. I thought I was OK - I wasn't. The CCC test is for hard calcified plaque. It does not measure the soft plaque… There are 7 heart disease risk factors. I nailed 6 of the 7 (I never smoked). Find out what they are and talk to your Doctor.
Then go look at some stars.
Fred
2/27/18
Mike B, doctordub, mrowlands and 9 others like this
Article: Rehab Partner