CNers have asked about a donation box for Cloudy Nights over the years, so here you go. Donation is not required by any means, so please enjoy your stay.


2
Replacing a Damaged Dobsonian Mount
Dec 02 2021 10:39 AM | Oldskaterman in
Articles
Discuss this article in our forums
Replacing a Damaged Dobsonian Mount
November 4, 2021
Introduction
I recently purchased a used Sky Watcher 8" classic Dobsonian telescope. I was able to realize a significant cost savings because the Sky Watcher mount had sustained significant water damage. While still functional, I decided to replace the damaged mount. Unfortunately, replacement mounts from Sky Watcher are currently back-ordered and not likely to be available for several months.
A Solution
As opposed to building a replacement mount from scratch, I found that High Point Scientific had their Apertura 8" Dobsonian mounts in stock and available. After careful research, including finding the Apertura mount dimensions on one of the amateur astronomer forums, I released it would only be necessary to replace the mount side panels to accommodate my Sky Watcher OTA. Thus began careful planning to use a new Apertura 8" Dobsonian mount with my Sky Watcher OTA.
Apertura Mount Details
Fortunately, other than the height of the side panels, other dimensions of the Apertura mount would not pose any issues.
Apertura Base Plate and Side Panel Dimensions
To match the Apertura mount base, I settled on a pair of ¾" Birch Plywood replacement panels based on the height of the Sky Watcher side panels.
Birch Plywood Replacement Side Panel Dimensions
Apertura Dobsonian Base Parts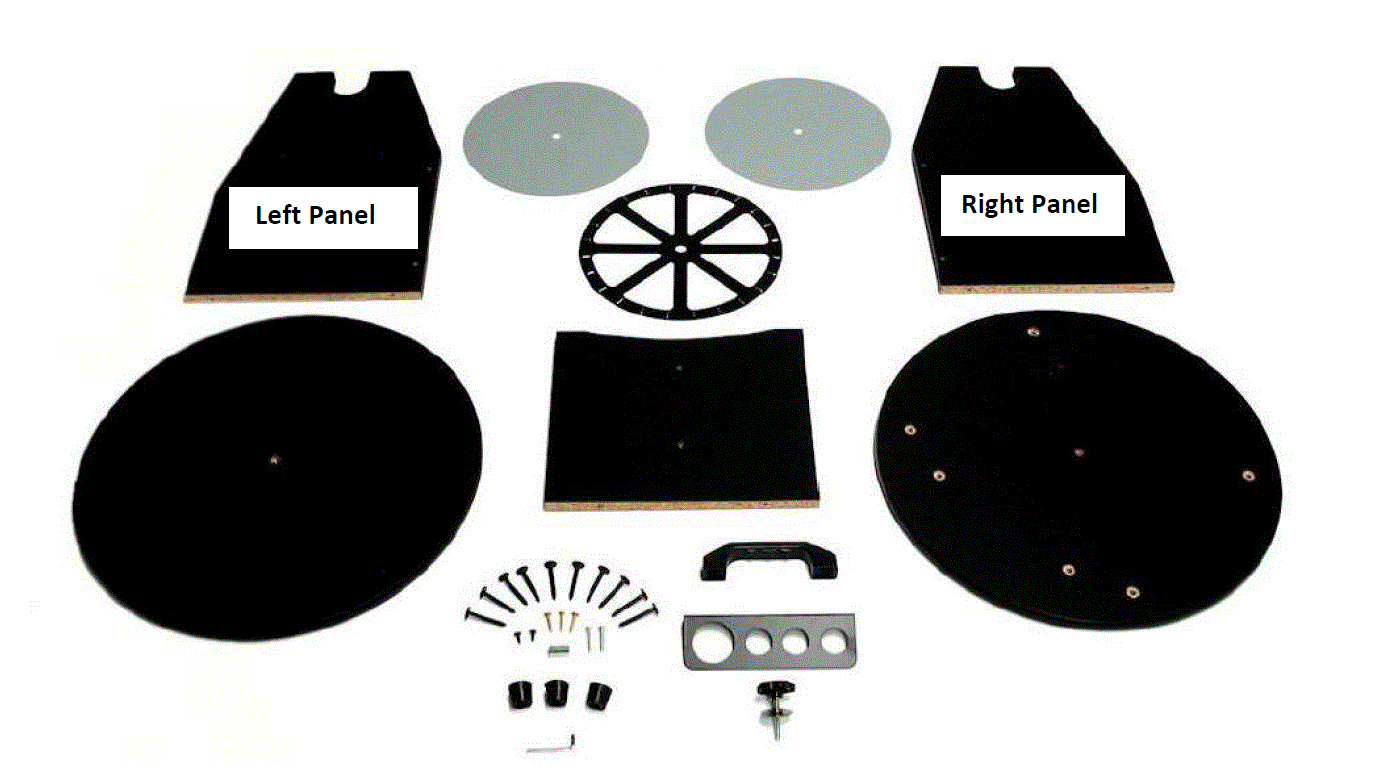 Apertura 8" Dobsonian Base Parts
Notes:
1. In my opinion, both the azimuth and altitude bearing design of the Apertura product is superior to that used in the Sky Watcher mount design.
2. Note that while both brands of Dobsonian mounts use particle board, the Apertura wood material is noticeably better protected again water intrusion since the Apertura wood material contains no exposed bare wood.
Sky Watcher Base and Side Panel Construction (exposed wood)
Construction Notes
I was able to find ¾" Birch 2' x 4' Plywood panels at Home Depot for about $35 each. Because Home Depot will only saw purchased wood in straight lines, I had Home Depot cut both 2' x 4' panels to provide a pair of 27" x 14" panels. This left the following constructions issues to manage.
1. I required a 7" wide top of the side panels which meant I had to saw two angled cuts to match the Apertura center base plate. While it would be preferable to use a bench saw for these cuts, I used a Skil saw followed by careful sanding to create smooth edges.
2. I chose to paint both side panels with black enamel paint, followed by light sanding and a second coat. Final painting consisted of a coat of clear Polyurethane.
3. Because the Apertura width between the side panels was approximately ¼" wider than the Sky Watcher mount, it was necessary to incorporate a means to accommodate the Sky Watcher OTA altitude bearings. See below for my solution.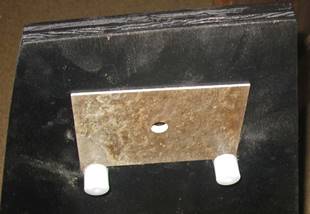 Sky Watcher Altitude Bearing Solution
The side panel bearing material consisted of free floor laminate samples which provided a smooth surface to accommodate the Sky Watcher OTA altitude bearings.
Base Comparison
Sky Watcher and Modified Apertura Bases Compared
Summary
Considering the choices available for replacing my damaged Sky Watcher Dobsonian mount, I found the same size Apertura mount the easiest and most cost effective solution. In addition to the ease of modifying the Apertura mount, the superior construction and improved azimuth bearings noticeably improved overall satisfaction with this approach.
Completed Sky Watcher OTA on a Modified Apertura Mount
Michael Wheeler
Haverhill, MA
okiestarman56, BDS316, therealdmt and 6 others like this
Article: Replacing a Damaged Dobsonian Mount