CNers have asked about a donation box for Cloudy Nights over the years, so here you go. Donation is not required by any means, so please enjoy your stay.


0
Special Events
Astronomics and Cloudy Nights were in attendance for the fourth consecutive year. As usual, Astronomics brought a ton of product and Cloudy Nights held a live webcast.
Read story →





Once again, the Nebraska Star Party gave me the nice vacation and observing experience which I look forward to each year. 344 attendees and their families from many U.S. states, Canada, and even England were in attendance for http://www.cloudynights.com/ubbthreads/showflat.php/Cat/0/Number/166544/page/0/view/collapsed/sb/5/o/all/fpart/1
Read story →





After getting settled into my 2-bed cabin at the little Merritt Resort facility and sampling the evening buffet at Merritt's "The Water's Edge" restaurant, I headed out to the Snake Campground next to where the
Read story →





Interview with the Naglers at NEAF 2010.
Read story →





Alex finishes his lecture on Supernovae.
Read story →





NEAF 2010 Video: Lecture - Jennifer Lynne Heldmann
Read story →





have now spent the better part of the last four summers in Three Rivers, MI as the Camp Eberhart, Astronomer in Residence. Although I have written of my experiences many times, I've never elaborated on the finer details of observing sessions shared with campers
Read story →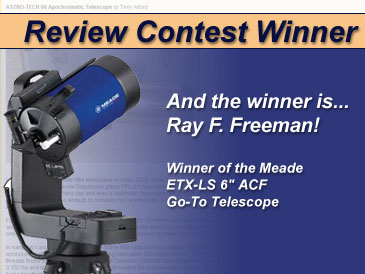 Astronomics, Meade, and Cloudy Nights have come together to give you the chance to make your holidays a little brighter. We've joined to give away a $1499 value Meade ETX-LS 6" ACF (Advanced Coma-Free) Go-To Telescope on December 15th, 2009.
Read story →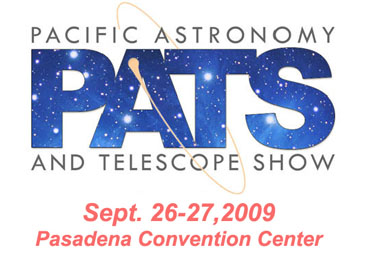 Pacific Astronomy and Telescope Show. September 26-27, 2009 at the Pasedena Convention Center.
Read story →





Astronomy Magazine Senior Editor Richard Talcott speaks about "What We've Learned from Hubble" at NEAF 2009 in Suffern, NY.
Read story →