CNers have asked about a donation box for Cloudy Nights over the years, so here you go. Donation is not required by any means, so please enjoy your stay.


0
1st Annual ATM Telescope Contest
Discuss this article in our forums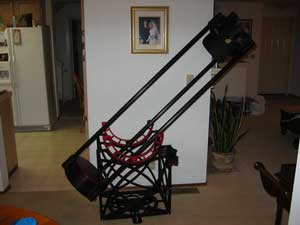 Cloudy Nights 1st Annual ATM Telescope Contest
Cloudy Nights is proud to kick off the 1st annual ATM Telescope Contest. For the next 60 days Cloudy Nights will be accepting ATM telescope articles and each author will be entered into the ATM Telescope contest. At the end of 60 days, the judging will begin and the following prizes awarded;
1st Place Prize: Tele Vue Nagler of your choice

2nd Place Prize: Tele Vue Radian of your choice

3rd Place Prize: Tele Vue Plossel of your choice
To enter the contest, email your article with pictures to submit@cloudynights.com. We prefer articles submitted as HTML or word doc files. Pictures should be no wider then 500 pixels and compressed for web presentation. The article should detail the construction of your telescope, how you came up with the idea and how well it worked out for observing.
Contest ends July 20, 2005. So get your entries submitted.
We thank the good folks at Astronomics for supporting this contest and contributing the prizes!
Contest Entries
Article: 1st Annual ATM Telescope Contest