CNers have asked about a donation box for Cloudy Nights over the years, so here you go. Donation is not required by any means, so please enjoy your stay.


0
My Day with Al Nagler
My Day with Al
08/20/05
A month after I purchased and used my 4-inch Tele Vue TV-102 which was christened the "Light Cup, Jr.",
I wrote a letter to Al Nagler of Tele Vue Optics Inc. which fabricate the TV-102 telling him how happy I was
with my TV-102. To my surprise, I got a reply from Al in his own handwriting (not some typewritten
response by his secretary!). That was June of 2001. Since that time, my Light Cup and I have always wanted
to meet Al, the Creator of my TV-102. Due to many series of unfortunate events, we've managed to miss Al
each time he was in the west coast

(missed him again in Apr. 2005 at OPT

).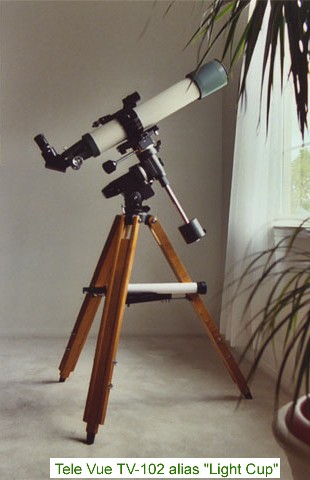 When I got "wind" that Al was going to be at OPT again in Aug. 2005, I made sure this time no earthquake,
nor tornado, nor thunderstorm, nor hurricane, nor for forest fire, nor work, nor freeway bumper-to-bumper
traffic, short of unforeseen broken leg will keep me from meeting Al

.
Aug. 20th, 2005 was the happiest day of my astronomical life and one of the happiest day of my entire life to
have finally met Al

. I'd love to have looked in the mirror to see my own smile from shaking Al's hand and
suddenly my own hand seemed to feel so teeny in his hand, standing before this great man in our contemporary
time

. BTW, I came all prepared wearing my Tele Vue hat and found out that umm, maybe this man isn't
really Al Nagler 'cause he was wearing a "Dr. Dioptrx" hat! Al later told me that his daughter made the hat for
him - wow I did scrutinize his hat when he wasn't looking and it sure looked like a professionally made hat!
Al was all by himself and Michael from Vixen North America was manning the Vixen booth next to Tele Vue.
I hadn't planned on staying all day but volunteered to stay and help out. It was a great and satisfying experience
for me to be able to "lend my teeny hand", being able to talk to many nice folks who came by to admire, played
with Tele Vue APO refractors, eyepieces, etc., or deciding which "stuff" to buy! Indubitably the Evangelist got
some "preaching" in now and then

while maintaining a low covert profile myself. It was so incredulous to see
Al's energy and enthusiasm, patiently answering everyone's questions. Of course, there were lots of folks like
myself who wanted to shake Al's hand

. Unconsciously

, I made a "suggestion or two"

(or was it
three?) to 'em nice folks wishin' to upgrade their TV-76/TV-85/TV-102/NP-101 or non-Tele Vue 4-inch or
small scopes to look into the lean NP127 fella

, the lightest and one of the smallest 5-inch APO refractor on
the market today.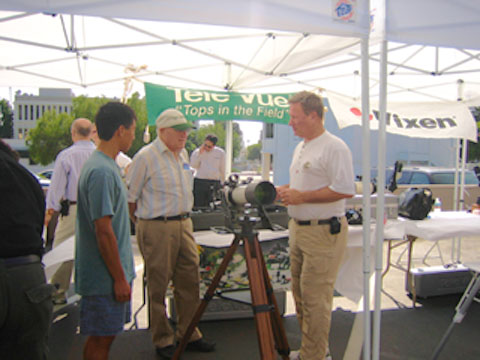 Al and folks with the NP-101 in-between the mob

In between the mob around Al, I managed to sneak in my TV-102 Light Cup for an autograph. This was a very
happy day for my TV-102 Light Cup indeed. I also asked Al to give me his prognosis of the condition of my
TV-102's lens due to extensive use - still passed with flying colors

(and not in the chromatic sense I mean.)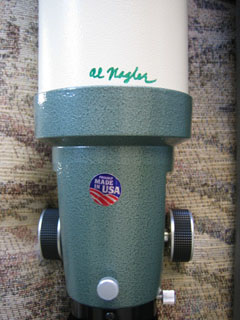 TV-102 Light Cup Autographed
Of course, my new Tele Vue NP127 "Light Cup, Sr."

cannot be left out, especially since this is the telescope
of my lifelong desire, unless Al were to come out with another larger block-bustering, drooling surprise

. My
NP127 became the happiest 5-inch telescope on the planet to have gotten his autograph as well. This refractor
is taking me to new heights of enjoyment. And Al has his own serial no. 1 NP127! Oh, in case you haven't
noticed, I brought a green pen with me

(get it?

) .
A very special thank you, Al, for leaving another essence of you eternally on my Tele Vue refractors.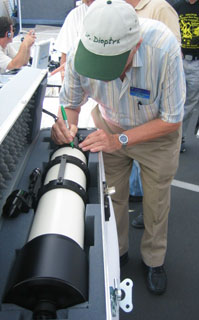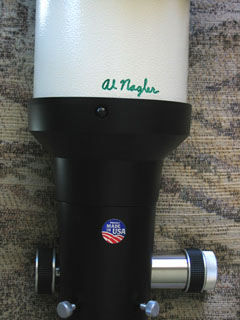 NP127 Light Cup Autographed
As I said Al had an amazing amount of energy. After about three hours of booth duty, my feet were killing
me! Of course, I had to maintain my macho evangelist's image

in his presence and tried very hard not to
sit down

. Would you believe me if I tell you that the only time Al sat down was to have a piece of
pizza for lunch and spent 15 minutes with me to tell me all sort of stories plus some free education on
optics

. It was mind boggling for me to see him going all day and part of the night from 10am - 10pm!
I could barely keep up with Al! Oh, did I tell you I learned from Al why is it that we can see 3-D through
he BinoVue? Ah, ah, ah, but you'll have to ask Al himself for the answer

.
Similarly, Michael from Vixen was almost as resilient as Al but I did manage to catch him sitting down from
time to time

. He's great, fun and extremely knowledgeable fella to talk to. I'm definitely a big fan of the
Vixen mount, esp. the desirable looking Sphnix we were standing next to. Vixen certainly has some very nice
products to show. Oh, I got to play with the new Porta mount, very well executed and great looking - might
just be the mount for me if I ever have to be forced to trade my TV-102 for a TV-76

)
Sometime during the day, I got to try out the new Tele Vue DIOPTRX™. Fortunately, I found out from my Dr.
that I only have 0.25 astigmatism in my right eye

. There was an eye test chart with varying degree of letter
sizes from very large to teeny small at the very bottom. With great relief, I found that the DIOPTRX did improve
slightly on the last line of words so I still have some good number of years in my right eye before I really need the
corrector. Several people with more astigmatism pronounced the corrector did improve on the view with some
"ooo's" and "aah's", and yet a few others who didn't find much difference. I did try a 0.75 DIOPTRX someone
left in the eyepiece which of course was way too much correction for my eye. That was quite an experience like
looking through water while the current is rotating

.
At one point in the day, I was standing beside a small crowd listening to Al's explanation of his Nagler/Petzval
design and the model he used was the NP-101. While he was going over the telescope and we were all
digesting the optical info and mechanical design insight, he stopped at the Starbeam finder and asked if anyone
knew why the finder take on a contour shape right after the concave lens. Some people immediately responded
by saying something about keeping out stray light. Anxious to show-off

my newly acquired knowledge of
optical design, I myself with only 4 Mhz of 4-bit microprocessor was slowly churning on the question, searching
databases, plugging in various numbers to the differential equations derived numerical model. Just as I came
close to the precisely computed technical solution and answer which is something like keeping the stray light
out so that the red dot could be clearly seen

, Al finally explained that the technical reason was, and to quote,
he simply "like the shape"




. Everyone's jaw sort of dropped for about a second and turned into
crackling laughters. I guess Al was reeling us all in really good there

. Surely a grand display of a different
persona of Al Nagler as a professional entertainer

!
At a later time, I overheard someone asking Al why being such an important person at Tele Vue, he would still
"man" the technical support phone at Tele Vue when someone call. His reply really struck on my emotional chord.
He said that he does it because he considers everyone of his customers, to quote, "his family"! Wow, those two
words said a lot. Prior to meeting him, my vision of Al Nagler is sort of like this: a colossal, genius, gifted,
personally detached inventor sitting in a roomy office at Tele Vue with a slide rule, several computers, draftsman's
instruments, CAD, relentlessly producing new designs and optical revolution that turn into innovative products at
Tele Vue. While it is true that Al is a great man and optical genius and businessman extraordinaire, I've now
discovered him to be a sophisticatedly simple man, an awe-inspiringly humble man, and an opened approachable
man

who love to talk to people (Tele Vue customers or not). So with much presumption

, I can now be
bold enough to call myself "Uncle Al's nephew"

, one of his very, many, many nephews, nieces, brothers and
sisters.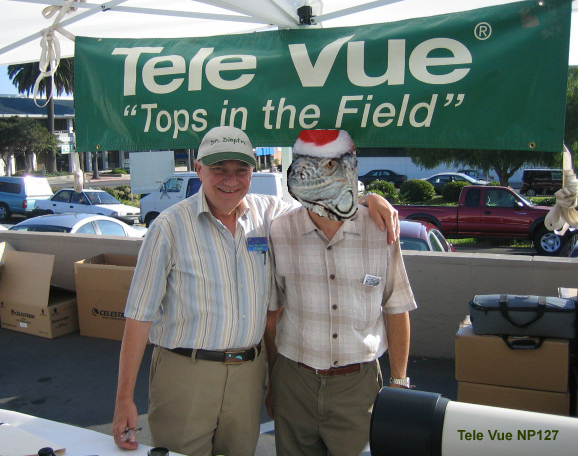 "Uncle Al" and "Nephew Ron"
The day was far too short and passed by far too swiftly

, excluding my feet that is

. Well, I managed to
leave with only 999,995 more questions for Al. OK, maybe 999,990 more questions left 'cause I did squeeze
in a question here and a question there while I was on my swollen feet

.
I hope you enjoyed my day with Al; I sure did tremendously. If you haven't met Al, I hope you will someday
whether you own Tele Vue product or not. But be forewarned. After talking to Al and seeing Tele Vue's
products, you might end up unconsciously going away with buying one or more eyepieces, refractor, etc.

.
I now find myself yearning to see him again in a not too distant future. My next happiest day would be to meet
up with his son David Nagler some day; he was the very first Nagler I spoke with on the phone when I was
inquiring about the TV-102 and instrumental in my fateful meeting with my Light Cup! Finally, it is my fondest
wish for continuing success of Tele Vue and to thank Al, David and the "T-Team" (i.e. Tele Vue Team) for all
of the products and many new products to come which help me and many others enjoy this great amateur astro-
nomy hobby today. And so the next time you call Tele Vue, Al might be the person on the other line

!
Ron the 4-inch/5-inch Tall Evangelist B[ee]
ronbee@yahoo.com


---
To learn more about Al Nagler, please refer to the following articles:
Al Nagler
An Eye to the Stars
Tele Vue Optics
Article: My Day with Al Nagler