CNers have asked about a donation box for Cloudy Nights over the years, so here you go. Donation is not required by any means, so please enjoy your stay.


0
A Super Altazimuth Mount
Discuss this article in our forums
Pictured is Leonard Higgins with the altazimuth mount he built for my two scopes. Leonard is a longtime friend and a member of our small group that started thirty-three years ago. He designed and built the entire mount in his garage shop. Leonard, who has won several merit awards at Riverside Telescope Makers Convention, offered to build me the mount a little over a year ago. I gave him several ideas as to what I thought would be necessary to support the weight of the two scopes, but what he built surpassed my expectations. He cut the gears and fabricated the brass worms for the slow motion controls on both axis, he designed the clutch mechanisms, and even built a device to roll the metal that covers the gears. Incorporated are stainless steel shafts, needle and tapered roller bearings and a way to align the scopes exactly. The scope on the left is a 5" fluorite doublet in a carbon fiber tube. I got the objective twenty of so years ago from Japan ( I don't know who the manufacture is). On the right is a Takahashi Mewlon 250. The laser pointer is inter-changeable with the Telrad. The tripod is a Quick-set Hercules that raises and lower via the crank a 150 lbs. payload. The mount is very easy to use, very stable at high power , and offers the joy of observing the same object (different fields of view) with someone else. Because the head can be raised or lowered the viewing position is always comfortable, even viewing object directly overhead or close to the horizon.
One of the blessings of this hobby are the friends we make along the way...thank you Leonard.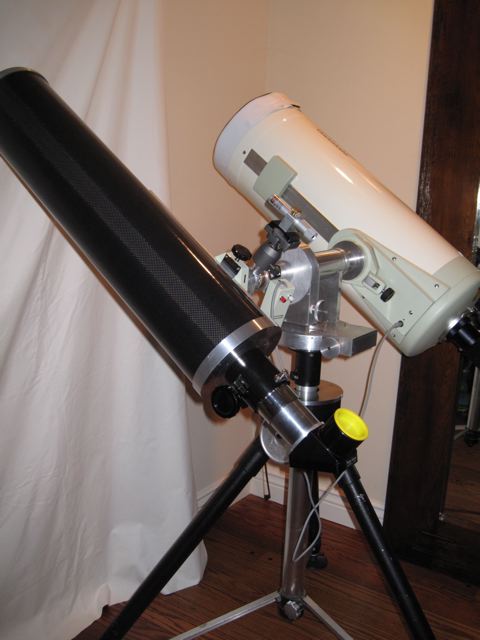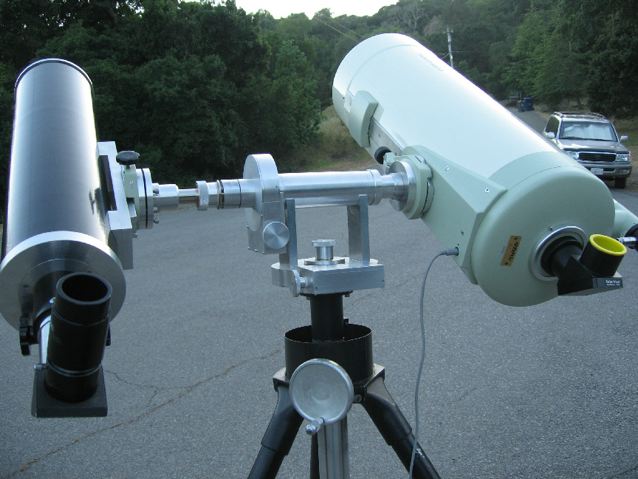 Article: A Super Altazimuth Mount