CNers have asked about a donation box for Cloudy Nights over the years, so here you go. Donation is not required by any means, so please enjoy your stay.


0
Broke Back Solutions
Discuss this article in our forums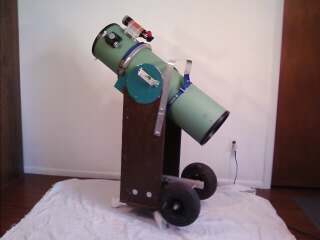 I'm old, weak and broken. The hi-quality small refractors that I can manage are nice, but what I really want is a big 10". Here is my solution to easy portability. You know how you can move large appliances with a two wheel handcart? The structure of a dobsonian telescope is perfect for building a handcart onto it. My little 8" f/4.5 has the cheapest, easiest additions. 2"X2" wood struts bolted near bottom of box. Make sure wheels are clear of ground about 3". 1/2" all thread rod for an axle. Two air up wheels for a cushioned rollout even up and down steps and you will not jar mirrors out of alignment. Handle bent up from 4' long flat aluminum and bolted to upper rear box, angled slightly so tube can still point straight up. After knee surgery and hanging onto a crutch, I could still roll this telescope outside. You don't have to settle for a tiny light weight scope. You can see so much more with a bigger, average quality, lower price reflector. Easy portability means you will use a large telescope more often and well into old age. currently in tucson , 40 yrs of astro play and have 23 telescopes 2" to 14" .
Edward Swaim, Roger Corbett and happylimpet like this
Article: Broke Back Solutions