CNers have asked about a donation box for Cloudy Nights over the years, so here you go. Donation is not required by any means, so please enjoy your stay.


0
The South Cave Collimator System
Discuss this article in our forums
The South Cave Collimator System
The taming of the Newtonian Secondary Mirror
Challenging the Best Refractors
DISCLAIMER: CN is an amateur review site therefore articles from vendors can not be accepted for publication. Articles submitted and published before a person became a vendor will be allowed to stay although Cloudy Nights reserves the right to remove any publications. Please note that CN does not endorse the products listed below.
Introduction
The story starts back in April 2006 when the black plastic front cover of my 8" Wise Newtonian telescope had developed a crack, so I moulded a new one over the telescope in glass fibre matting. On 9th October 2008, I began using a new secondary mirror that I had fitted because I had damaged the previous one having applied wrong corrections for rotation, which had become apparent during travelling.
On the night of 27-28th November 2008, I set out to observe double star STT 155 positioned 1/2? south east of ? Geminorium. I increased the magnification to 360 x to reveal the mag. 10.2 red 'B' star and was surprised that I was seeing a triple. The magnitude 7.3 'A' component had a fainter companion with a measured separation of 2.5" to 2.8". I had made a discovery!
Two nights later this seemed to be confirmed, but it wasn't there on 1-2nd December 2008 or again on the 6-7 December 2008. I re-collimated using a laser collimator but the star didn't appear again. It was a 'birdie' with its wings folded.
Shunting the secondary between then and 19th April 2009 gave great improvement, in terms of shape, but was never permanent, so I began to think of the crosshairs in sight tubes and Cheshire Eyepieces for a gunsight. I am no shooter, but gunsights on a barrel only 6" long? These can't be much better than a collimated laser. Then on 17-18th May 2009 I recorded, 'Odd, but results far better by aligning a simple peephole with crosshairs pencilled on the fibreglass front cover!
There had been a spell when the 114mm Bresser Newtonian telescope was performing better at 3 to 6 arcsec separation. Then with its own Collimating Front Cover it too benefited from my invention by showing the bright binary Castor very distinctly separated.
23-24th June 2009 I'd recorded, '? Ophiuchus no ovals. Little primary adjustment straight from storage!' At last, no more all night collimating. It had certainly been like that in variable cloud.
24-25th July2009. ? Delphini 0.6" separation split quite well at 300 x. In the 8 inch Newtonian, now 99.9% OK.
12-13th September 2009 in A2 seeing and limiting magnitude 5.6 on 72 Pegasi, first definite split of this attractive orange close binary of 5, 5.4 and separation 0.53". Dawes Limit 0.58".
8-9th October 2009, I rotated the 4 ½" Bresser's secondary by 0.7? and produced a very one sided out of focus star at 250 x. See Figure 4. On reducing the rotation alignment error to 0, ? Pegasi became very concentric.
24-25th October 2009. STF 449, mags.8.3 and 11 by 6.3 arc " apart. Beyond the limit now as regards confirming separation with a reticle eyepiece, but I was still able to estimate agreement with the WDS List and look forward to challenging the best refractors.
28th October 2009 at 1000 hrs. Sunspot return occurred observing through the Bresser in the form of a large black tadpole with a distinct curly long broken tail. Such detail on the Sun I have never seen before.
A New Beginning with my invention
The method and invention described here, ends secondary mirror collimating difficulties for amateurs at last. You simply look through the special peephole at the reflection of its perimeter, the primary mirror centre doughnut and the crosshairs of the translucent Collimating Front Cover. Then if their centres are displaced sideways, rotate the secondary mirror until the primary doughnut and peephole are on the vertical axis.
The slightest rotation of the mirror is detrimental to the fields of view and magnifications that have become affordable. Slewing it unawares with adjuster bolts 2 and 3, Figure 2A, never quite gets rid of any oval slightly de-focussed stars and birdies. I found myself reporting a false new close binary and becoming not able to split double stars to their Dawes Limit and lunar resolution half of what it could be. On 17-18th May 2009, I stumbled on the solution described.
Figures 2 and 2A show the secondary mirror out of gunsight alignment and you can see it is corrected solely by rotation of its whole body and that it is definitely secondary mirror error [1].
The Collimating Front Cover, Figure 1, in the full South Cave Collimator System, is for correcting error [1] only. When used in conjunction with the other two aids described above, alignment is seen much more easily and errors highlighted. Time then spent on slewing, elevating and shunting the secondary mirror is reduced because there's no trying this or that, nor repetition once it's done spoiling every observing night trying to eliminate 1" to 3" of arc deformities.
It is the end of trawling for advice and spoilt observing sessions because of having suffered from:
(a) A centre mark on the primary mirror analogous to a foremost gunsight being only halfway along a gun barrel.
(
The secondary mirror being near the front of the main tube can be used to eyeball concentricity with the perimeters of the tubes and primary mirror reflections. However, this method is no longer good enough except for trial and error specialists and professional experience. The word to live is rotation, rotation, more than concentricity of perimeters.
© Metal devices short enough to fit in the focus tube got going when black was the only durable colour in plastics. They can be as worthwhile an expenditure at high magnification as barking mad dogs and Maskelyne's lunars were for obtaining longitude at sea. The problems I've had with a very well collimated laser collimator, seen by a patent attorney, seem confirmed by patent application US2007/0263284 A1 of Nov. 15 2007 which attempts to save that accessory.
I'd simply made a fibre glass front cover over the rim 3 years ago to replace a black plastic one
that had cracked. Now it has a reticule consisting of two black fine lines crossing at right angles. These turn it into the third gunsight and ensure accurate collimation of the first of the four errors of the secondary mirror, superior to anything betwixt it and the eye. For existing telescopes, translucent white plastic panel can be cut to fit within the front rim.
When accurately aligned on the primary axes, fine spider wires are useful with a dull daylight sky. A white plastic circular breadboard is capable of from having some merit for this purpose to nothing better than. And they go in and out of fashion.
Into the focus tube at the other end goes a translucent film canister with a peephole drilled through the centre with new drill bits, starting with the smallest, enlarging only until you can see through it properly towards the primary. Probably only those with a depressed centre will do.
Outlining the peephole with Anita's red glass paint removes any blandness of the reflection and highlights against black. The 12mm coloured decoration tape is mainly for stopping the canister dropping through. Good placing lets more light in. This component isn't new so far.
Painting a black cursor line from centre to edge on the inside face is, and indicates whereabouts of the red perimeter if the primary centre doughnut covers it. Curse and correct if you can line it up with only one of the other two alignment aids. It comes from radar plotting screens.
For the greatest accuracy it is usually best that bland paper ring re-inforcers on the primary mirror be down graded to masking tape for a centre marking doughnut to be inscribed with a 21st century Tipex pen. On the inside perimeter for 1200mm f. length and shorter, probably on the outside for longer fl. instruments. When nearly dry remove the masking ring. A rough free edge is too far away to be seen, and won't arise for longer tubes if you Tipex the paper ring instead.
For the view through the peephole to be like Fig.3, remove any central blob with a plastic s****er, tested water rinseable solvent if necessary on a cotton bud. White Tipex is changed into contrasting black by the multiple reflections of the parallel reflecting mirror surfaces when collimated, just like an Easy Tester - a metal peephole cap with its inner face highly polished.
Figure 2 shows the unmagnified alignment achieved by rotation only on the 8" Wise-Newtonian after using a combination of Mk.1 eyeballing of perimeters, a plumb line, protractor and spirit level use and a laser collimator beam reflecting straight back up itself, to be 2 mm adrift.
Rotation is easy were a disc on a rod rotates the secondary mirror. Secondly, if the front basket or main tube bolt holes aren't oval, you can file them into shape. The 3rd choice is to loosen the centre bolt half a turn, grasp the secondary and turn it. For Newtonian telescopes fitted with a front corrector glass, ring keys can be made from two drill bit ends and hardwood. Oval holes are far easier with a decent instrument but no rod, which includes cheaper ones if the manufacturer has been around for many years, selling through retail astronomy shops.
Figure 3 shows the alignment achieved after correcting error [1]. Unmagnified it looks spot on and is very nice to see, but needs to be only somewhere on the vertical axis at this stage.
Now it is worth correcting the 3 remaining errors using a slightly defocused 2nd to 3rd magnitude
star at a magnification of at least 120 x. You usually need to ease the centre bolt ¼ turn then slew, using absolutely the right screwdriver bit or Allen key, then remove:
[2] Any lop side oval appearance by slewing with adjuster bolts 2 and 3. Shunting hard out to the mounting plate first, then easing back very equally can make quick work of this stage.
[3] Vertical or horizontal ovals by elevating or depressing mainly with bolt 1 and central.
[4] Shunt in or out if [3] just causes flipping or only reduces any remaining ovals to 'splashy'.
Proceed to primary mirror adjustment using a star at 200 to 450 x to complete collimation. This occurs only when the concentricity of de-focussed rings appearance is maintained all the way in to focus by fine adjustment of the primary bolts that achieve this.
Full optical alignment has been achieved. With reflectors shorter than f 6 there should be a slight displacement between the peephole reflection and primary marker along the vertical axis.
Please see the tabular Figure 4 for results with several telescopes.
Conclusions
South Cave Collimator System ends secondary mirror collimating difficulties unless defamatory adjectives still describe the slightly defocused star. Try shunting the primary boldly and if ineffective inform the dealer.
Five months into the invention and borrowing a friend's Cheshire Eyepiece and sight tube combination, I found it works in the same manner but no better. In its instructions I came across rotation only for the second time in 5 years of using Newtonians only in the last 6 months. Funny, but the manufacturer, Celestron, doesn't mention rotation in their instructions for recent Newtonian telescopes. They state a hope that what is said will suffice. All set to change to the translucent CFC and include the special peephole!
At f 6 the Cheshire shows an offset of 0.5mm as clearly as through my invention, but at f 4.4 its peephole surround, primary doughnut and cross hairs combine into one large unclear black blob. With my £2 invention, and for a new telescope next to nothing, clarity of each of the parts is fully maintained at f 4.4. Difficulty with collimating 'fast' 'scopes had been news to me until the day of the Cheshire. I reckon it's fixing methods and weight and inertia of secondary mirrors more than f ratios that are in charge here. Very useful to have around is a bottle of Capt. Tolly's Creeping Crack Cure, but don't use sufficient to make things airtight.
Manufacturers using front glass corrector optics can consider reducing the area of material used for clamping glass firmly. However, because error [1] can be so easily forgotten about and in order for this suggestion to be a good move, I recommend instructions for the use of both be kept to correcting for rotation to highlight the wisdom of regular checks to avoid, ' Surprise, surprise.' Exception to rule is when separation on the vertical axis looks much more than you are likely to end up with for any offset needed which correction [4] applies automatically.
Why persist with bench methods when sub arc second collimating with a star can be achieved more easily than by methods that after error [1] are no advance on Newton and there's no need? The benefit of magnification is more accessible now, so use it. Get ready around sunset with a
Planisphere and select a star. Estimate the altitude and azimuth then start aiming before seeing.
Correcting error [1] without the Collimating Front Cover may look good enough. But optical illusion is a risk and may result in correcting error [2] still with up to 1 mm of error to be made to do with by corkscrewing with bolts 2 and 3. And going by the results from just 2 mm adrift, it is well worth making the cover or having a translucent white inset mask cut at a plastics fabrications works for £2 using a jig saw blade for wood. Remember the false binary.
If I were to try doing without one of the three components it would be the primary marker, but for assurance, I cannot imagine anyone not eventually putting one on as prescribed.
Laying the telescope along the car with the focus tube vertical can stop rotation whilst travelling, as can smooth revolving on equatorial mounts. Advantage dismantled Dobsonians.
On arrival, or at any collimation check, an Easy Tester is the tool of choice especially if there's a grub screw for fine adjustment of the eyepiece clamp. I have a spare one going for £20. These last twelve months are about to become financially worthwhile!
© Peter R. Clark 12.10.2009
Sorted in England. Withdrawn patent application advertised
Ardath,
Ellerker Lane,
South Cave HU15 2DZ
East Yorks, England.
Tel. 01430-422460
Figure 1. The Collimating Front Cover for new telescopes, or as an inset Mask for existing ones.
Figure 2. Primary centre doughnut displaced to the right at f 6 and 1200 mm.
Figure 2A. Reason for the sideways displacement and the arrow showing the way to correct it.
Figure 3. Alignment of the three gunsight like aids after rotation indicated by Figure 2A.
Figure 4. Radial representation of gunsight error.
Figure 5. More Figure 2's and 3's, including the one for f 4.4 and 500 mm.
Table 1. Log table list recording the system checking several telescopes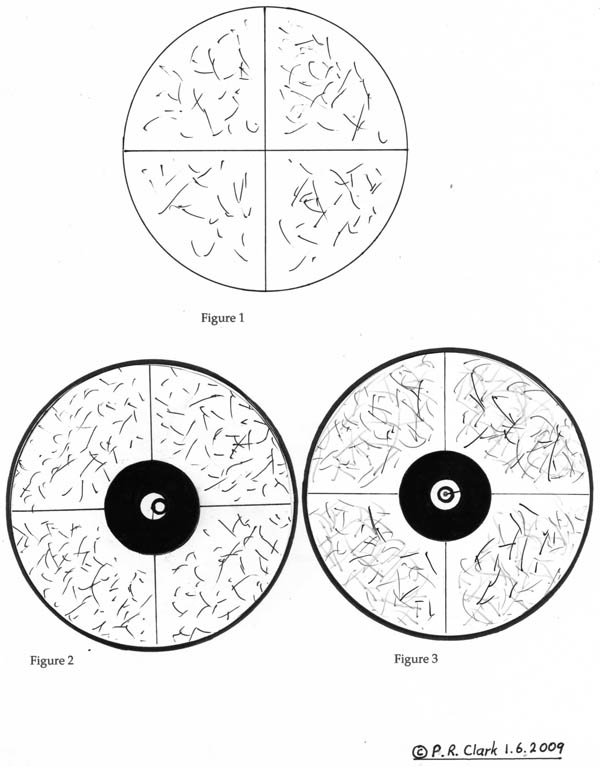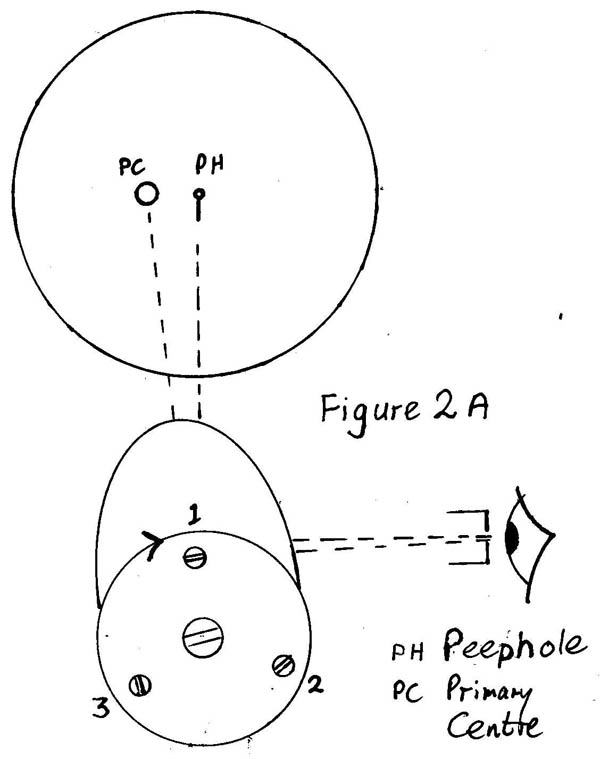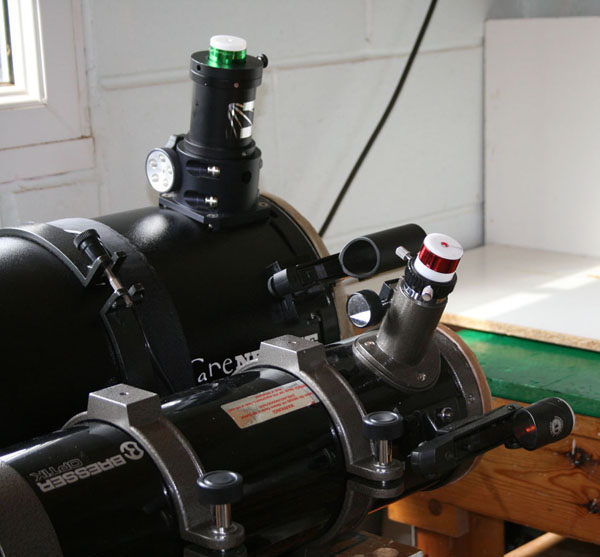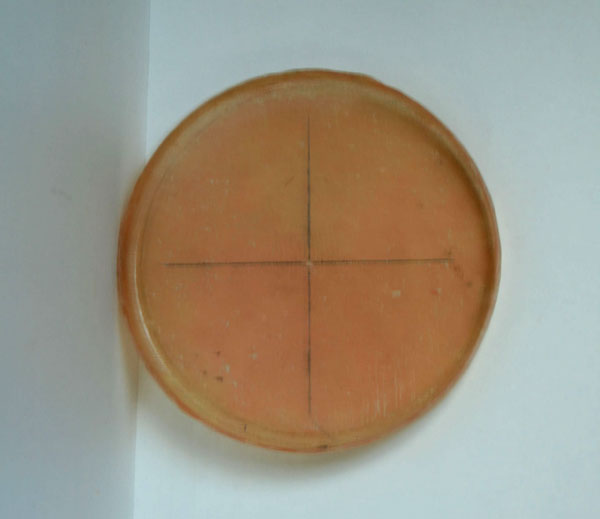 Table 1. Logbook of several telescopes checked with the invention.

Telescope

PH-PC [mm]

o [mm]

θ [°]

Comments whilst oblivious to rotation

Comments after error 1 and all errors corrected

Dawes limit and limiting magnitude

8" Wise-Newtonian f/6 †

2

2

0.7

Ovals, distinct false binary at 2 ½"

ß Delphi 0.6" split. 72 Peg 0.53" split. Confirm ALI not 952 o

0.58"

5

5.6

5.0

4 ½" Bresser 'Pluto' f/4.4 †

 

3

2 ½

Flaring of ξ Cephei 'A'. 'B' OK.

4.5 6.4 7.9"

Clear distinct o * in fine field

1.01"

5

5.5

0.7

½

De-focused one-sided rings

Very concentric and sweet

5

12" Dobsonian f/6

10

 

 

Large stars splashy. Splitting OK. Round Airys

Shunting was the solution

0.38

20" Dobsonian f/4.1

12

 

 

Some coma

 

0.23

10" Newtonian

0

0

0

No problems f/5 †

Owner's claims agreed

0.45"

4 ¼" Astroscan †

0

0

0

No problems f/4

Surprisingly good

1.1"

8" gifted f/6 Noewtonian

0

0

0

Birdies, pulsars double images. Optrons.com

Return to dealer. Worse

0.6"

† = CFC on or improvised
PH-PC is the Peephole to primary separation
References:
'New Perspectives on Collimation', p. 1-16, instrument preparation. From the BAA.
'Collimation and the Newtonian,' Pensack. www, is straight into rotation emphasis.
Norton's Star Atlas 2004, p.38 is very clear on shunting.
'Testing Optics'. www Cloudy Nights. For determination.
Photos:
1. Set up for checking rotation showing the special peephole caps and front covers.
2. The Collimating Front Cover made for the Bresser telescope.
Article: The South Cave Collimator System