CNers have asked about a donation box for Cloudy Nights over the years, so here you go. Donation is not required by any means, so please enjoy your stay.


0
William Optics Star 71 Astrograph First Impressions
Discuss this article in our forums
William Optics Star 71 Astrograph First Impressions
I am an experienced observer, (40 years), based in Southern California. I have owned / built a variety of telescopes from a 60mm Sears refractor to an 18" Truss Dobsonian. I have been involved in astrophotography for about 20 years. From my home near LAX, lunar and planetary photography is possible. For the last 10 years I have owned a small home in the Sierra foothills northeast of Bakersfield, CA. I use a variety of instruments for astrophotography, but find I am drawn to wide fields that put deep sky objects in perspective.
I have been for several years using a WO 80mm F/6.9 refractor for astrophotography. I was very pleased with the telescope, but desired a larger field. I considered a 300mm telephoto, but in the end I decided to give up the 80mm for the very fast and wide field of the Star 71.
I took delivery of the telescope in early June and have tested it from my home 3 miles south of LAX.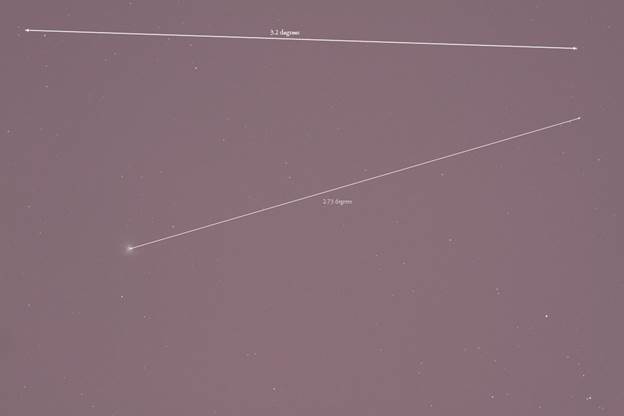 This is the field around M13, a one minute unguided exposure. The field is well over 3 degrees and flat, with even illumination on the Canon XSi sensor. The nearly full moon was used in this composite shot to show the FOV: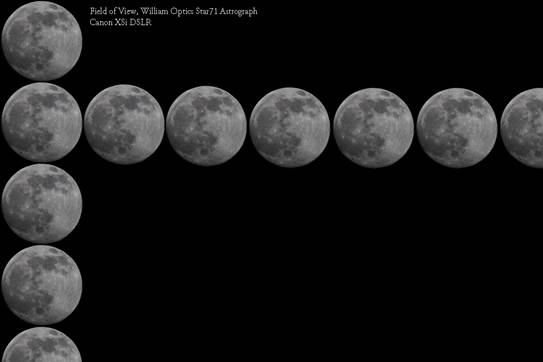 The telescope looks beautiful, typical of William Optics, and built like a tank. My only issue, (which isn't an issue), is that I have to mount the telescope upside down to accommodate the focuser wheels on my Losmandy G11 mount.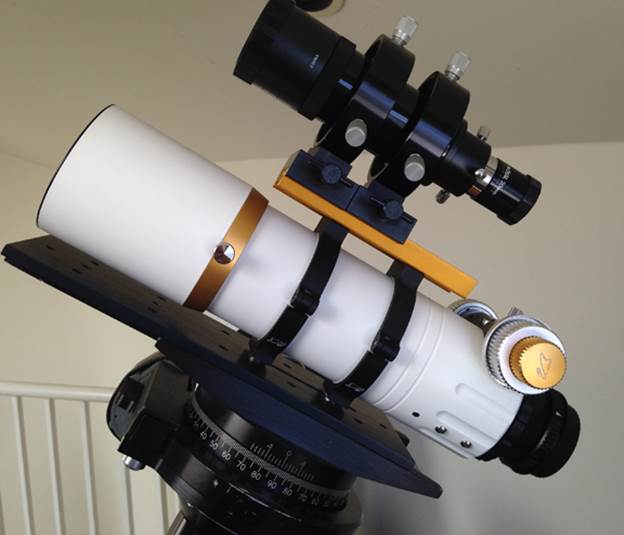 My first impression is excellent. The WO Star 71 has a wide, well illuminated, flat field of view, exactly what I was looking for. The camera attaches directly to the focuser and only needs to be racked out about 15mm, no long imaging train to introduce flexure. This comes at a cost however, normal 1.25" accessories will not attach, a specially designed diagonal is optional and necessary for use visually. The limited focuser travel will not accommodate 2" accessories.
I will have it out under dark skies next week, one of my first targets will be the Veil nebula. With careful composing, I can fit the entire Veil in the FOV.
Ralph Ford
Redondo Beach, CA
Article: William Optics Star 71 Astrograph First Impressions