CNers have asked about a donation box for Cloudy Nights over the years, so here you go. Donation is not required by any means, so please enjoy your stay.


8
The Best Telephoto Lenses for Astrophotography
Jun 27 2015 04:15 PM | rekokich in
Articles
Discuss this article in our forums
The Best Telephoto Lenses for Astrophotography
Rudy E. Kokich
Over the last ten to fifteen years excellent apochromatic telescopes have become available for visual use and photography. Along with improvements in telescope mounts, camera technology, filters, and digital image processing, these have allowed amateurs to produce astrophotographs of nearly professional quality.
However, these APOs have a couple of drawbacks. One is the price, which starts around $800 for the smallest units, and rapidly climbs into thousands of dollars for larger apertures. Another drawback is the focal length. Most of these APOs have F ratios around 6.5, and are unable to comprehend in their field of view large celestial objects such as the Andromeda galaxy, the North America nebula, and comets. Some APOs can be fitted with pricey telecompressors, but those invariably result in vignetting and coma.
Especially for beginning astrophotographers, who should first invest most of their finances into a good telescope mount, telephoto lenses are an excellent and affordable solution. 135mm and 200mm lenses are suitable for wide angle star-field views, and comet and asteroid hunting, while 300mm lenses serve very well for the Andromeda galaxy, large emission nebulae, open clusters, and even larger globular clusters. Aside from being much more affordable, telephoto lenses are easier to transport, easier to mount and easier to guide, and are much more likely to produce encouraging results to a beginner.
Over the years, I have tried more than two dozen telephoto lenses, until I finally found three or four perfect solutions. But first, there are several general rules which must be understood.
Zoom lenses are entirely unsuitable for astrophotography due to prominent aberrations of every kind. They are by nature designed to compromise by magnification and distance, and are therefore not optically optimized at any single setting.
Because of chromatic aberration, no telephoto lens can be used at full aperture. The best ones listed below serve well with a one stop reduction, and some require two or even three stops.
Reducing aperture with the built-in aperture iris interferes with the light path, and results in eight diffraction spikes around bright star images. Some people like these, and consider them decorative. I do not presume to further decorate the universe, and perceive them for what they are: interference. I therefore reduce the aperture at the front end of the lens (as an aperture stop) by screwing in a series of step-down rings into the filter thread. These are affordably available on eBay, and result in perfectly round star images, the way nature intended them to be.
There is some controversy about the use of UV filters, but I found that a good UV filter significantly improves contrast, sharpens small star images, and reduces chromatic aberration. By far the best one is the Tiffen Haze 2 filter. Unfortunately it is not manufactured in a multicoated version, and produces prominent internal reflection artifacts on very bright stars. Nevertheless, it performs excellently on most star fields, and is too cheap not to acquire. The second best, is the Hoya Pro One Digital MC UV(0) filter. I use it routinely in preference to many other multicoated filters I tested, including the new Hoya MC UV©.
All lenses mentioned below are adaptable to Canon EOS cameras with slim EOS adapters which allow the lenses to focus just slightly past infinity. Focusing should be done on moderately bright stars using the 10x magnified Live View. Because of some residual chromatic aberration even with the aperture stop, the best focus lies not where the star image is the smallest, but rather just slightly away from infinity, at the point where the star image barely begins to enlarge. This way the focus will favor the red light which is more objectionable within a star image than a bit of blue.
No telephoto lens can be used with cameras modified by the removal of the internal UV/IR cut filter and anti-aliasing filter. Such "full spectrum" cameras are somewhat more sensitive in the ultraviolet, but much more sensitive in the deep red and infrared. No telephoto lens, and no apochromat, is sufficiently corrected to accomodate such a wide spectral range. Whereas quality apochromats can be corrected with broad band filters, such as the Astronomik UV/IR cut filter or the CLS-CCD filter, telephoto lenses can not. However, they can be perfectly corrected with narrow band H-alpha or OIII filters.
Finally, to prevent image shift during exposure, all telephoto lenses must be supported at two points: at the camera end, and at the far end with a large retaining ring. To prevent damage to the lens finish, apply nylon acorn nuts (or cap nuts) to the tips of the retaining ring's three alignment screws. The screws should be set sufficiently tightly to prevent shift, yet not so tightly as to interfere with fine focusing.
It may be superfluous to add, but it can't do any harm, that in astrophotography all shutter control must be done with a wired or wireless electrical shutter release swith. Touching the telescope, even ever so slightly, will introduce vibrations which will ruin the photograph. Also, accurate guiding is essential. If the telescope mount is precisely aligned to the celestial north pole, unguided exposures of one to two minutes are possible. A series of such images can be digitally stacked to produce excellent results. However, I find the process tedious, and prefer single, manually guided, long exposures which seem to have deeper colors. My guidescope is a 5in F5 Jaeger's achromat with a 2.3x Barlow, and a 9mm illuminated reticle eyepiece. This gives me the power of 162x, which is barely sufficient for my 420mm fl APO astrograph at full camera resolution. Extrapolating from this, minimum recommended guidescope power is 120x for the 300mm telephoto, 80x for the 200mm, and 55x for the 135mm.
The first telephoto lens of choice, especially recommended for beginners, is the 135mm F2.5 SMC Pentax. This lens has the Pentax K bayonet mount, and requires the K-EOS adapter for attachment to Canon EOS cameras. When the aperture is stopped down to 37mm using step-down filter rings, this lens produces incredibly tiny pinpoint star images from edge to edge. In this configuration, the lens is still a very fast F3.4. The lens is available on eBay for around $200. It must not be confused with the much cheaper SMC Takumar, often deceptively advertised as SMC Pentax Takumar, which has the M42 camera thread, and is plagued with unextinguishable blue chromatic aberration.
The best 200mm lens is precisely the older 200mm F4 SMC Takumar, which comes with the M42 camera thread, and requires the M42-EOS adapter. When stopped down to 37mm, at F5.4, it also produces perfect, small and round star images across the entire field. It has just a hint of chromatic aberration on very bright stars and, if highly enlarged by 400-800%, the stars in the very corners barely begin to show a touch of astigmatism. These lenses can be had on eBay in mint condition for around $70, and are probably the most price efficient optical instrument in the world. Take care not to confuse this lens with the 200mm F4 SMC Takumar 6x7 which has a different optical configuration, and which I have never tested. Also, the newer and much more expensive 200mm F4 SMC Pentax with the K mount is decisively inferior, showing small but annoying red chromatic aberration.
The next 200mm lens of excellent quality is the 200mm F4 Nikkor F which requires the Nikon F to EOS adapter. When stopped down to 37mm, F5.4, it is almost identical to the Takumar except that on highly enlarged images it shows a hint of coma in the distant corners. In excellent condition, this lens retails for around $200. Selecting between it and the 200mm Takumar was not an easy choice but, in the end, I chose the Takumar because it seemed to have slightly better contrast.
The one and only 300mm lens I tested is the Zeiss Tele-Tessar 300mm F4. There was no reason to test any other because, when stopped down to 49mm, F6.1, this lens is simply perfect, comparable to any APO on the market. It has no chromatic aberration, and no hint of star deformities in the corners. It requires the Contax-EOS adapter for attachment to the camera. I bought my lens in mint condition for $350 from Japan, but I see that some retailers are asking significantly more. This lens has only two drawbacks. One is its size and weight, which requires a sturdy support on the telescope. The other one is the inevitable and persistent regret that, because of chromatic aberration, the full 75mm aperture of this beautiful lens can not be used in full visible spectrum photography. However, I am convinced that its large aperture and fast F ratio would perform exceptionally well in three color or narrow band H-alpha and OIII photography.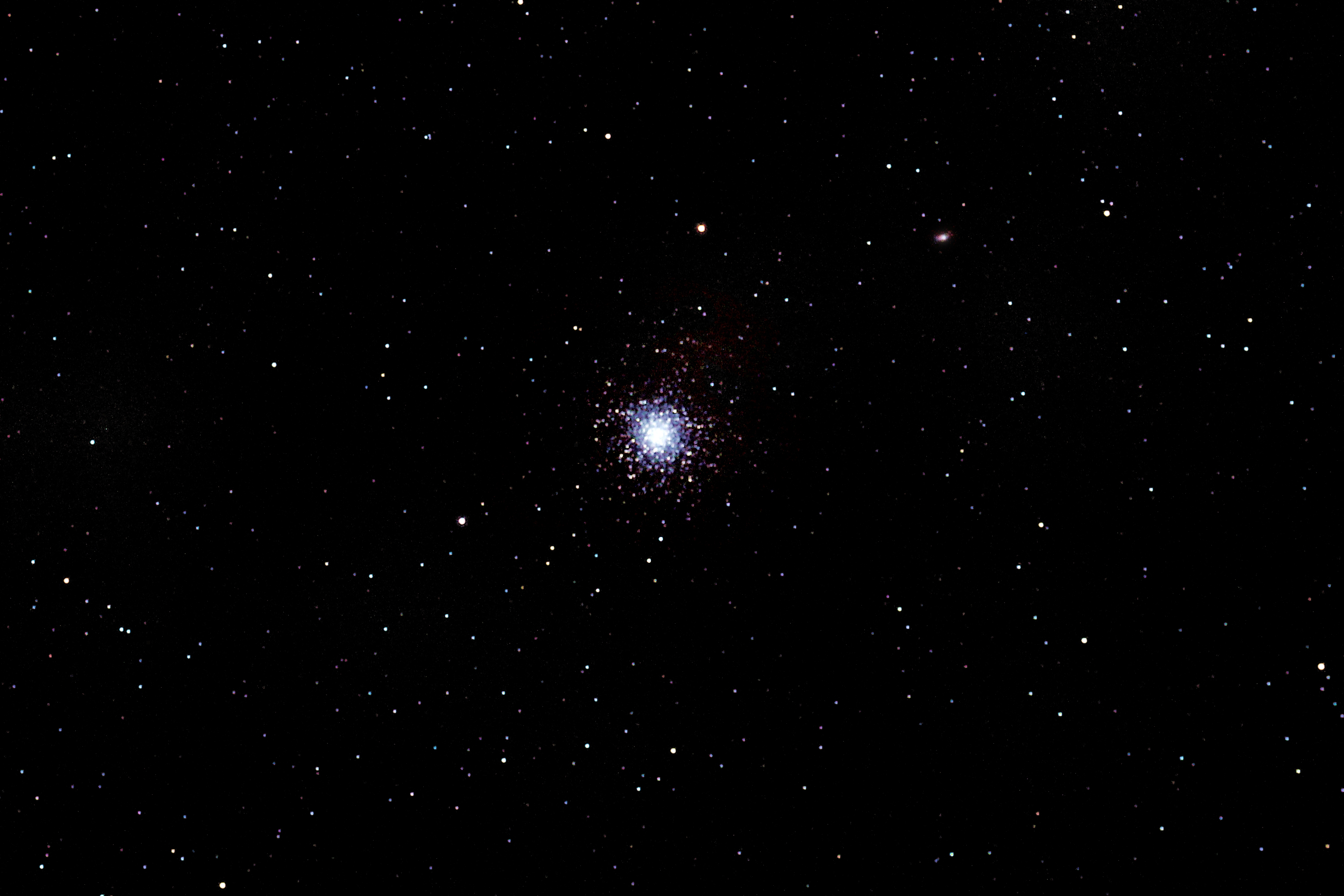 M13, Hercules, Zeiss 49-300mm, exp 163 seconds, iso 800, Hoya MC UV(0) filter. Note the small galaxy NGC 6207 in
the 2 o'clock position from the great cluster. (Click the image to load full-sized version.)
ChipAtNight, Fox1971, macaddict and 6 others like this
Article: The Best Telephoto Lenses for Astrophotography