CNers have asked about a donation box for Cloudy Nights over the years, so here you go. Donation is not required by any means, so please enjoy your stay.


10
The Discoveries of Galileo – Part 1: Jupiter
Jan 01 2021 07:00 AM | E-Ray in
Articles
Discuss this article in our forums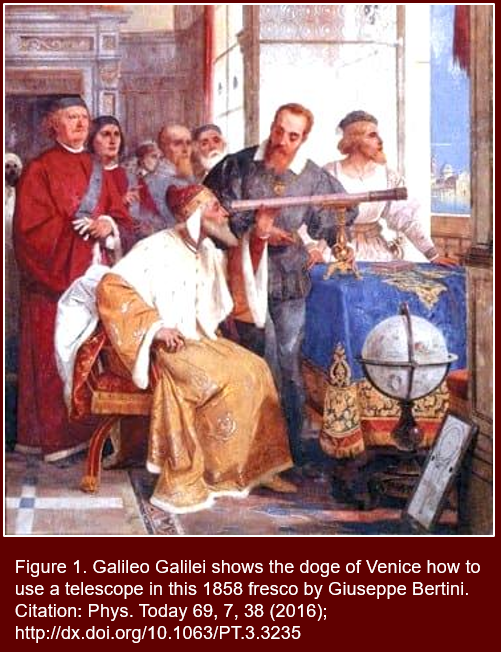 The Discoveries of Galileo – Part 1: Jupiter
Ed LaBelle, Psalm 19 Astronomy
We amateur astronomers should all be familiar with who Galileo di Vincenzo Bonaulti de Galilei aka Galileo Galilei (1564-1642) was. He has been called the father of observational astronomy. I happened upon a book the Austin Public Library, Discoveries and Opinions of Galileo, first published in 1957 by Stillman Drake and I was fascinated by the writings of Galileo. Drake was a Canadian historian of science best known for his complete works on Galileo. In this book Drake has translated many of Galileo's letters and other publications. In the 1600's the language of the educated class was Latin. Galileo was a revolutionary in that he wrote about his philosophical i.e. scientific observations in Latin and in the local Italian dialect. He wanted the masses to read his writings, not just the elite educated class!
The painting in figure 1 by Giuseppe Bertini shows Galileo courting the reigning Medicini family of Florence for financial support. He was employed as the tutor of mathematics to one son, Cosimo II, in the summer of 1605. Five years later the young Cosimo would become the Grand Duke of Tuscany. It is believed that the Duke, after looking through the telescope, rewarded Galileo by appointing him as the chief mathematician and philosopher of Tuscany.
Galileo first heard of an invention out of Holland in the year 1608 called a "spyglass" that magnified distant objects. The invention of the spyglass is attributed to Hans Lipperhey who was a spectacle maker. He developed one of the first refracting telescopes "for seeing things far away as if they were nearby." Lipperhy's spyglass could magnify distant objects to about 3-4x.
Galileo wrote, "About ten months ago a report reached my ears that a certain Fleming had constructed a spyglass by means of which visible objects, though very distant from the eye of the observer, were distinctly seen as if nearby." So, Galileo used his talents to make his own spyglass in the summer of 1609.
Figure 2 shows a replica of one of his first spyglasses. It's about 39" long (980mm) with a tube diameter of about 1.5" (37mm) and it gave him a magnification of ~ 20x.
Galileo pointed his spyglass to the night sky and was one of the first humans to see the beauty and majesty of God's creation up close. Galileo made both simple and detailed drawings of his celestial observations depending on how the resolution he could see in his spyglass.
I want the focus on this article to be Galileo's observation of that wandering star known to everyone in the 17th century and today as Jupiter. And I want to compare Galileo's nightly drawings of that celestial object to today's advanced night sky astronomy software.
On a clear, cold night in January 1610 Galileo turned his spyglass toward a bright wandering star. Until this point in human history people didn't know that the five visible "wandering stars" were planets and not stars. This image from the Let There Be Night website (figure 3) gives an approximate idea of the magnification and a narrow field of view of what Jupiter may have looked like to Galileo. But even with that narrow view Galileo was able to note some "stars" next to Jupiter. Galileo of course was astonished! He wrote,
"But what exceeds all wonders, I have discovered four new planets and observed their proper and particular motions, different among themselves and from the motions of all the other stars; and these new planets move about another very large star [Jupiter] like Venus and Mercury, and perchance the other known planets, move about the Sun."
Imagine you were in Galileo's shoes four hundred and ten years ago and you would probably think the tiny points of light around the bright planet were stars too! Galileo noticed that the smaller companion stars changed position from night to night. He made detailed sketches of Jupiter and its "stars" from January 7 to January 15, 1609 (figure 4, left panel). I used Stellarium astronomy software to validate the position of Jupiter's moons on the same dates as his observations (figure 4, right panel).
Note his first drawing on January 7, 1610 in figure 4. See the position of the "stars" he drew and compare them to the Stellarium software. I have put a "J" over the planet Jupiter in both images. I am amazed at how well the algorithms from the Stellarium software can reach back into time and match up with the first drawings of Jupiter magnified through a telescope!
Galileo drew the position of the "stars" on seven nights to track their movement. You can see the movement of the companion stars in the software and compare them to his drawings. Note that because of the limited magnification of the optics of Galileo's primitive lenses that he sometimes could not resolve an individual "star" if it was too close to another star or Jupiter i.e. his January 10 drawing. I was stunned at how accurate our modern software is in going back in time to display the position of celestial objects.
On a personal note, I purchased my first telescope, a Meade DS-2130 5" GoTo reflector, in 2009. I remember being out at a dark location one summer night in Lago Vista, Texas in 2012 and looking at Jupiter. I could only see three of the Galilean moons much like the January 8 Stellarium image. I kept asking myself over and over, "Where is the fourth moon?" Then about 30 minutes later I noticed a small white pimple on the right side of Jupiter. As I watched in awe, I could see in real time as the pimple grew and then completely separated from Jupiter as the fourth moon. And I remember thinking to myself, "This must have been the same awe Galileo felt when he first observed this same thing for the first time!"
Back to Galileo in 1610, it wasn't long before Galileo realized these were not stars but what he called planets revolving around the "star" named Jupiter. It was a stunning revelation to Galileo: small planets are moving around a "star" just like Venus and Mercury revolves around our Sun!
This was definitely a "Eureka!" moment for Galileo! He honored the Medicini family and Cosimo II, who became Grand Duke of Tuscany in 1609, by naming these four "planets" the Medicea Sidera (Medicean stars) in his 1610 pamphlet Sidereus Nuncius, "Starry Messenger" (figure 5).
In the next installments of this series I will cover Galileo's observations of sunspots, the Moon, Venus, and the Milky Way. A little preview: his writings on sunspots in 1613 are what initially got him in trouble with the Roman Catholic Church!
Ed LaBelle has been a member of Austin Astronomical Society since 2010. He has worked as an engineer in the semiconductor industry for 30 years. Ed is the founder of the Psalm 19 Astronomy Society, a sidewalk astronomy ministry, based in Austin, Texas USA.
Special Ed, Scott in NC, Mak2007 and 33 others like this
Article: The Discoveries of Galileo – Part 1: Jupiter