CNers have asked about a donation box for Cloudy Nights over the years, so here you go. Donation is not required by any means, so please enjoy your stay.


1
The Discoveries of Galileo – Part 2: Sunspots and Their Movements
Jan 24 2021 12:53 PM | E-Ray in
Articles
Discuss this article in our forums
The Discoveries of Galileo – Part 2: Sunspots and Their Movements
Last month I wrote in Part 1 about Galileo's discovery that the wandering star, Jupiter, was a planet that had four moons. Recall that my motivation was reading the book Discoveries and Opinions of Galileo published in 1957 by Stillman Drake, a Canadian historian and authority on the complete works on Galileo. This article will cover Galileo's observations of sunspots which got him into hot water with the Roman Catholic Church in 1616.
Sunspots were known for centuries before the development of the spyglass or telescope. Ancient records from China indicate that spots could be seen on the Sun at sunset with the naked eye. The first drawings of sunspots were made by an English monk named John of Worcester in 1128. Johann Kepler and others used the camera obscura method (pinhole projection) to project images of the Sun onto the floor of a dark room but he thought the spots were transits of Mercury.
Galileo was not the first to use a spyglass to study sunspots. Thomas Harriot of England, Christopher Scheiner of Germany, and Johann Goldsmid of Holland all claim to have made observations in 1610-11. We will meet Scheiner shortly as his and Galileo's observations of sunspots overlapped significantly.
Galileo started drawing sunspots in early 1611 (figure 1). He used his spyglass to show the spots to many people during the previous 18 months in Rome and Florence and was now ready to study them. Figure 2 shows many illustrations of sunspots drawn by Galileo and his students over consecutive days in 1611. Galileo used a method developed by his pupil, Benedetto Castelli, to prevent eye damage called a helioscope for projecting the Sun's image through the spyglass in a darkened room onto a large piece of paper. The paper had a circle drawn by a compass of the same size and Galileo would focus the Sun to fit the circle to accurately replicate the spots. Figure 3 is a replica of the helioscope projection method used by Galileo and Castelli.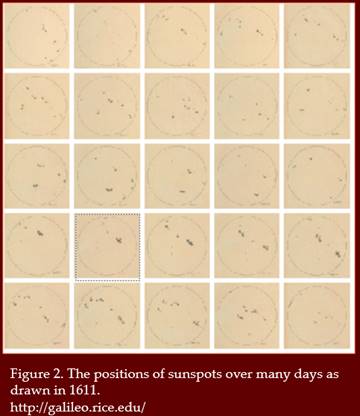 Galileo made several observations about the sunspots including they can appear anywhere on the solar disc, can change shape, and move from west to east over a series of days. He noted that when they appear from the west, they get bigger and then appear to shorten as the approach the eastern edge of the sun. You can see the sunspots moving from day-to-day and change shape in figure 4.
Galileo observed one particularly large group of spots roll off the right side of the Sun and reappear two weeks later in the upper left side. This led Galileo to logically conclude that the sun was a sphere rotating on an axis about every 28 days and that the spots must be on or close to the surface of the Sun. Galileo viewed sunspots as more evidence supporting the Copernicus' heliocentric model of the Earth and planets orbiting the Sun. If the Sun rotates on an axis and the four Medicean stars orbit around Jupiter, then could it be possible that the Earth might revolve on an axis too and orbit around the Sun?
Galileo received a letter in January 1612 from Mark Welser, a wealthy merchant and amateur of science from Augsburg, to get his opinion on sunspots written by a German astronomer studying the spots. In his first letter on sunspots dated May 4, 1612 and titled "Concerning the Solar Spots," Galileo wrote,
"…It is also true that the spots do not remain stationary upon the body of the sun, but appear to move in relation to it with regular motions, as your author has noted in the same letter." (Discoveries, p. 91)
This quote from the letter offers me an opportunity to now segue into how Galileo got into trouble with the Roman Catholic Church. The 'author' mentioned in the quote was none other than Father Christopher Scheiner, a Jesuit physicist and astronomer at the University of Ingolstadt in Bavaria, Germany. As mentioned previously, Scheiner had been observing sunspots with a spyglass for some time. He wanted to publish his observations but was forbidden to by his superior over the fear that his findings would be mistaken and bring discredit to his Jesuit order (Discoveries, p. 81).
So why was Scheiner's superior concerned? Because the Greek teachings of Aristotle and Ptolemy dominated the thinking of the Vatican in the early 17th century. These included that the Earth was the immovable center of the universe and that all celestial objects are perfect spheres. The Church understood this to mean that the Heavens were created by God and so they took Aristotle's teaching one step further and decreed that all celestial objects were perfect unblemished spheres. Sunspots would mean that the sun wasn't unblemished. To speak out or write that any celestial object was not perfect would elicit the wrath of the Inquisition.
So Scheiner sent his letters to Mark Welser for publication. Scheiner published under the pseudonym Apelles latens post tabulam or Apelles for short. Apelles beat Galileo in publishing his observations of sunspots and this triggered an ongoing conflict between the two on who first observed sunspots using a spyglass. In the letters written by Apelles, he proposes that sunspots were small orbital bodies or wandering stars that move around the Sun. This allowed Father Scheiner to avoid a controversy about Aristotle's belief that the Sun was a perfect unblemished sphere.
Galileo did not have direct knowledge of who Apelles was and wouldn't for several years. He disagreed with Apelles' observation and printed three letters back to Welser in May, August, and December 1612. Galileo's Letters on Sunspots were then published in Rome in 1613 as a booklet by the Lincean Academy (figure 5). The first two letters were more of a "Just the facts, ma'am." response to Apelles' letters but Galileo's third letter dated December 1, 1612 was much more confrontational toward Apelles. This was because Galileo thought he clearly explained to Apelles in the first two letters why his observations of the spots were correct.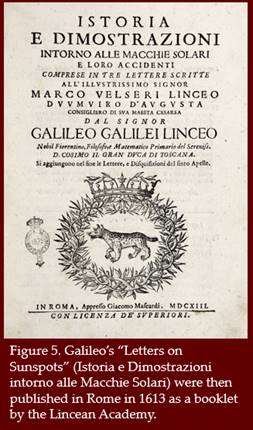 In the third letter, Galileo takes Apelles to task on the movement and speed of sunspots. Galileo is also unhappy that Apelles claimed in a previous letter that he discovered the "Medicean stars" of Jupiter and that those "stars" regularly appear and disappear (Discoveries, p. 138). Galileo retorts that
"…the four Medicean planets are true and real stars, as permanent and enduring as the others. They do not become lost or hidden except when in conjunction with one another or Jupiter…They have their regular motions and their definite periods, and if he (Apelles) has been unable to calculate them, perhaps it is because he has not worked so hard as I have." (emphasis added, Discoveries, p 138).
Galileo is essentially accusing Apelles of being lazy! The confrontational tone toward the Jesuit Apelles in this letter combined with resistance to Galileo's publication of Discourse on Floating Bodies in 1612 caused some powerful Jesuits and Dominicans to become enemies of Galileo. The battle over the Copernican system had begun: "…by his avowed enemies in the church it seems never to have been understood at all. To their minds he [Galileo] was attacking the church; to his own mind he was protecting it from the commission of a fatal error." (Discoveries p. 145).
This third letter is the first time that Galileo openly endorses the Copernican heliocentric model of the heavens in print. While commenting on sunspots, Galileo asks in passing,
"And is there not still a controversy over whether the Earth itself remains immobile, or wanders, while [at the same time] we are quite certain of the motions of not a few stars?"
Galileo was reputed to be very arrogant and he would often respond to any criticism of his letters in an aggressive and sarcastic tone. That polemic trait comes out in the third letter when he insinuates Apelles is not only wrong about his conclusions on sunspots but that he is also lazy. This contentious attitude is what leads the Dominicans to accuse Galileo of heresy in 1615-16 and again in 1632. But that story is for another time.
Next month in Part 3 I will write on Galileo's discoveries of the surface of the Moon: the first observational evidence that heavenly bodies were not perfect unblemished spheres!
Ed LaBelle has been a member of Austin Astronomical Society since 2010. He has worked as an engineer in the semiconductor industry for 30 years and is the founder of the Psalm 19 Astronomy Society based in Austin, Texas USA.
John Huntley, danmdak, Sheol and 21 others like this
Article: The Discoveries of Galileo – Part 2: Sunspots and Their Movements