CNers have asked about a donation box for Cloudy Nights over the years, so here you go. Donation is not required by any means, so please enjoy your stay.


1
The Year-Long 60mm Telescope Challenge
Apr 06 2013 12:31 PM | jrbarnett in
Articles
Discuss this article in our forums
The Year-Long 60mm Telescope Challenge.
by James Barnett
Introduction.
For observers who grew up in the 60s and 70s, the 60mm achromatic refractor was the ubiquitous beginner's instrument.  These telescopes were frequently purchased from department stores like Sears, Service Merchandise or Best Products, or occasionally from science hobby mail-order outfits like Edmund Scientific, Unitron or Parks.
The telescopes ranged from f/11 to f/20, and were bundled with spindly equatorial or alt-az mounts, 0.965" eyepieces, a tiny finder scope and accessories (like the horribly dangerous "Sun Filter" shown below), with or without a solar projection screen.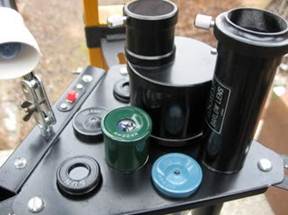 Figure 1 - Dangerous "Sun Filter" with 0.965" accessories.
Many of us suffered for years with one of these instruments, enduring trial and tribulation, making our first discoveries of a larger world using them.  I fondly remember my first "real Messier" discovery with a 60mm Jason achromat on a shaky alt-az mount.  It was M7, Ptolemy's Cluster.  My buddy Dennis Michaels and I were pulling an all-nighter in my family's Cupertino backyard, with sleeping bags on lawn chairs and our telescopes – mine the Jason and his a 40mm very long focus achromat of unknown provenance – sweeping through the southern summer Milky Way in "Scorpio" (we didn't Latinize pronunciations of zodiacal constellations in the days of "Hey, baby, what's your sign?"). 
Other than a couple naked eye Messiers like M45 and M42, and sweeps of the Hyades, despite many prior attempts, our deep sky tally was a big fat goose-egg.  Locating M7 provided context and altered our expectations of how other deep-sky targets would look in the little scopes.  Only after locating M7 in both scopes did we realize that, with averted vision, we could actually *see* M7 naked eye down in the southern sky-soup (hence why it is known as "Ptolemy's Cluster" as he too saw it as a little cloud centuries before the first telescope).  And we could *see* a whole bunch more "suspected" DSOs using the same averted vision naked eye technique.
Capturing M7 in the Jason was like a cork coming out of a champagne bottle for me.  That very night a dozen other Messiers joined M7 on our list of the vanquished.  I used that little scope for at least six years before upgrading to a Meade 628C equatorially mounted Newtonian with an AC motor drive, and even afterwards still used the Jason for terrestrial and "grab & go" lunar and solar (yeah, I did use the dangerous sun filter) observation by popping out the screen in my bedroom window and observing Luna and Sol from the comfort of my room as they slid along the ecliptic toward the western foothills that my window faced.
In hindsight these little scopes really weren't very good tools for the job of inducting aspiring amateur astronomers into the fold.  The horrid mounts, neck-bending, straw-like finders and miniscule main-instrument fields of view born of the long focal lengths made putting targets in the eyepiece an exercise in patience; a commodity pre-teens often lack. 
Or were they?  I have mixed feelings about this.  On one hand, I'm sure a very high percentage of would-be young observers were discouraged by these challenges and s****ped their interest the hobby due to gear issues.  On the other hand, perhaps enduring this "rite of passage" and persevering despite repeated equipment-related setbacks made those of us who made it better, more passionate observers than we would have been had it been served up to us on an iPad.  Who knows?  But I digress (a habit of old men)…
Renewing One's Acquaintance with 60mm Chums.
My journey in observational astronomy has taken many turns.  I've owned and used a lot of different telescopes during the intervening years between the Jason days of my past and my "astro-shed" (which my wife jokingly calls "KV-62") present.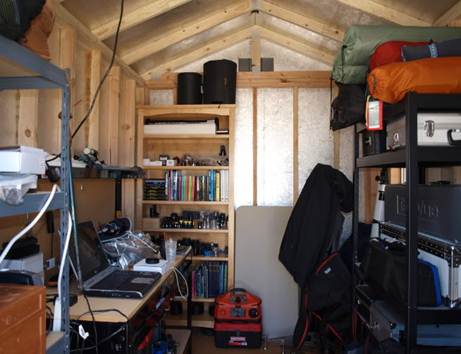 Figure 2  - "KV-62" Astro-Shed; Who says you can't take it with you?
In the last couple of years, though, my interest in the small refractors of my youth has been rekindled.  It started when, on a whim, I decided to look for a Jason just like the one I used to own.  It was a 60mm with a 700mm focal length, silver tube with a black plastic dew shade with twin silver painted bands on it, on a horseshoe yoked alt-az mount, with a stopped down 5x24 straight-through finder, marketed as having "280x!" (golly!).  My thinking was that with my now-greater experience, and a proper modern mount, there might be more to be extracted out of the 60mm format than I had managed to extract in days gone by. 
But I never found the Jason I was looking for.  Instead on eBay I spotted what appeared to be a new-old-stock Sears achromat on an equatorial mount, model 4-6333-A, and convinced my wife to buy it for me for my birthday.  She sniped it for me.  I think she paid $140.  When it arrived it looked like it had perhaps been unpacked, but never even set up.  Here are some more pictures of the scope.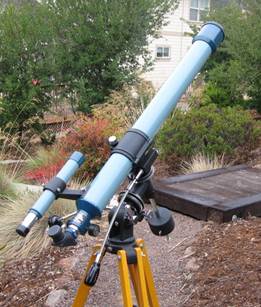 Figure 3 - NOS Sears Model 4-6333-A.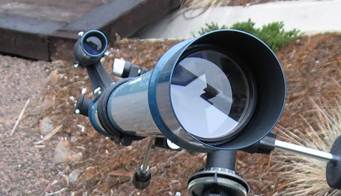 Figure 4 - Objective by Towa of Japan; 60mmx900mm.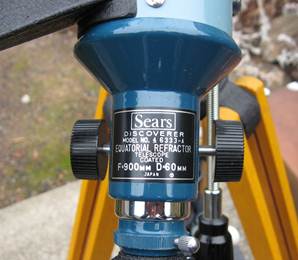 Figure 5 - R&P focuser.  The chrome plated draw tube
actually pulls out almost 8 inches and is held in place
(weakly) with felt tabs inside the larger draw tube
surrounding it.
It took me awhile to find rings and a suitable dovetail for mounting the OTA onto sturdy modern mounts, but eventually I had Ken Dauzat make some for me.  They cost of the rings was $120, almost as much as the telescope.  But they work wonderfully and now that Ken is no longer making rings and adapters, I feel fortunate to have obtained them.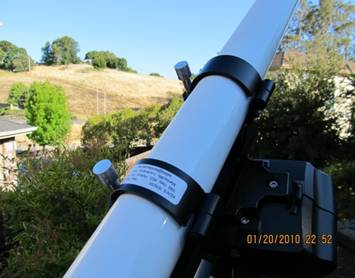 Figure 6 - 60mm Dauzat custom tube rings.
I have many nice 0.965" eyepieces – Carl Zeiss Jena Orthos, Pentax SMC Orthos, Takahashi MC Orthos, Vixen Orthos, etc. – so the Sears has never suffered for want of decent eyepieces.  Nonetheless, I came to feel that the 0.965" format and slightly saggy chromed focuser draw tube extension were limiting an otherwise solidly-mounted, optically fine telescope.  Rather than converting the Sears and disturbing its authenticity, I went back to square one and set out to scavenge and build up a modern interpretation of the long focus 60mm achromat.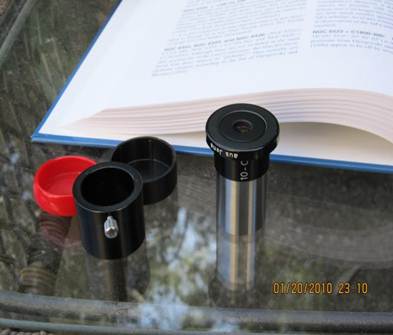 Figure 7 - 10mm Carl Zeiss Jena Abbe Orthoscopic in 0.965" format.
I discovered that Sheldon Faworski, CNer MASILMW, former proprietor of astronomy gear retailer Apogee, was selling off old inventory from that business in CN's classifieds.  I picked up three Carton 60mm f/16.7 doublets, one Carton cell with no dew shade and two Towa cells with dew shades, and three Carton tubes, with knife-edge baffles, designed for these objectives.  I then purchased three Antares 1.25" R&P focusers with long (150mm) draw tubes, and assembled three OTAs around the Carton 60mm OGs.  The optical quality of each OG is pretty good – one I would put at ~1/4 to 1/5 wave and the other two star testing quite a bit better than that, perhaps at ~1/6 wave.  The mechanical quality of the Antares focusers is top-notch.  It's very smooth and precise.  All in, each OTA cost me under $100.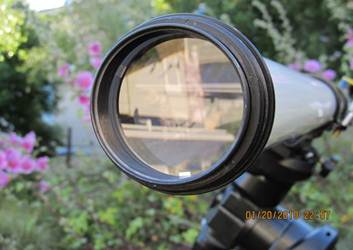 Figure 8 - Carton 60mmx1000mm objective.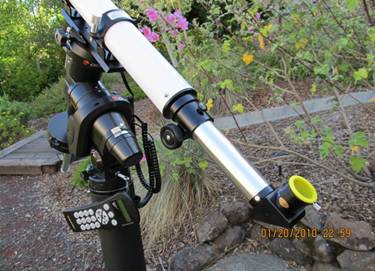 Figure 9 - Antares 1.25" R&P focuser with extra long drawtube.
The Challenge.
Armed with thoroughly modernized 60mm long focus achromat OTAs aplenty, I used them.  Seat of the pants I would say that my theory (i.e., that greater experience and a solid mount would give these little scopes a new lease on life and newfound usefulness) panned out.  I've certainly seen more through these Cartons than ever I saw through my Jason.  But I wasn't done yet.  I started thinking that it would be fun to really push the 60mm format to its limits; to successfully observe targets popularly dismissed as "off limits" to small aperture.
I cooked up the idea of doing a collaborative, serialized quarterly CN article including the observing reports of numerous 60mm refractor observers around the world.  (There's even a 60mm refractor club with international membership.)  It was going to be titled "Tales from the Small Side" and I was going to solicit, collect and collate observing reports and musings from a wide range of contributors.  But that proved to be overly ambitious given a job change and resulting longer hours at the office on my end.  But the dream would not die.
Here is my proposal.  Below is a carefully considered list of targets that *may* be within reach of a 60mm telescope to a middle-aged experienced observer under typical suburban skies.  The list was constructed using thoughtful, deliberate filtering in SkyTools 3 normalized for my home observing site at 38N.  It does not necessarily list every target potentially visible in a 60mm.  Nor is every target on the list necessarily visible to anyone, anywhere, in a 60mm telescope.
Instead this is a starting point, intended to spark the imagination and throw down the gauntlet.  If you're curious, competitive and have or are willing to obtain a 60mm telescope, I invite you…no, rather, I *challenge* you to chase the targets on my list and share your observations with the rest of us.  You can strike up an e-mail correspondence with me and share your reports and findings privately.  Just PM me your e-mail address and I'll e-mail you back.  You can publish your reports on CN in any reasonable forum – refractors, general observing, double stars, deep sky observing, the discussion thread accompanying this CN article, wherever permitted under CN's rules.  Reminiscences are as welcome as observing reports, too, so don't hold back.
But hold up a second.  Let me set some ground rules and define some terms.  First, what do I mean by a 60mm telescope?  I mean just that – any telescope with an aperture in the sixties qualifies.  It doesn't have to be exactly 60mm.  It doesn't have to be vintage.  It doesn't have to be a refractor even, though reflecting telescopes with native ~60mm aperture aren't all that common.  Examples of qualifying telescopes include:
William Optics 66ED
Astro-Tech AT60EDT
Televue TV60
Any 60mm vintage achromat
Skylight 60mm f/15
Takahashi FS60C
Any larger telescope stopped down to between 60mm and 69mm using an aperture mask
In short, anyone with a telescope who wants to participate has the means to play along.  Approximately one-year after the publication date of this original article, I'll pen a follow-up assembling many of the various observing reports posted or submitted on connection with this challenge, and draw some general conclusions from our various tales of 60mm adventure and accomplishment.
There are no restrictions on eyepieces used, use of filters, etc.  The only constraints are aperture and the observations must be direct visual, which rules out image intensifying eyepieces and cameras (though if folks want to provide images taken at 60mm for aesthetic enhancement of challenge reports, I'm all for it; but to cross it off your list it must be a pure visual observation).
The 60mm Challenge List.
I've divided this into two lists, really, one for double and multiple stars and another for DSOs due to the fact that the relevant data for each set of targets is different.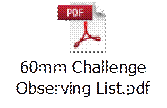 Dedication and Conclusion.
I'd like to dedicate this effort to someone I've never met but do admire for his contributions to the early days of internet published astronomy articles, Jay Reynolds Freeman.  I've never met Jay, but appreciate his efforts as a pioneer of internet-based amateur astronomy articles and reviews.  You can read a few of his writings here on Cloudy Nights.
http://www.cloudynights.com/byauthor.php?author_id=291
The rationale for the dedication is this.  The idea for this 60mm challenge has already been piloted by Jay using a 55mm aperture.  You can read a bit about Jay's 55mm adventures with the Herschel 400 List here:
http://astronomycorner.net/reference/herschel.html
It wouldn't be, well, civilized to forge ahead with a 60mm Challenge without acknowledging that others may, in fact, have seen more with less.
In conclusion, I wish everyone who has the courage and curiosity to participate in this challenge GOOD LUCK!  You will need it to have a prayer of seeing many of the 889 targets on the list.  I look forward to hearing about your results and sharing my own.
Article: The Year-Long 60mm Telescope Challenge