CNers have asked about a donation box for Cloudy Nights over the years, so here you go. Donation is not required by any means, so please enjoy your stay.


3
Time to Lighten Up
Discuss this article in our forums
Time to Lighten Up
I recently relocated to a new house that happens to be closer to town (Tucson, AZ) because of my age and health. Among other things, this move signaled the need for a smaller scope and mount. The telescope was a no-brainer for me based on previous experience so I bought an Explore Scientific ED102 Essential Series Air-Spaced Triplet APO Refractor.
Fig. 1
For my mount, I selected my favorite smaller-medium, the Celestron AVX. I improved its performance: see my article on that task here.
Fig.2
To complete my new rig I implemented a series of ZWO items including an ASI533MC-Pro for my primary camera, an ASI120MM guide camera, a ZWO EAF focus motor, and of course, an ASIair Plus (Mini) controller.
Fig.3
Along with a .8x focal reducer/field flattener I had an excellent rig for anything below 10th magnitude and perfect for large and bright nebulae
Fig.4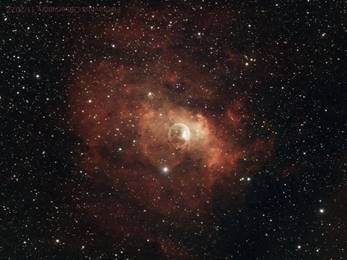 Fig.5
In my early years of astrophotography I shot 120" exposures while ignoring the distorted semi-egg appearing stars. With this new inexpensive rig I routinely ran up to ten minute exposures with perfect stars (see fig. 5 above).
For less than $4,000 (Brand new cost) and less than $3,000 (Pre-owned) I owned a rig that had everything to automatically image even small planetaries and faint nebulae suitable to impress even the best amateur astrophotographers with their $6,000 Tak and $2,000 EQ-6R.
After years of multiple telescope designs and exotic mounts, I was now officially an "old guy" with a combination of hardware suitable to last until I became that well known computer geek enjoying what everybody else was doing while munching my pizza in my warm recliner watching YouTubers that were still "doing" and not just "watching".
Rome, CollinofAlabama, Scott Beith and 37 others like this
Article: Time to Lighten Up