CNers have asked about a donation box for Cloudy Nights over the years, so here you go. Donation is not required by any means, so please enjoy your stay.


0
A Journey to Kitt Peak
Mar 29 2011 06:40 AM | Tina Echo in
Travels
Discuss this article in our forums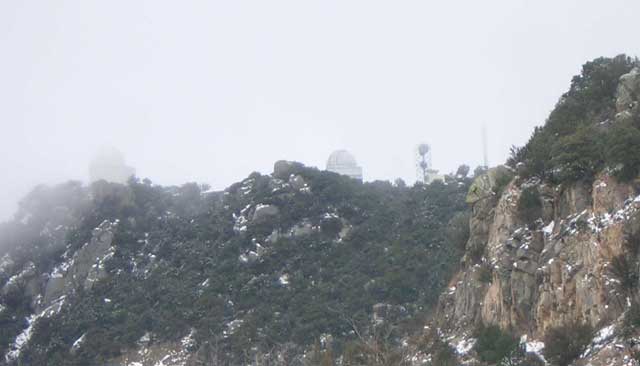 Last Fall I became aware of the Advanced Observing Program at Kitt Peak Observatory. For a fee of $350 plus $55 for room and board, individuals can rent either a 16" Meade LX200 telescope or a 20" Richey-Chretien reflector (Carbon Truss). Thinking this would be the perfect Christmas present, I reserved the 16" Meade for the night of January 22nd. Jack Kennedy of Kitt Peak graciously worked with me on the reservation and assigned Roy Lorenz as our guide for the night. Roy was incredibly generous with his time in helping me select objects for a viewing list. He sent numerous e-mails verified each of the 64 objects on my wish list to ensure they would be above the horizon on our big night.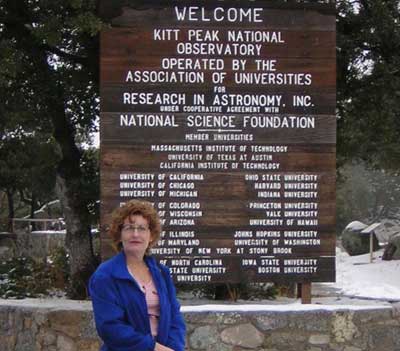 Because I had never looked at galaxies through anything larger than my 10" Schmidt Cassegrain telescope, I asked Mathieu Chauveau from the Cloudy Nights Forum for advice. Matt owns a 16" 'Commandatore' Dobsonian and is an experienced observer. He generously spent several holiday evenings in bitter cold weather previewing celestial objects and wrote a very detailed report of what he was able to see. I'm indebted for this kind act and hope to repay the favor someday.
We left home on a beautiful, sunny morning. Within the hour we were in clouds and light rain. This was not a good indicator of clear skies and good seeing in the nights ahead. By the time we reached Phoenix, Arizona it was very evident that the front was a slow moving one.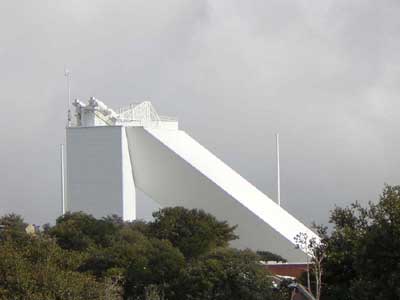 Solar Telescope
Ron Boe extended an invitation to meet for dinner on our way through Arizona. Charlie Hein was also in town and able to join us. It was a true pleasure to meet fellow "Cloudy Nighters" face to face. Ron is as witty and fun in person as in the forum and Charlie is as nice and charming as can be. Five minutes in their company and you feel like you have known them forever. Ron's lovely wife, Sue, is as bright as she is pretty and graciously spent the evening talking to my husband, Lance, while Ron, Charlie and I talked shop and shared astronomy war stories. "There we were in 23 degree weather..." It was a great evening.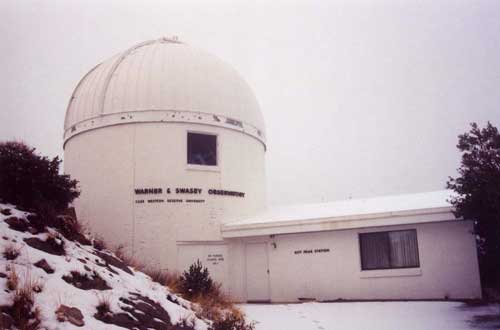 On the 21st we drove to Tucson and were one step closer to Kitt Peak. The weather wasn't looking very pretty but we still had hopes that the front would go through. Bright blue skies would occasionally appear to taunt us. At 3am we were awakened by a raging thunder storm. The lightening strikes and thunder were nearly simultaneous. It was an awesome sight! Thursday morning dawned dreary and gloomy. On the drive out to the mountain we were pelted by driving rain. I jokingly pointed to a tall peak smothered in clouds and said it was probably our destination. As we got closer I realized I was correct in my assumptions. We could see snow covered rocks and the faintest hint of telescope domes peeking through the mist.
When we arrived we were greeted by Jack Kennedy who was a very gracious host and took us on a brief tour. A quick check of the weather told us we had little time before the next wave of snow hit and covered the roads. Fearing we would not get off the mountain in a timely and safe manner following the storm led to a sad decision not to spend the night.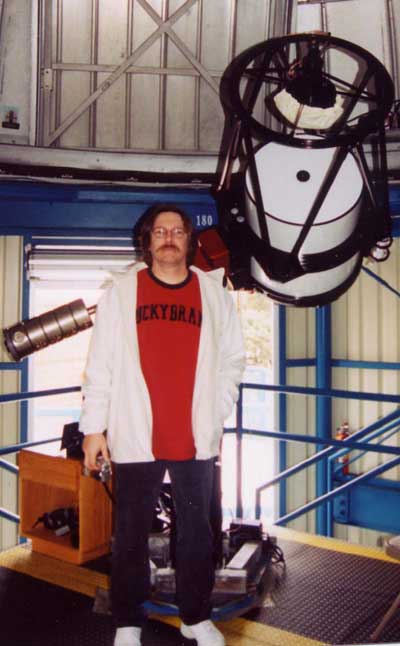 A 72" Lance next to a 20" Ritchey
We walked around a bit and one of the telescope operators named Chuck kindly opened up the domes used in the Advanced Viewing Program so we could look at the telescopes. I expected the 16" Meade to be large but was truly shocked at the bulk of it! I will never look at my 10" model in quite the same way ever again. I had never seen a Richey-Chretien. It is a beautiful telescope! The mirror has been newly recoated and the scope is surprisingly graceful for so large an instrument. When the time came to reschedule our viewing night Lance and I decided we just had to go for the 20" of aperture.
Driving down the mountain we were treated to the biggest, prettiest rainbow I have ever seen. It was a much needed, beautiful reminder of the fact that rains do end and clear skies follow. Kitt Peak is an incredible place even in clouds and snow. I look forward to our return trip and am already planning my new viewing list.
Article: A Journey to Kitt Peak