CNers have asked about a donation box for Cloudy Nights over the years, so here you go. Donation is not required by any means, so please enjoy your stay.


0
CN Reports: NEAF 2005 (Part 1)
Apr 19 2005 05:50 PM | CN_Admin in
Travels
Discuss this article in our forums
NEAF 2005
Part 1
80+ Onsite Vendors
Imaging Workshops
Solar Star Party
StarLab Shows
(Better leave your wallet at home if you don't want to wind up broke....)
To be honest, I hadn't initially planned on going to NEAF, but at the last minute I got a call from a buddy of mine (Gary Gibbs) who had decided to go.  Evidently Gary had also decided that I was going, because despite some initial protestations, I somehow found myself driving down to Detroit a week or so later to make the early saturday flight out.   There's just something really odd about leaving the dark skies of the thumb to drive to the biggest light dome in Michigan, just to catch a flight to the biggest light dome in the country, in order to get to an astro event...)  After an extremely smooth flight, we landed at La Guardia, picked up the rental car and were off to Suffern.
Held at Rockland Community College in Suffern, NY (about 45 min north of NYC), the 2005 North East Astronomy Forum (NEAF) was a true extravaganza for the astro gear-head (gear-heads unite!).  With more  equipment in one place than even I could imagine, you would have to have been truly jaded to not find something that appealed to your tastes and wallet.  I dare say that it was a rare astronomer who went home without a single purchase.  From the moment you walked into the field house, you were hit with the smell of burning money - eyepieces, filters, telescopes, books - anything and everything astro-related was there - and usually available for purchase.  We checked in, picked up our press passes and proceeded to go browse equipment heaven.
Rather than try to describe the assault on the senses, I'll let you experience it with a variety of images.  Be warned, there are a lot of photos here, so this article may take a while to load.  Be patient.
While there were a ton of companies at the show, there were (in my mind) two real standouts; WO and TV.
William Optics showed several new products which are either currently in production or soon to be, and were the very first booth we hit coming in the door.
Here William Yang shows us the ZS80 binoviewer telescope.  While it's not currently destined for the American market, that could change.  The scope, a dielectric diagonal, extension tube (for use without the binoviewer), case and multiple sets of eyepieces (4?) for around $800!
Here's a new line of eyepieces (not currently in production) - the UWAN.  28mm, 16mm and 7mm w/ 6-7 elements, and 82 deg AFOV.  William took particular joy in showing off the 28mm.  As with all WO products, fit and finish is wonderful.  Optically, using it in the field house, I have to say I was pretty impressed, and look forward to getting one under the stars.   Overall the field seemed well corrected for flatness and color. The eyepiece seemed leaps and bounds above the Widescan's and their clones.  Unfortunately, it may be a while before these hit market tho, so don't get too excited.  David told me they want to concentrate on telescopes for now.   OTOH, the other two new products in this picture will be hitting store shortly - a quartz dielectric diagonal (SCT and Refractor versions) and a 66mm Petzval Semi-Apo travel scope.  Give me a while and I should be able to let ya know my impressions, as these two little guys followed me home from the show.
We had a nice three hour chat with William and David Yang Sunday evening after the show, and I'll be doing a piece on that a little later.  Suffice it to say, these guys are impressive. (Yes Virginia, there really is a David Yang.)  Their drive and dedication is outstanding, and they've got some amazing plans for the future. With their position in Taiwan, their influence in China, and their leverage in the States (they both have dual citizenship), they are in a superb position to make things happen. They're a company to watch.
The WO collaboration with TMB continues - this is a version of the ZenithStar 80 ED (see my review on CN) with a lens designed by TMB that will be available for under $1000.

With their penetration into the astronomy market, it should come as no surprise that they are also aiming for the birders - this shot features their Triplet ED Spotter (nitrogen filled and water proof), and the Toucan 50 spotting scope.

Here's CNs Mark (BCB) demoing the Toucan.  the eyepiece angle is adjustable 90-180 degrees. While none of us are birders, we were struck with one thought - this would be a really cool finder scope!

Here's the brand new 105mm version of their ED triplet (looks just like it's little relative - and cost is excellent for a 4" APO - this one should be a home run for the brothers).
An inexpensive replacement crayford focuser for Synta telescopes, and the new APO barlow..


The new ZS 66 Triplet APO  - Available soon  for under $500.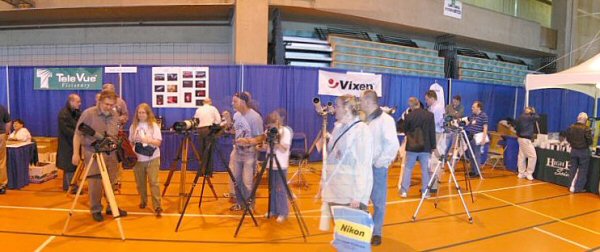 The other major presence, and the real powerhouse at the show was (of course) Tele Vue.  Just down the road from the WO booth, you could see the line forming for the Nagler blems.  Pricing (as anyone who has gone to the show can tell you) was amazing.  I picked up an old style TV barlow for $20, a Plossl for $25 and a few other assorted and sundry items.  4x powermates were going for $130, and the t6 Naglers?  $190.
I spent a lot of time with Al Nagler - a more enthusiastic, nicer gent you could hardly hope to meet. His attitude was infectious and suffused the entire TV booth (and leaked out into the surrounding throng - undoubtedly due to the great prices on TV Blems - there was a palpable feeling of excitement). Since Gary and I didn't get in till Saturday around 9:30-10:00, we missed the press conference, but Al took the time to walk us through the powerpoint presentation himself. In the photo above, he's explaining to myself and Brian just how easy it is to install the new TeleVue Dioptrx - the astigmatism correcting lens accessory.  Look closely, and you can see that it's attached to the eyepeice. TV's committed to providing the absolute best view possible, and IMO, this is second only to the paracorr in it's significance.  This is a huge boon for amateurs.  I only have  .25 diaopter, but even I could see the difference.   Al's marketing them in increments from .25 to 2.5, and they can be stacked if you need an adjustment beyond that range.  This is yet another TV accessory that I'll be picking up.
And then of course, he proudly unveiled what TV owners have been asking for - the TV fine focus knob. 
Although the TV fine focuser is large, it works wonderfully, and should be available this week - cost is SUBSTANTIALLY lower than the competitors, and better yet, you don't need to disassemble the scope (and possibly affect your collimation) when installing.  All scopes do fit in the cases with the fine focuser attached.  I had a chance to play with this dandy device on an NP127, TV85 and NP101 - and  man, did it make a difference - especially on the faster scopes.
Here Al's showing me the TV60 imaging system.  With a two inch focuser and digital focus counter - this little guy was capable of some amazing things.  If you are curious just how much can be imaged with a 60mm scope, check out
Jim Burnell's
images on the Tele Vue web site.  While photos of  things like Markarians Chain are amazing enough, what really astonished me was that this little 60mm scope
resolved
NGC2158!   I asked Al for permission to post that shot in this article so you could see for yourself - so...  Here's a full sized image of 2158 (this is a portion of the larger M35 photo on TV's site):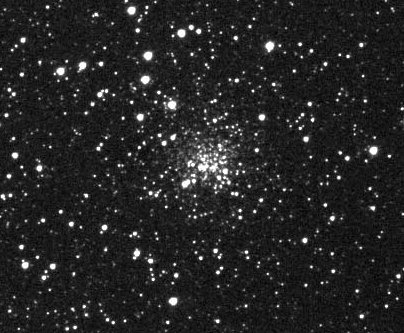 After taking a peek at the TV60 imaging system, he and I played with his TV60 for an hour or so - taking it all the way to 180x. Even at that absurdly high power (inside, and in a 60mm scope) CA was at a minimum and there was still a definite snap to focus. I'd been somewhat skeptical about the 60 since it's first release, but after seeing it, I can say it's an amazing piece of work. Ultra-portable with optics that can't be beat.  You should have seen the size of the case - I think it was slightly smaller than my 4 year old's lunch box, and held the scope, any 1.25" diagonal they make, and three eyepieces! I've had 7 or so TV scopes, and I can tell already that there's another one in my future. 

David Nagler and I also spent some time talking about the Vixen arrangement, and the future of Tele Vue over the next few years - look for that article (with more from Al as well) in the next week or two.

Of course these were only two of the 80 some vendors onsite - here's a sampling of the rest of the show:
This big Questar sure is a beauty - too bad it's forever out of my price range.

I know that TMB and Bill Burgess were both at the show (I think they shared a booth), but I never ran into them. 
Bill's new bino's looked much more impressive than the abused BackPacker mockup that can be seen in both photos.
The good folks from Pentax were there as well with their selection of sport optics, including their entire lineup of astronomical eyepieces.
Your ShortTube 80 a little heavy on that camera tripod?  Come see Mathis instruments!

The gent from ObservaTech had an interesting way to block both wind and light pollution.

Scott Horstman from Backyard observatories - this is a man I'm hoping to do business with after we get the whole job / housing thing settled down a bit.  Scott was demoing his roll off roof products.  I understand that Scott is also affiliated with the Sirius Observatory folks.

Jane du Preez gets the award for furthest traveled.  Although Scott was there, she made the trip from Australia to talk about her product (Sirius Observatories) - I gasped when she told me it was a 30 hour trip - one way.  She was in the US for 72 hours and on the plane for 60!

Even though the field house was on the small side, it was still all to easy to get separated from your buddies.  We split up after lunch, and Gary and I had to make contact via our cell phones at 5pm after 4 hours of looking for one another.  (I think we chased each other around the tables a few times).

Finally! Tim Hagan of Helix Mfg!  Tim stands next to his Hercules mount.  If you are looking for an affordable fork system - consider Tim.  Tim's been kind enough to loan us several pieces of equipment over the years, and meeting him was a real treat for me. He's as nice in person as he is over the phone and online.


Tim had an even smaller prototype version of his Hercules mount at the show - if it sees production, this should be a great travel mount.


Borg was there, and I finally had a chance to take a look at a couple of their high quality lightweight offerings.
After attending the obligatory workshop.... (Gary said I had to.) We wandered outside for the solar sessions, and I had a chance to look through Greg Piepol's devastating duo - an AP155EDF and the double stacked and ultimately tweaked SolarMax 90. 
If Greg looks proud of his scope, it's justifiable.  The views were awesome.  Courtesy of S&T (who were one of the sponsors of the show) Greg had several copies of the upcoming S&T which showcases one of his pictures - Kudo's Greg.  BTW - if you've never been to Greg's webpage,
give it a shot
- outside of those awesome solar pictures, he's also got a great collection of vintage astro ads.
Although the crowds were much smaller on Sunday, the solar party went non-stop for both days. Coronado had several scopes set up off to the side to demonstrate just how much they've revolutionized solar observing. I've never been to a star party where I only looked at one object - let alone one star...

My good friend Gary Gibbs (CN partner in crime - on left) talks to Bill Dean (Coronado) about the benefits of doublestacking.  Coronado also had one of their new Calcium telescopes there.  I'd never seen the sun in that wavelength before. I heard a (credible) rumor at the show - that might be worth passing along. Evidently Coronado has a massive number of PSTs in production - so if you are trying to get your hands on one, they should eventually be easily available. Please note this was not from the Coronado folks tho, so take it for what you will.
And with this peek at the sun (BTW - I think you are going to cost me money Greg), so ends part one. 
Coming in part two:
Does Tom Duggan Find True Love?
20-20 Telescopes shows us the Johnsonian Carbon Fiber Pop-up Dob.
John Gillies face is finally revealed!
The biggest Tak I've ever seen.
Vic Maris shows me the light - literally!

An 18" Dob kit for $30?
And even more vendors and equipment...
And now for
Part II
Article: CN Reports: NEAF 2005 (Part 1)